Can't believe it is already Wednesday! This week is flying by. Of course, it seems to always fly by when you're finally relaxing (a little), right?! We are rounding up our favorite things this week from sales, to food, to some really fun reads! Hope you enjoy!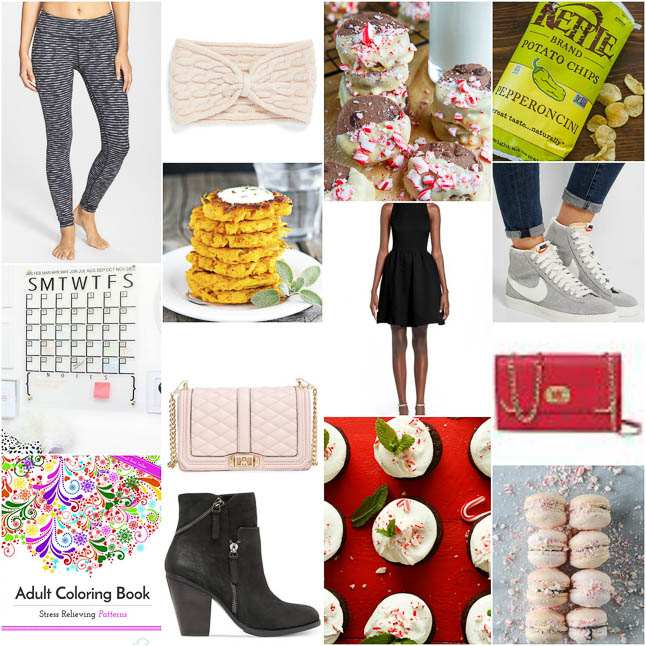 SHOPPING:
Love this cable knit head wrap. Perfect for keeping your ears warm AND looking fashionable! And it's under $15!
These zella leggings are super cute and comfy and on sale for under $45!
Kind of love these nike high tops with leggings or jeans and they're on sale for $70!
Think I may be ordering these black zipper booties. They are adorable!
I have this quilted cross body bag in black and LOVE it. These pastel colors are so fun and are on sale!
This little black dress has the cutest bow in the back AND its $35. I may have ordered it just now!;)
This red chain clutch is so perfect for a night out or for the holiday season!
If you're looking for a cute party dress for NYE, forever21 has some great finds!
INTERESTING READS:
This tinder date led to a life-saving kidney donation. Such a good story!
These adult coloring books help to relieve stress. We have been using them and LOVING them!
The difference between these 21 common ingredients. I never knew the difference between most of these!
How bartenders are combating food waste
FOOD:
I am not much of a potato chip person, but I love that this new flavor
These butternut squash fritters look amazing and are super healthy!
How good do these peppermint tripe chocolate shortbread cookies look?!
Chocolate peppermint cupcakes? yes PLEASE!
Macarons are my favorite, and these peppermint bark macarons are no different!
DIY:
LOVE this DIY acrylic calendar