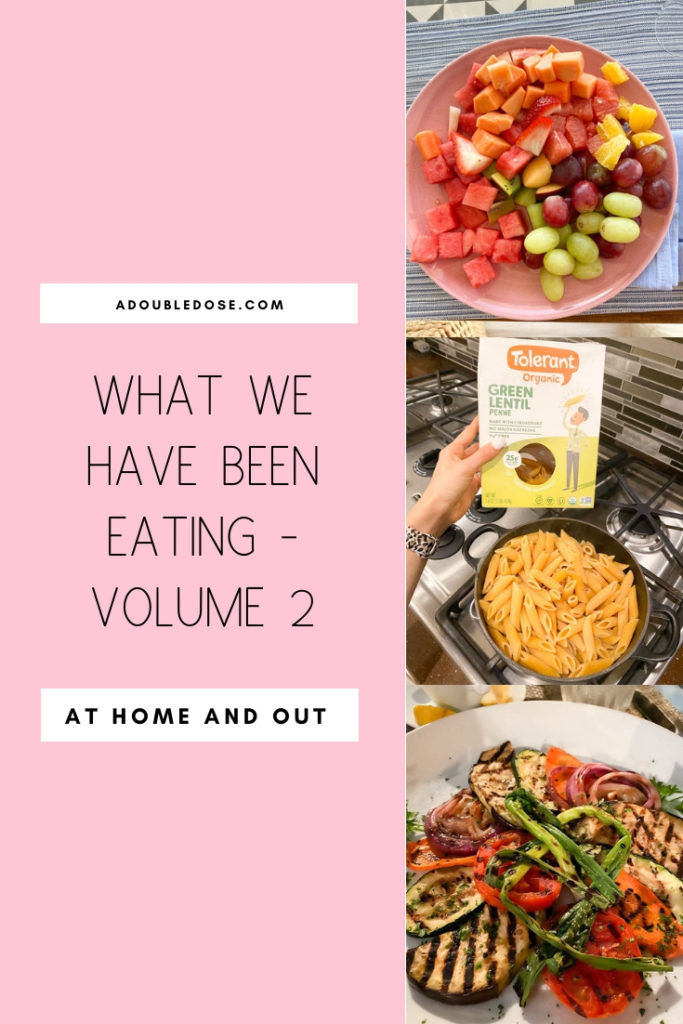 We had so many requests to share more of what we eat in a day! In case you missed our first post, you can find it here. A lot of these meals and snacks are a mix of what we eat at home, and out at restaurants, or traveling!
Pre-Breakfast
Before breakfast, we usually a big cup of water with half a lemon squeezed in it. After about 30 minutes, we will have 16oz of celery juice (more on that in this post). After that, we will take our supplements, and then eat breakfast.
Breakfast
For breakfast, we ALWAYS start with berries and almond milk and a mix of banana, apple, and other fruits, depending on if we are eating at home, or out. See more about our blueberry bowls in this post.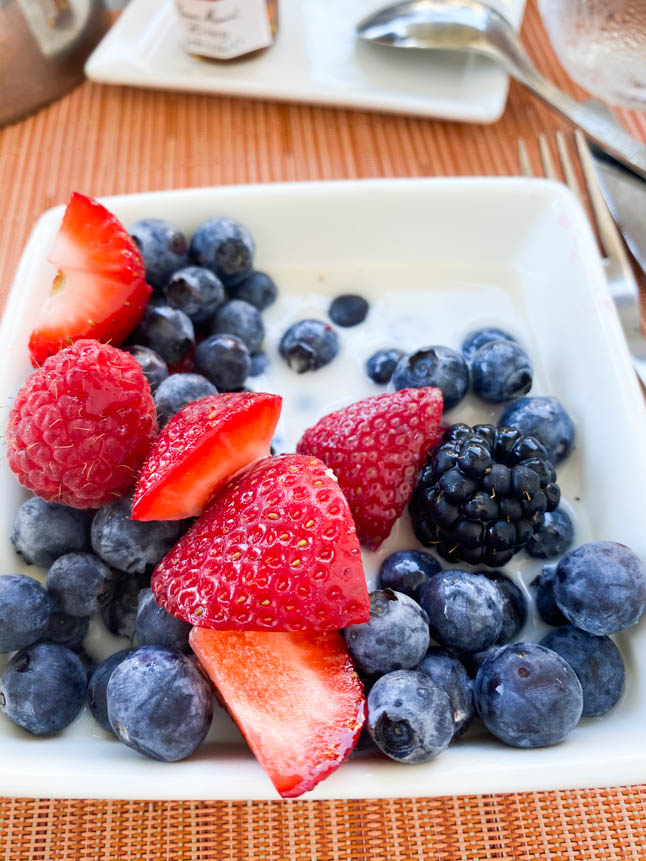 Here are some berries with unsweetened almond milk that we got at a restaurant!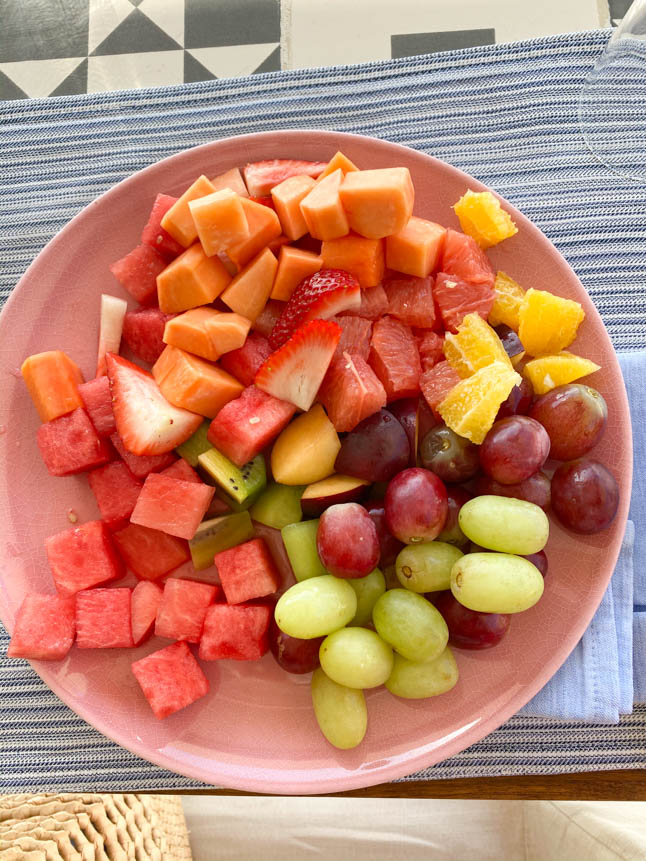 This is a mix of fruit from a hotel buffet: grapes, watermelon, papaya, grapefruit, oranges, papaya, strawberries, kiwi, and nectarine. I love adding cinnamon on top!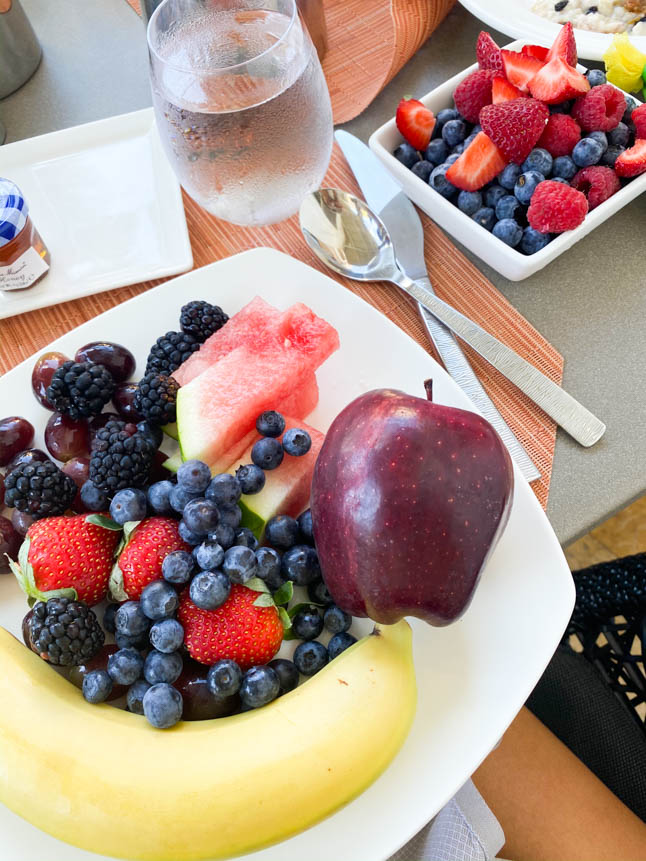 Here is another hotel breakfast: banana, berries, watermelon, red apple.
Lunch
For lunch, we like to eat pretty raw. Sometimes, we have cooked food like quinoa, or lentils on top of salads. Usually, we will have a big salad with avocado, or hummus.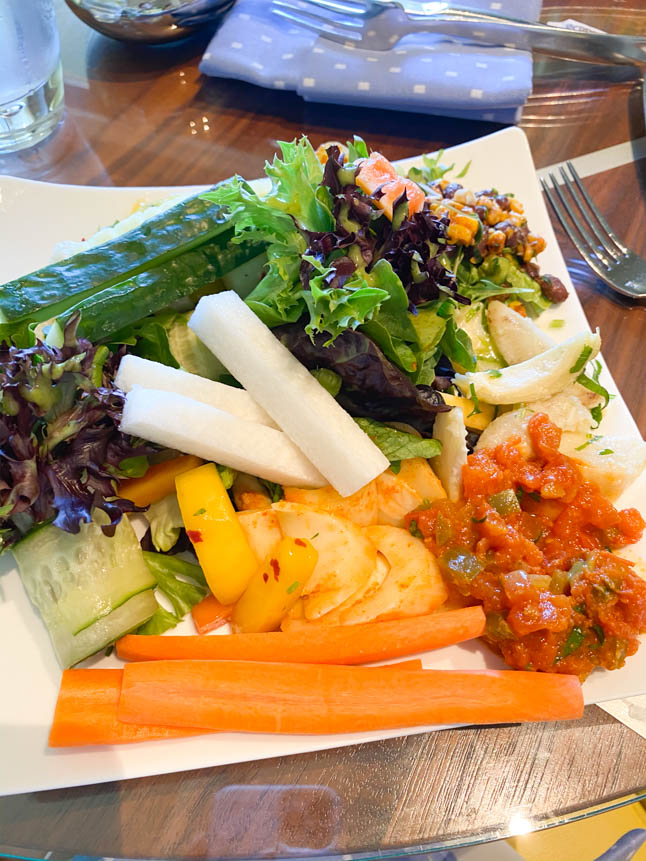 Here is a plate of food from a hotel a while back, but very similar to what we eat at home. This is some greens, raw carrots, jicama, cucumber, artichokes, and an eggplant dip.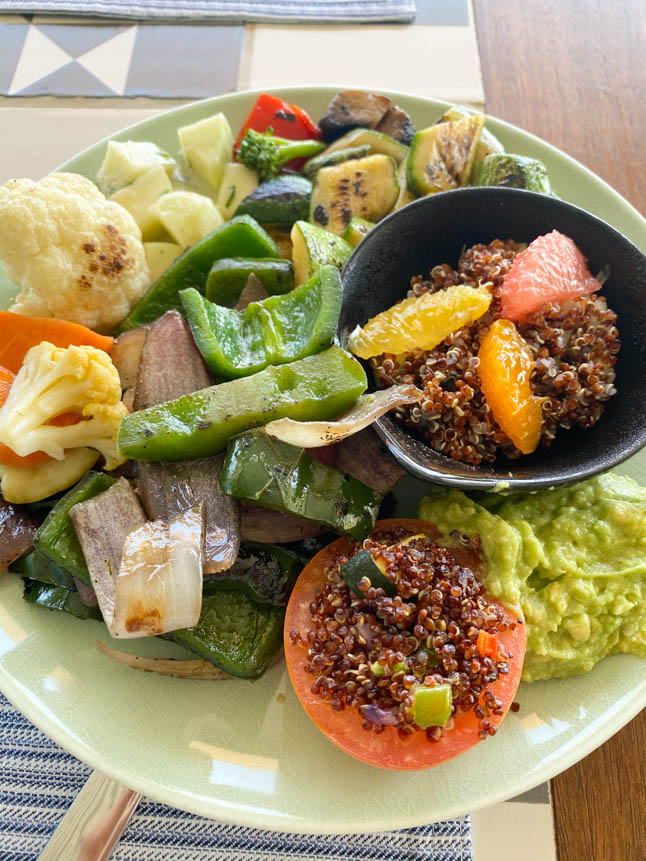 Here is another hotel plate: sautéed zucchini, peppers, cauliflower, quinoa, and a stuffed tomato with quinoa, guacamole.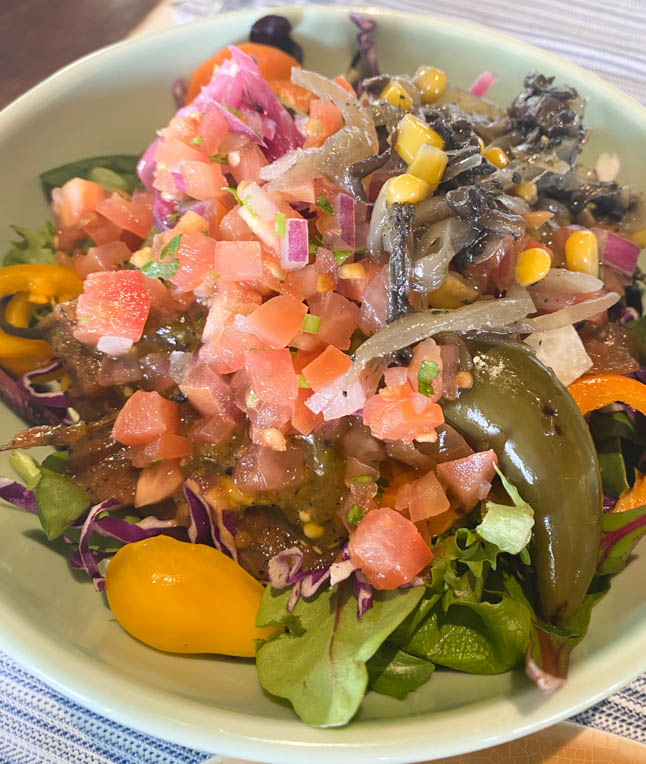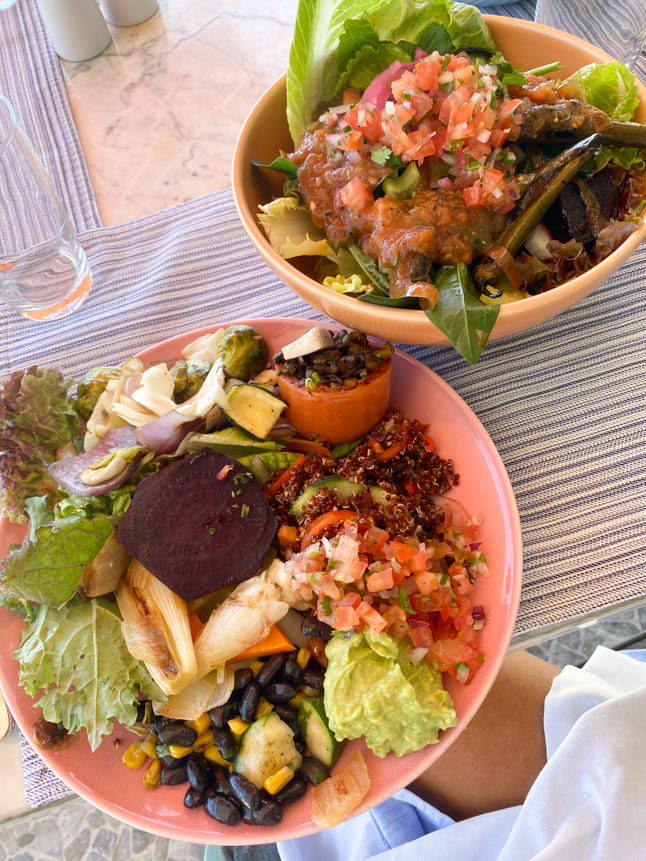 Another hotel plate with lots of veggies: pico, black beans, roasted beets, guacamole, quinoa, roasted brussels sprouts. On the side, a salad with roasted peppers, pico, and balsamic vinegar.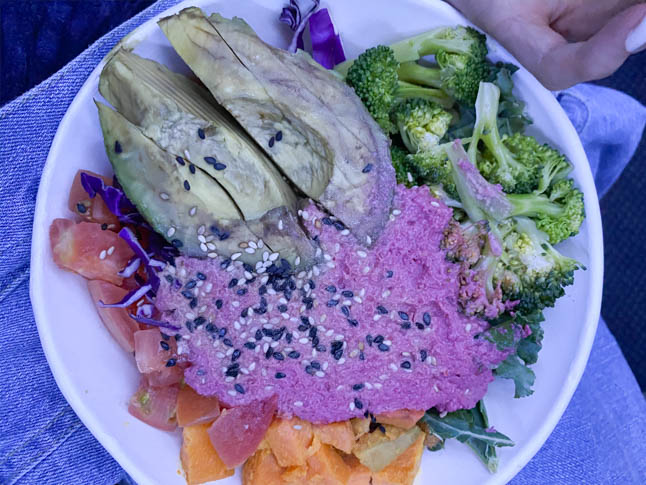 Grabbed this bowl that had sweet potato, tomatoes, broccoli, avocado, greens, beet hummus, and quinoa.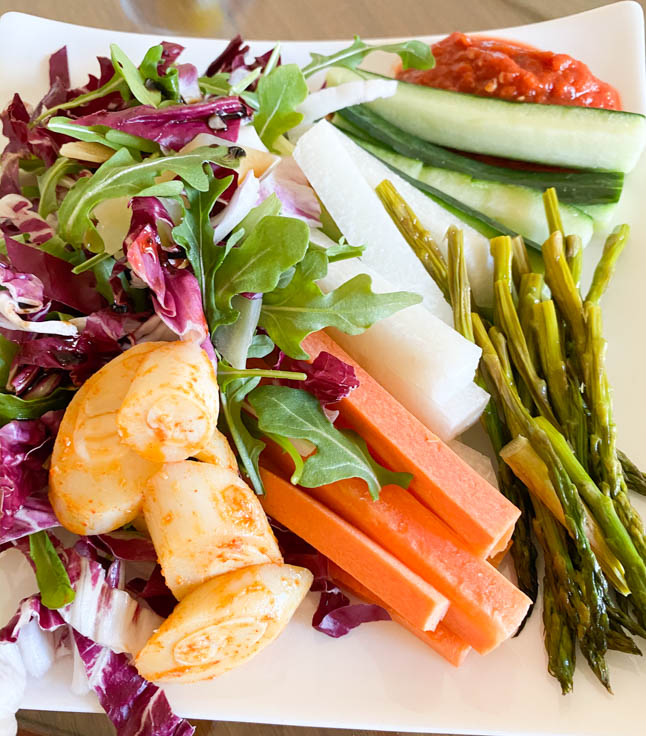 Plate of hearts of palm, arugula, carrots, cucumber, asparagus, and red pepper dip.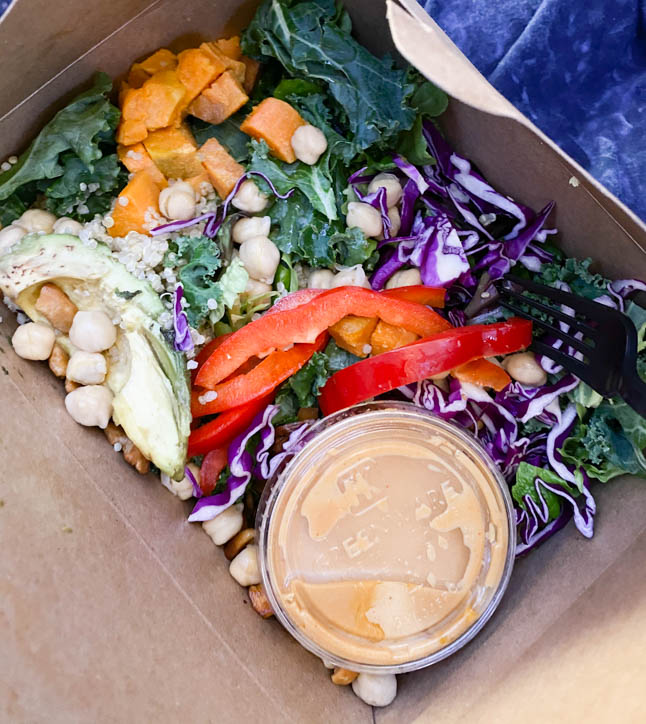 Another bowl we picked up that was so good: kale, quinoa, avocado, bell pepper, chickpeas, sweet potato, and a peanut sauce.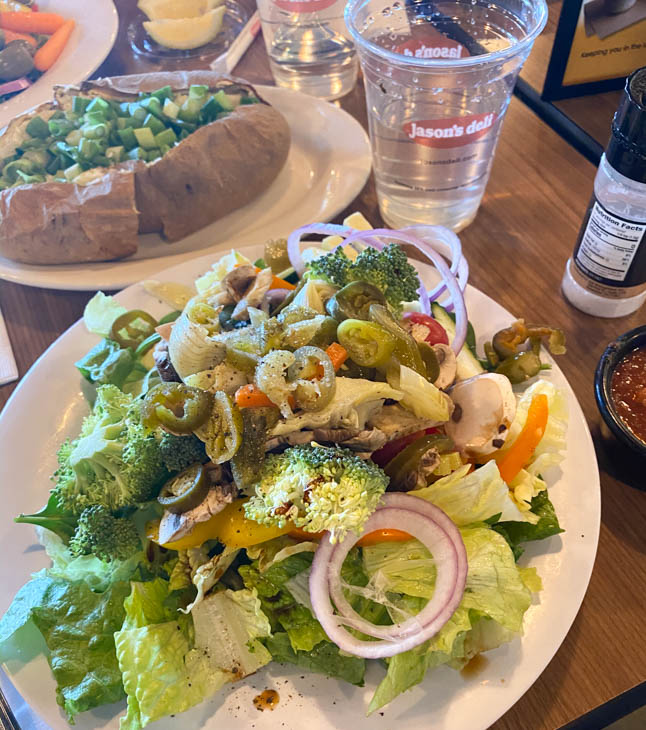 We are major fans of Jason's Deli. We go there often for a quick meal. We get the salad bar and fill up on greens (spinach, romaine, and spring mix with bell peppers, mushrooms, red onion, tomatoes, broccoli, artichoke, jalapeno. For dressing, we use salsa or balsamic vinegar.
We also ordered a plain baked potato with chives on it. No other toppings!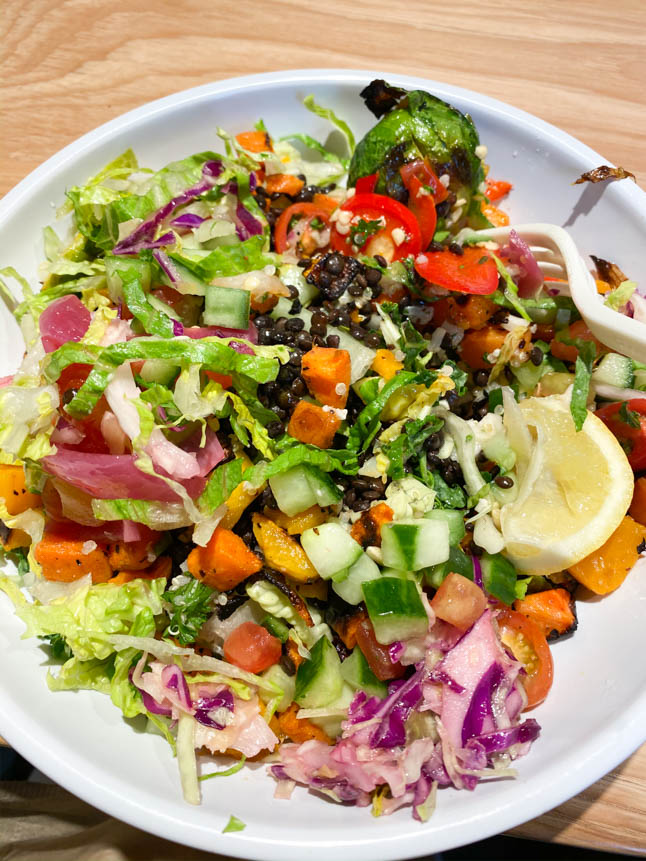 This was a yummy bowl from CAVA. I got the bowl with lentils, all the veggies, and the tahini sauce on the side.
Dinner
For dinner, we do more cooked food like sautéed veggies and have them with either quinoa, or some lentil or chickpea pasta. When we are eating out, we ask for a veggie plate, or order a few sides of vegetables like asparagus, broccoli, and sometimes, a baked potato.
When we are cooking at home, we don't cook with oils. We just saute with water:)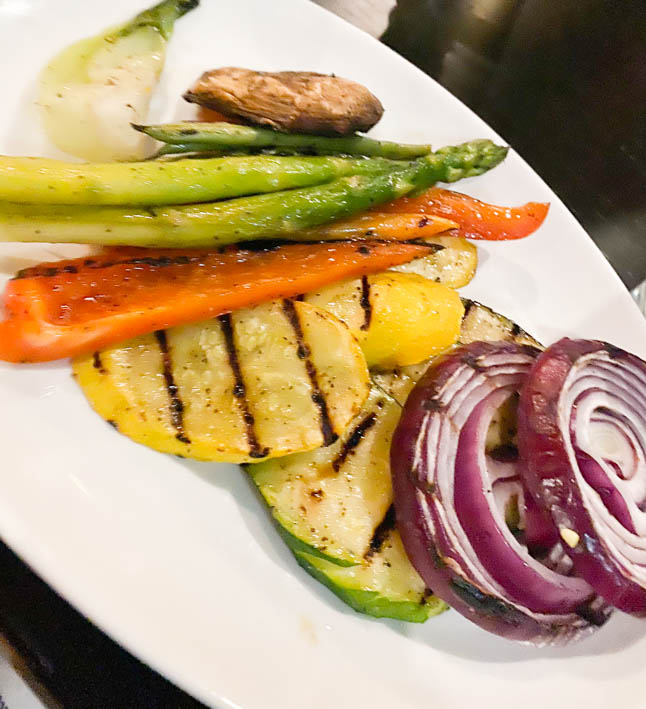 This was a grilled vegetable plate we got at a restaurant: zucchini, squash, red onion, bell pepper, bok choy, mushrooms.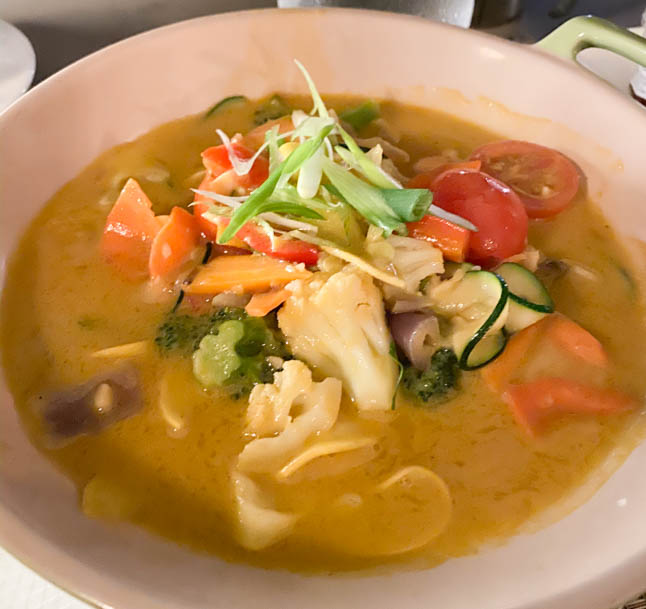 This was SO good! We definitely need to make this at home. It was a vegetable curry with quinoa. So flavorful, and delicious!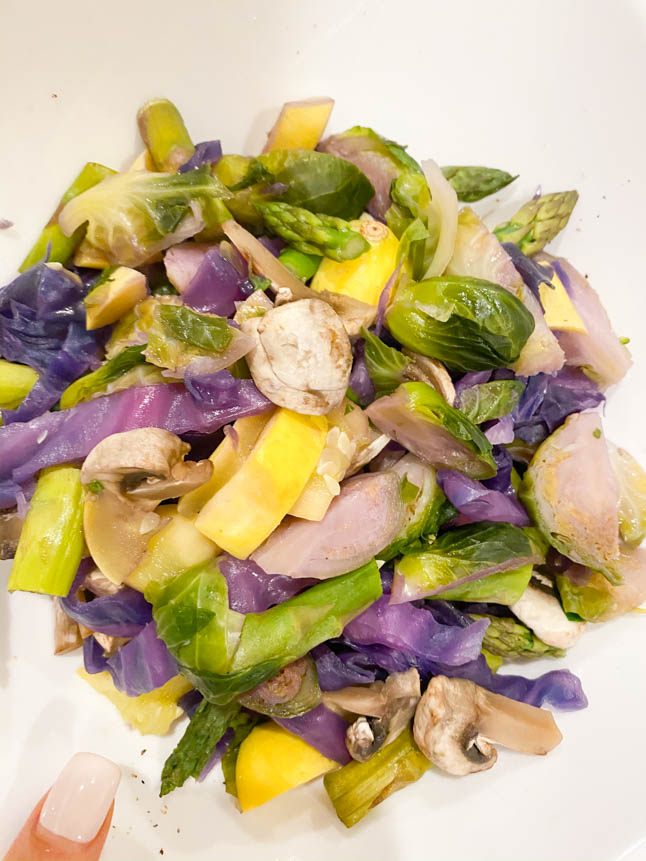 We make some variation of this pretty much every night we cook at home: sautéed red cabbage, zucchini, mushrooms, brussels sprouts, asparagus, and onion. We add black pepper and himalayan pink salt.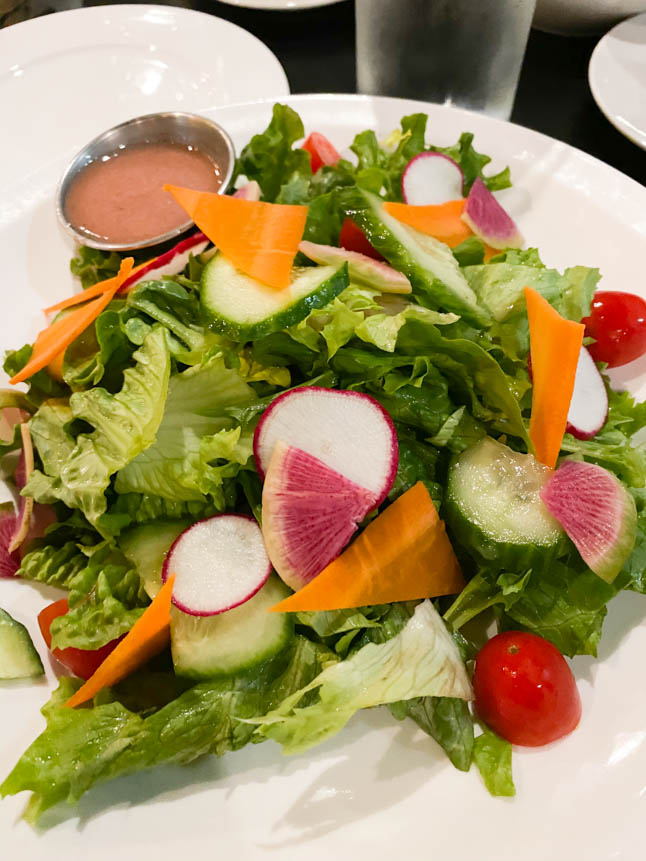 This is just a salad we got before our meal. Just greens, radishes, tomatoes, cucumbers, and the dressing on the side.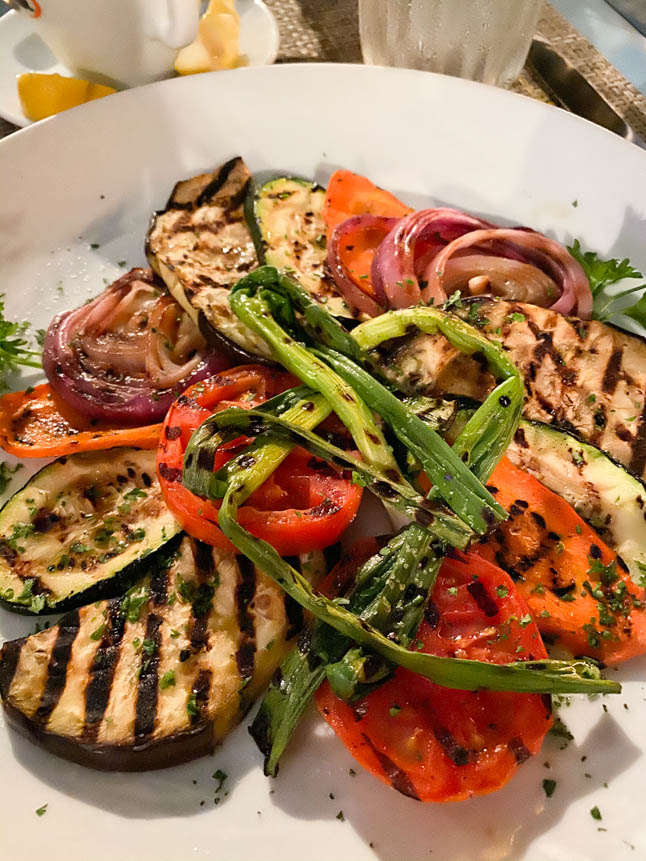 Another meal out, but you could recreate it at home! Grilled veggies: eggplant, bell peppers, tomatoes, onions, zucchini, carrots, red onion.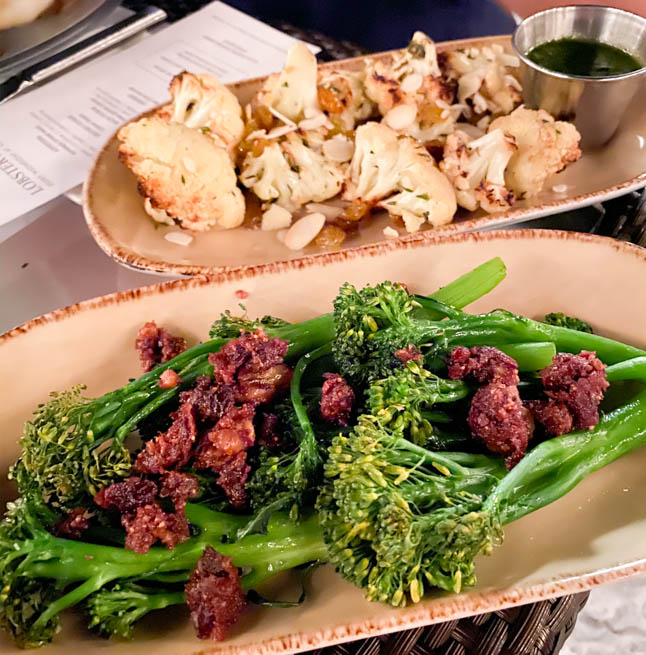 More dinner sides out: broccolini and cauliflower with dates and almonds.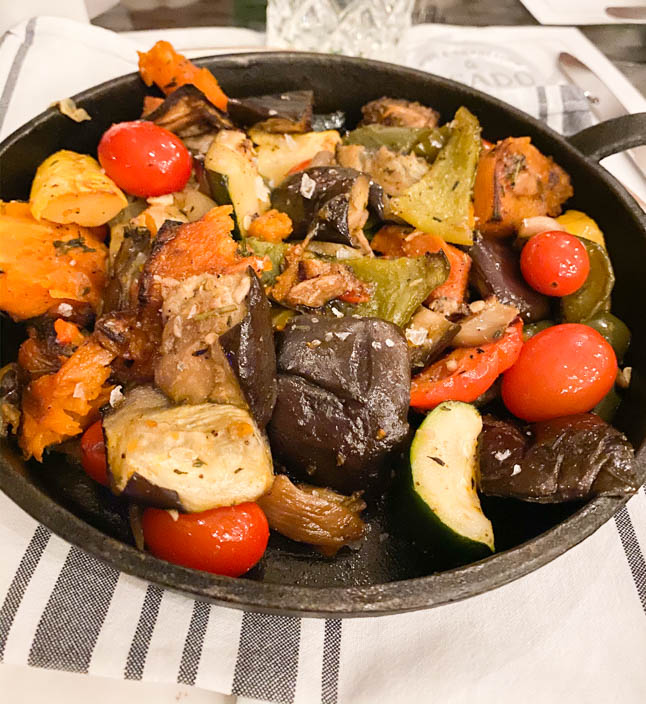 This was a veggie dish that was so good: sweet potato, eggplant, tomatoes, zucchini, and bell peppers.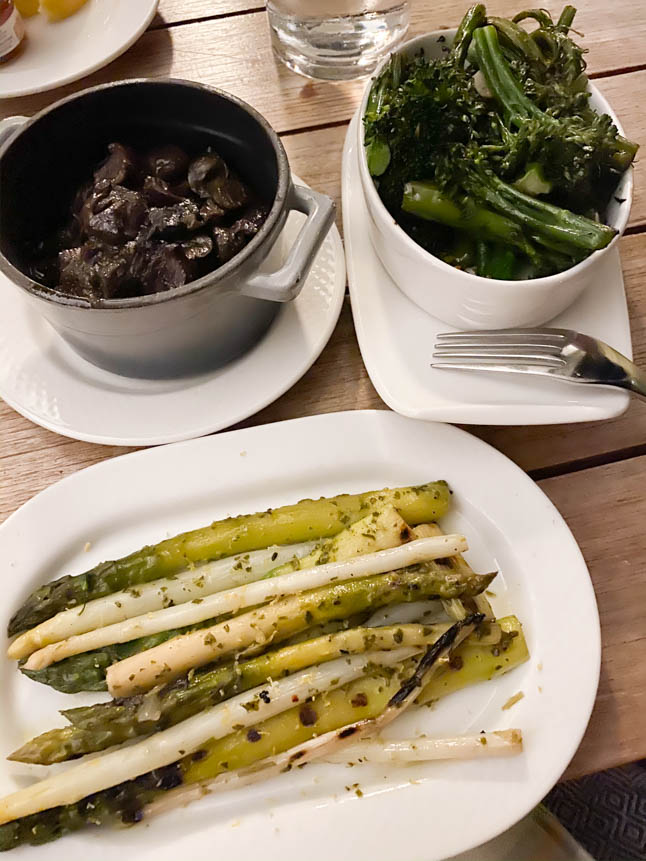 As you can tell, we are all about the sides! Asparagus, broccoli, and mushrooms.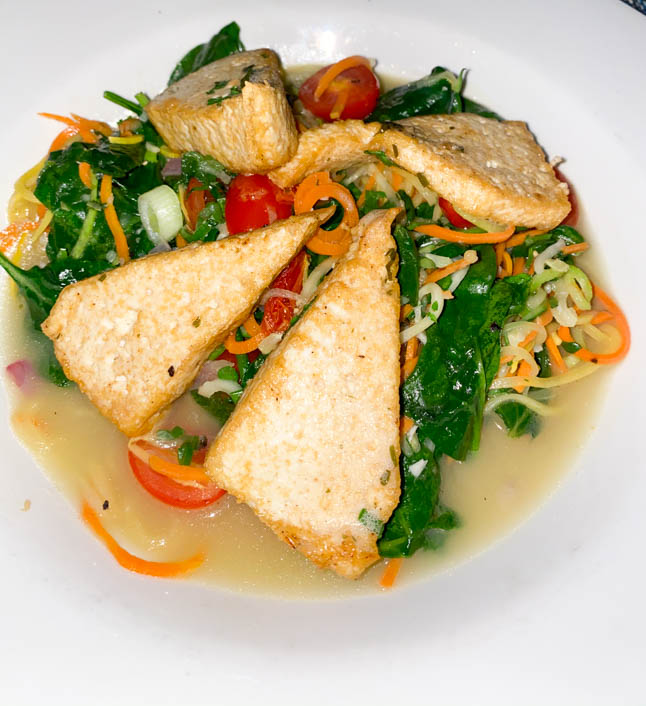 We were so happy to find this dish out: zucchini and carrot noodles with tofu on top.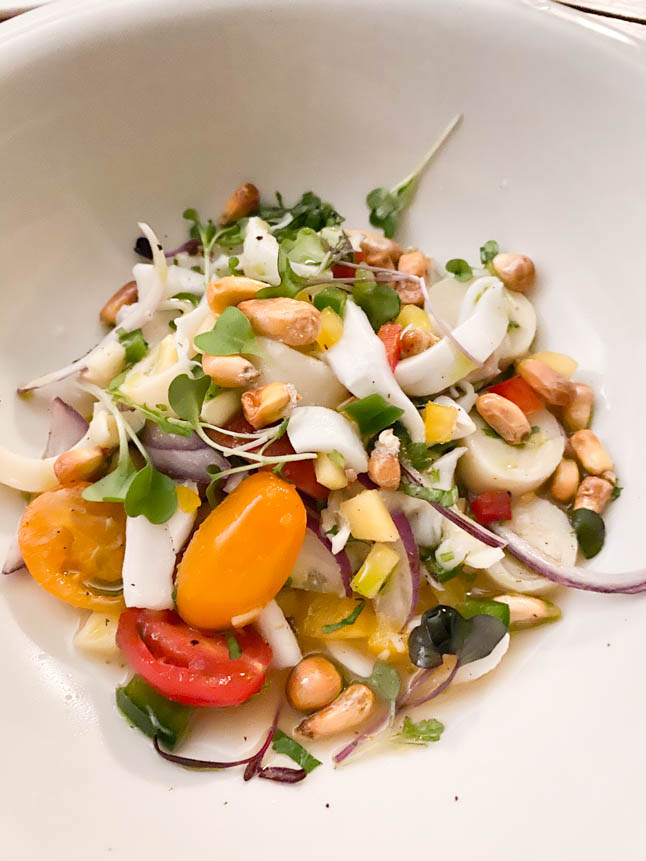 This salad was really interesting: tomatoes, nuts, hearts of palm, red onion.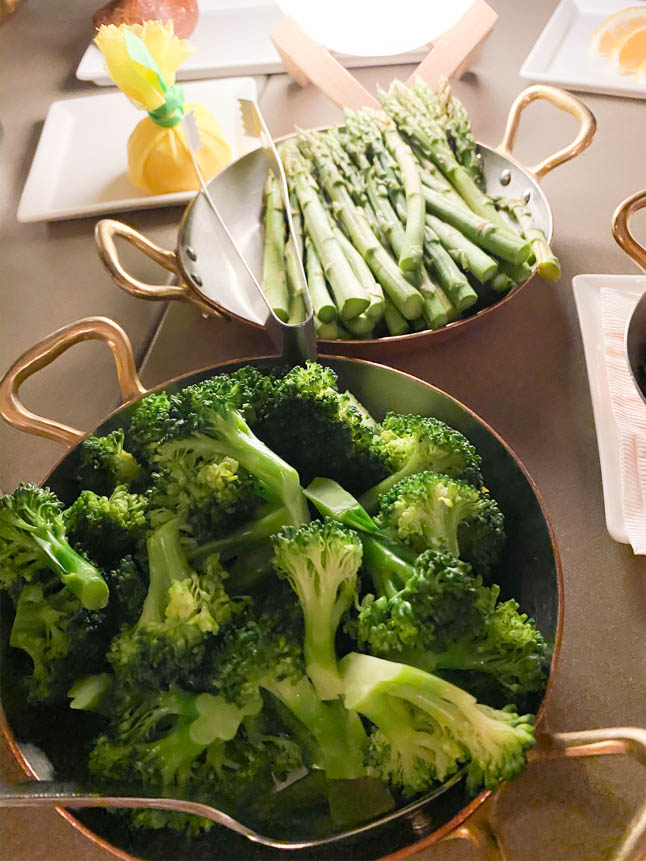 More sides: steamed broccoli and asparagus.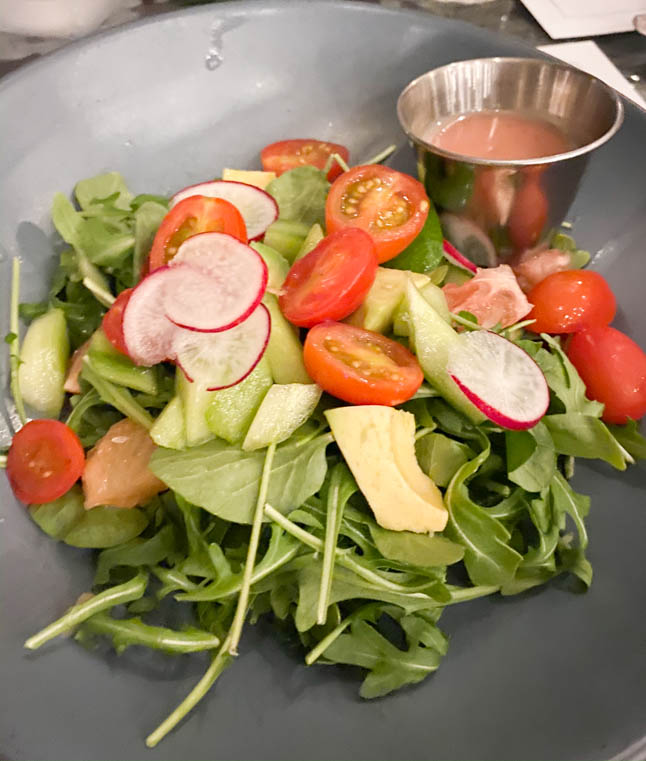 Another appetizer salad: arugula, tomatoes, avocado, radishes.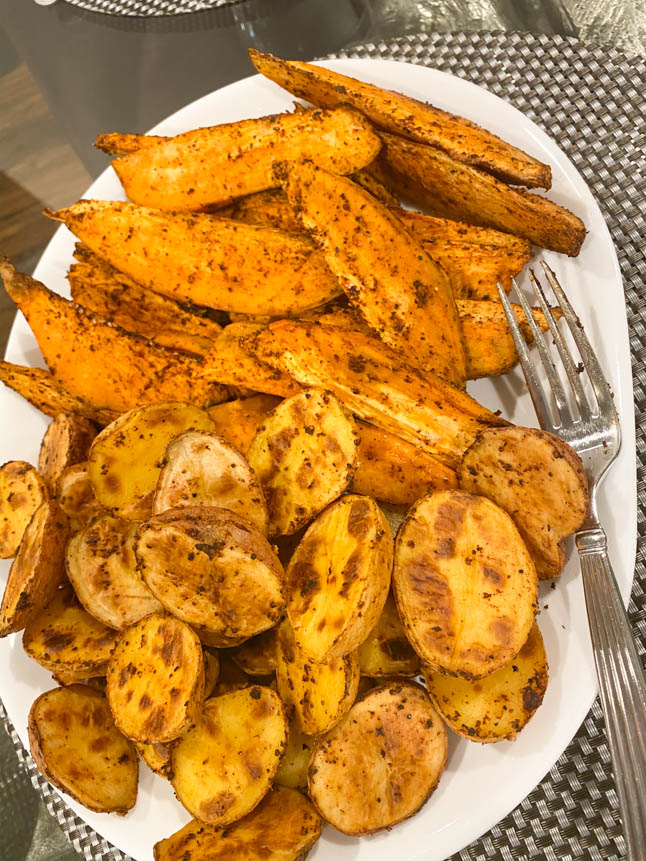 These oven-roasted potatoes are so easy to make! Just slice up, add some spices like paprika, pepper, and himalayan salt and roast in oven at 400 degrees for about 20-30 minutes.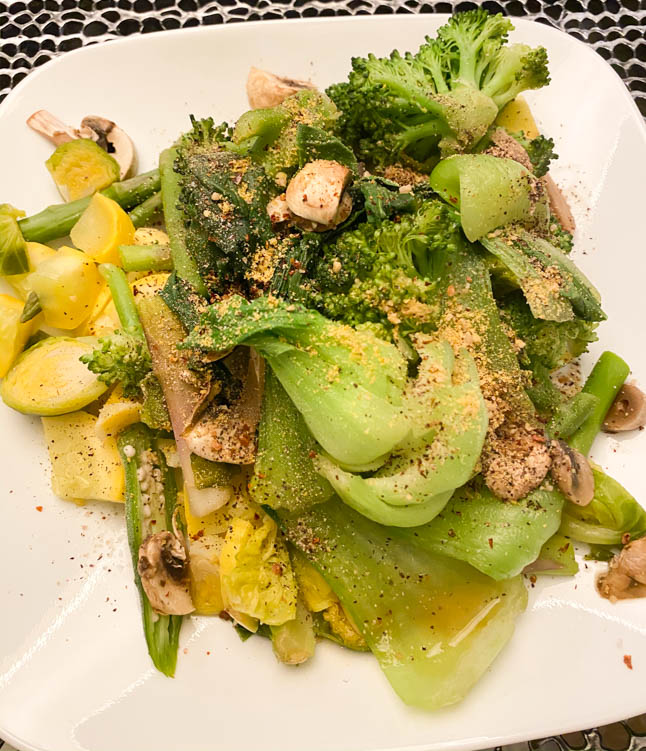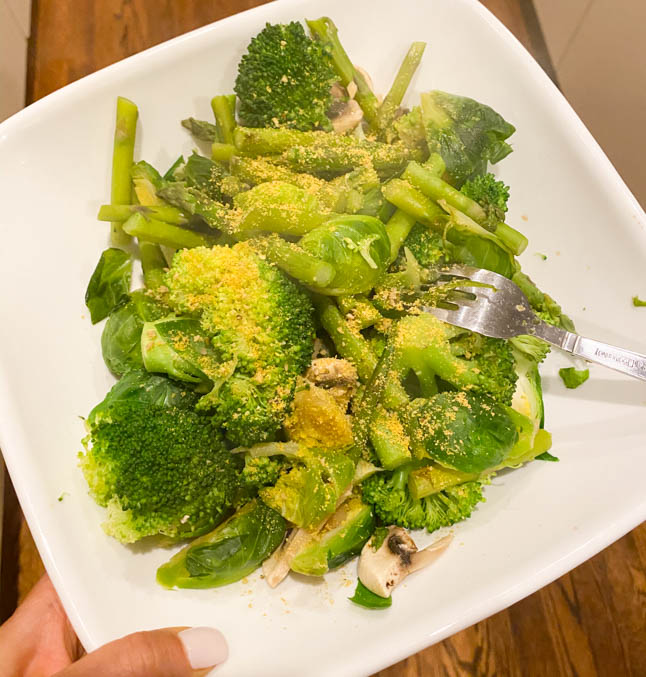 A few more staple dinners: sautéed broccoli, brussels sprouts, asparagus, mushrooms, zucchini. We use this Parma seasoning that is the bomb.com.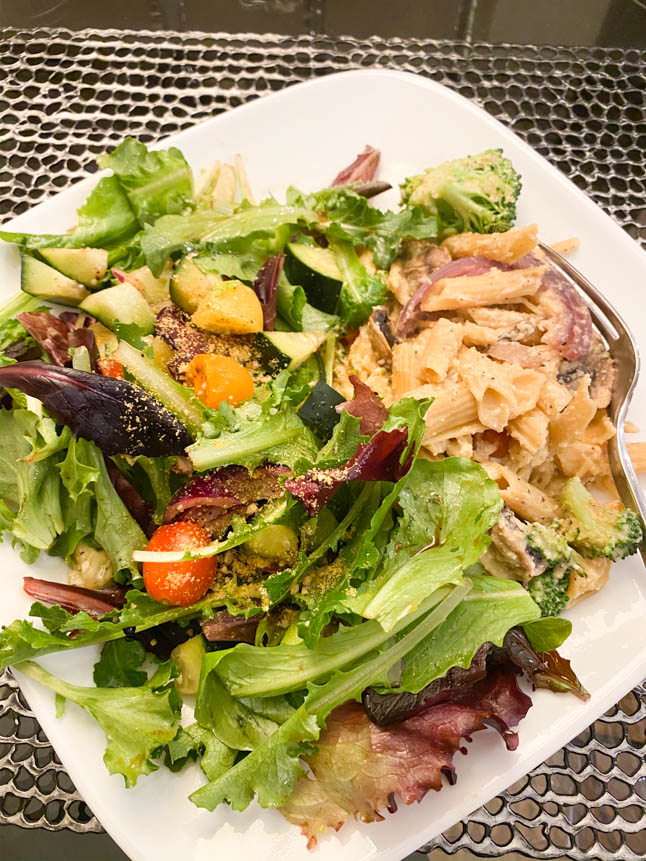 This was a meal we made a few weeks ago: salad with spring mix, tomatoes, cucumber with balsamic vinegar. Served with chickpea pasta and this vegan alfredo sauce.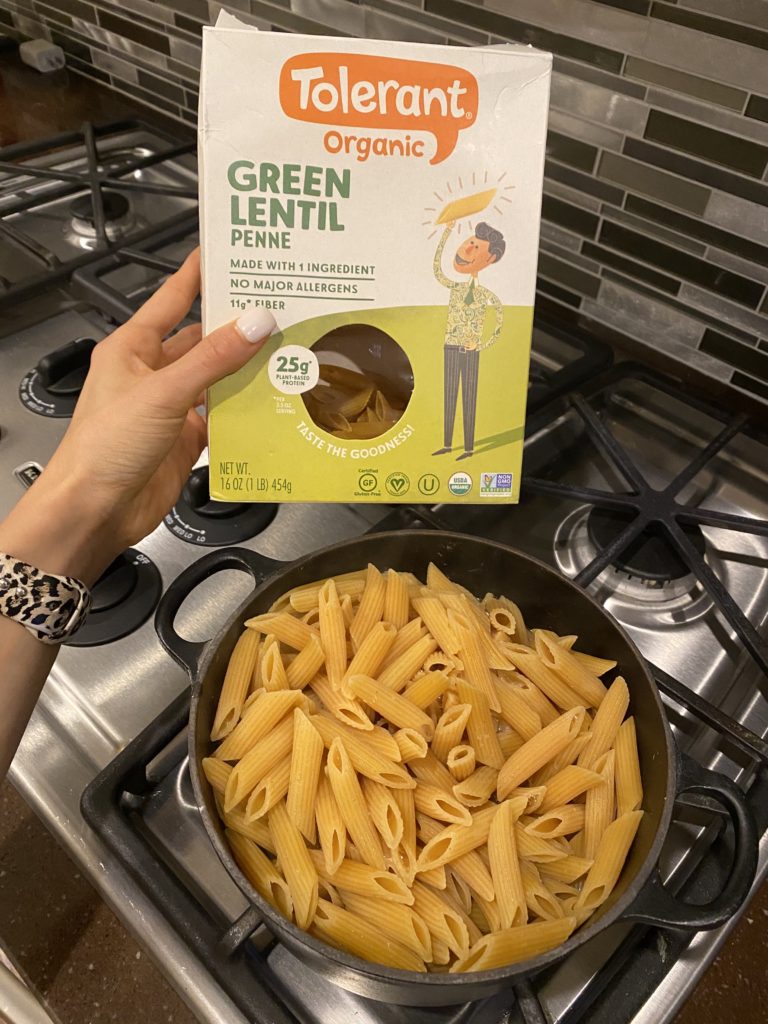 This lentil pasta is so good and is packed with protein and fiber!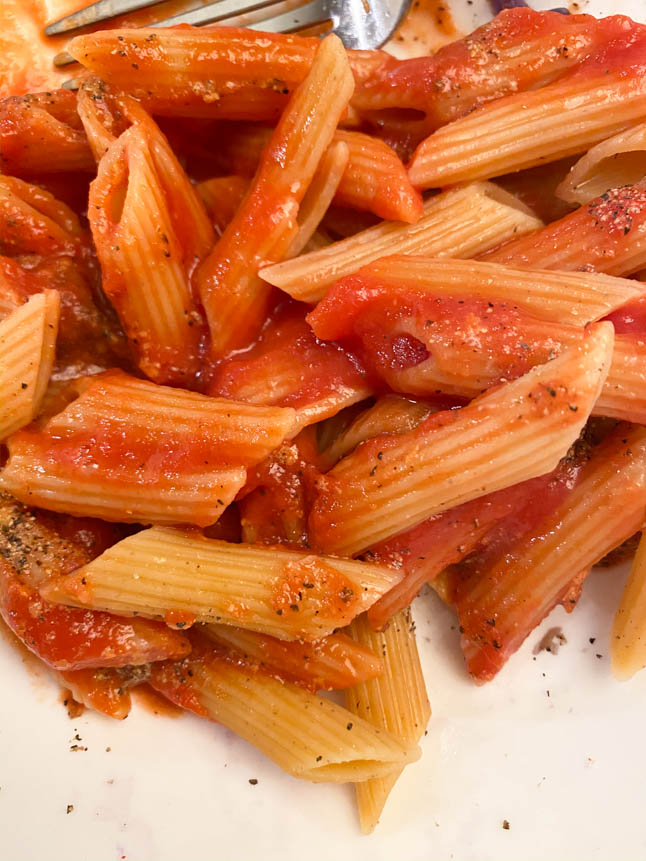 We usually serve it up with Pomi tomato sauce and spices like black pepper and himalayan salt.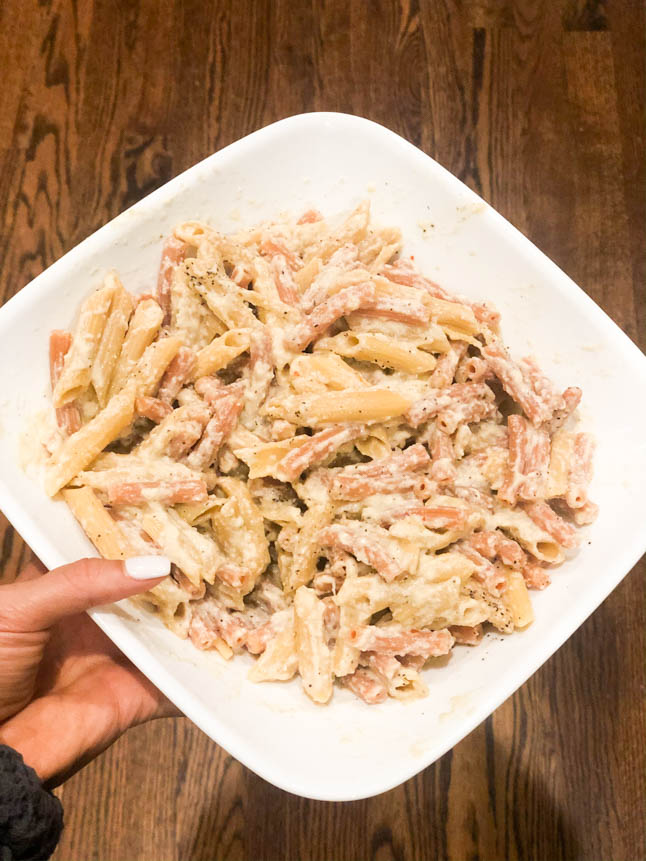 This is the same pasta served with this bomb vegan alfredo sauce we make once a week.
Snacks
Now for the snacks! aka the fun stuff. We snack a lot on things like apples, bananas, berries, and frozen mango.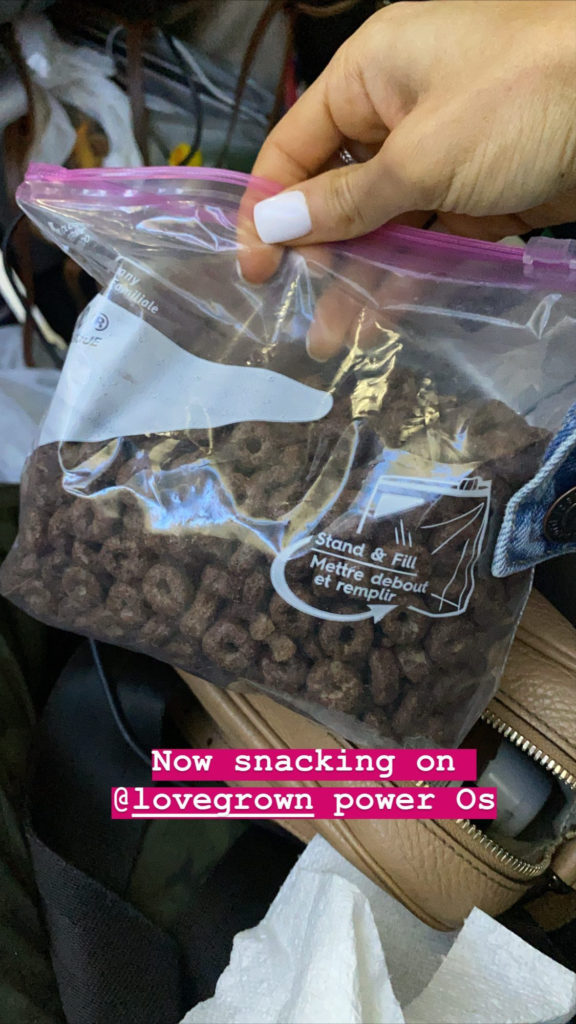 These chocolate Power O's are so good and made from beans! Our parents are hooked on them, too!
One of our go-to snacks: hummus and raw veggies!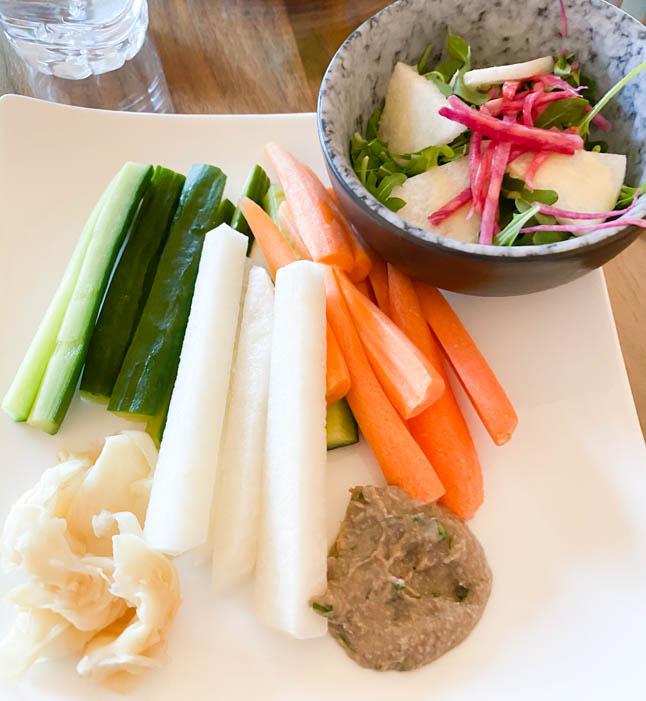 More raw veggies: jicama, carrots, cucumber with a bean dip and an arugula salad.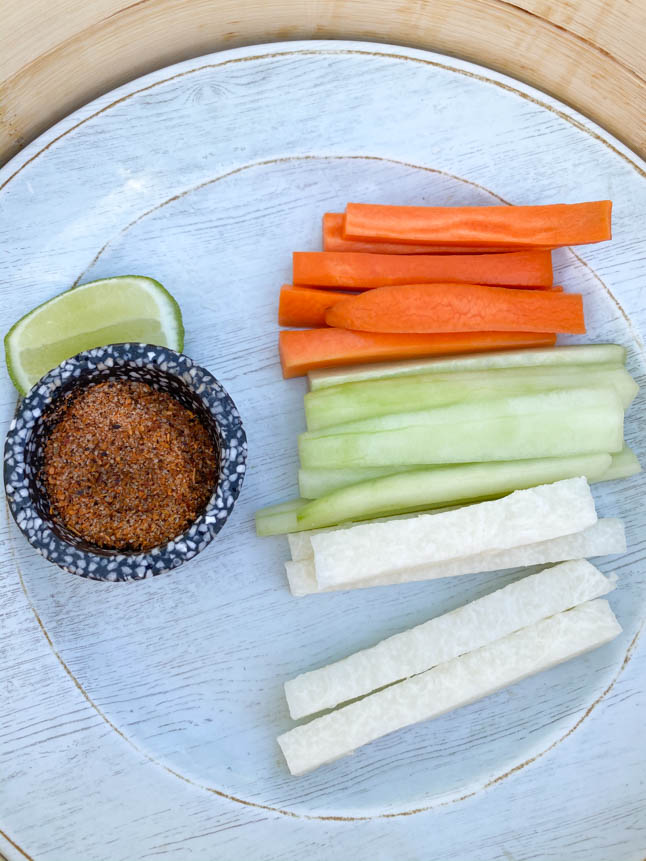 And, another veggie plate with a spice called Tajin and guac (not pictured).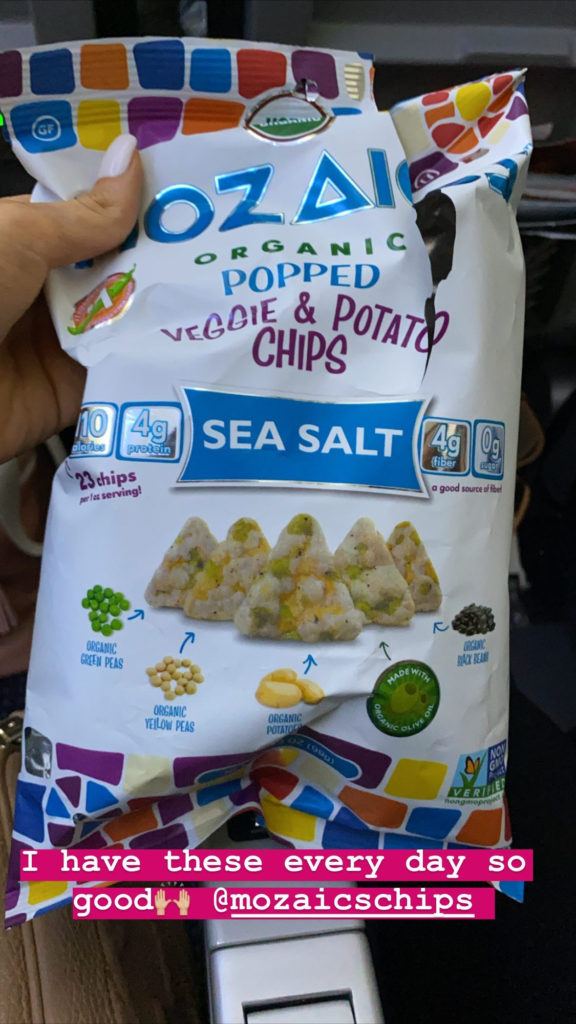 These Mozaics chips are SO good. We snack on these all of the time. Love the organic ingredients and the salsa and BBQ flavors are our favorites.
More Posts:
What We Eat In A Day + Why We Eat Certain Foods
Eating and Staying Healthier On Vacation
What We Eat At Our Favorite Local Restaurants
SHOP OUR GO TO SNACKS HERE: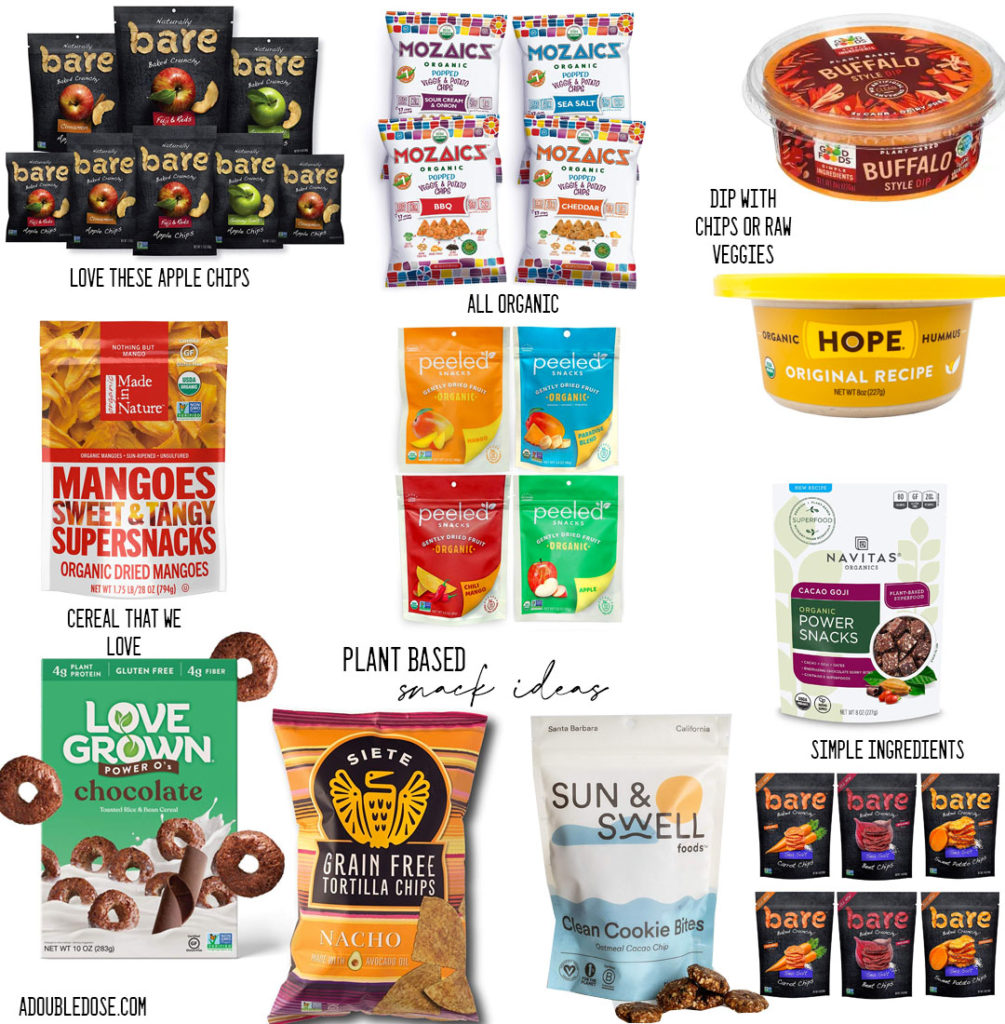 { Bare Apple Chips | Mozaics Chips | Buffalo Dip | Dried Mango | Peeled Snacks | Hope Hummus | Love Grown Power O's | Siete Nacho Tortilla Chips | Sun & Swell Cookies | Nativas Power Snacks | Bare Chips }
SHOP OUR GO TO KITCHEN TOOLS HERE: