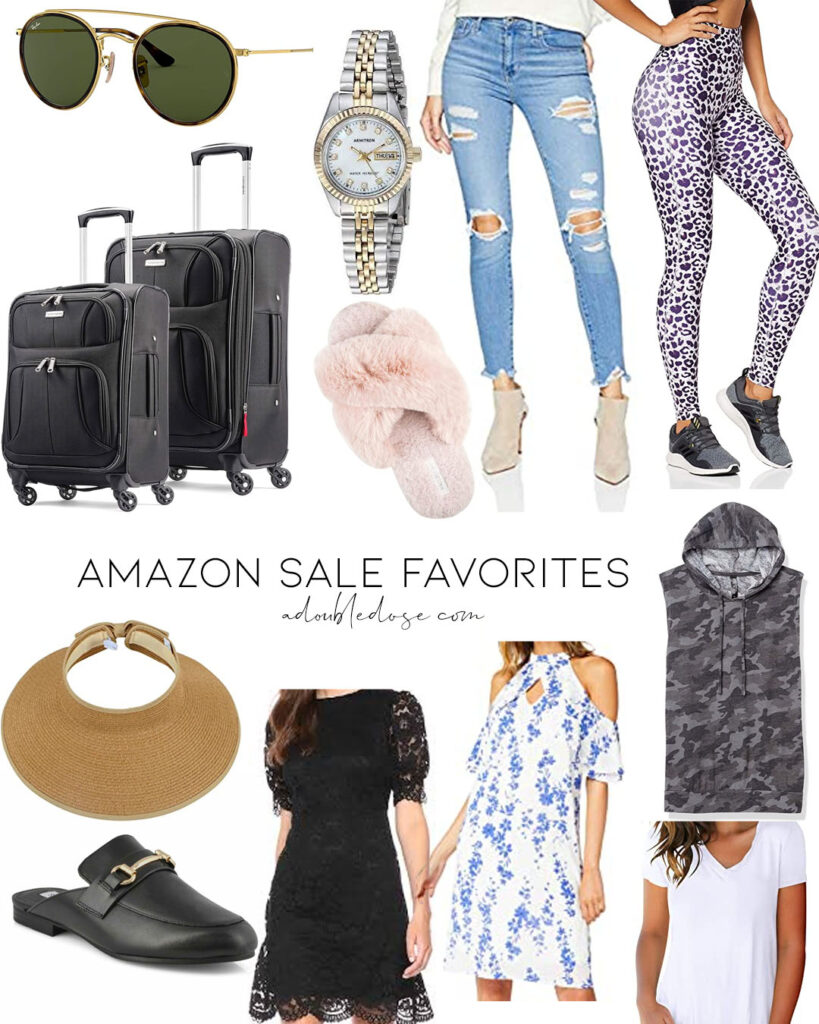 { Ray Ban Sunglasses | Women's Watch | Levis 721 Jeans | Leopard Leggings | Samsonite Luggage Set | Cozy Slippers | Visor | Black Mules | Black Lace Dress | Cold Shoulder Dress | Camo Hoodie | White V Neck Tee }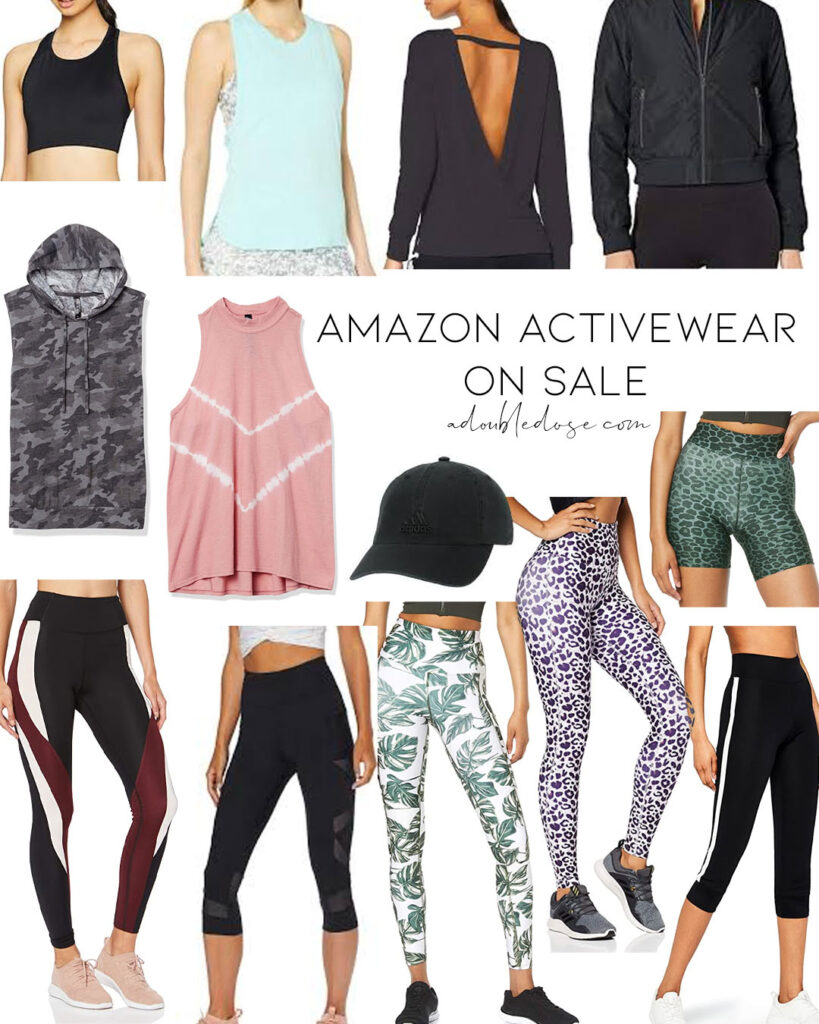 { Black Sports Bra | Teal Tank | Black Open Back Top | Black Bomber Jacket | Camo Hoodie | Pink Tie Dye Tank | Black Cap | Leopard Bike Shorts | Stripe Leggings | Mesh Crops | Palm Print Leggings | Leopard Leggings | Stripe Cropped Leggings }

Amazon is having a BIG sale on so many top brands, activewear, shoes, and stuff for the whole family!
We are sharing some of our favorites today, and be sure to shop it soon because things will sell out! We bought some of these before the sale, and were so happy to see some were marked down so you all can take advantage of it!
Accessories
These Ray Ban sunglasses are a pair we have had for a year, and so happy to see they're on sale. They are flattering on any face shape!
This visor is GREAT for summer, and we love that it velcros, and you can wear your hair in a top bun.
This watch is such a good look for less for a Rolex, and really pretty!
A good luggage set is a must. This Samsonite luggage set is an amazing buy and 50% off!
Baseball caps are our favorite hair accessory, and best part is they hide dirty hair. Love this black Adidas one.
Shoes
If you buy anything from this sale, buy these slippers. They are so comfortable and fluffy! We have size 7.
These black mules are great to wear with shorts, jeans, leggings, or dresses, and match everything! We have size 6.5.
Tops/Tanks
This white v neck tee is a great buy, and comes in so many colors! Can't beat a classic tee.
This sleeveless camo hoodie is SO cute. Love it with shorts, leggings, or any activewear piece.
If you're shopping for some good workout tanks, this teal one is a really pretty color, and comes in some other colors. We also LOVE the cut of this tie dye tank.
For long-sleeve lovers, this open back top is really cute and can be worn with leggings or shorts.
This black bomber jacket is SO cute and can be worn with workout clothes, or with activewear.
Dresses
This black lace dress is so cute and affordable and can be dressed up or down.
If you want a printed dress, this cold shoulder one is perfect for any occasion.
Jeans/Leggings/Shorts
We love a good pair of ripped jeans. This pair from Levis is a classic and comes in other washes.
Bike shorts have been on repeat lately, and this leopard green pair is so fun.
For all you legging lovers, we found this adorable leopard pair, this stripe and black pair, and this mesh cropped pair.
We are obsessed with this palm print pair and this cropped pair with white stripe accents is really cute, too.