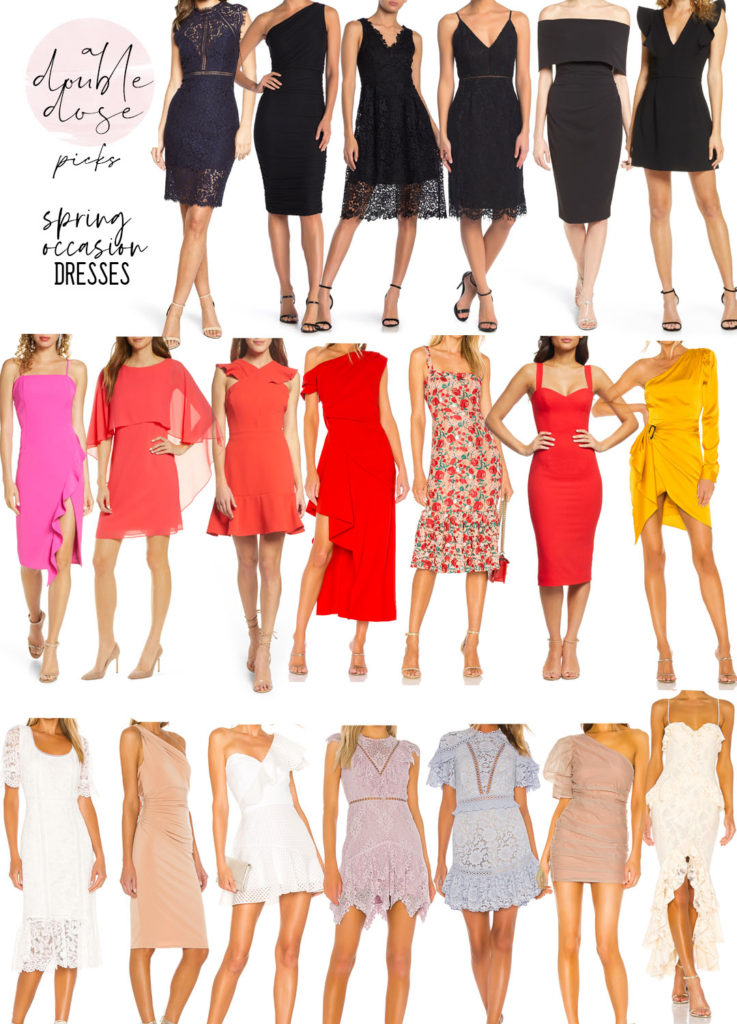 From Top Left: { 1| 2 | 3 | 4 | 5 | 6 }
Middle : { 7 | 8 | 9 | 10 | 11 | 12 | 13 }
Bottom: { 14 | 15 | 16 | 17 | 18 | 19 | 20 }
Spring is here, so that means lots of spring weddings, graduations, easter, and more. We thought we would share some options you can wear for all of them. Also, in case you missed it, we shared some work dresses here, white dresses here, ands LBD options here.
Dark Colors
You can't go wrong with a darker dress. They work for any occasion, and can be styled so many ways.
This one shoulder dress #2 is a great option and super flattering on your arms.
#4 is a cute black lace option and comes in other colors, too!
#6 is a great length-not too short, and not too long.
Bright Colors
If you're on the hunt for a brighter color, this pink ruffle option #7 is so pretty and just enough of a slit.
We love #9 because of the color and ruffle detailing. Also a great length.
#10 is a gorgeous red maxi/midi dress and so flattering.
This floral dress #11 is a best-seller and such a pretty spring floral. You can wear it for so many occasions.
This yellow option #13 is so chic and such a happy color.
Neutral Colors
If you're looking for something more subdued, we have you covered!
#14 and #20 are some pretty white lace option, and are perfect for any bride-to-be.
A pastel option is great for spring, and we love #17 and #18 because they are not too long and go with blacks and neutral shoes and accessories.