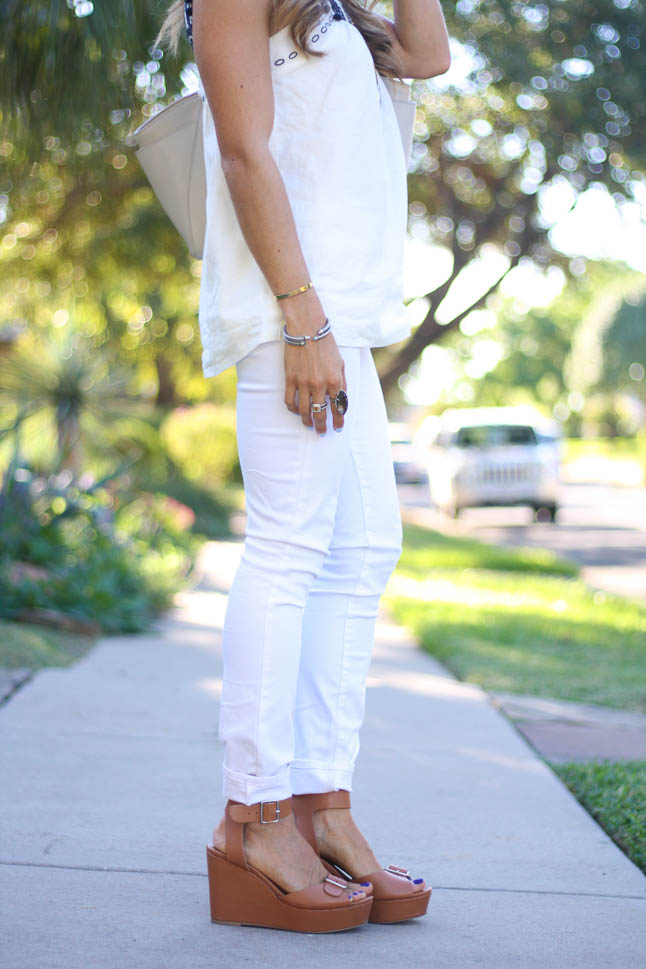 Happy Tuesday! Hope you all are having a great start to the week! We will be sharing Tuesday Tastes tomorrow since this post got kind of long!
We had a great weekend filled with lots of rain, attempting to sell some of our clothes that we were planning on giving away, working, and taking a restorative yoga class. Which, by the way, was FAB! Not going to lie, we were not entirely excited about an hour-and-a-half yoga class. We do like taking yoga from time to time, but an hour and a half is a little much for me.
We got so busy on Sunday that we almost didn't make it, but we told ourselves we were going to do everything we could to make it to this class. Luckily, we made it and felt SO relaxed afterwards. The class was at Plum Yoga, which we highly recommend if you haven't been (we will be doing a full post on their studio soon!)

The class was great because you hold each pose for a while (which let's be honest, none of us will ever do!) Some of them felt great, but others, I felt like I wanted to stop five seconds in. I hold so much tension in my hips and back/neck area, so the stretches that focused on those areas were a little more uncomfortable for me. I found myself falling asleep multiple times throughout the class, and that's how you know you are feeling good! I also almost left my phone there, which is also a sign that I was super relaxed because if you know me, you know I am glued to my phone (something I need to work on-more on that later!)
It was our mom's birthday yesterday, and we had planned to surprise her. We had tried this once before, last year for labor day, and I think we shared the video on Instagram (too funny!). Anyways, we usually are baking waffles all day Monday and Tuesday, and since we are so consumed by that on those days, we knew there was probably no way to celebrate her birthday with her. We are super close with both of our parents, so we love when we get to spend holidays together or celebrate special moments like these.
Anyways, Samantha and I had decided we would get all the waffles done on Monday morning (which was quite the rush!) and then catch a flight in the afternoon. The only other flight was late at night, and we are usually in bed by that time 😉 We booked the flight and didn't say a word to our mom or dad about it. We talk to our mom multiple times a day either on the phone or through texting, so it was SO hard to not say anything about it. Yesterday, we wished her a happy birthday and told her we would be busy making waffles.
Somehow, she had a motherly instinct and we started getting the idea that we might be coming. I think we kept harassing her about what she wanted to do about her birthday and she knew that we would want to be together, so she kind of thought that we would be coming. She also thought that we'd be busy, so that we wouldn't be able to come. She kept calling us while we were at the airport, and of course, we couldn't answer it, so we kept saying we were busy with the waffles. Basically, she knew something was up and she was putting it together. We had planned to take a cab at the airport to their house and knew she was going to be home.
We finally landed and got down the escalator at the airport, and from the escalators, I could see some people standing there, and then my eye caught a pair of black tennis shoes that looked just like a pair my mom had. As we started getting closer, I realized it was her, and immediately, Samantha and I glanced at each other, totally disappointed. My mom had this huge smile on her face and we were so upset! I think we just really wanted to surprise her and have the same reaction we had before when we surprised her. She said she had a feeling we were flying in and decided it would be so funny if the joke was on us. Well, it was definitely on us. She was so excited to see us, and even though we didn't surprise her the way we wanted, it meant so much to her! We are so happy we get to celebrate with her for a few days!
Okay, now for the outfit!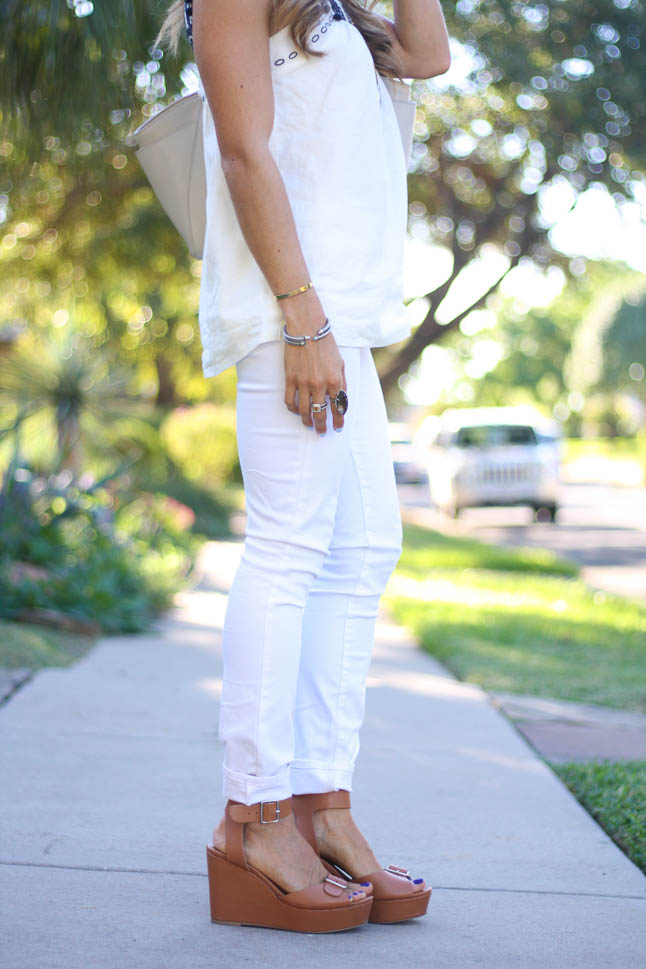 It may be November, but white jeans are classic all year-round. We definitely don't follow the "no white after labor day" rule. White is just so classic and clean and goes with everything! These white jeans are our go-to. They are super comfy and stretchy. I have traveled in them multiple times and they are like wearing yoga pants!
I also love how they are a skinnier fit all the way through the leg. I am wearing a size 24 (which is true to size for me).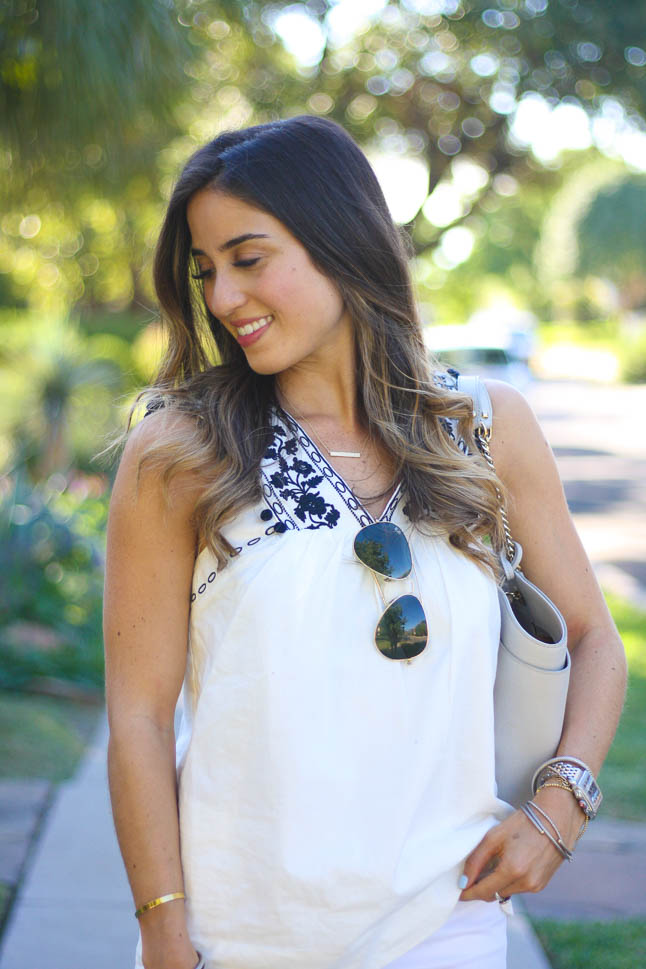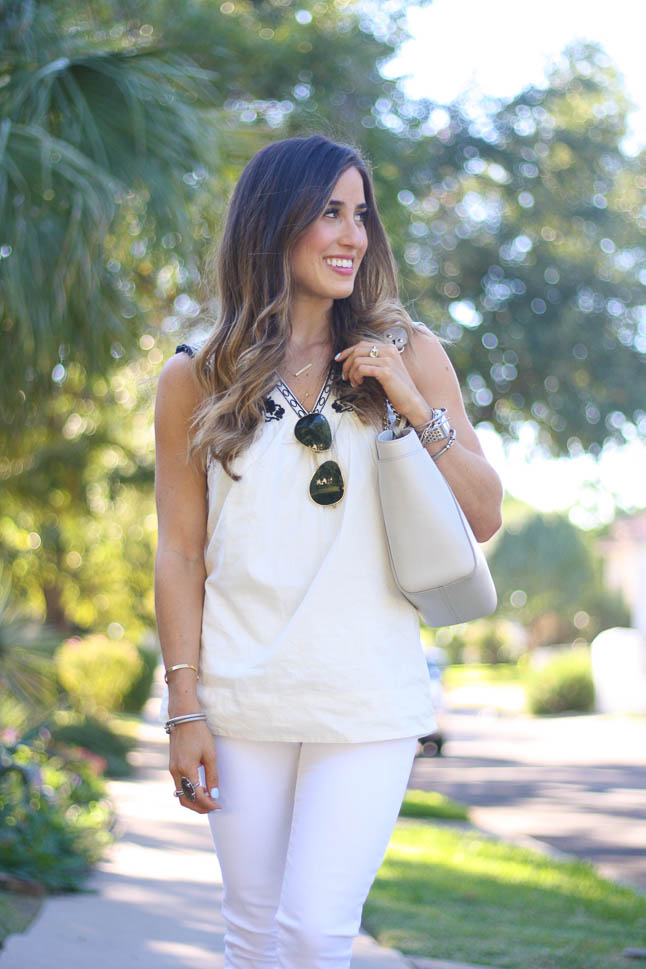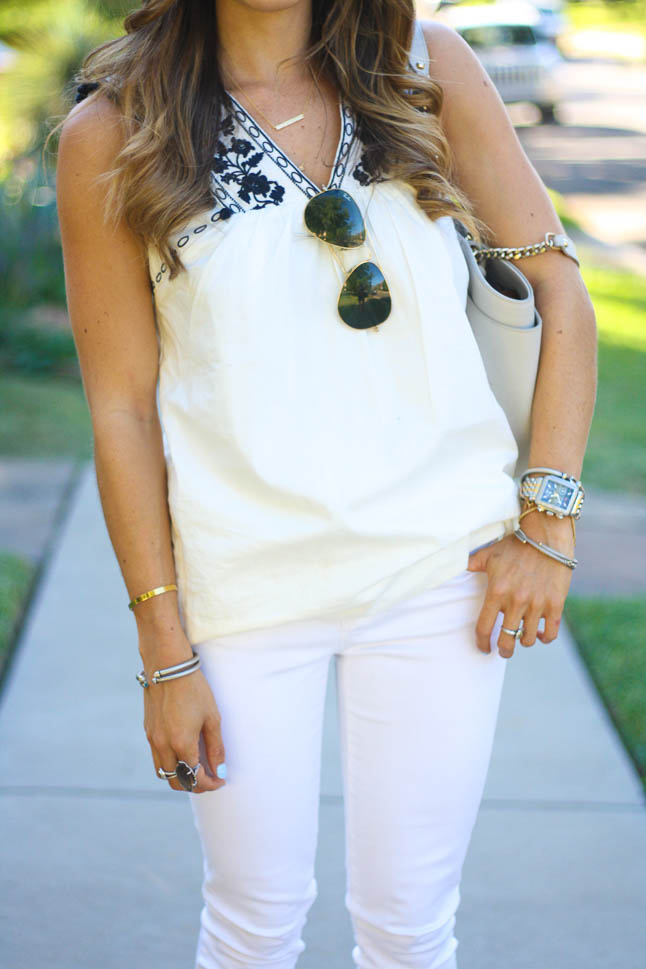 I got these buckle wedges in the summer, and was actually kind of unsure about them at first. Well, I wore these ALL summer long, and now they're almost sold out. I found some similar ones here and here!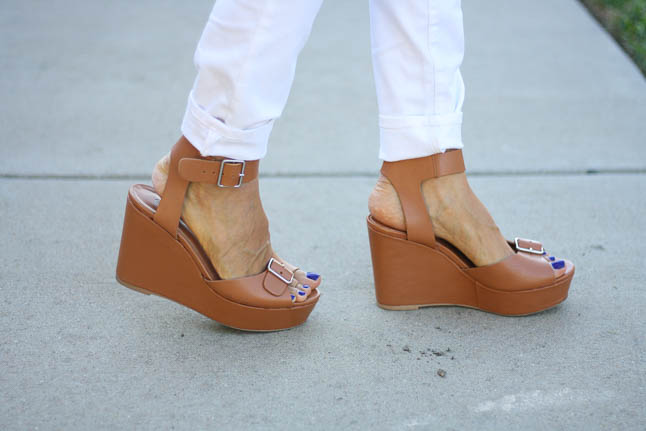 I have a thing for embroidered tops, and this one is no different! I got this one at the J.Crew Mercantile store that opened in Dallas a couple of months back. They don't have it anymore, but I found some similar ones here and here.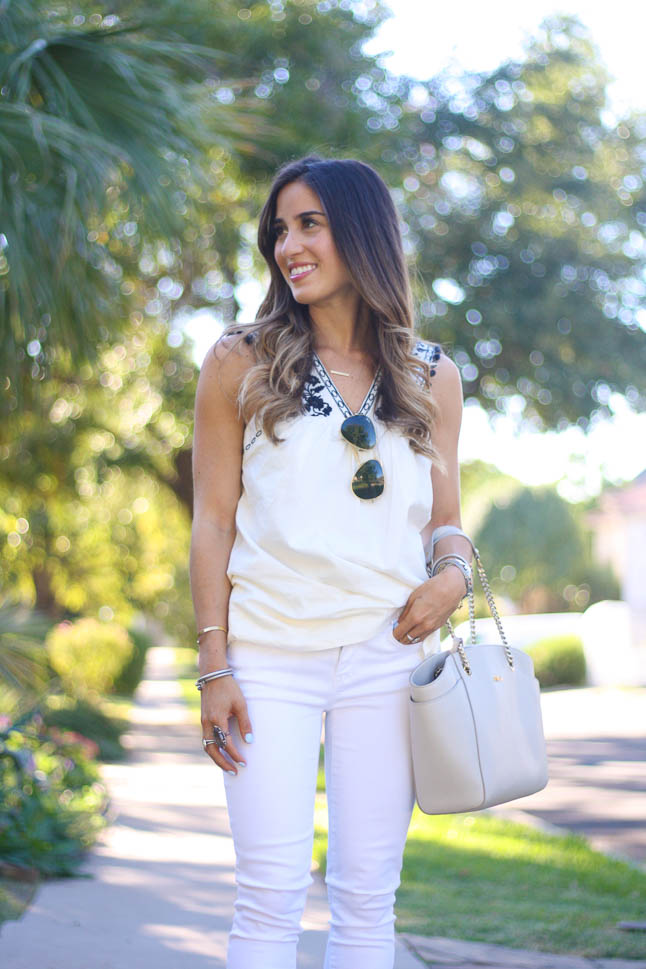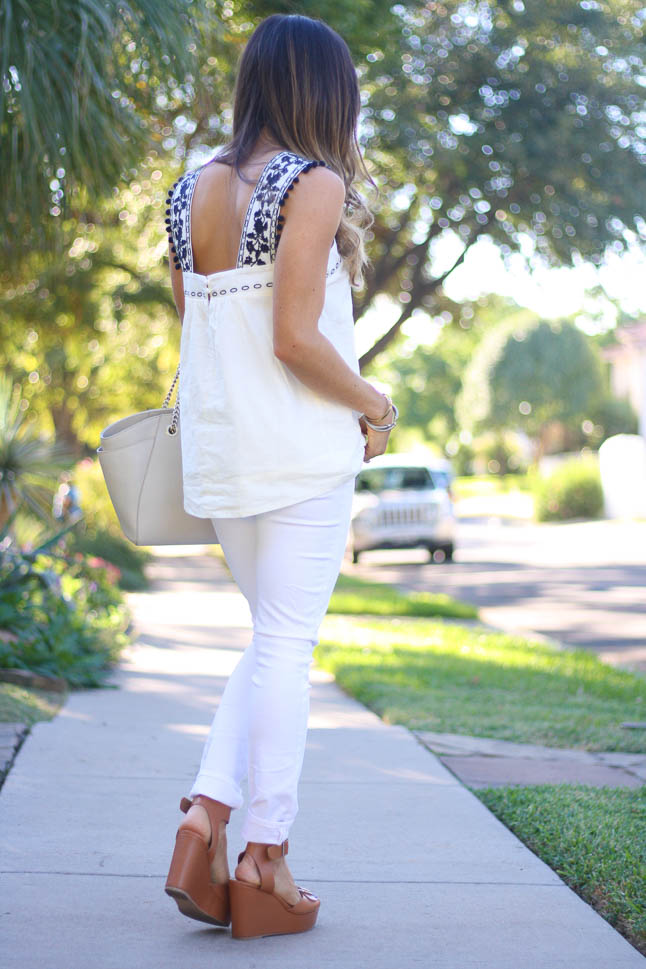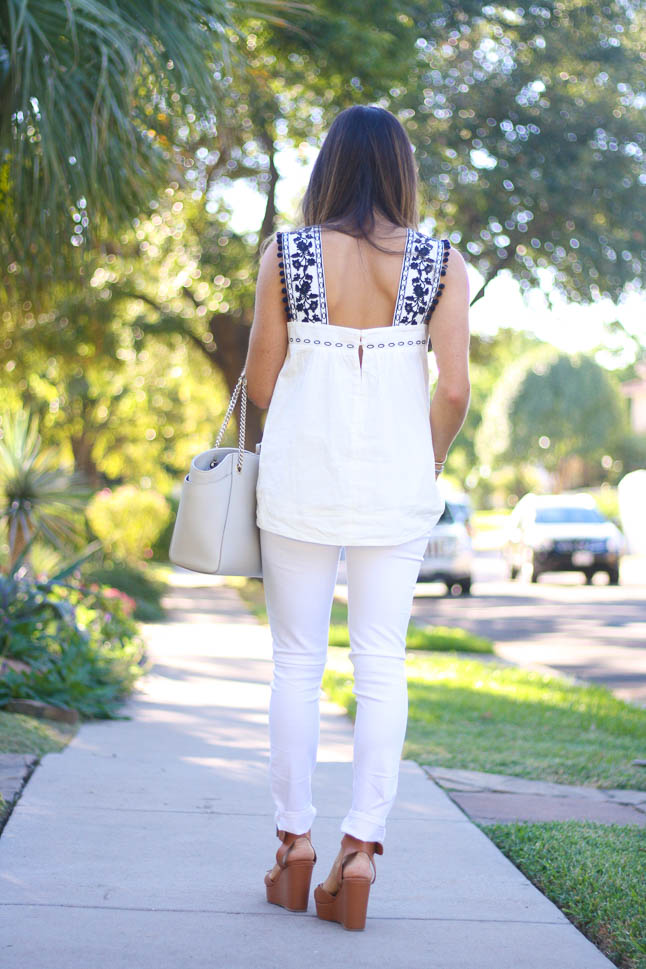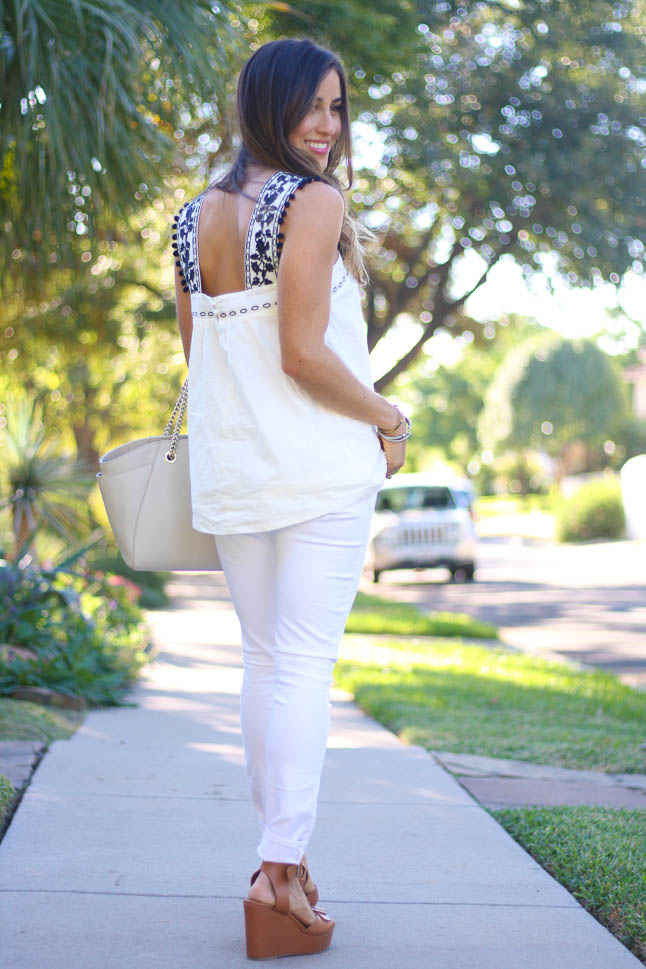 I love these jeans with sandals, but I also love them with ballet flats, booties, or riding boots!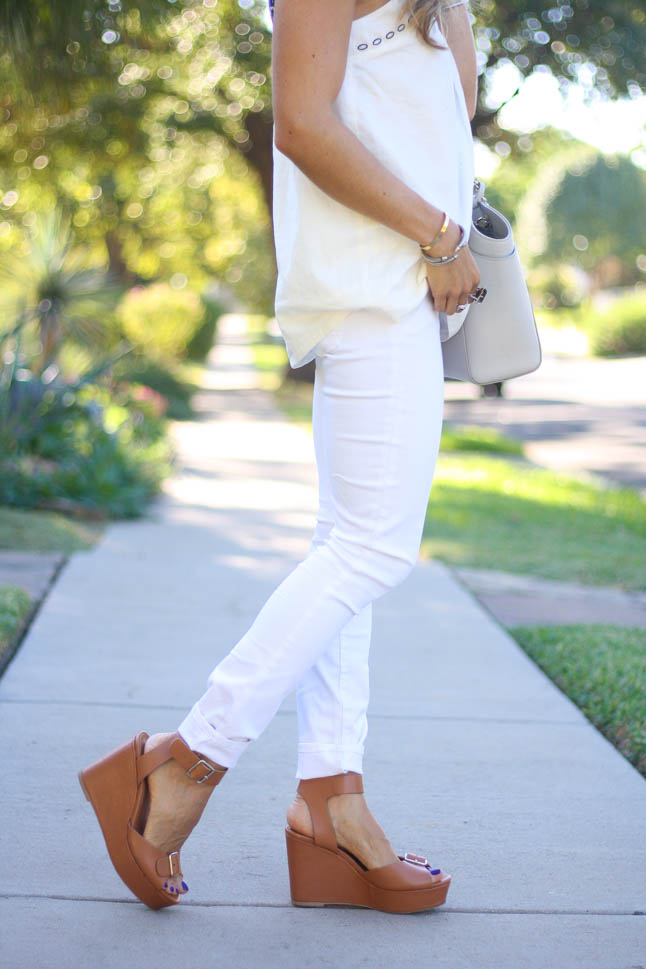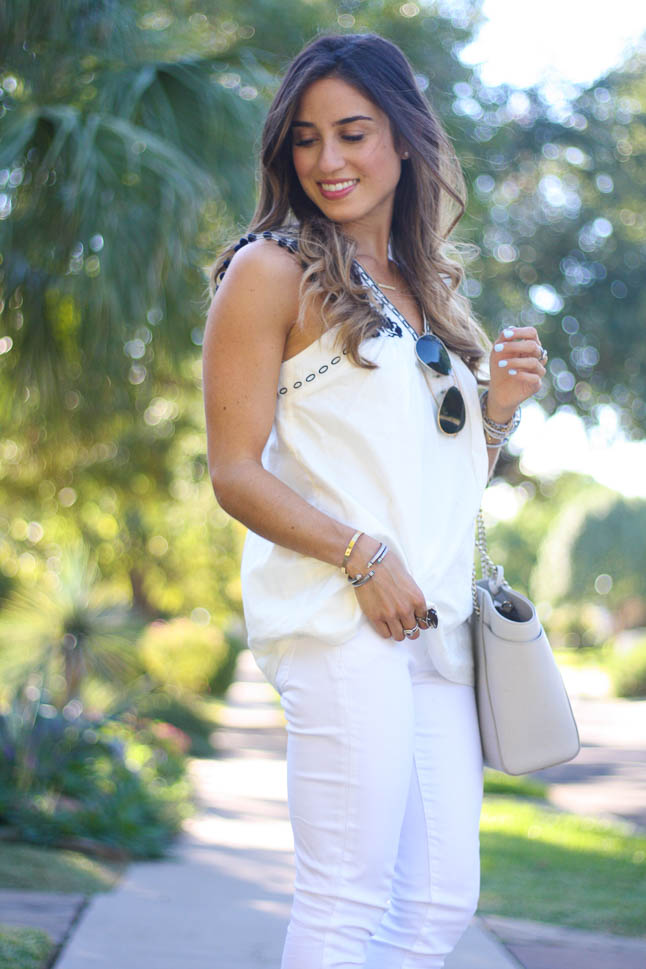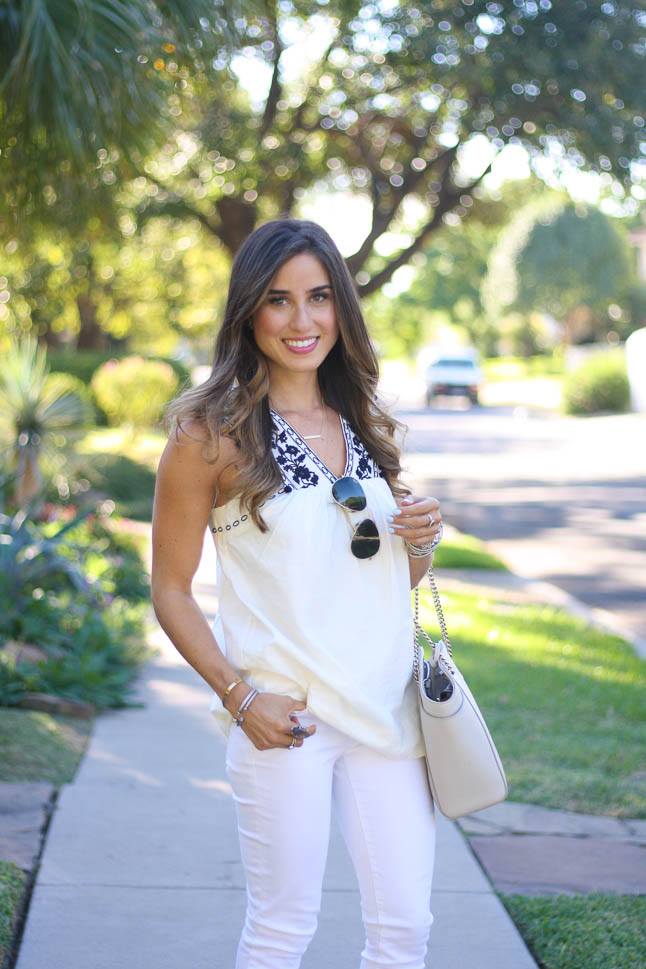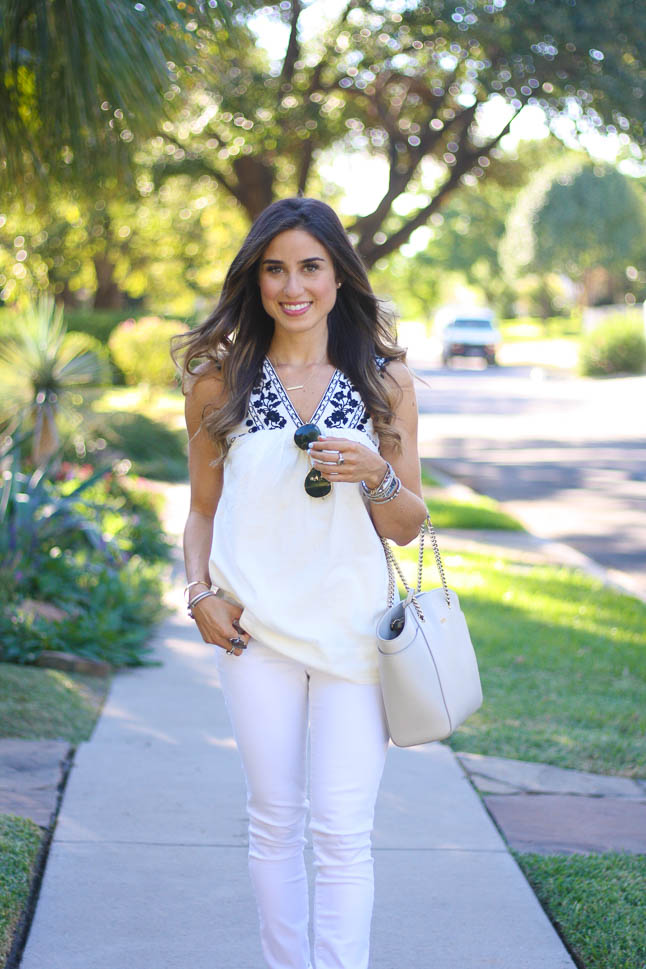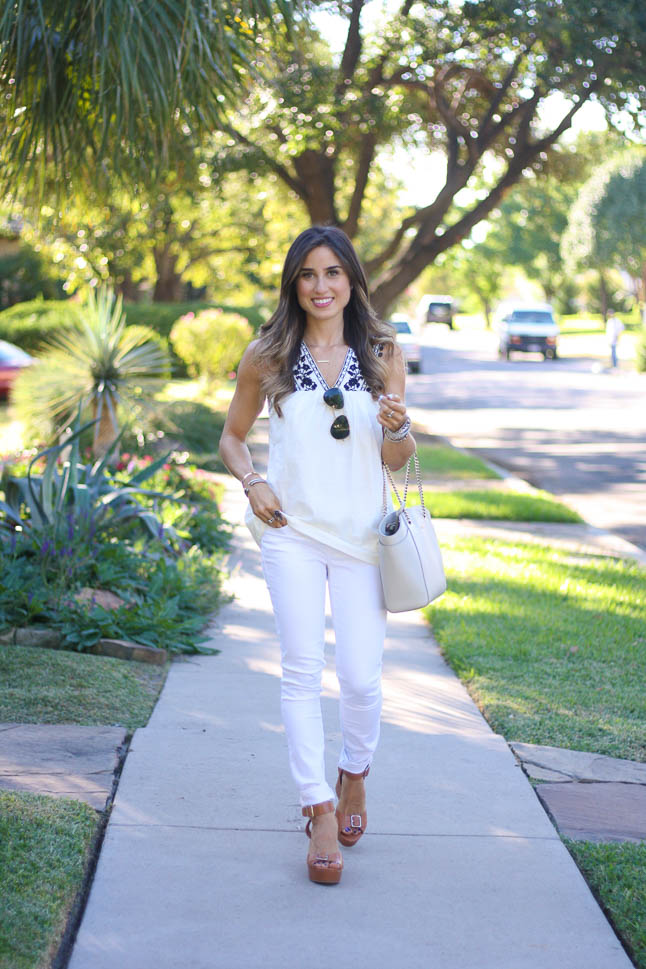 SHOP THE POST:
{Embroidered Top Similar Here here here here and here| White Jeans (almost sold out) more here | Buckle Wedges also similar here and here | Gold Necklace Similar Here and here and here| David Yurman Cable Bracelets here, here, and here | David Yurman Ring here and here | Michelle Deco Watch | Charroil Wrap Bracelet Similar Here and here | Gold Cuff | Aviator Sunglasses | Furla Handbag Similar Here }

Related Posts