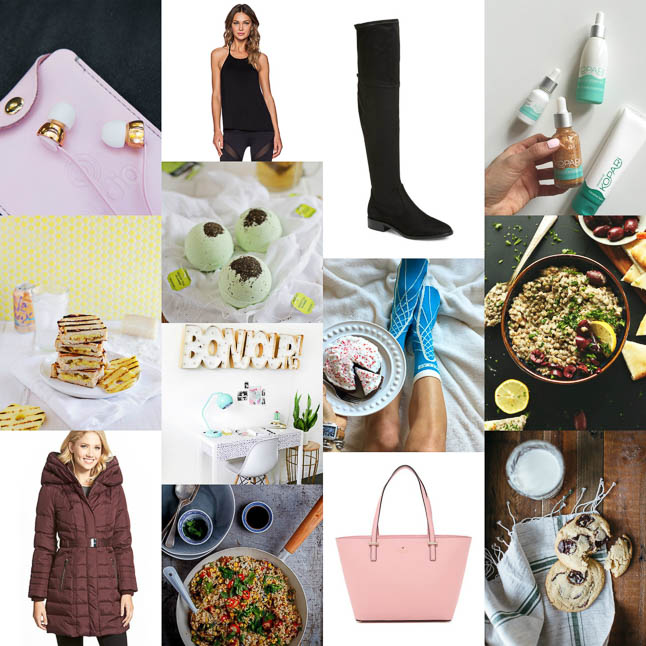 SHOPPING:
Obsessed with the back of this halter top!
This puffer jacket is on sale for under $170 and comes in three colors. AND I love that it has a belt!
These Over-The-Knee boots are the ones I have been wearing and they're on sale for under $110!
Love this Kate Spade blush tote thats on sale!
These black and white crops are to die for! and under $60!
Love these pink Sudio earbuds. You can get 15% off code adoubledose15. They offer free shipping worldwide!
These Kopari coconut-oil based beauty products are the bomb.com. Who doesn't love coconut oil anything?!
Shared these fun Dallas socks on Instagram a while back, but wanted to share them again because they're so fun and we got a lot of questions about them!
FOOD:
This Spicy Thai Chicken Stir Fry sounds and looks amazing!
Major fan of fried rice, and this vegetable fried rice is no different.
Obsessed with all things Mediterranean, so this lentil dip looks amazing!
Sweet grilled cheese?! SOLD!
Salted Tahini cookies. Need we say more?!
INTERESTING READS:
The life advice you wish you learned in your 20's. !! This was as if we had written it ourselves. We couldn't relate more!!
7 personal development books to read.
Not that we needed a reason to drink more coffee, but these reasons solidify it
DIY:
Have been wanting to make one of these Marquees signs. I will probably end up buying one, but this one looks fun to make!
These green tea and lemon bath bombs look incredible and so relaxing!