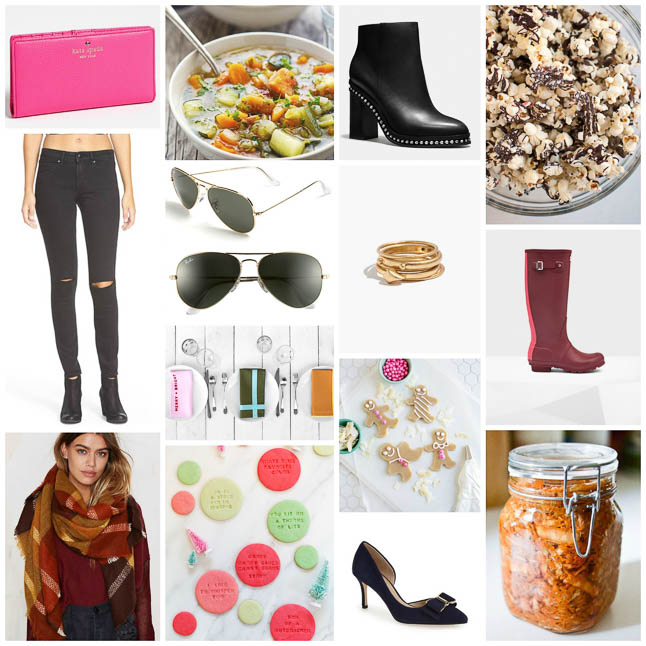 We love sharing what we're loving with you because I tend to do most of my news reading and fun article reading in the mornings when I am eating my breakfast and drinking my coffee. I used to just immediately scroll through Instagram first thing, but now, I try to read up on the current news, fun articles and blogs, etc. all while watching the Today show [it is my morning ritual!] I HAVE to watch it every morning.
Anyways, here are some fun things we are loving this week:
SHOPPING:
OBSESSED with these studded boots on sale! They are so slick!
My favorite aviator sunnies are being price-matched and are 15% off!
This scarf is the perfect blanket scarf and the colors just scream fall!
These hunter boots are on sale for under $100!
Love these stackable rings that are under $20!
We have shared these black distressed jeans a zillion times, but they're still in stock and a few of y'all have gotten them and loved them as much as we do!
This kate spade wallet is under $64! And the pink is adorable!
These d'Orsay pumps have a bow and come in black AND red!
Macy's is offering 20% off with code MERRY
40% off Banana Republic with code BRNICK
FOOD:
How fun are these gingerbread jello shots?!
I've been wanting to try kimchi, so this recipe is on my list to make this month!
This minestrone soup looks so cozy!
These elf quote christmas cookies are to die for!
INTERESTING READS:
This girl created an app that finds ways to not let food go to waste. How cool is that?!
What nutritionists order at Mexican restaurants. This is exactly how I order!
American Airlines is now offering new seating with tons of benefits!
10 lessons in happiness we should teach girls
Why long distance relationships can actually make your relationship better
DIY:
These DIY dinner napkins are ADORABLE and so do-able!
Related Posts