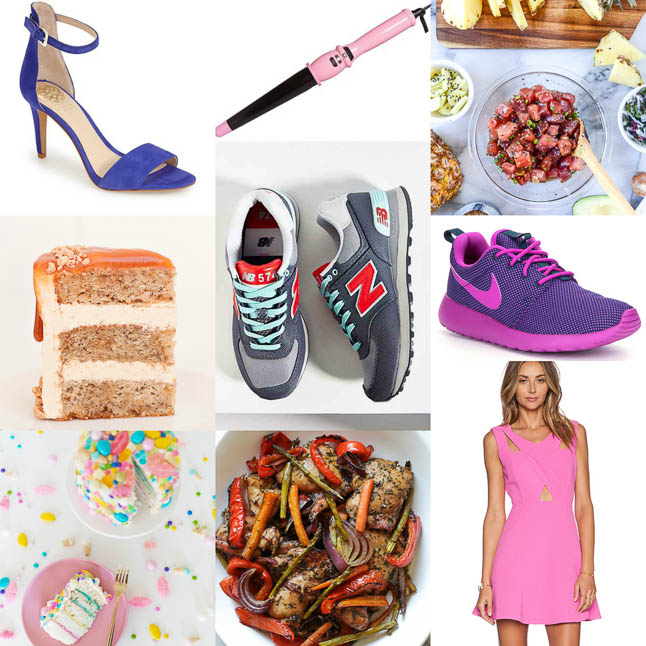 SHOPPING:
Shared our favorite Nordstrom finds from the clearance they are having here
These New Balance shoes are on sale for $50!
Pink and purple nike roshes for $60!
This pink flare dress is perfect for spring!
The exact wand I use to curl my hair is on sale for $25!
These cobalt sandals are too cute and look good on everyone. They also come in a bunch of colors!
FOOD:
This banoffee cake looks incredible. I would probably make a few swaps to make it healthier, but love the flavor idea!
I don't know what a leap year cake is, but this one looks amazing! I love the multicolor layers!
This is probably hands down my favorite kind of meal: balsamic roasted chicken with roasted vegetables. Looks SO easy and delicious!
These ahi poke bowls make me want to go to Hawaii right now!
INTERESTING READS:
Emily behind Cupcakes and Cashmere shares the pros and cons of working together with her hubby. I think Sam and I can totally relate to some of these!
Mars, Inc. (behind M&Ms, Milky Way, and Snickers) will be phasing out artificial colors over the next 5 years. If only all candy companies would do this.
The 5 stages of realizing your dreams according to the amazing Shonda Rhimes. I love these because I can relate to all of the stages and it really resonated with me!
Herbs that can help manage anxiety and insomnia. I suffer both of these sometimes, so I am definitely checking these out!
Love this 16-minute hotel room bodyweight interval workout! Great for traveling!
Tips on things to do the night before to save time in the morning. Yes please!
Check out What to Do in the Evenings to Make Your Mornings Easier
Related Posts