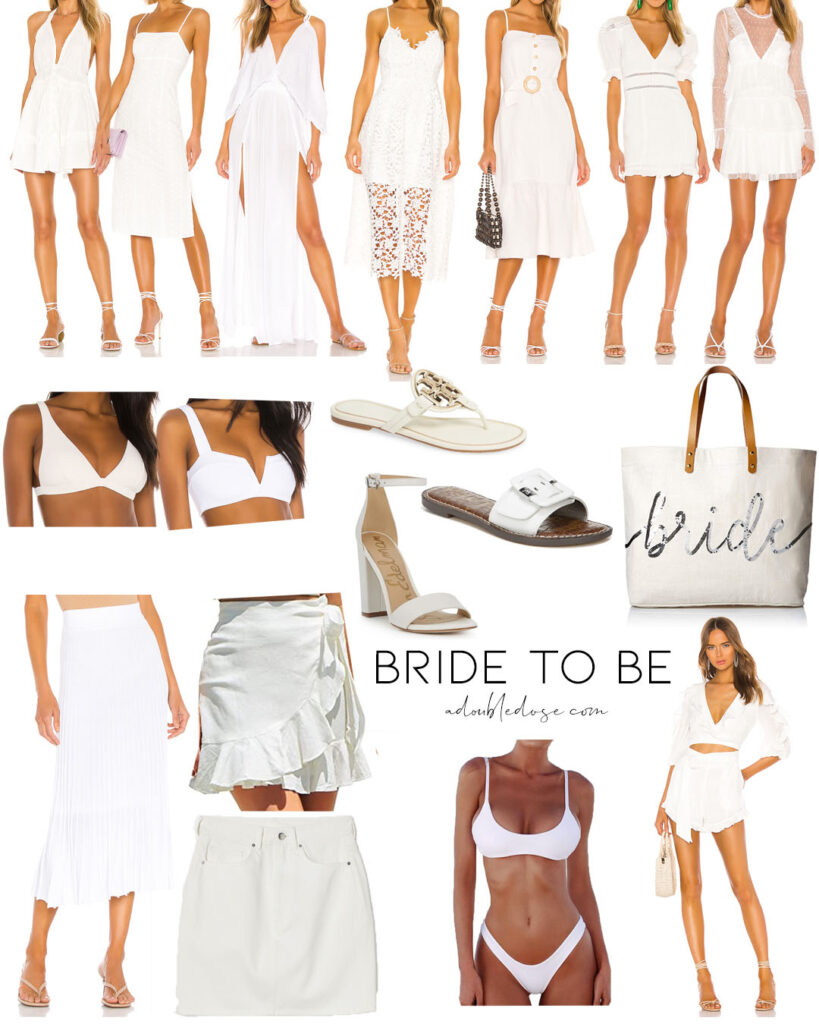 Dresses: { 1| 2 | 3 | 4 | 5 | 6 | 7 }
Swim: { V Neck Bikini Top | Deep V Bikini Top | White Bikini Set }
Skirts: { White Midi Skirt | White Ruffle Mini Skirt | White Denim Skirt }
Accessories: { White Tory Burch Miller Sandal | White Slide Sandal | White Black Heel Sandal | Bride Bag }
We had some reader requests to share some white pieces for the bride-to-be! Whether you're looking for a dress, bikini, or a skirt, we have you covered!
DRESSES:
If you're looking for a cute maxi dress option, this flowy one (#3) is great for a night out, and can be worn over a swimsuit the next day.
For a mini dress option, we love this halter option (#1), this puff sleeve option (#6), and this sheer long-sleeve option (#7).
SKIRTS
Skirts are a great piece to pair with any kind of top or jacket. We love this midi one with a cute cami, or this amazon ruffle wrap skirt is super cute.
You can't go wrong with a white denim skirt, too!
SWIM
If you're looking for a white swimsuit, we love these two white v-neck bikini tops, and this set from amazon is a great buy.
SHOES + ACCESSORIES
For shoes, these miller sandals go with everything, and can be worn with so many things.
These slide sandals are so cute, and we love the buckle on the top.
For a heel, we love this block heel and it is just a very flattering sandal.
This "bride" tote bag is SO cute and fun!