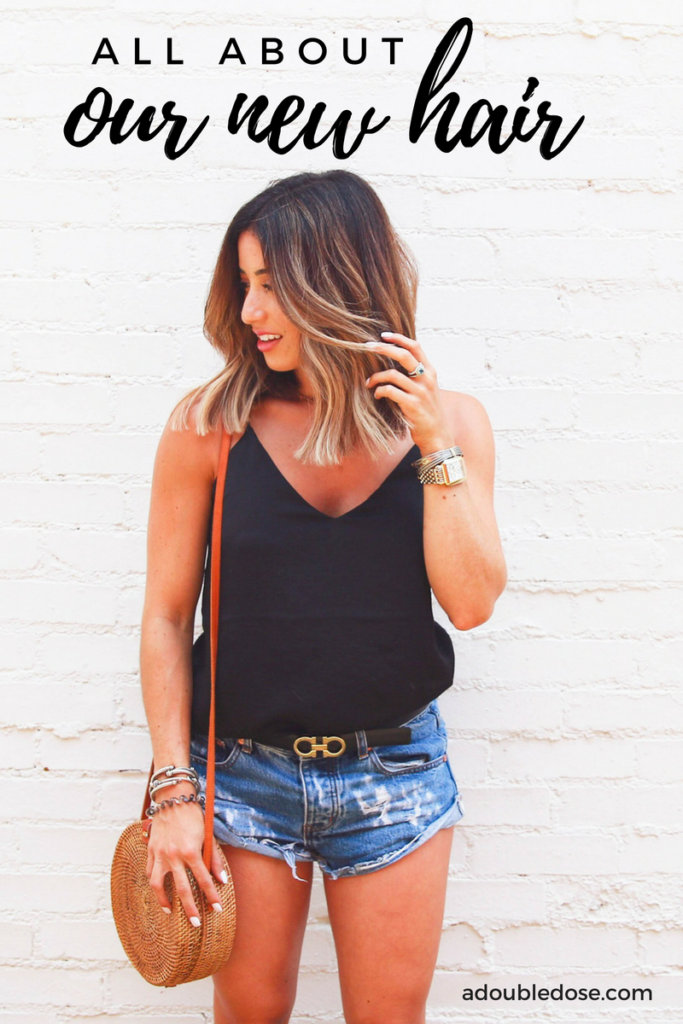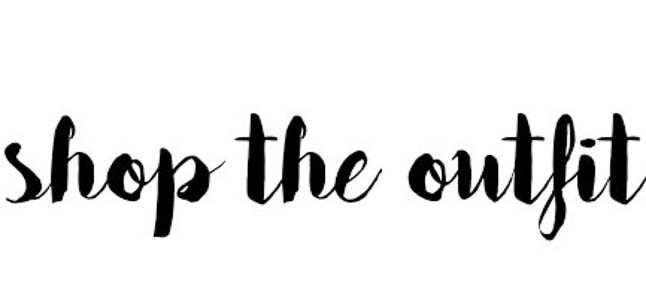 As many of y'all have probably seen on Instagram and our stories, we CHOPPED our hair off! We got SO much positive feedback from you all, and are so glad to hear that you all love it as much as we do! We received a ton of comments and DM's about how much you all loved it, and how a lot of you all were actually considering cutting yours as well, which we totally L O V E !
In case you haven't had a chance to listen to our latest podcast episode, An Extra Dose, we talked all about our hair in detail, including HOW we curl it. You can listen to that episode over here.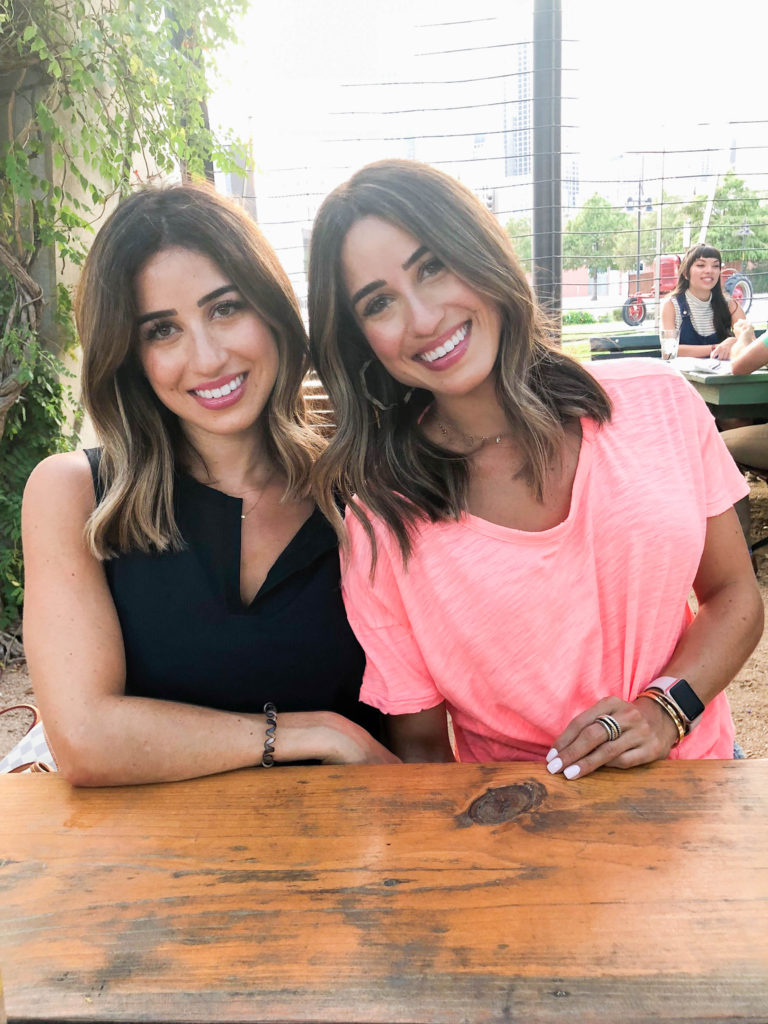 We had soooo many requests to do a hair tutorial, and we promise, we will do on as soon as we can! In the meantime, we did a quick one in Alexis' story highlights on Instagram, so be sure to check it out!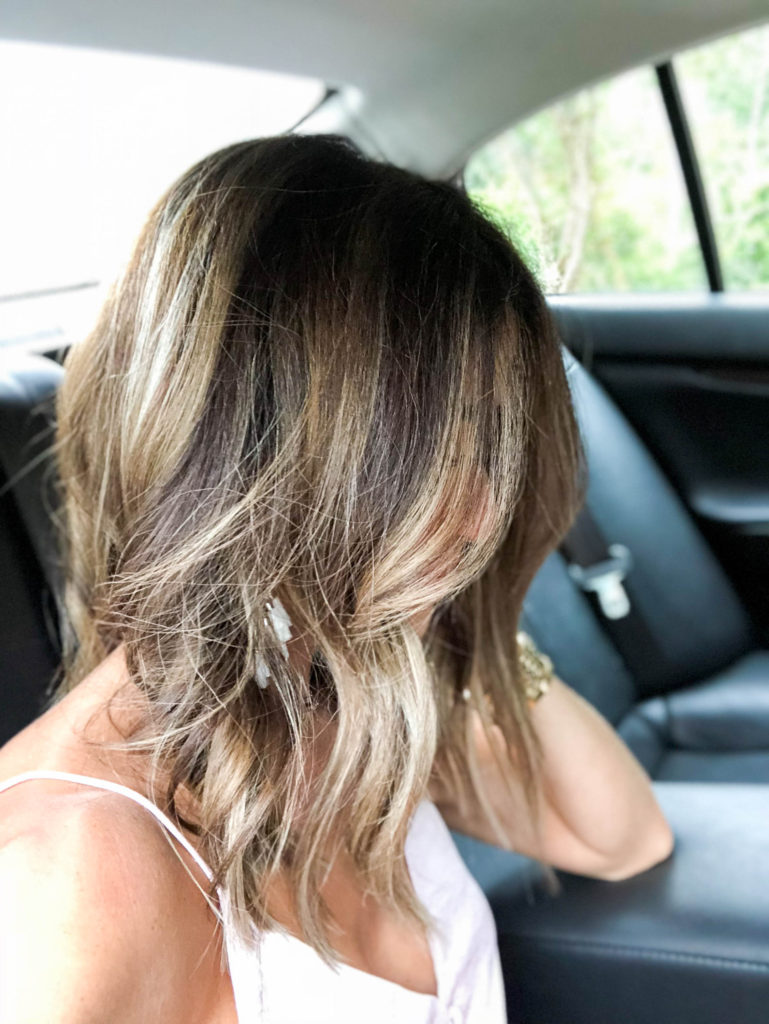 QUESTIONS FROM YOU ALL :
WHAT MADE YOU CUT YOUR HAIR?
We honestly never thought we would cut our hair this short. It is a MAJOR change. We both had tape-in extensions (more on that in this podcast episode), and with it being summer, it was getting reeeeeeal hot.Don't get us wrong, we loved our longer hair, but it could become a pain when it was triple digits out, or we were at the pool or beach. Who wants to get their hair all wet when it is all nicely styled, or risk the chance of ruining this very expensive weave, as we like to call it 😉 We had been on a few trips in the last few months where we just didn't want to get wet, or our hair just became way too much to deal with.
It takes a lot of time to dry the extensions, and it is just a lot of hair to style in general, so we were getting blowouts a lot, and avoiding washing it as much as possible (gross, we know!)
So, since we have a few trips coming up to the beach, and just with the weather so hot, we both decided we were ready for a change! Alexis had seen a hairstyle she liked on Pinterest, so she knew what she wanted! We were definitely scared to do it, but we absolutely LOVE it, and are so so happy with it! We may put them back in the fall, but we will see!
PS- our real hair is a little longer than shoulder-length, so we still cut off a good amount of hair!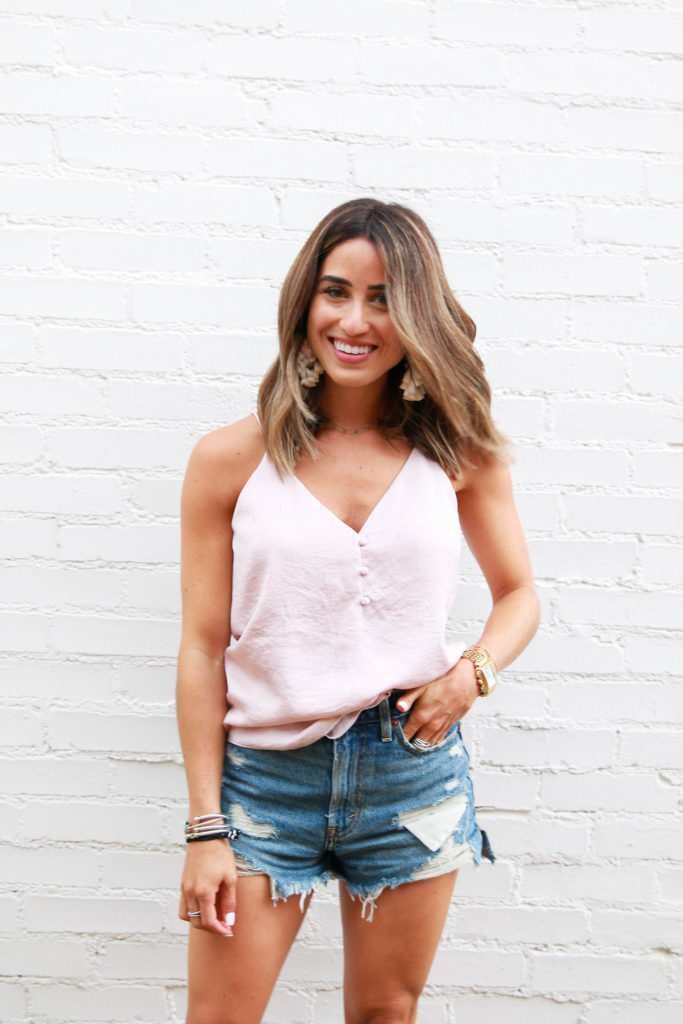 WHAT CUT DID YOU ASK FOR?
We both went for a long bob, or sometimes called a "lob". If you search on Pinterest, you will see a ton of images of this hairstyle! Our hairstylist loved the idea of us both going shorter, and said if we were up for it, to have one of us go a little shorter than the other, just to make it a little different! The back of our hair is just a little bit shorter than the front, and we have some chunky layers throughout!
WHAT COLOR DO YOU HAVE?
We both lightened our hair a little bit for summer, and we always love some lighter pieces around our face! She added in some lighter pieces, as well as retouched our balayage. We have brown hair with caramel and honey tones. We think it is always a good idea to go to your stylist with lots of photos of what you want, so they know exactly what you're expecting! You can even show them ours!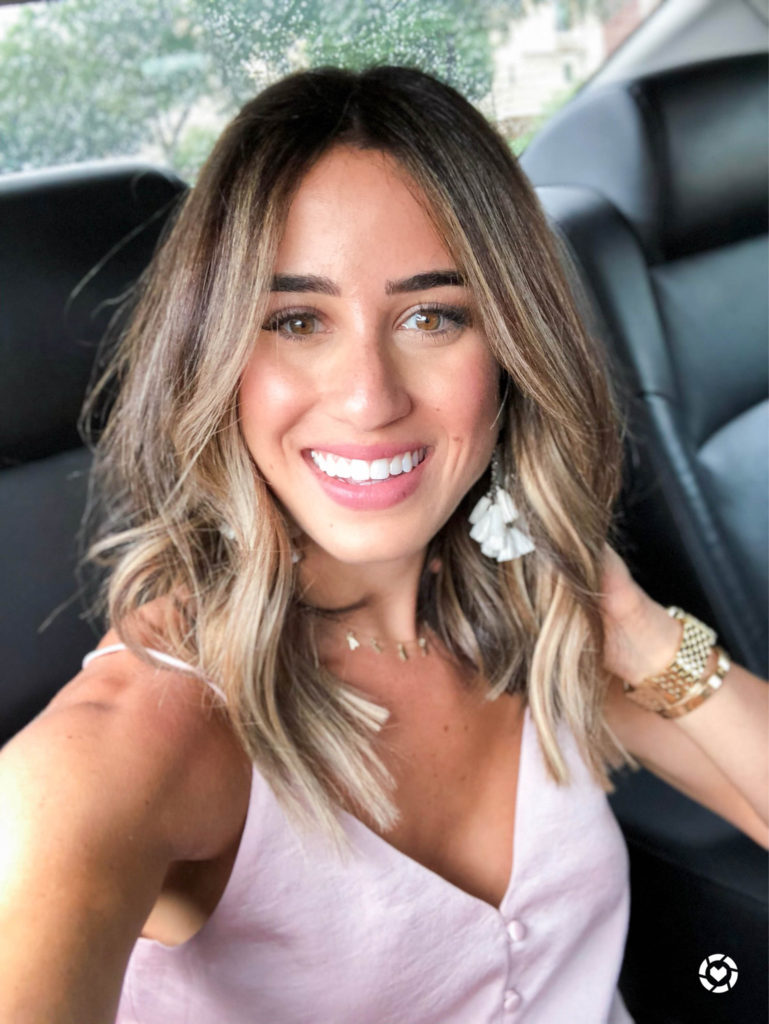 WHAT STYLIST DO YOU GO TO?
We both go to Hair By Viviana in Dallas. She is AMAZING!
WHAT STYLING TOOLS DO YOU USE?
We use this straightener to clean up or wavy roots and either this T3 curling iron or this Babyliss curling iron. We use both a 1″ or 1 1/4″ irons.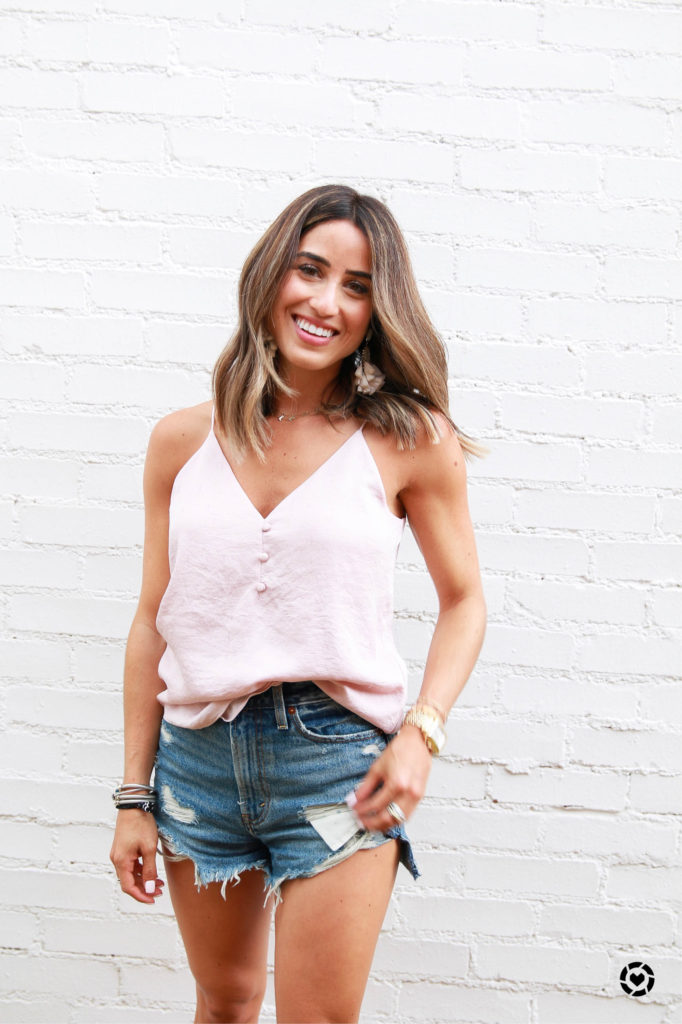 WHAT ARE YOUR GO-TO HAIR PRODUCTS?
We shared all of our go-to hair products in this post, but here are some of our favorites:
DO YOU STILL HAVE EXTENSIONS FOR THICKNESS?
We took all of our tape-in extensions out, but in order to get the look we wanted, or hairstylist suggested we adding 2-3 tape in pieces at the front for a thicker, heavier look in the front. You do not need to do this if you don't want them, but we chose to take her advice!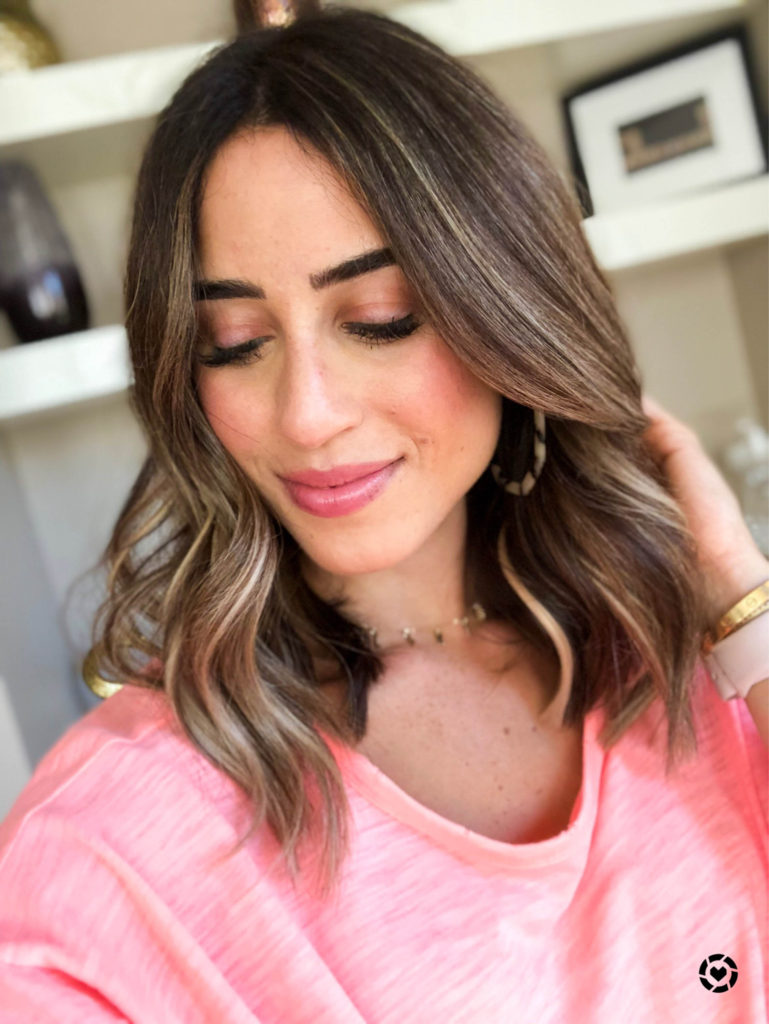 CAN YOU WEAR YOUR HAIR UP?
Yes! We can wear ours in a low pony, or put it in a tiny top bun. The back is shorter, so it is harder to keep it high, but it still works! Plus, it will continue to grow!
If you have any other questions, feel free to reach out any time! XO
SaveSave
SaveSave
SaveSave
SaveSave
SaveSave
SaveSave
SaveSave
SaveSave
SaveSave
SaveSave
SaveSave