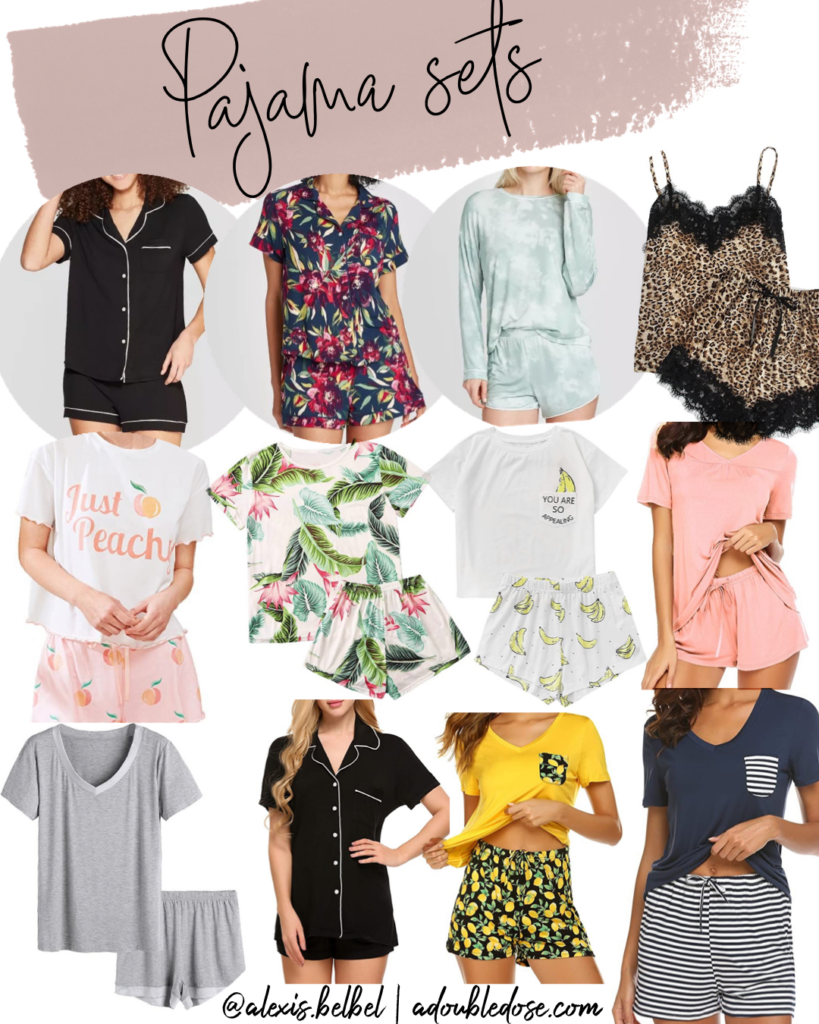 { Target Black Short Set | Blue and Pink Printed Set | Tie Dye Set | Leopard Lace Set | Just Peachy Set | Palm Print Set | Banana Set | Pink Set | Grey Set | Black Amazon Set | Lemon Set | Striped Set }

We love a good loungewear set! Best part of the day is slipping into something cozy like these sets, or better yet, staying in them all day;)
Here are some of our favorite sets that are affordable, AND cute. Some of these are on Amazon, so you can get them ASAP!
Printed
Blue and Pink Printed Set : this one is super cute! Love the colors and it is under $22.
Tie Dye Set : this one is so fun, and since it is longer-sleeved, you can wear it into fall.
Leopard Lace Set : We love anything leopard, so this set is a favorite of ours, and we love the lace detailing.
Just Peachy Set : Super cute set, and makes a great gift, too. This one is under $20.
Palm Print Set : Another one of our favorite prints. Love anything with palm print on it.
Banana Set: Just like the peachy one this banana set is too cute, and also $19.
Lemon Set: You see a theme here with the fruit prints haha. Love the colors in this lemon set.
Striped Set: Can't beat stripes, and love how the top and bottoms coordinate!
Solid
Target Black Short Set: This set is such a good basic, and always a top seller! Love the clean look to it.
Pink Set: Love a good pink shade, and this one is $25.
Grey Set: Another great solid color, and love the v-neck top.
Black Amazon Set: Very similar to the Target version above, and only $25.