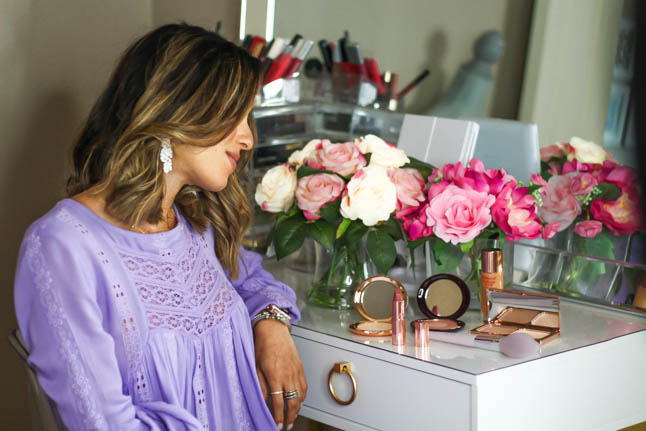 Happy Monday! We are FINALLY sharing an updated summer makeup routine with some new products we have been loving to achieve a glowy, and bronzy look for summer!
Some of these products are ones we have been using for a long time, and some are newer, but since we have been getting so many messages and requests for an updated makeup routine, we thought it would be a great time to share!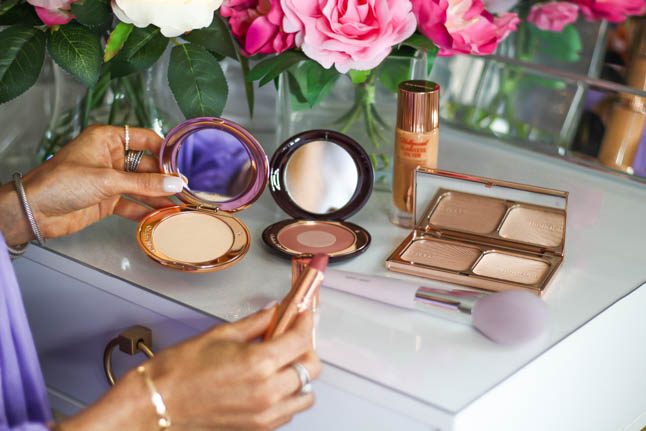 All of these products are from one of our favorite (and a lot of other people's favorites, too!) makeup and skincare brand, Charlotte Tilbury. They have the best products to achieve that glowy, and summer skin vibe!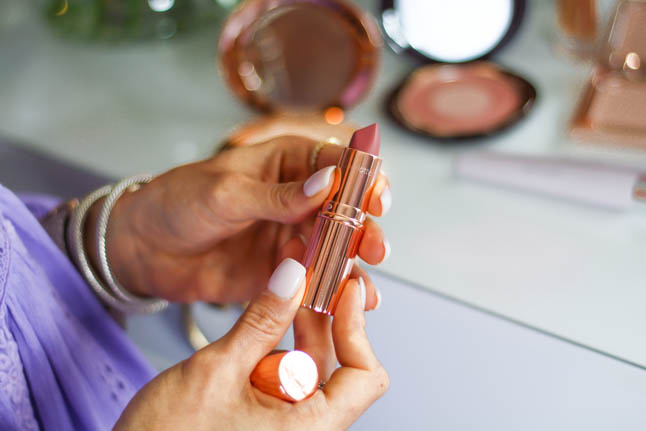 One of our top picks is this Charlotte Tilbury Matte Revolution Lipstick in "Pillowtalk". It is the perfect neutral color for summer, and it is hydrating. What we love about this color is that it makes your lips look fuller and wider and it leaves your lips looking matte, but in a gorgeous way!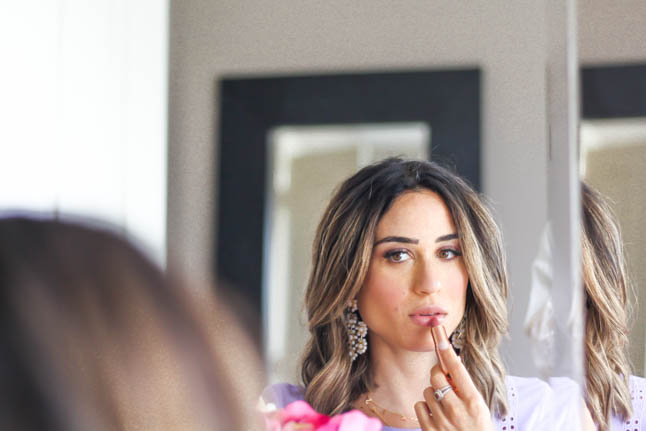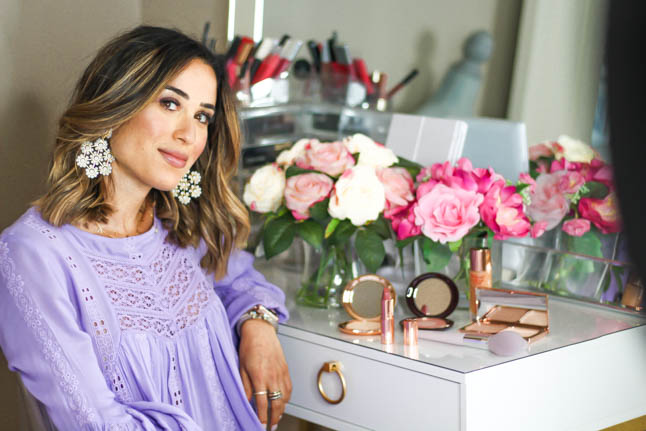 Next up, is this Hollywood Flawless Filter. We have the "5 Tan" color, and love that it can be used as a primer, foundation, or highlighter. You can also just wear it by itself for a dewy glow.
We love using it as a highlighter most of the time. For this, we just dot it along the top of our nose, cheekbones, cupid's bow, and center of our foreheads. We also love that this one is paraben, fragrance, and alcohol free.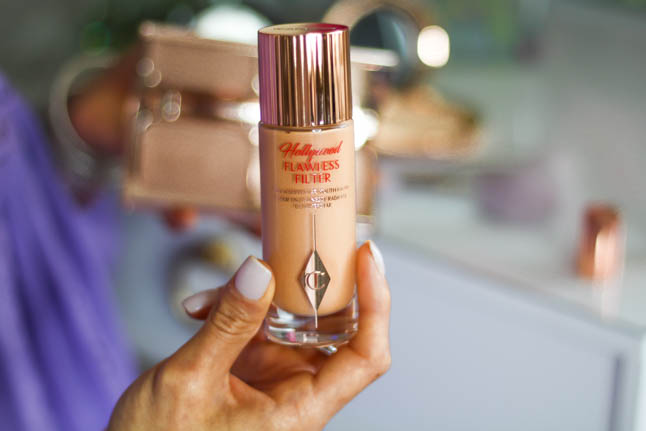 If you don't already own this Charlotte Tilbury Airbrush Flawless Finish Setting Powder it is a MUST. We have been using this one for a while, and our mom uses it, too. We have the "2 Medium" color for reference. This powder is super fine, so it leaves your skin looking flawless, but also breathable. It also has rose wax and almond oil to moisturize your face.
To apply, we use it on our t-zone, and on top of our foundation and concealer to make our makeup last so long!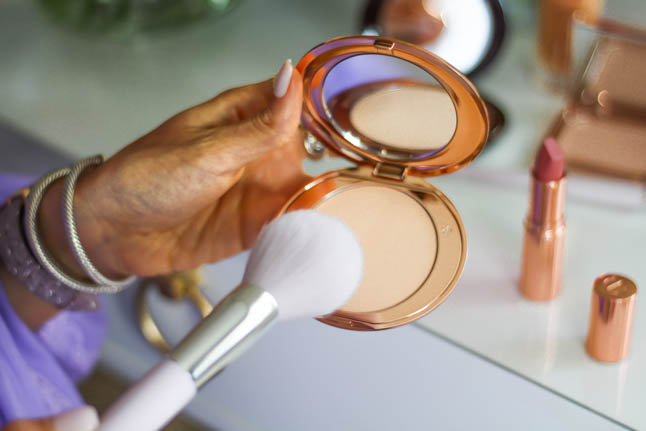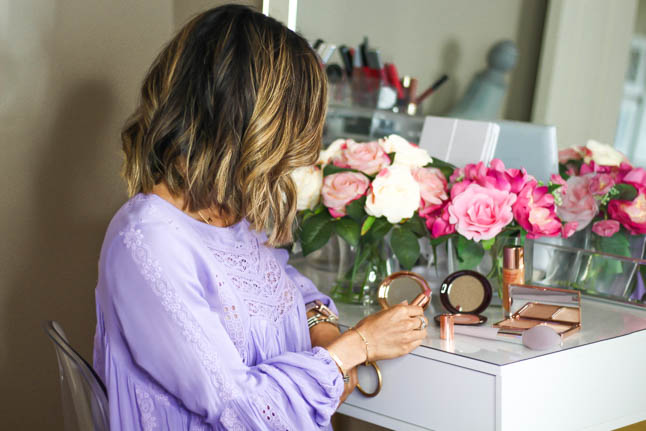 On top, this Charlotte Tilbury Filmstar Bronze & Glow Contour Duo is the perfect duo to define and highlight your features! One side has the sculpt bronzer that helps to define your lower cheek, jawline, and sides of the nose. The other side has the Highlight to illuminate the top of the cheekbones, bridge of the nose, and cupid's bow. Super easy to use!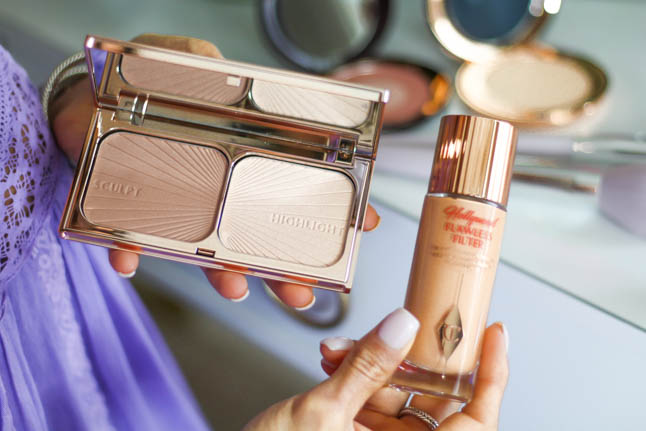 For blush, this Charlotte Tilbury Pillowtalk Cheek To Chic Blush is an easy one to use and flattering on any skin tone! It is a two-step application that helps to buff skin and also leaves you looking luminous!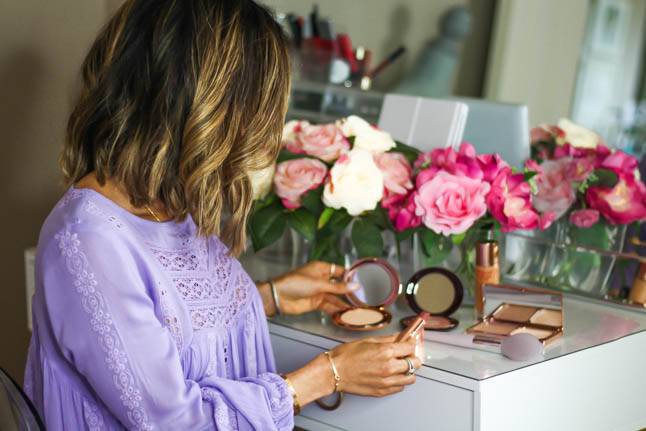 To use it, you will swish the brush around the darker shade and tap off the excess powder. Apply the brush along the cheekbone from the apple of your cheek across your face. After that, take the pointed part of your brush, dip it in the lighter, center color, and tap off excess powder again. Apply this to the apple of your cheeks for a pop, and blend together!
All of these summer ready makeup and beauty products are from Nordstrom. We shop for ALL of our beauty and makeup products there because they have the best products, and the best experts to help you find what product you're missing in your routine.
Seriously would be lost without them;) Also, if you haven't used their in-store pickup option, you are missing out! We use it far more than we'd like to admit!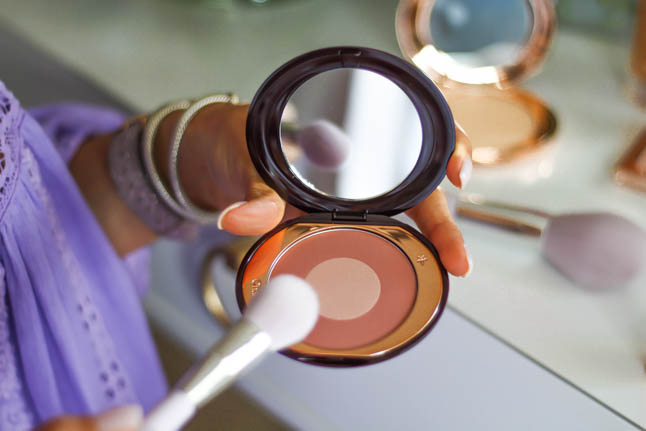 { Charlotte Tilbury Airbrush Flawless Finish Setting Powder in "2 Medium" | Charlotte Tilbury Filmstar Bronze & Glow Contour Duo | Charlotte Tilbury Hollywood Flawless Filter in "5 Tan" |Charlotte Tilbury Pillowtalk Cheek To Chic Blush |Charlotte Tilbury Matte Revolution Lipstick in "Pillowtalk" | Free People Tunic Dress }