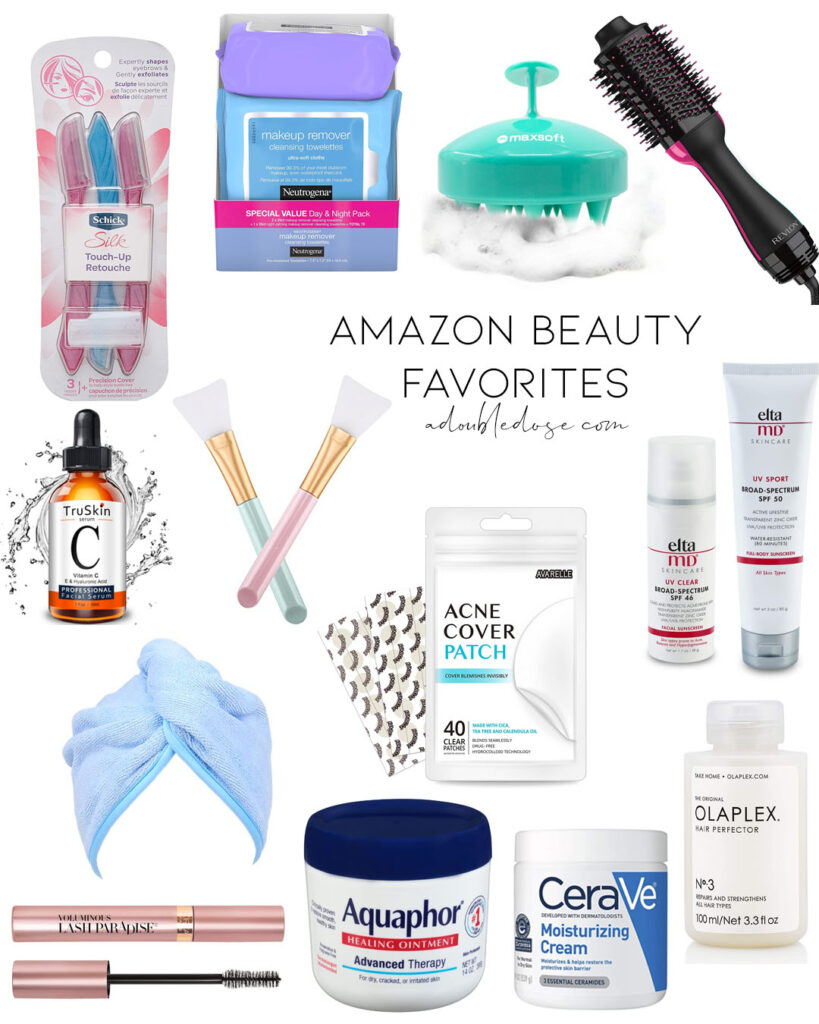 { Dermaplaning Face Razor | Neutrogena Makeup Remover Wipes | Scalp Massager | Revlon Hair Dryer Brush | Vitamin C Serum | Silicon Mask Brush | EltaMD Sunscreen | Towel Wrap | Acne Patches | Lash Paradise Mascara | Aquaphor | CeraVe Cream | Olaplex No3 }

We all know Amazon is our go to for basically anything. We probably place an order on there at least once a day. Today, we are sharing some of our Amazon beauty favorites. A lot of these are top/best sellers on Amazon as well, so you know they're good! 😉
Makeup
These makeup remover wipes are our go-to. They take off any makeup, and are great for traveling.
This Lash Paradise mascara is our go to drugstore mascara. It works great and is affordable.
Hair
We got this scalp massager a few months ago, and LOVE it. Feels like a scalp massage, and helps to create more blood flow, and therefore, hair growth! This one comes in a pack of 2.
We have shared this Revlon hair brush dryer lots of times, but it is really great for achieving an at-home blowout. Great for extensions, too!
This Olaplex treatment is great for damaged hair, or as a weekly hair mask.
We love this towel wrap for when you wash your hair because it really absorbs the moisture, and buttons in the back, so it will stay put.
Skincare
We have had dermaplaning treatments at med spas, but this tool is one you can do at home, and also use as a facial razor. They are really easy to use, too!
If you're shopping for a vitamin C serum, this one is great, and affordable and has Hylaronic acid in it.
If you love a good face mask, this set of silicon brushes is great to apply on you face, and no mess!
For those stubborn breakouts, we love these zit stickers to place overnight. They have tea tree oil in them as well.
Aquaphor is our go-to lip balm, moisturizes dry cuticles, and can be used on dry, cracked skin.
Sunscreen is SO important, and we love EltaMD sunscreen because it is recommended by dermatologists and comes in a tinted version, too.
Last, but not least, we love this CeraVe lotion for your body. It is really moisturizing, and also recommended by dermatologists.