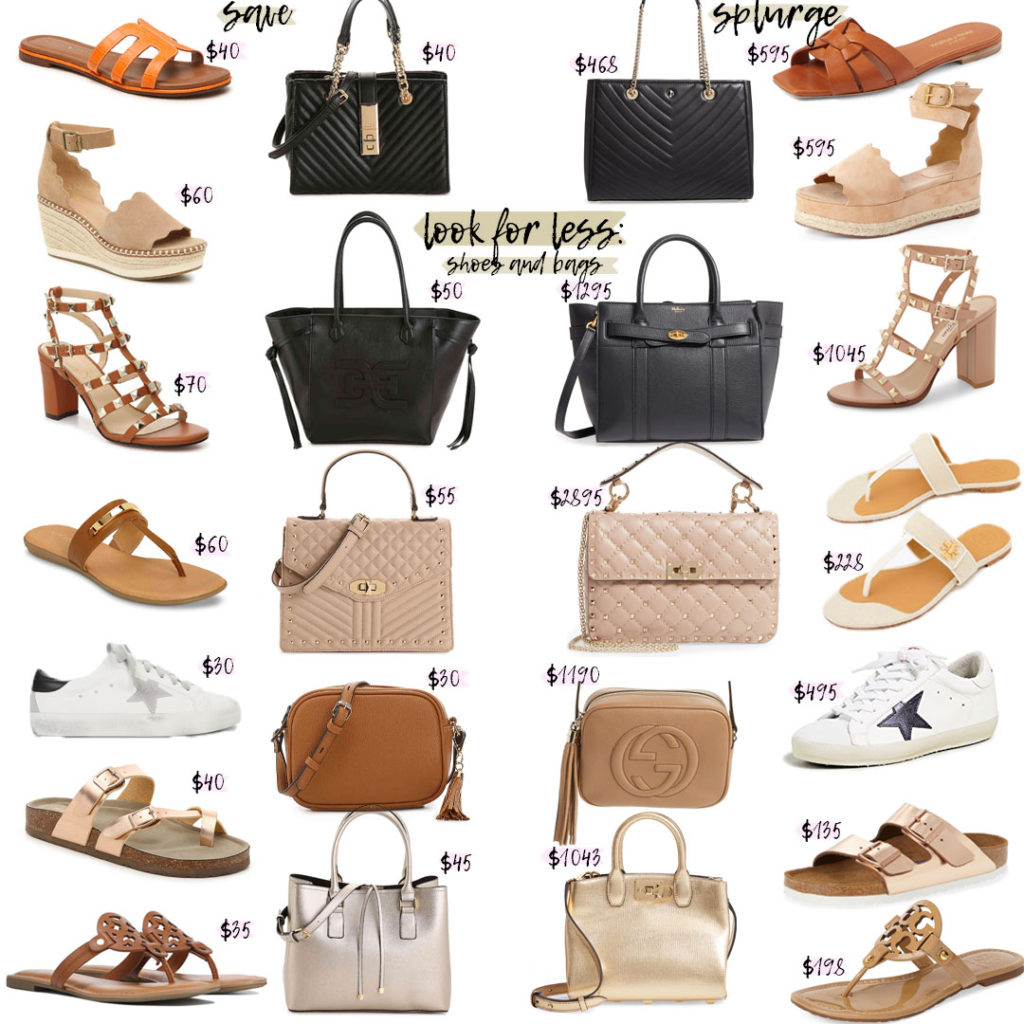 SAVE: { Flat Slide Sandals | Scallop Espadrille Wedge | Rockstud Heel | Thong Sandal | Sneaker | Rose Gold Strappy Sandal | Round Thong Sandals | Black Chevron Quilted Bag | Black Oversized Bag | Neutral Quilted Bag | Cognac Camera Bag | Metallic Bag }

SPLURGE: { YSL Flats | Chloe Espadrille Wedges | Valentino Rockstud Heels | Tory Burch Thong Sandal | Golden Goose Sneakers | Rose Gold Birkenstocks | Tory Burch Miller Sandals | Chain Quilted Bag | Mulberry Black Bag | Valentino Quilted Bag | Gucci Soho Disco Bag | Gold Ferragamo Bag }

We are allllll about finding look-for-less options for ourselves and for you all! We had a few requests to share some affordable, every day bags and shoes for spring and summer, so we thought we would share some "save" options for you, and then share some splurge-worthy options as well!
SPLURGE WORTHY PIECES:
Some of the splurge pieces we think are 100% worth it are the Tory Burch Miller Sandals (we have these in 3 colors!!) and they last for years. We think these fit true-to-size. We usually get a size 7 and are a size 6.5-7 normally.
We did find this pair that are almost identical and only $35!
Our other splurge-worthy purchase is this Gucci Soho Disco Bag. We wear ours pretty much every day. The tan color matches everything in your closet, and it actually holds more than you'd think!
If you want this style bag, but don't want to spend that much, we found this option for only $30!
Shop more of our favorite dupes inTHIS POST or below:
SAVE OPTIONS:

SPLURGE OPTIONS: