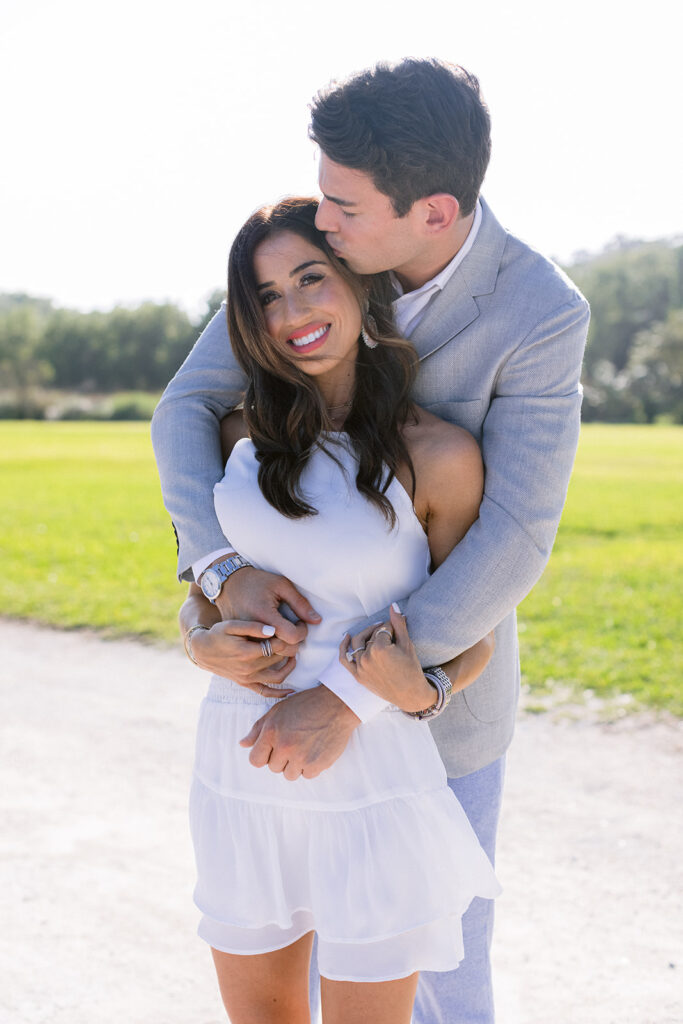 Well, it took me a few months, but FINALLY sharing all about the proposal! We actually did An Extra Dose podcast episode on it here soon after it happened, but y'all had voted on blog post too (I know some of y'all prefer to read rather than listen), and well, I never got around to it until now. For any of y'all that have recently been engaged or married now, I did not realize how crazy things would get/ how much time flies! It's crazy! 

Our Anniversary Trip
Anyway, backtracking to a February 8— Taylor and I had planned a trip for our four year anniversary back in September the previous year (2020). It had a been a long year, and we wanted to do something fun. We both also love to travel, especially to the beach/warm. I will say, I had a feeling something special might happen because Taylor was the one that initially suggested it. We were on a walk and we were talking about possibly doing a shorter long weekend getaway that fall and then he suggested 'a romantic longer trip in for our anniversary,' So, like a typical girl, I was like hmmm, but I didn't want to get my hopes up, so I just put it in the back of my mind.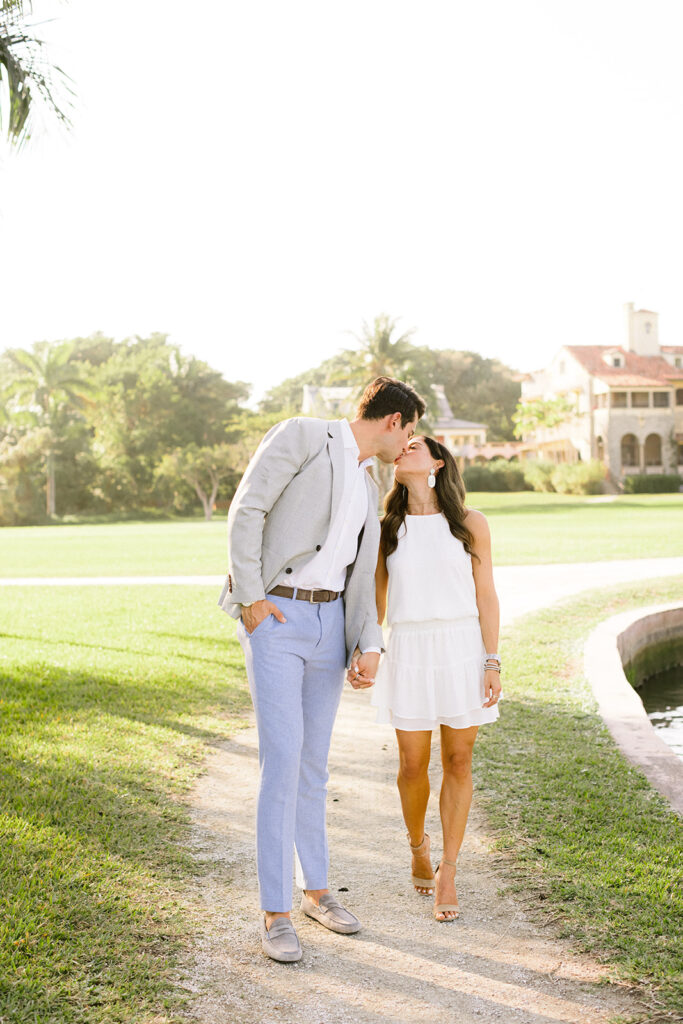 That month, we decided on Cabo and we booked our flights and hotel. We decided to stay at The Montage. We both had never stayed there, and funny enough, Taylor has never even been to Cabo! I have been there a ton and LOVE it. I have stayed at a lot of places, but some of them don't have beach access (you always have the gorgeous ocean view, but sometimes, you aren't allowed to get in the water or close to it because the waves are too strong. It doesn't bother me, but Taylor prefers to hang out in the sand by the beach if there's a choice, The Montage is one of the few places that has a swimmable beach. We also didn't want to do All Inclusive this trip because we had a lot of places we wanted to go out to eat at (Flora Farms, Acre, Sunset Mona Lisa). 
Canceling Our Trip
We had everything planned—even our transportation to and from the airport. Then, a few weeks before we were scheduled to leave, we got the news that the CDC had implemented the rule that you have to show a negative Covid test when you depart Mexico. We vacillated back and forth on what to do as far as keeping our plans or moving it to a different spot. I personally wasn't worried, but he seemed concerned about getting stuck there. At that point, I just thought he was worried about work etc. Little did I know, there was way more to the story! He had secretly asked his immediate family and my immediate family back in the fall to join us in Cabo for the proposal. He had also asked my parents and sister permission to ask me to marry him— I know, so sweet! Because of this new rule, he felt more comfortable moving it somewhere else. Meanwhile, Taylor and I started looking at places to move our trip. After looking everywhere, we decided on Miami because it was warm and nice out and they had lots of cool spots to eat at. We decided to book The 1 Hotel in South Beach. Poor Taylor, he was probably SO stressed trying to coordinate everything behind the scenes.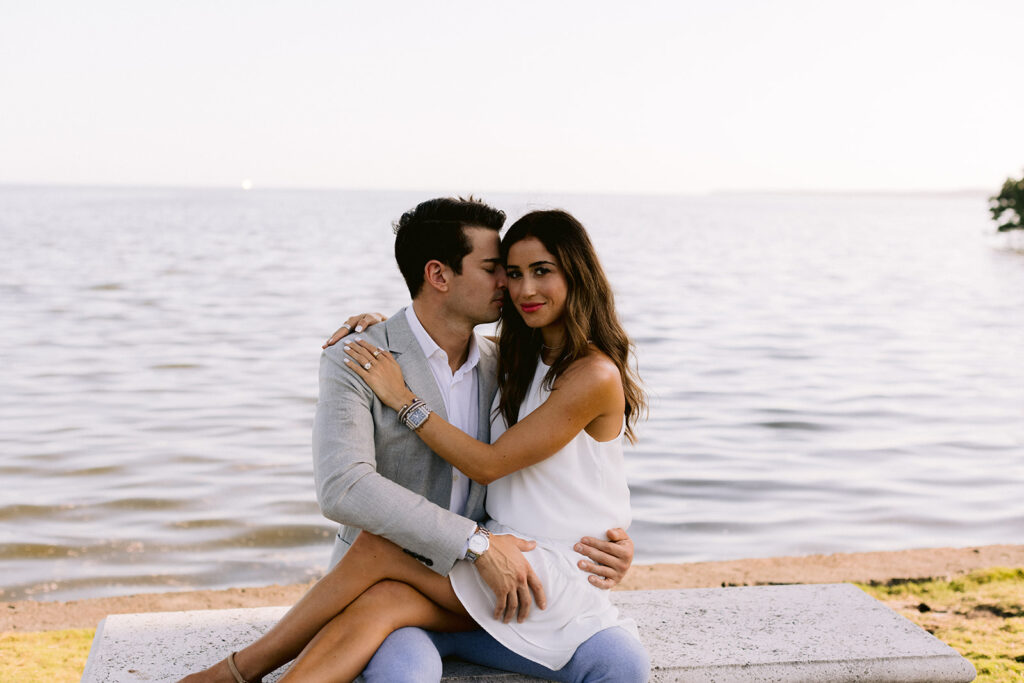 Travel Day
We made it to Sunday, February 7th. Taylor and I left Dallas for Florida bright and early. We checked into the hotel, which was BEAUTIFUL! We loved it! When we were at the counter, the reservation was under my name, and when the representative looked up our room, he goes, "oh three rooms under Belbel, correct?" I secretly about died because I was thinking, "OMG are they here??" I mean, Belbel IS NOT a common name haha. Taylor didn't really react, so again, I just brushed it off. I HATE being disappointed, so I wouldn't let myself get worked up. Our room wasn't ready, so we went and ate at Lilikoi, which was SO GOOD! I was in plant based heaven— but they have other options as well! I got the kimchi bowl with bok choy and this really good salad. Taylor got a bowl and a smoothie.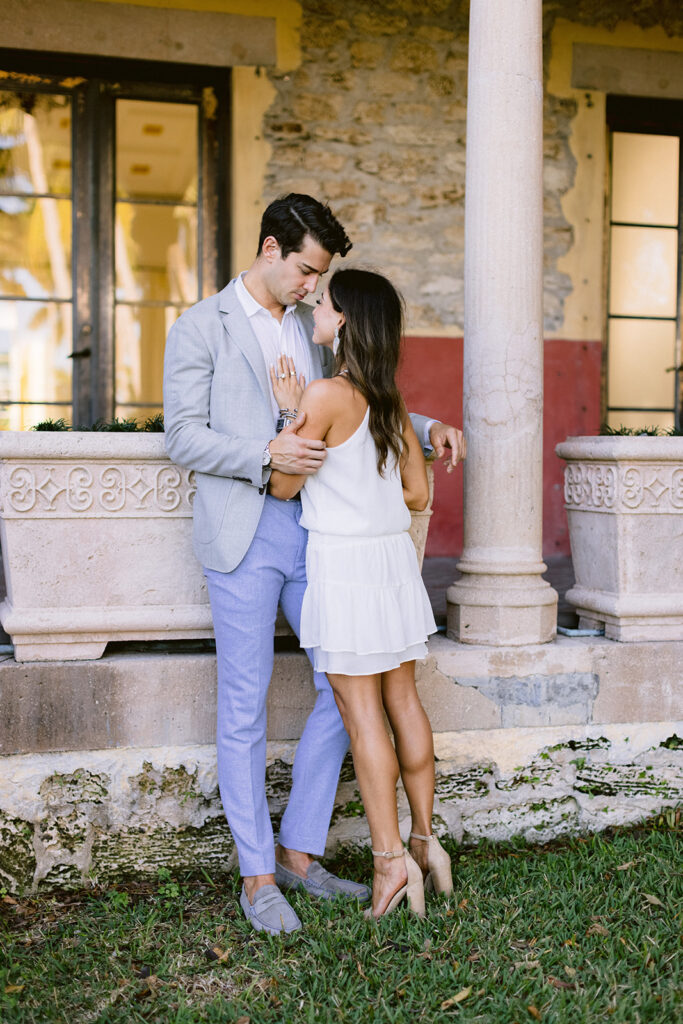 The Night Before
We headed back to the hotel and dropped our stuff off in the room (which was big and stunning). We had some time before dinner, so we walked around and explored and got a juice at Joe and the Juice. We ate at Planta that night, again so yummy! As you can tell, I loved where we stayed and the food we ate! This restaurant is all plant based but so good! Taylor loved what we got too. We shared the vegan nachos and kelp vegan Caeser salad. It literally tasted like the real deal. I got lettuce wraps and Taylor got the pizza and a sushi roll (it had no fish but watermelon and some other things —it was really tasty too). While we were at dinner, he told me the next day we were going to do a sunset cruise (we had actually planned one in Cabo), so I thought it was cute that he planned on here too! He told me we had to be ready at 3 PM, which I thought was a little odd, but again just went along with it.
After we were done eating, he asked if I wanted to go to one of the vegan ice cream places I had found (yes, I look at Yelp, Instagram, and Trip Advisor for restaurants everywhere we go!). He had just said how full he was, and then he said he did want to go get ice cream, haha. Again, I thought it was a little odd, but just went along with it. We Ubered to the ice cream spot. We were eating it outside, when I suddenly needed to use the bathroom..like really use it haha. I told Taylor I needed to go to the bathroom, aka let's grab the uber to head back and I felt like he was kind of staling. I didn't know if it was in me head, though. We finally went back to the hotel, took quick picture in the lobby (of course), and then went up to the room.
Proposal Day
The next day, we woke up early because Taylor had booked us massages at another spa. We both wanted to get a good workout in, so we did that first. Side-note: if y'all haven't been to the gym at The 1 Hotel in Miami, you NEED to go. It is a legit Equinox inside the hotel— I was in heaven! I felt like he was kind of in a hurry and he was on his phone a lot more than he normally is— it really didn't bother me, so I didn't say anything. We grabbed breakfast quickly and then took an Uber over to The Standard for our spa treatments. After our relaxing massages, we went back to Lilikoi (I know, we didn't branch out!). It was close to the spa and we were in a hurry to get back to the hotel to get ready for our 'sunset cruise'. This is when I really knew something was off— I was of course hungry (as usual) and got a juice and a big salad (their salads are so good and actually decent size). Taylor got this small acai bowl—yall know he's an entire foot taller than me, and this was our lunch! I said something like, "that's all you want?" and he said, "oh I'm really not that hungry."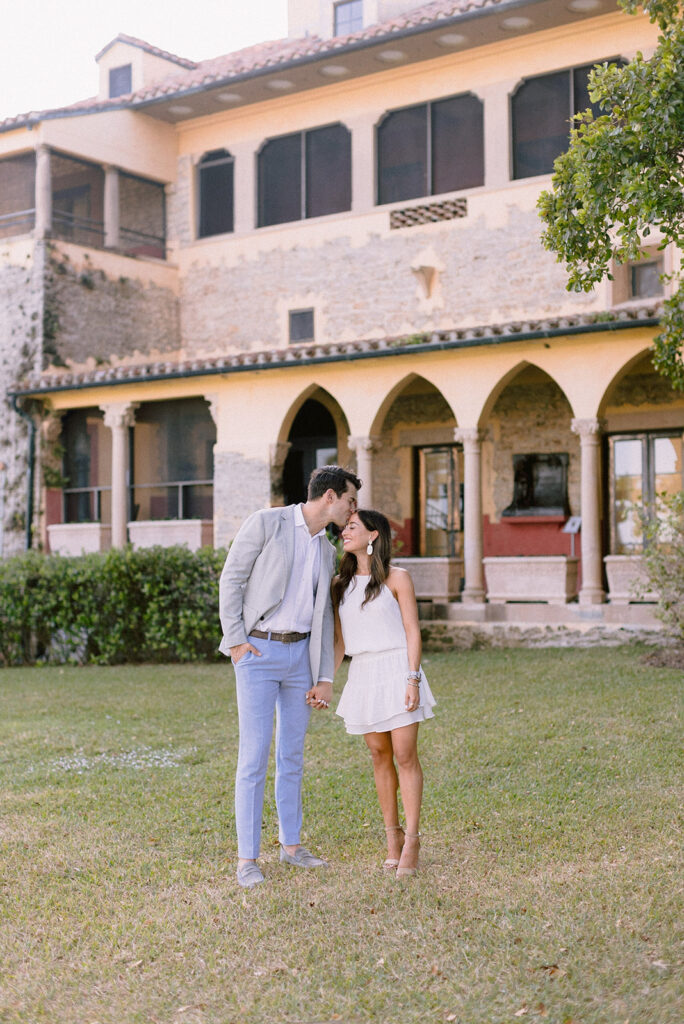 We got an uber back to our hotel to shower and get ready. I had a pink dress or a white dress I had set aside for Monday night dinner or whatever activity, so I asked him which one I should wear and he said white. I didn't think much of it because we like taking pictures together at the dinner or whatever, and the white looked better with his outfit. Once Taylor was ready, I could tell he was getting a little antsy, like he wanted to go. Meanwhile, I was over on the bed slowly contemplating what earrings looked better, haha! We make it down to the lobby and we get our Uber to the 'marina'. I thought it was a little odd it was 40 min away, but I told myself I don't know Miami super well. About forty minutes later, we get to Deering Estate. When we were pulling up, I was wondering why I didn't see any water. We get out of the Uber and start heading in. We walk by this ticket counter and the cashier working asked for his name or something.
The Proposal
Then we started walking and I started getting nervous because I could tell this is probably what I was questioning. Taylor asked me if I knew where we were, and I said, "well, it's definitely not the marina!". We kept walking down this long path. Then, we went into this house and hew as acting SO weird. He was looking around the windows and random things in the house. Then, he suggested we head outside. We start holding hands and walking on this super beautiful grassy area. The closer we get, I start making out water and something red on the ground. Once we made it all the way down, there is a heart shaped out of rose petals. At that moment, I got the biggest butterflies in my stomach. We put our stuff down (because, of course, I have my purse and a shawl and million other things!), and then we start holding hands looking at each other in the heart.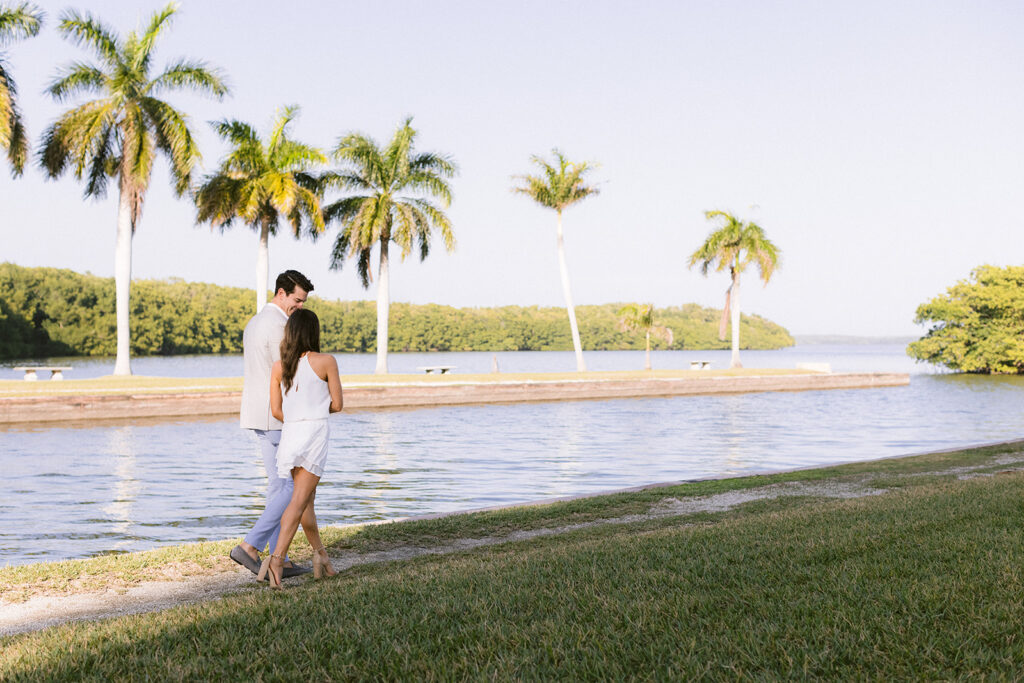 He started telling me all of these beautiful words (honestly, I was so emotional, I wasn't processing everything)— like how he wants to grow old with me and all of these super sweet words. Then, he took the box out of his pocket and got down on one knee. I started crying and just couldn't believe it! It felt SO SURREAL! He showed me the beautiful ring and he had engraved our anniversary of the day we met on the inside—cue the waterworks! It's so funny because in all the videos of him proposing, I look like I'm inspecting the diamond, when in reality, Im trying to find the date inside! Then, a photographer (Taylor found her—shes's so sweet!) pops out of nowhere, and started taking pictures of us. They both told me she was there the whole time. When they mentioned that, I saw a woman taking pictures of her son, but I didn't think anything of it because it's a public place.
Taylor definitely knows me well enough to hire a photographer! She took some shots of us walking and kissing, etc. The next thing I knew, I see a group of people heading our way. As they got closer, I realized it was my family and Taylor's! Of course, I immediately start shaking and crying! We all got to hug and share this special moment. It was so nice that everyone was there because we were able to take some group shots. Also, it was so amazing for both our families to meet. They had both heard so much about each other, but it's always nice meeting in person! They were also such a team setting up the proposal for Taylor.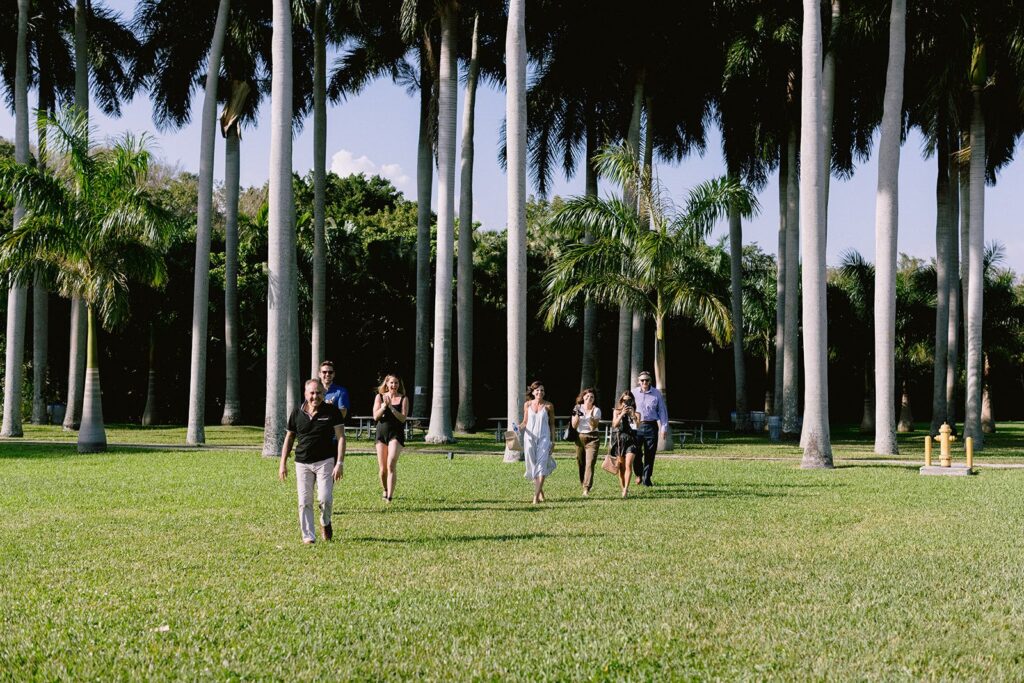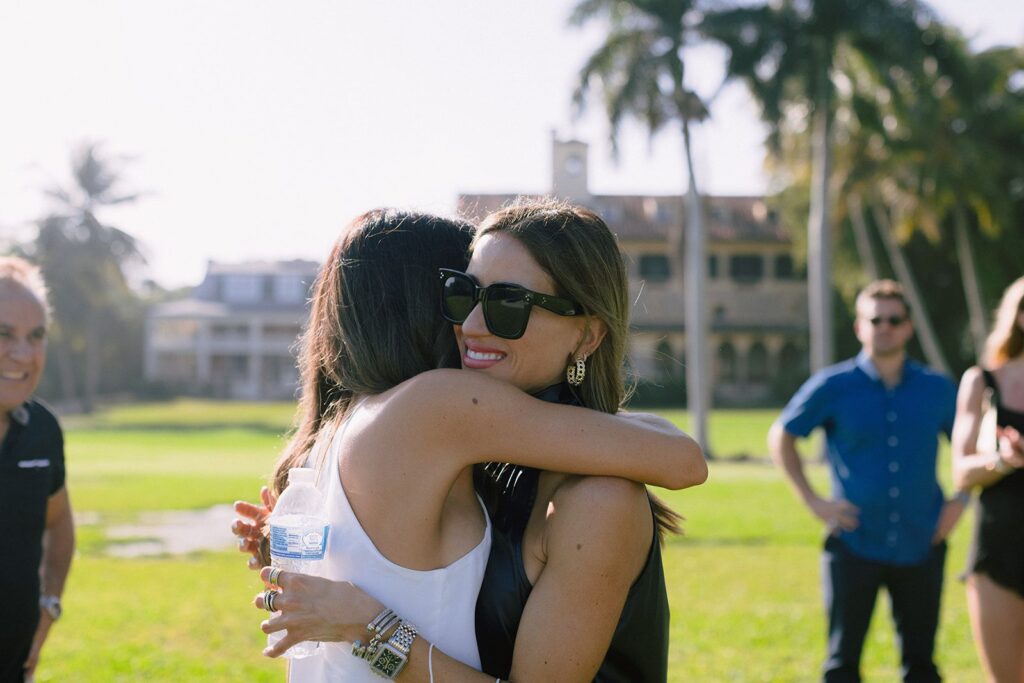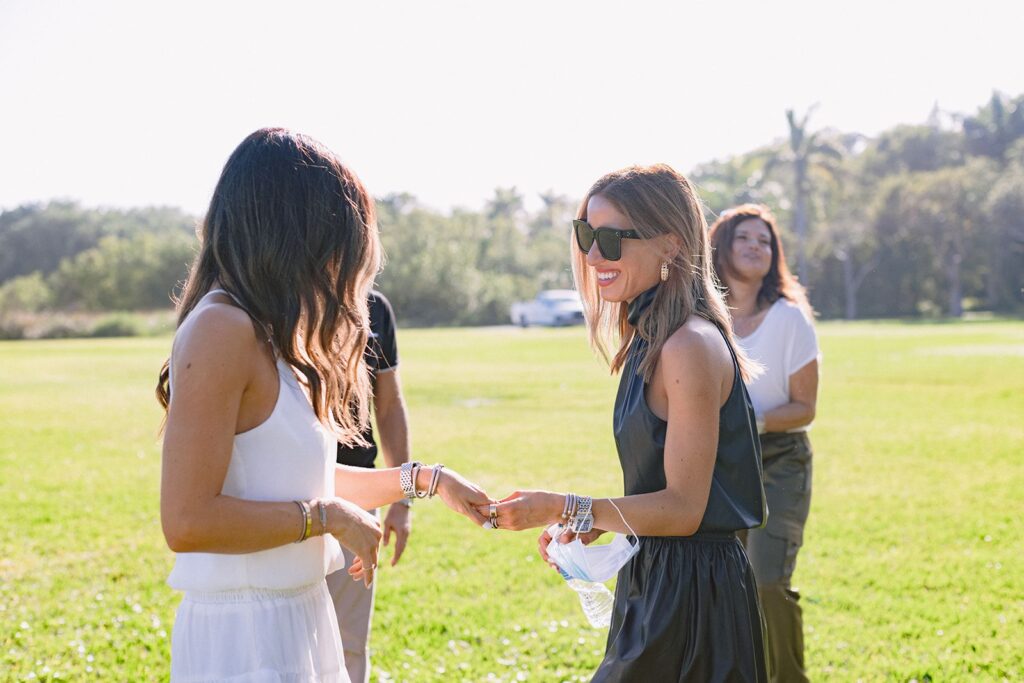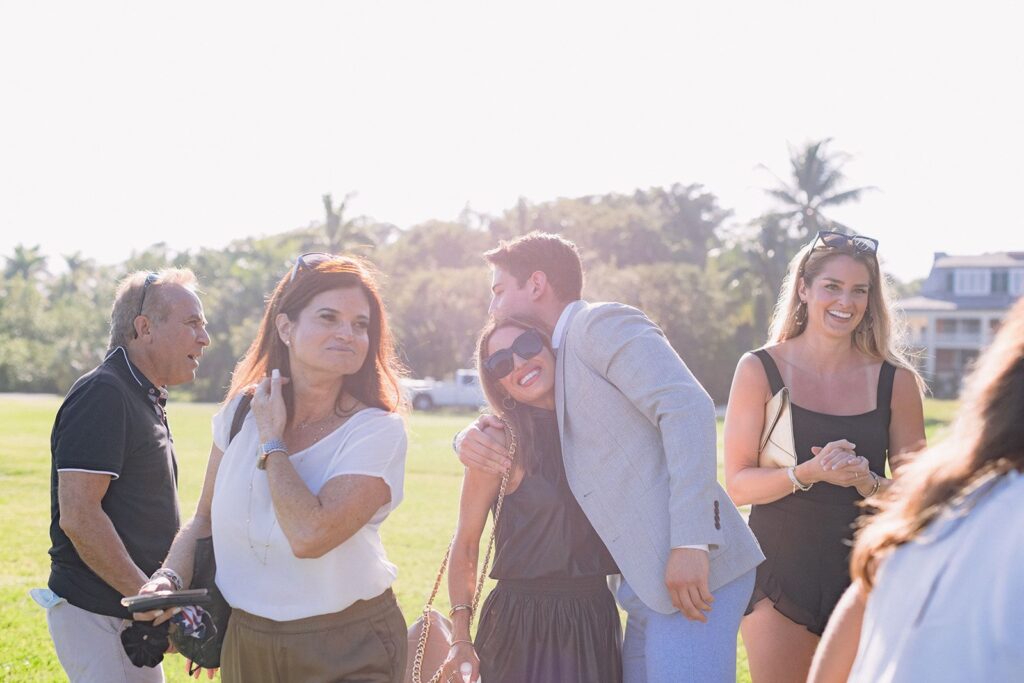 Once we left Deering Estate, we headed back to the hotel. Taylor's family joined us and we had drinks and appetizers in the lobby before Dinner. Later that night, we went to Gianni's, which is the Versace mansion that got turned into a restaurant. It was so gorgeous and a really cool experience. Once we got back to the hotel that night, it was already close to midnight. When we came back we saw that there was chocolate covered strawberries and a bottle of champagne. Taylor had asked my mom to set that up for him—I know so sweet! Of course, we HAD to try everything even though it was practically Tuesday already.
I remember posting that night on Instagram. It still felt so surreal and my mind felt like it was spinning. I couldn't leave y'all hanging though! I went to bed so happy and my heart so full! It was so weird waking up then next day with FIANCE and not a boyfriend.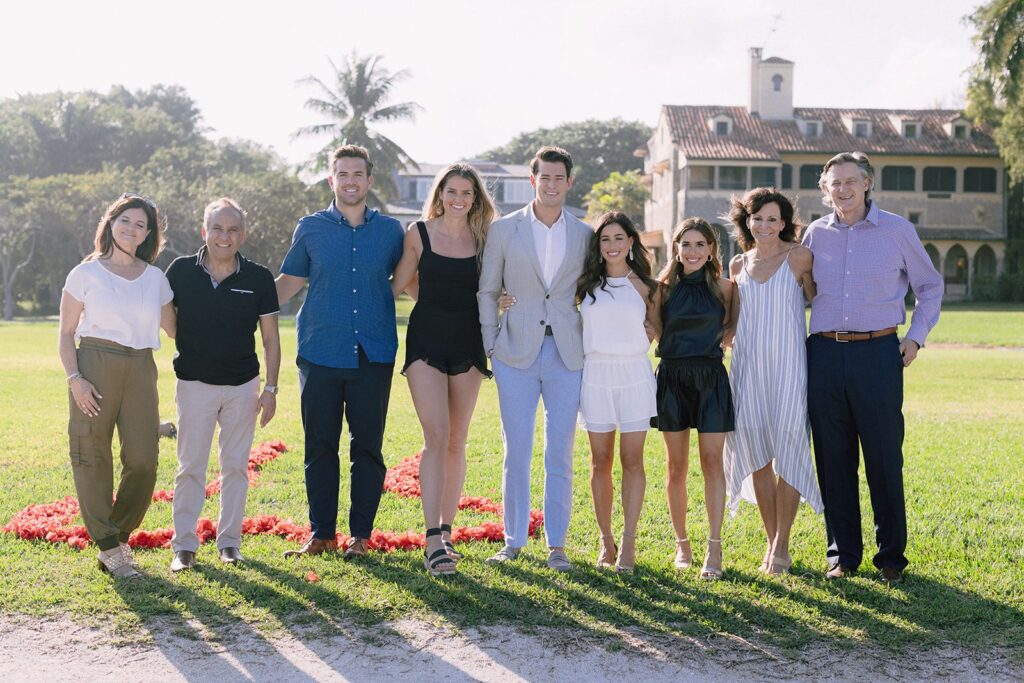 The Day After
We woke up and worked out and then got breakfast with Alexis and my parents, since they were staying there (I guess my hearing was correct!). Then we hung by the pool until we needed to get ready for the REAL sunset cruise we were going on that night. My mom knew we had arranged one in Cabo, and she was so sweet to surprise us with one in Miami. We LOVED it! Both of our families were on the cruise for two hours together, and we got to see some really cool houses and celeb homes (we even saw P Diddy (or his son, haha). After that, Taylor and I went to Papi's Steakhouse for dinner (so good btw!).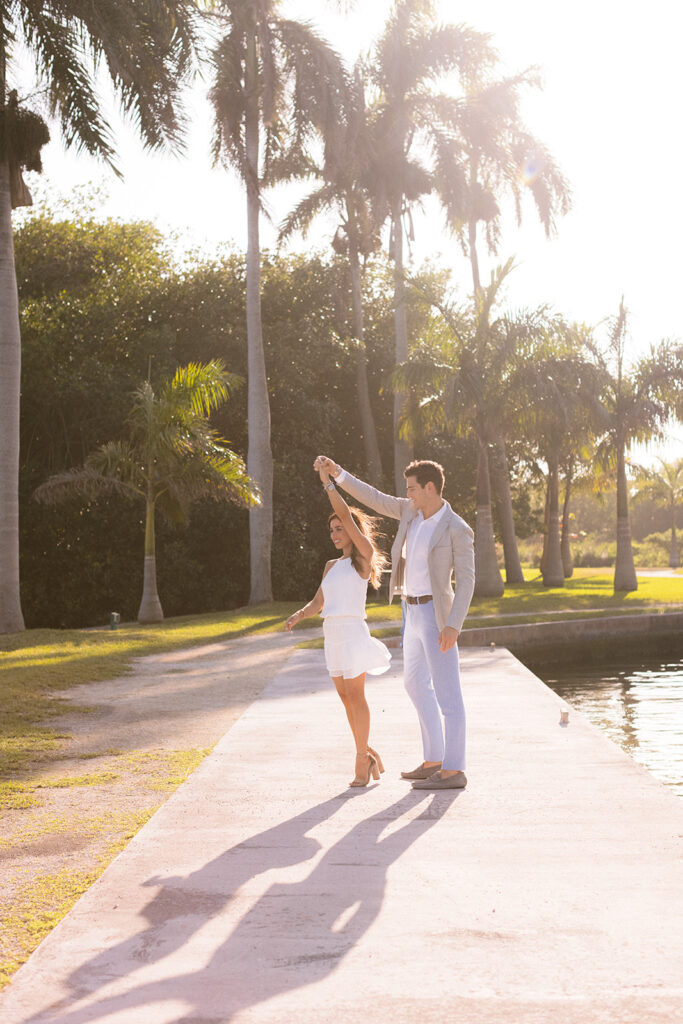 The next day we hung out and then had dinner at this amazing greek restaurant, Santorini, and Thursday, we got brunch with Taylor's family at Malibu Farm and then dinner at Rusty Pelican (one of y'all recommended this and it was so good + the view was amazing!). Friday was our last day there and we worked out and hung out by the pool and beach before we headed back. We were so sad to leave the gorgeous weather and hotel and the amazing memories we created there. What made it even harder was that we were expecting *some * snow and ice that weekend. Well… little did we know it would be just a LITTLE more than that! Luckily, everything ended up being okay a few weeks later, but it was quite the experience during it
(as it was for a lot of you guys too!).
If you made it all the way down here, you guys are amazing and props to you because this was quite the blog post! I'm glad I finally got something down for you guys. It was such a special time in my life, and I can't thank you guys enough for following along, supporting me, and making me feel so special! I love you!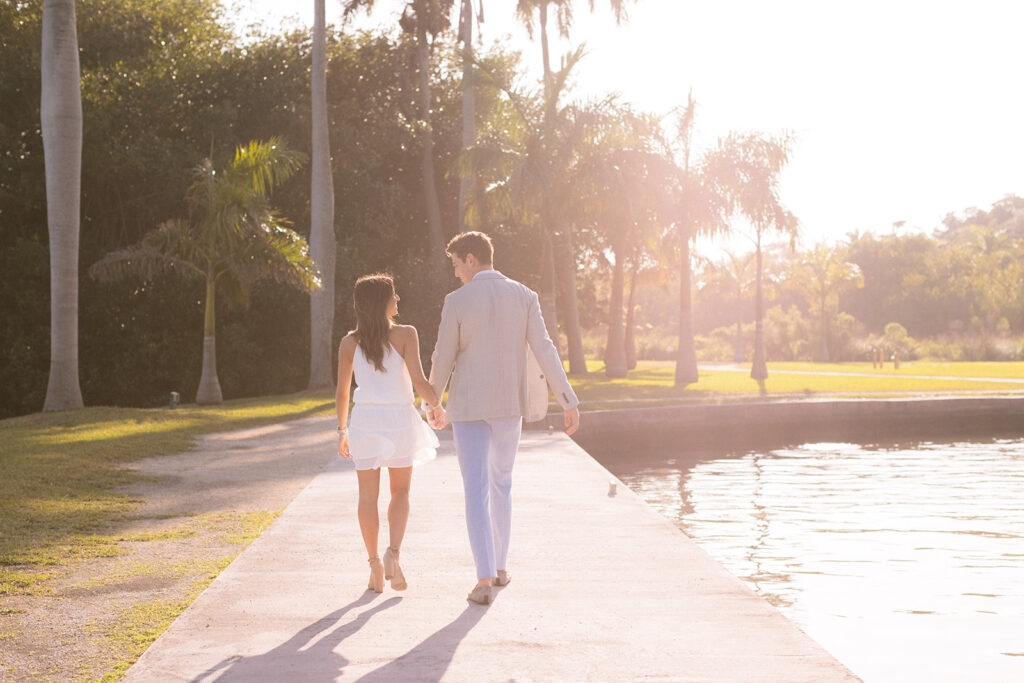 XOXO
Shop the Post