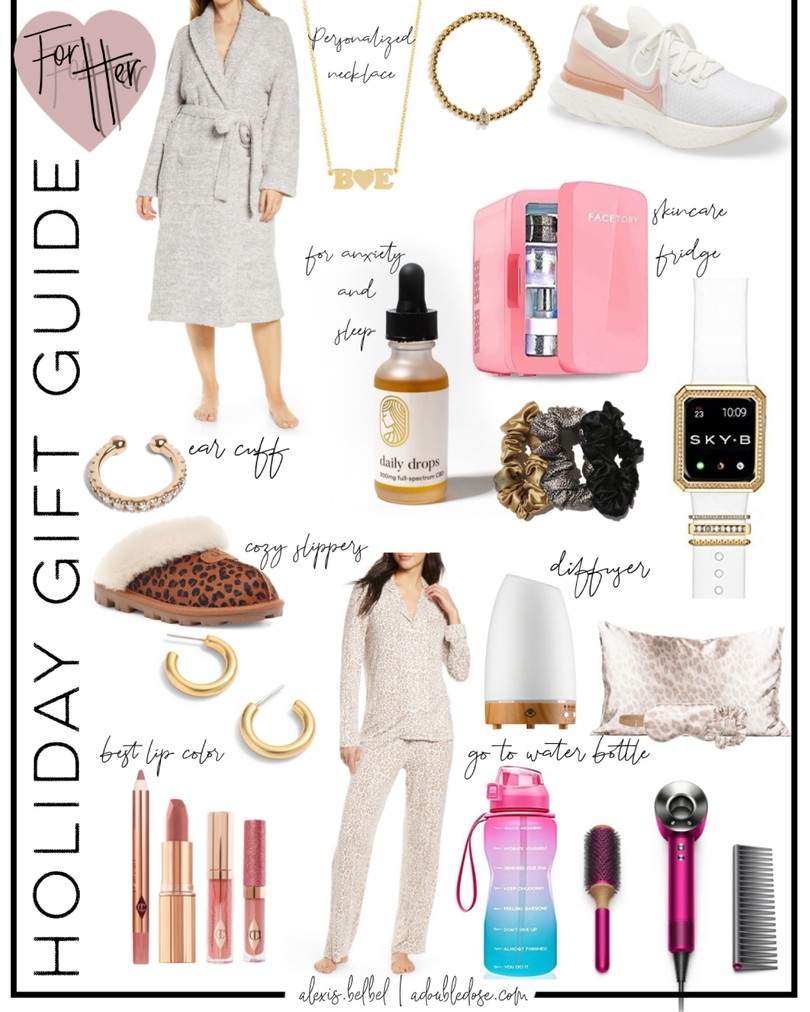 Finally launching the first of our holiday gift guides! Stay tuned for more guides coming your way soon! First up: gifts for her. Could be for any female on your list: your mom, your sister, best friend, mother-in-law, aunt, etc.
PS- These gifts are also great for any birthday or occasion, not just holidays!
Jewelry
We love a good ear cuff. This one featured is from Aurate. Best thing about ear cuffs is that you get the "piercing look", without having to pierce your ear. You can wear them all parts of your ear, and switch it up for a fun look!
We have this personalized necklace and wear it every day. It is gold, so it never changes colors. You can use code alexis15 for a discount.
Gold hoop earrings can go with any look, and can be layered with other jewelry for a classic look. Love how affordable these are.
We are all about these gold beaded bracelets, and this one has a fun personalized initial on it.
This apple watch case cover is our favorite! We wear it everyday, and never take it off. Even our mom has one! You can use code 15belbel for a discount.
Lounge
A robe always makes a GREAT gift! This robe from Barefoot Dreams is super soft, and anyone will love it!
Can't beat a cozy pajama set! Love this neutral leopard print for any age.
The best and comfiest slippers! We love the leopard print on these, and they are universally loved.
Can you tell we love leopard? This silk pillowcase is SO cute and is much better than the traditional pillowcases, especially for your hair and skin.
This CBD oil is our go-to for stress and anxiety. We take it at least two times a day, and it is a game changer. It makes a great gift, and they also have amazing holiday gift sets, and bath salts. Use code adoubledose for 15% off. You can also purchase a subscription as a gift.
Home
We love diffusers, and think they make the BEST gifts! You can put them all over your house, and the essential oils you put in them can help with so many things, and even better, smell amazing. They are non-toxic, too!
We have been wanting one of these mini fridges to house all of our skincare products like some of our serums, face masks, and face rollers, ice rollers.
Beauty
Best lip shades ever for any skin color! This set always sells out and comes with lip liner, lipstick, and gloss.
We have this Dyson hair dryer, and yes, it is all its cracked up to be! This gift set is perfect because it comes in a fun fuchsia color, and a comb and round brush.
These silk hair scrunchies/hair ties are perfect for throwing your hair up in a bun, or in a pony! Plus, they don't dent or damage your hair.
Fitness
This water bottle is one of our most used items! We drink out of it everyday, and it really keeps us accountable. So many of you all have gotten one for yourself!
Everyone loves a good sneaker. These are the perfect color, and they can be worn in and out of the gym!