Happy Wednesday, y'all! This week seems to be flying by, and we can't believe it is October. Today, we will be sharing another downloadable workout, and some of our go-to recipes a lot of you all ask about on our snapchat and instagram stories. If you all are looking for more fitness-related content, you can find a ton of workouts under the main page under the big drop down at the top right-hand side that says FITNESS POSTS, or you can just search 'fitness' on our blog!
In case you missed they last one, you can check it out in this post. Each day (workout) is split into a muscle group with rep amounts, set amounts, and weight amounts. We also are giving a few tips as well. This workout schedule is available for download for $10. It is exactly what we will be doing this week, and you could always re-use this plan for other weeks, and mix and match them. To download the workout schedule, click below:
Note: you will be taken to PayPal to pay, and then should receive a link to the download shortly after that in your inbox. If you do not receive it, please email us!:)
We wanted to share some of our go-to recipes + some that our mom made last week that y'all were asking about!
ASPARAGUS, ZUCCHINI, AND CHICKEN SKILLET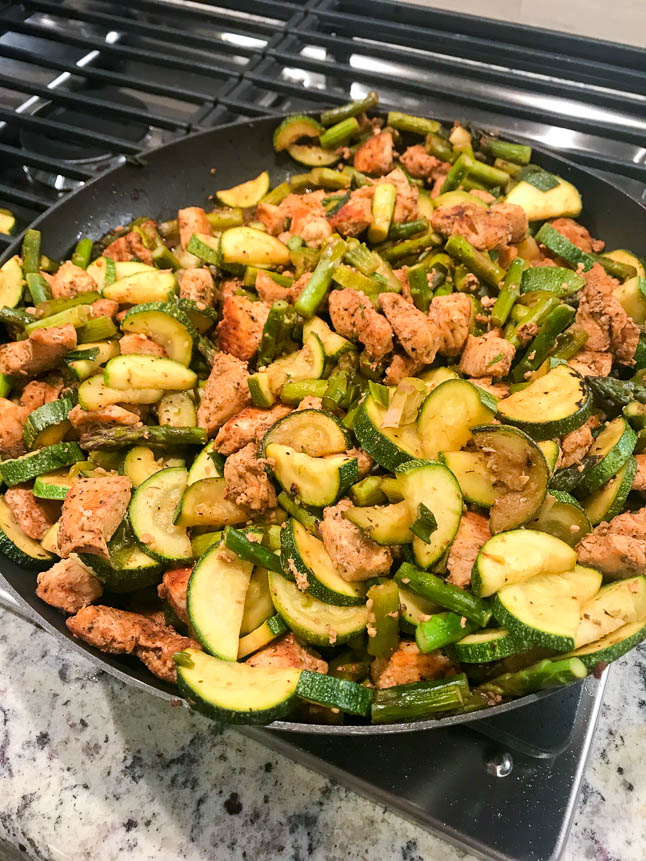 INGREDIENTS:
1 lb. boneless chicken breasts
1 tbsp olive oil
salt and pepper to taste
2-3 zucchinis, chopped and sliced
½ cup chicken broth or water
½ lb (225 g) fresh asparagus (the spears should be cut at a diagonal in 1 and 2 inch pieces)
½ teaspoon crushed red pepper
INSTRUCTIONS:
Cut the chicken into small pieces and season with salt and pepper.
In a skillet over medium heat, add olive oil and chicken.
Sauté the chicken for about 7-10 minutes or until it is cooked though. Set chicken aside.
In the same skillet, add chicken broth, zucchini, and asparagus.
Cook for 4-5 min.
Season with salt, pepper and crushed red pepper.
OVEN-ROASTED CHICKEN THIGHS: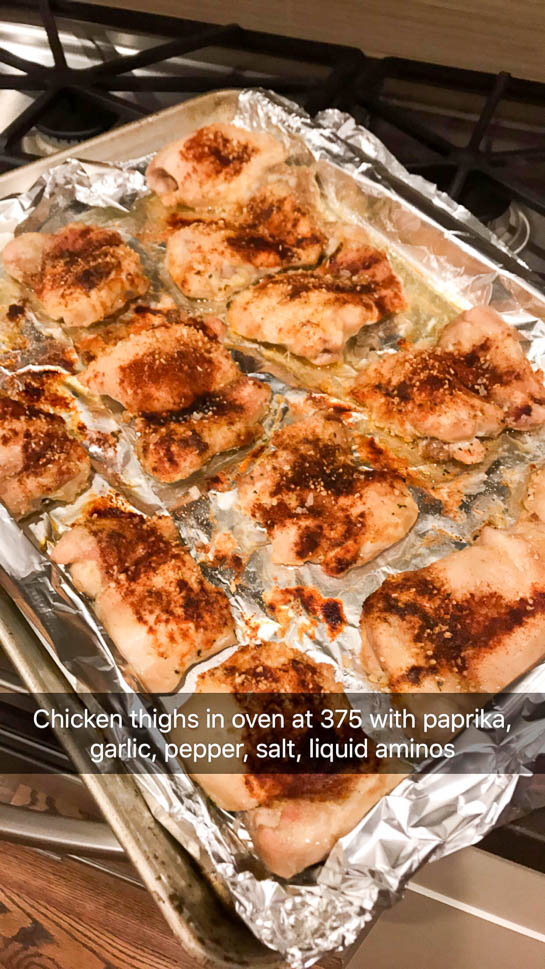 INGREDIENTS:
8 skinless/boneless chicken thighs
salt and pepper to taste
1/2 tsp garlic powder
1/2 tsp paprika
liquid aminos spray
INSTRUCTIONS:
Preheat oven to 375 degrees F (175 degrees C). Line a baking sheet with aluminum foil and spray with cooking spray.

Arrange chicken thighs on prepared baking sheet.

Top chicken with spices and liquid aminos.

Bake chicken in the preheated oven until skin is crispy, thighs are no longer pink at the bone, and the juices run clear, about 40-45 min.
SAUTEED VEGGIES: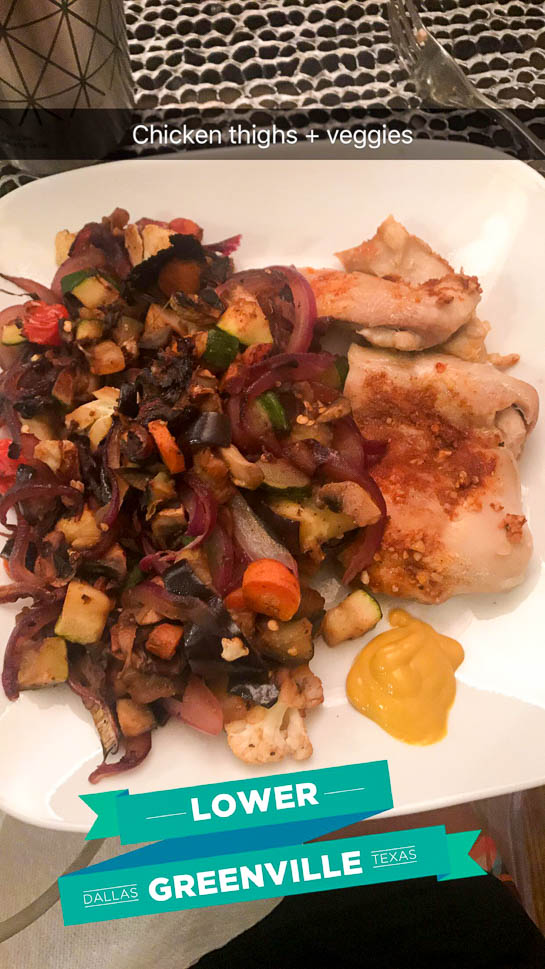 For dinner, if we are eating at home, we literally eat this every night, and never get tired of it. We eat these sautéed veggies with some sort of lean protein like chicken, steak, fish, etc.
INGREDIENTS:
eggplant
zucchini
mushrooms
carrots
cauliflower
red onion
1 tbsp olive or avocado oil
salt and pepper to taste
1 tsp garlic powder
INSTRUCTIONS:
Chop veggies and saute over medium high heat until vegetables are softened.
Add in seasonings.
Done! Super easy!
LOADED VEGGIE SALAD: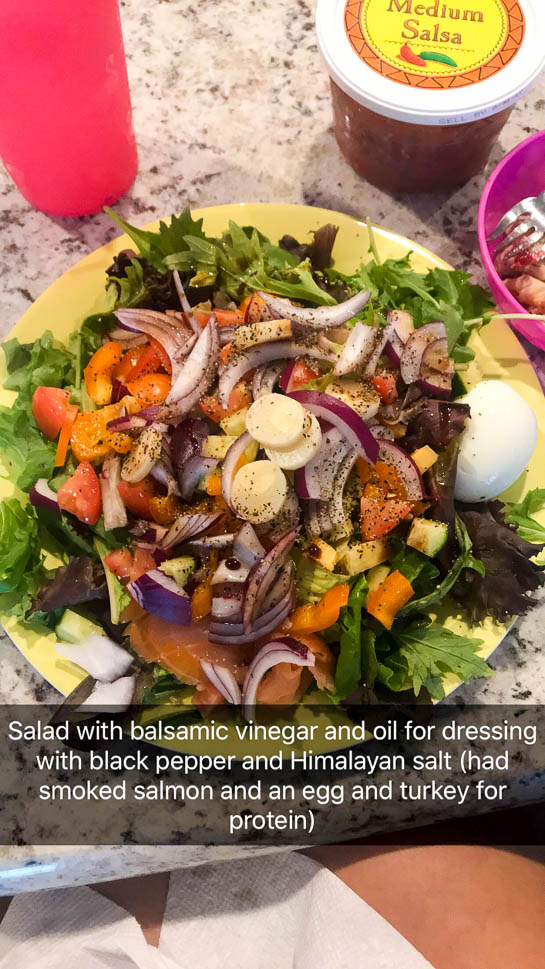 We usually make a big salad for lunch every day. We usually buy the big heads of romaine lettuce and chop those up for the lettuce. We eat it with some sort of protein like eggs, chicken, salmon, or tuna. For dressing, we use salsa, balsamic vinegar and olive oil, mustard, or lemon juice!
INGREDIENTS:
1-2 heads of romaine lettuce
cherry tomatoes
red onion
cucumber
bell pepper
hearts of palm or any other vegetable you like!
1-2 tbsp balsamic vinegar
1 tbsp olive oil
salt and pepper to taste
INSTRUCTIONS:
Chop all veggies up and combine with lettuce, seasoning, and dressing. Super duper easy!
GRILLED EGGPLANT WITH TOMATOES, ONIONS, AND PINE NUTS: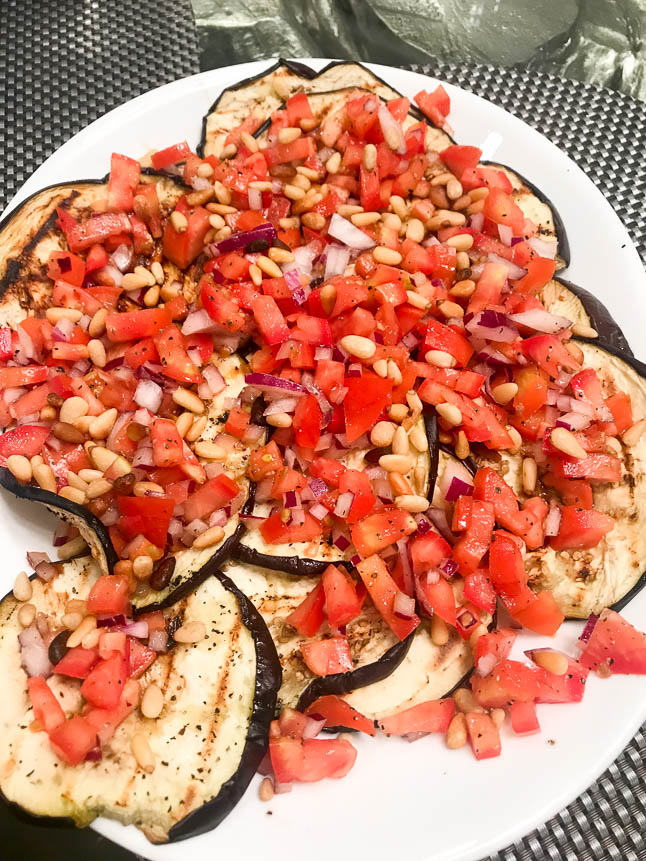 INGREDIENTS:
2 large eggplants
1 pint grape tomatoes
1 red onion
About ⅓ cup extra virgin olive oil for coating vegetables
salt to taste
2 tbsp extra virgin olive oil
¼ cup balsamic vinegar
¼ tsp kosher salt
Freshly ground pepper to taste
INSTRUCTIONS:
Preheat the grill on high.
Make the dressing by mixing 2 tbps oil, ¼ cup balsamic ¼ tsp salt and pepper.
Cut ends off eggplant and cut ½ inch slices lengthwise.
Reduce grill to medium high.
Brush top side of eggplant slices with olive oil and place oiled-side down on grill.
Brush oil on other sides of eggplant slices.
Grill the eggplant for about 10 min total turning halfway through with the grill cover closed.
Chop onions and tomatoes and toss with dressing.
In a large bowl gently toss eggplant slices with 2 Tblsp of the dressing.
Serve with roasted pine nuts, if desired.
Shop our fave kitchen tools and foods below:

SaveSave
SaveSave
SaveSave
SaveSave