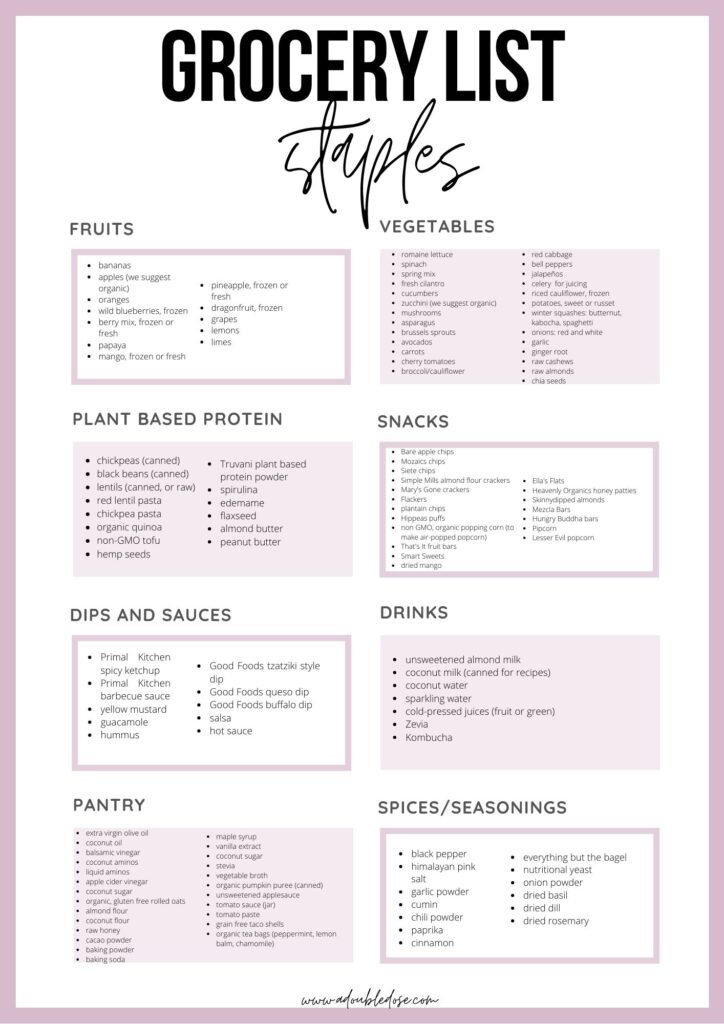 After getting SO many requests to share an updated grocery list. As you all know, we eat plant-based, so we are sharing all our must haves in fruits and vegetables, pantry items, spices, dips and sauces, drinks, protein, and snacks.
Plant Based Protein

We don't eat a lot of protein, or track it, but we do have some staples that we include daily in our diet. We use spirulina in our smoothie bowls every morning with this plant-based protein powder.
We love adding beans and quinoa in our bowls and salads.
See more about protein options in this post.

Snacks

Of course, you gotta have some good snacks. Some of our favorites are the Bare apple chips (eat these daily!), Mozaics chips, Siete Chips, and these Hippeas puffs.
If you're craving candy, we love these Smart Sweets and dried mango.

Dips and Sauces

You need some good flavor to add to your dishes! We always have this ketchup on hand, as well as some salsa.
We get our hummus and guacamole at Costco.

Pantry Essentials

For cooking, we love adding in liquid aminos (kind of like a soy sauce) and tomato sauce can be used for so many things!
For baking, we use coconut flour and rolled oats for tons of things, and maple syrup is a great staple to have!

Spices and Seasonings
We use these so much. Our go-to's are cinnamon, himalayan salt and pepper.
What is a plant-based diet?
You all know that we have been plant-based for over two years now, and have seen such differences.
Eating plant-based involves eating whole foods (minimally processed), with limited or avoidance of animal products.We focus on eating plants like vegetables, fruits, legumes, seeds and nuts, and some grains.
The main difference between eating plant-based and vegan, is that vegans do not eat dairy, meat, poultry, seafood, eggs, or honey. Vegetarians do not eat meat or poultry, but some eat eggs, seafood, or dairy.
What are the benefits of eating a plant-based diet?
There are so many benefits to eating plant based, specifically ones we have seen on our own. We can't speak for everyone, but for us, these are some of the benefits we have seen:
lower inflammation/swelling
better digestion
clearer and brighter skin
better sleep
clearer thinking
We have also read that it can help with reducing heart disease risk, calms inflammation, lowers diabetes risk, reduces cancer risk, lowers cholesterol, and helps maintain weight.
What foods do we typically avoid?
We don't think there are any foods that are "bad", but we have been avoiding certain foods while eating this way like:
seafood
poultry
eggs
dairy
gluten
canola oil
most added sugars
faux meats
Where do we shop for our groceries?
We honestly shop all over. Our favorite spots are Sprouts, Costco, Sam's Club, Whole Foods, Trader Joes, Amazon, and Thrive Market.
How often do you grocery shop?
We typically grocery shop once a week, sometimes twice a week, if needed.
Do you have a sample weekly meal plan?
Yes! We have a sample meal plan in this post.
Do you have any good plant based recipes?
We do! We have a digital recipe ebook that has tons of breakfast, lunch, dinner, and snack recipes.
You can check out more info on it here.