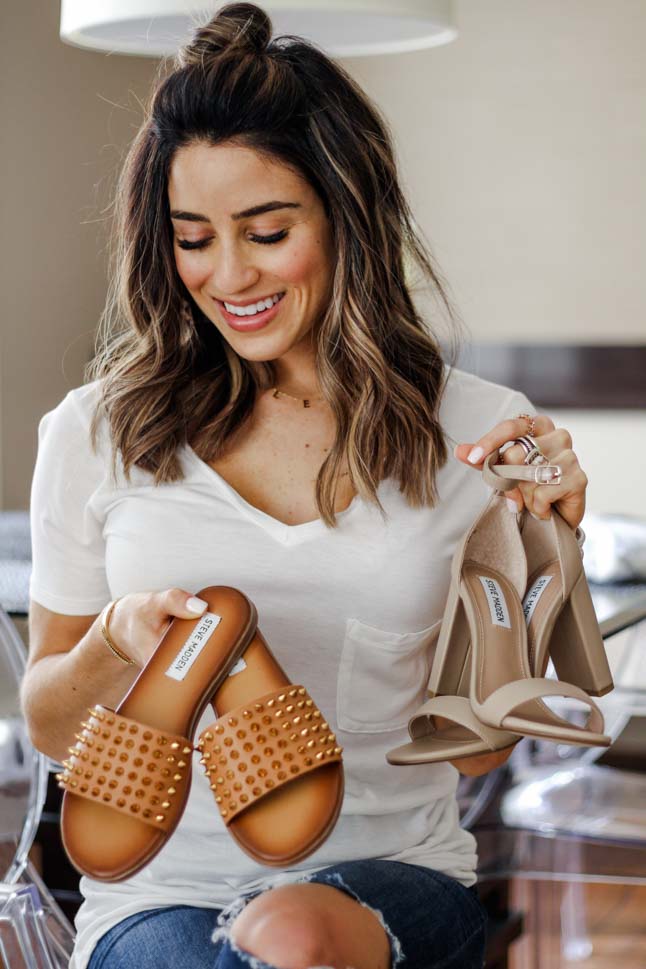 SO excited for today's post because we are sharing a review of all of our spring shoes we have tried recently! We know there are SO many shoes out there, so we wanted to give you all an honest review of each pair and why we like them (or don't!)

#1: DOLCE VITA WEDGE SLIDE SANDAL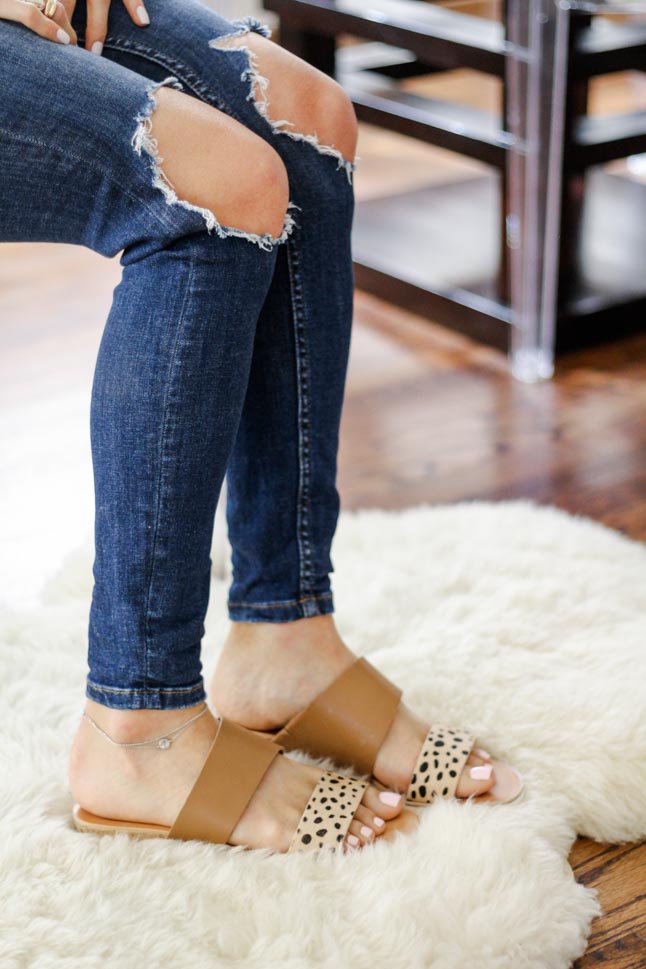 You all know we love anything leopard. Of course, these slides are no different! These have a bit of a wedge heel, but nothing too high, of course. We like that they have a neutral strap as well, so they're not too much animal print if you don't want to go overboard.
We went with a size 6.5, and they run true to size. They do run a little wide, so if you have narrow feet, like us, you may want to keep that in mind!
#2: STEVE MADDEN FARYN STUDDED SLIDE SANDAL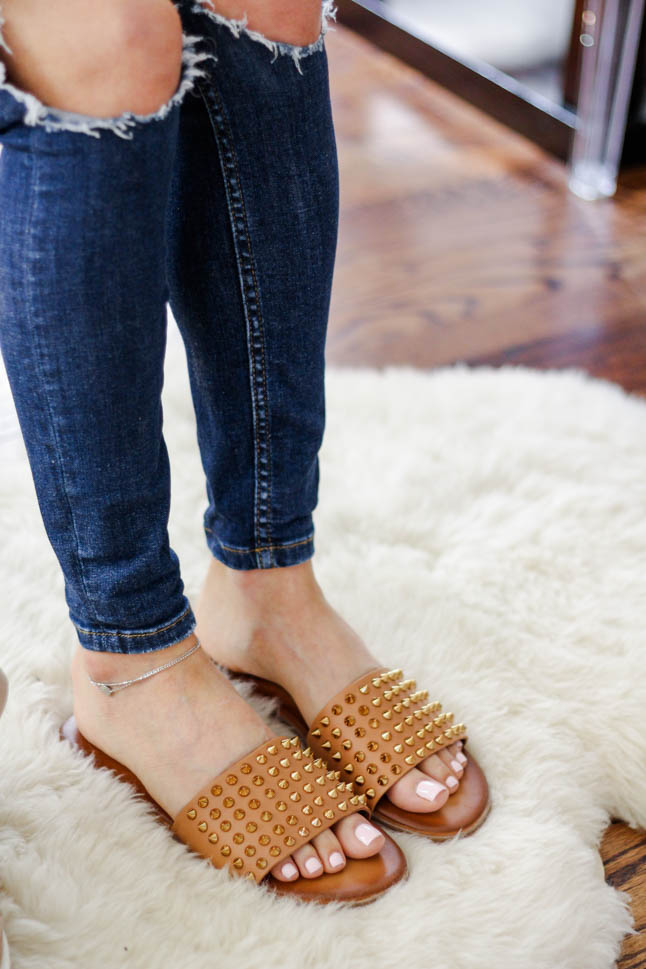 This slide sandal is a lot going on, we know! BUT, we are totally in love with these. They look SO cute on, and we think if you go for the neutral pair (we are wearing the cognac), or the black, it isn't too flashy!
We went with a size 7 in these, and would recommend sizing up a half size in these!
Here is another double strap slide sandal for you all! We had been wanting this pair for a long time now, and love the braided strap on this one. These will go with everything in your closet! These also run true to size (we have a size 6.5). The braided strap does run a little narrow!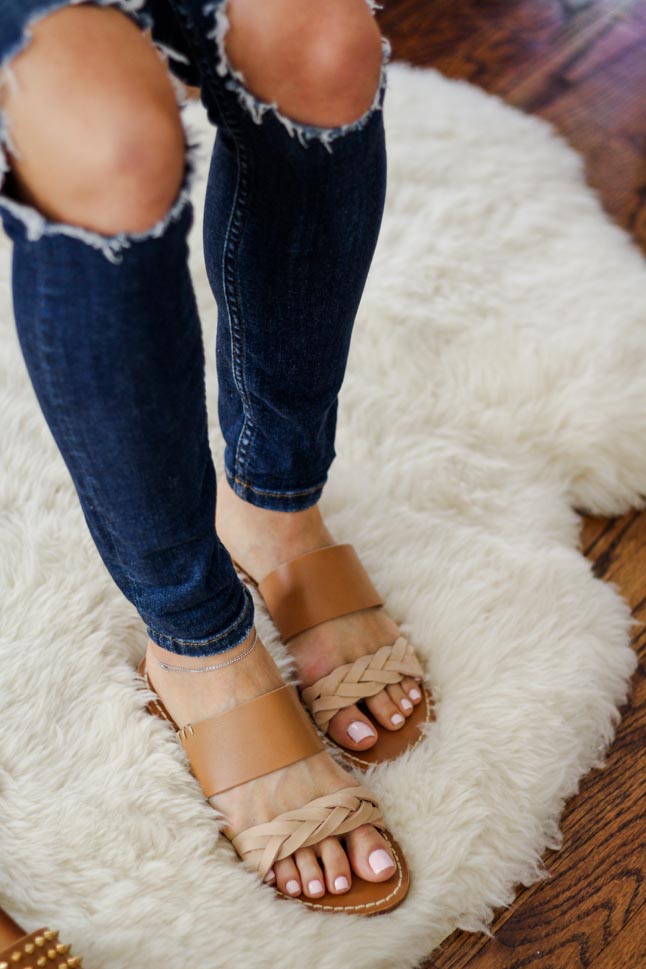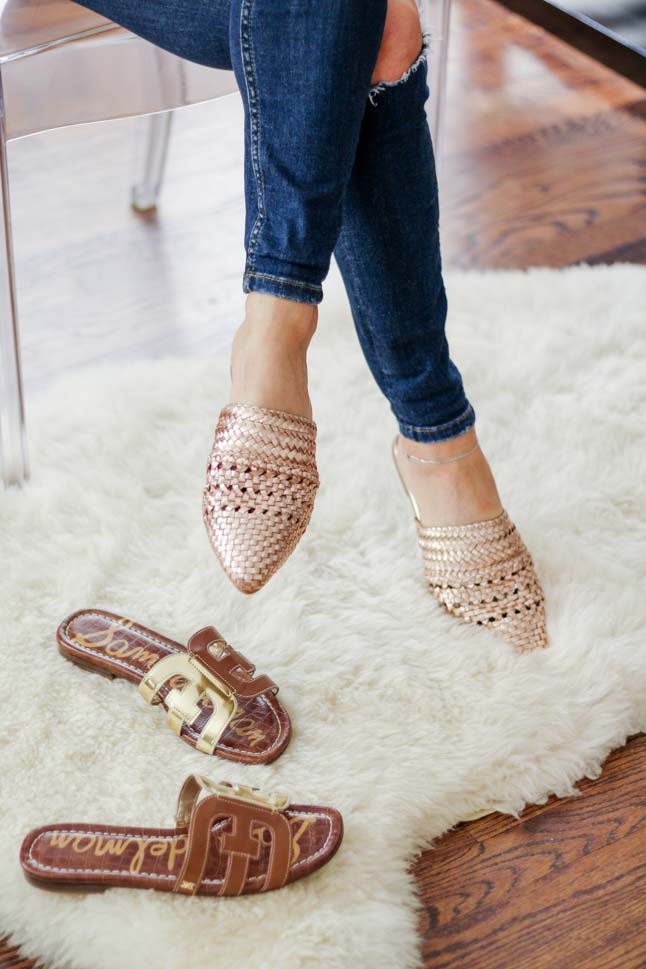 We had actually tried this pair on in the store a while back, and loved them so much we had to get a pair! Sometimes, we don't really like the way mules look on, but this pair is not only comfortable, but it has a pointed toe, so it will elongate your legs, which is always a plus!
Also, these come in three other colors, including white and black. These run true to size. We have a size 7.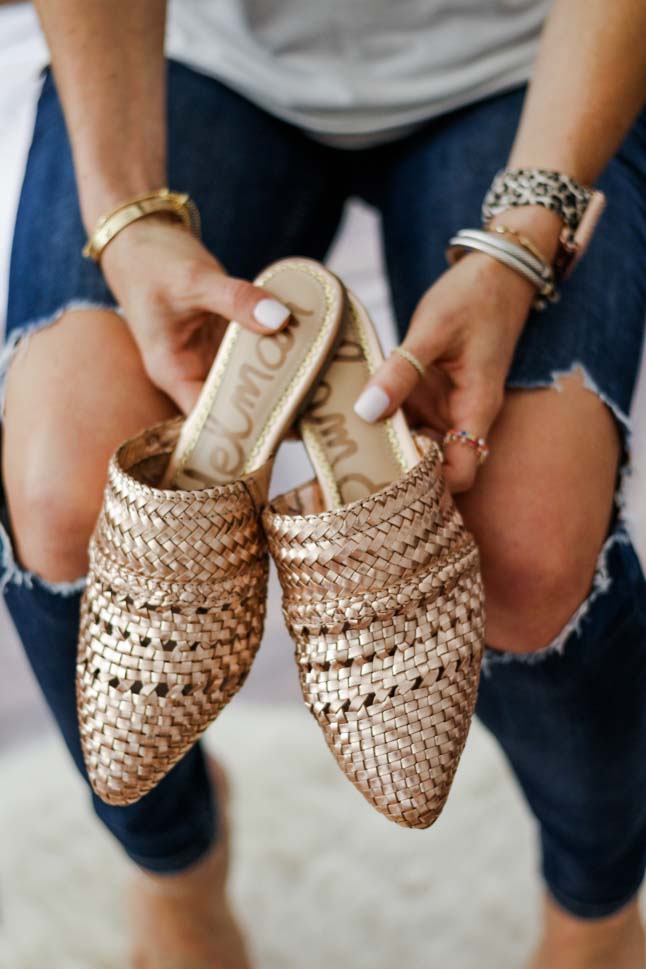 #5: SAM EDELMAN CUTOUT SLIDE SANDAL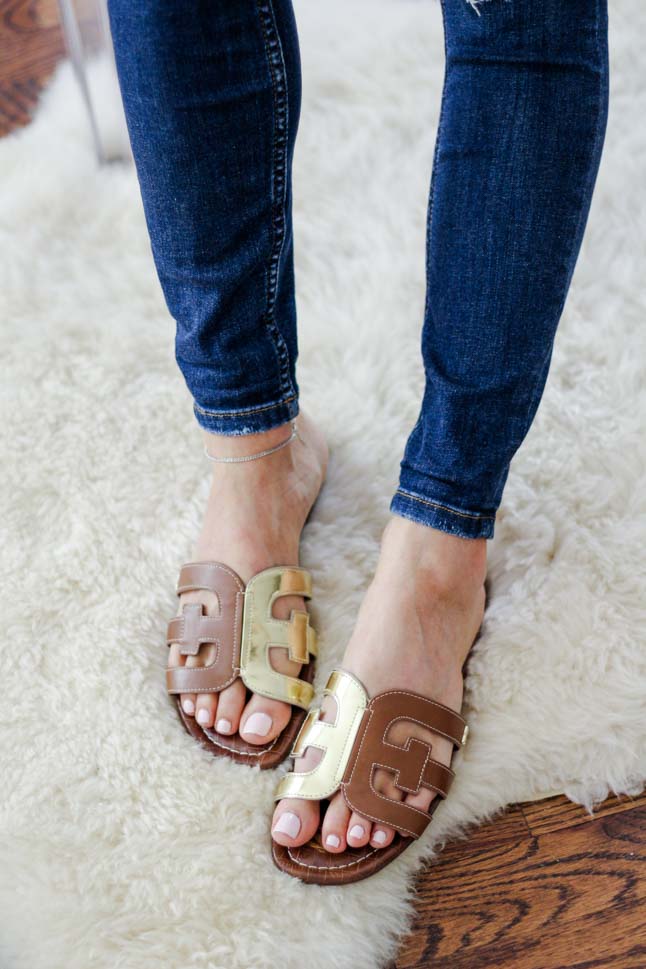 This slide sandal came out a couple years ago, and if you had been wanting the Hermes pair, this one is a great look-for-less option! These are under $100, padded and comfy for walking a lot, and can be dressed up or down! We love wearing them with some shorts, or even a swimsuit, but then you can also dress them up with jeans or a cute dress!
We got this pair in a size 7, and run true to size. They also come in solid colors like a natural patent and a black patent color.
#6: SOLE SOCIETY STUDDED SLIDE SANDAL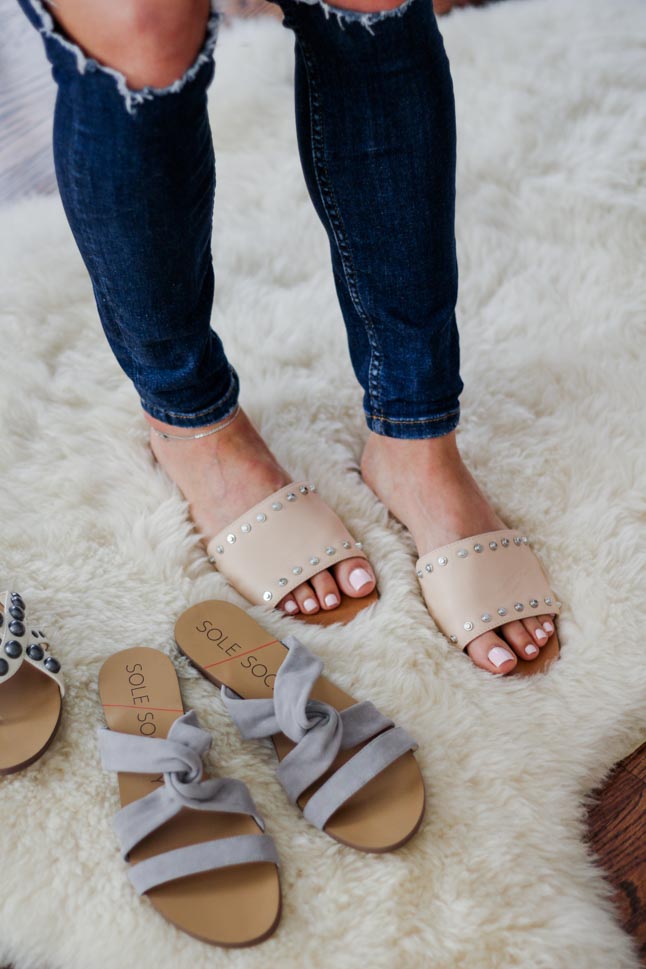 One of us wore these slides the other day, and got a TON of compliments on them! They are the perfect amount of studs, without being too much or flashy. We are wearing the "bisque leather" color in a size 6.5 and they run true to size. These also come in black!
#7: SOLE SOCIETY GREY KNOTTED SLIDE SANDAL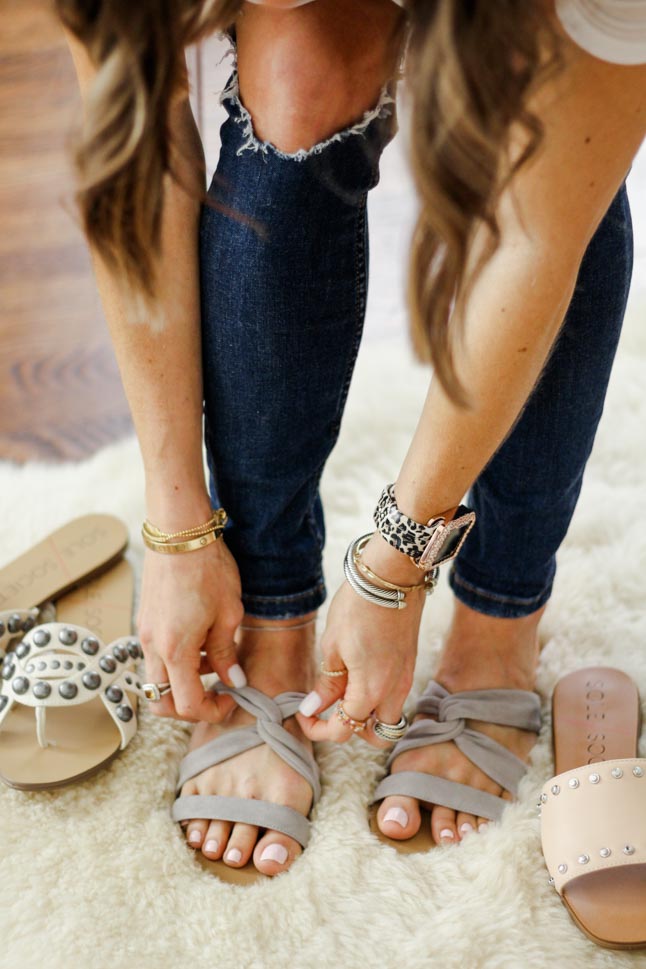 We were so excited about this pair, but they run EXTREMELY narrow. We have narrow feet, and these were hard to get on, so we recommend sizing up on these at least a half size, or maybe even a full size! They are really cute sandals, though.
We are wearing they grey color in a size 6.5! These are not super padded, so they are great for every day, but not for long walks.
#8: SOLE SOCIETY WHITE STUDDED SLIDE SANDAL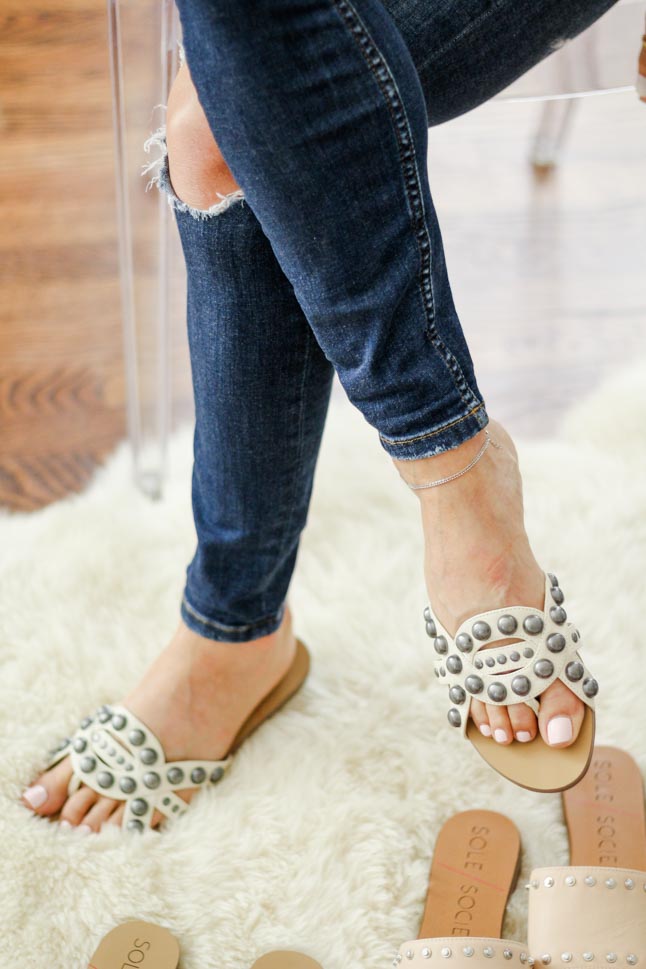 As y'all can tell, we love anything studded, so of course we had to have these sandals! They are more of a thong sandal, so they stay on your feet better than the typical slide sandal. We are wearing a size 6.5 in the cream color, and they run true to size.
These are not super padded, so they are comfortable, but don't have a ton of padding!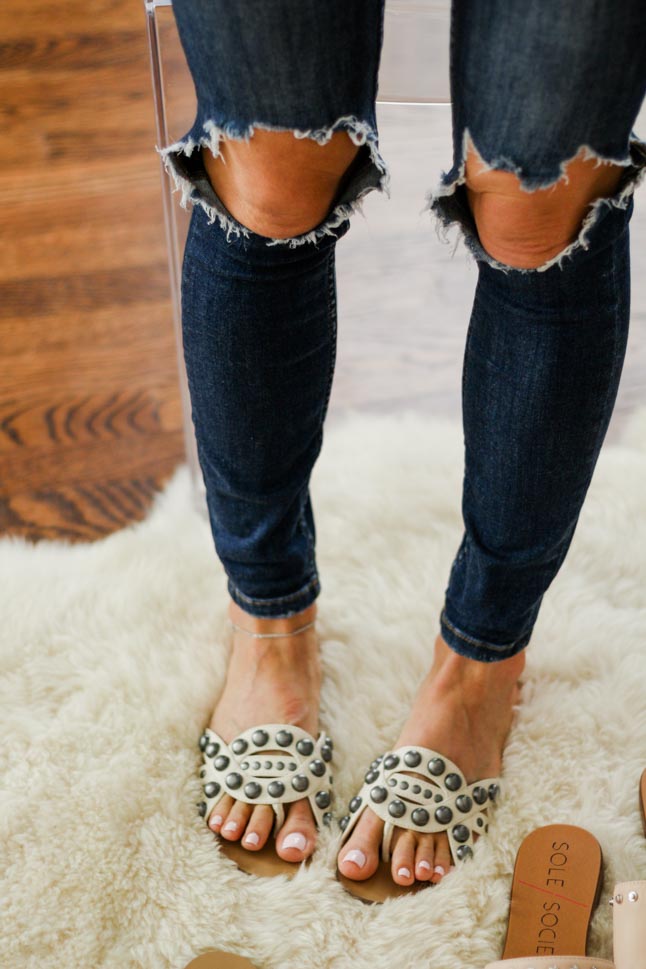 #9: STEVE MADDEN PLATFORM WEDGE SANDAL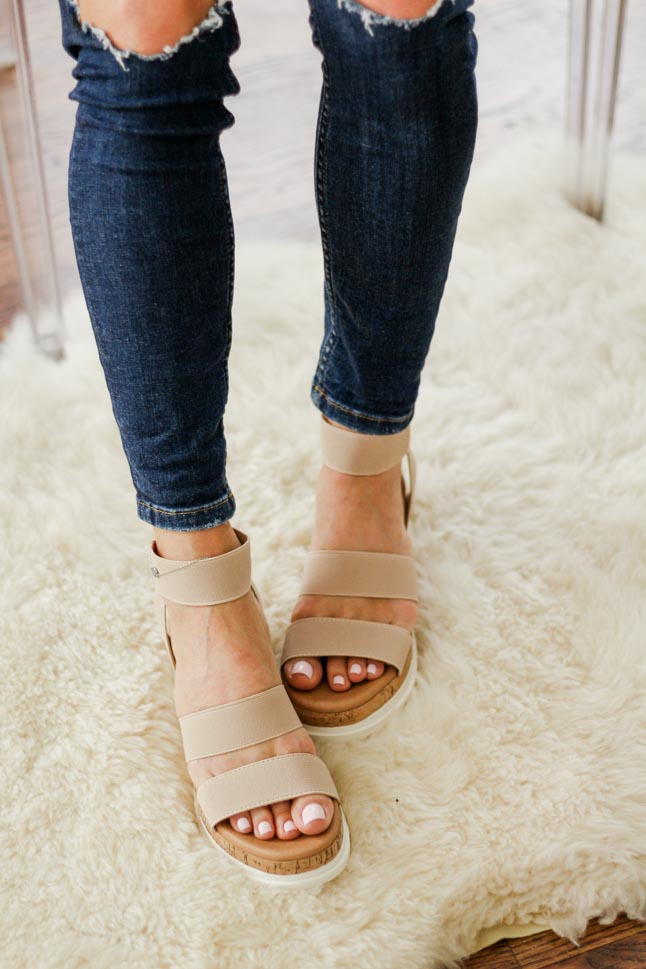 We were kind of skeptical of these wedges because when they are not on, we didn't especially like they way they looked when they are not being worn, BUT, we were pleasantly surprised! First off, these are SO comfortable– like walking on a cloud. These would be great shoes to take on a trip where you'll be walking a lot!
They also come in other colors like black, olive green, a bright coral color, and more! We got a size 6.5 in them and they run true to size.
What is also great is that they are elastic, so they form to your feet and will stretch out so they're good for narrow or wide feet.
#10: STEVE MADDEN CARRSON SANDAL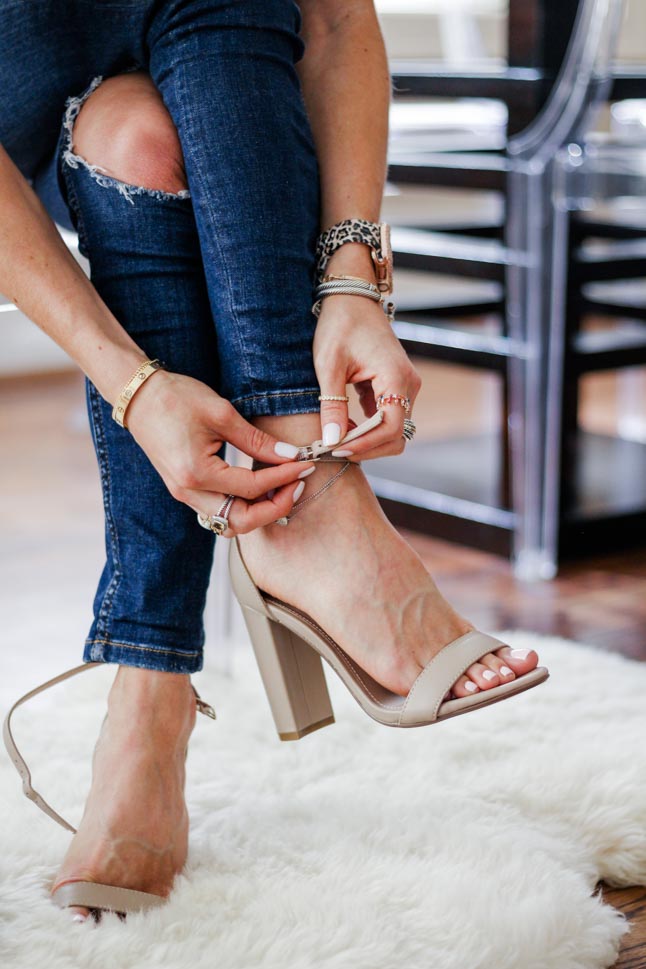 If you're needing a basic, neutral heel, this is your pair! They are flattering on any foot, AND, you can wear the with any kind of outfit, and they always look good. When in doubt, go with the platform, block heel! We wear this pair with jeans, dresses, rompers, and jumpsuits. You can also wear these to work!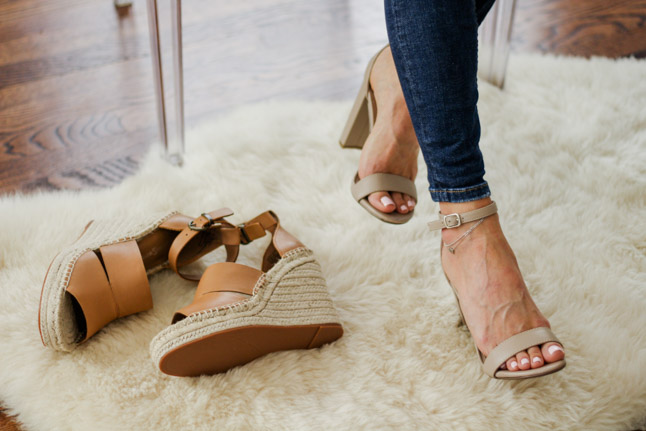 We have on the "blush leather" color, and they also come in a ton of other colors like black, too. For these, we went with a size 7, and they fit true to size.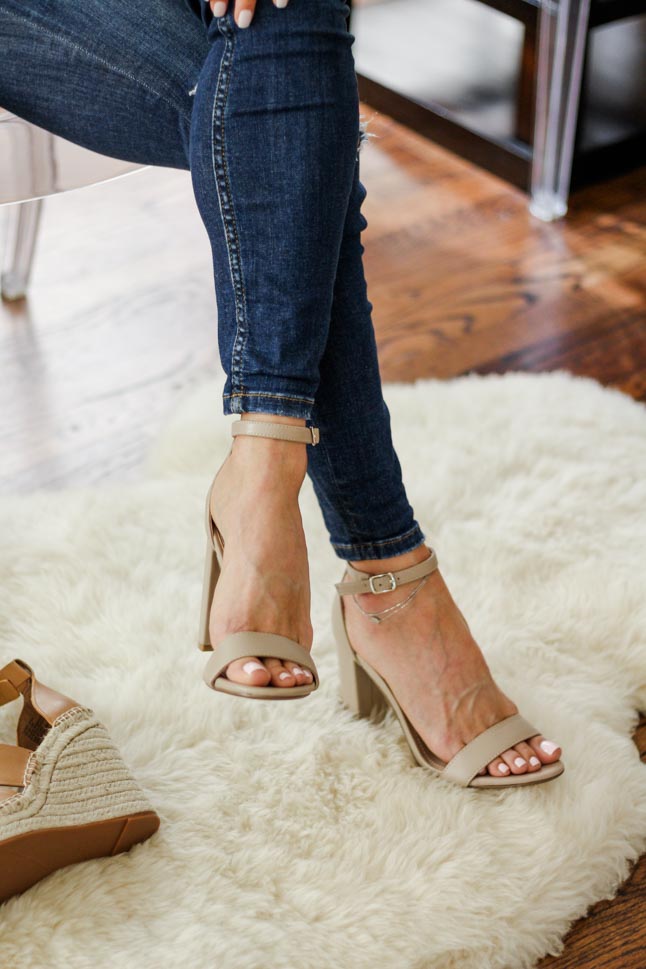 #11: TREASURE & BOND SANNIBEL PLATFORM WEDGE SANDAL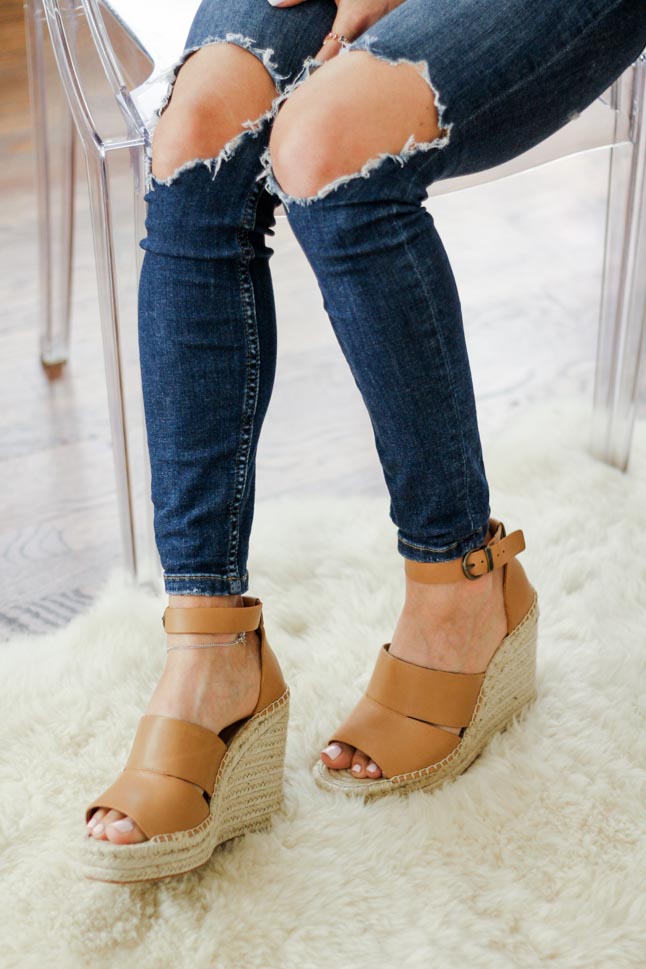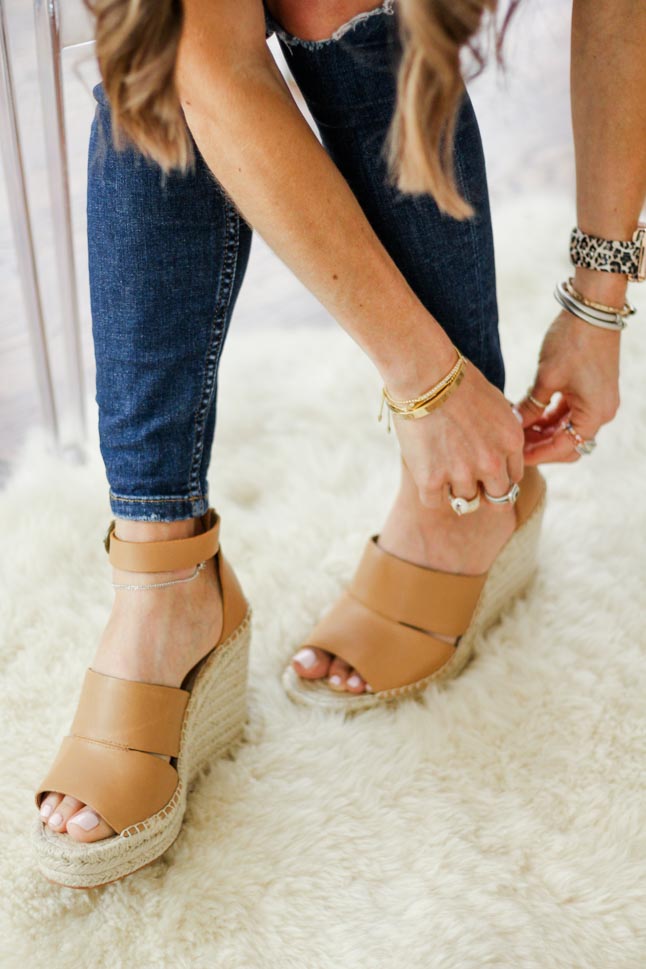 Best bang-for-your buck neutral wedges!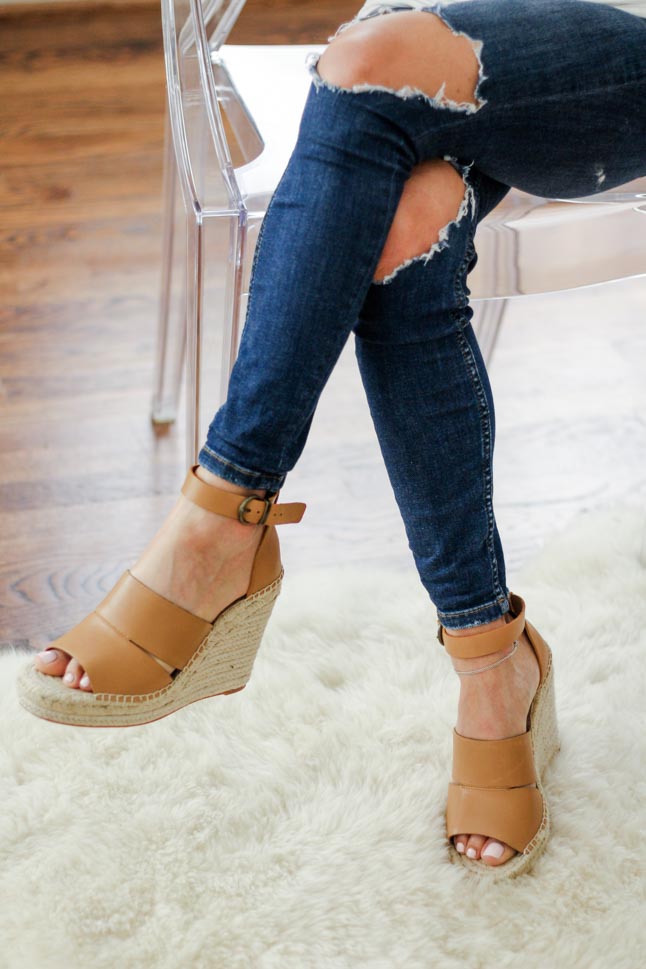 Y'all have probably seen these wedges a lot of times, but we finally gave these a try, and HIGHLY recommend. They are $80, so a great price point, and this pair is actually comfortable, unlike some other espadrille wedges we have tried out. This is the "tan leather" color, and they also come in black, white, snakeskin, and other colors.
We got a size 7 in these, but found that the straps were a little loose on use because our feet are so narrow.
We found all of these spring sandals at Nordstrom. When we are shopping for shoes, or anything, really, they are our go-to! We use the in-store pickup option all of the time because it is so dang convenient ;). If you haven't used it yet, we HIGHLY recommend it!
In partnership with Nordstrom.