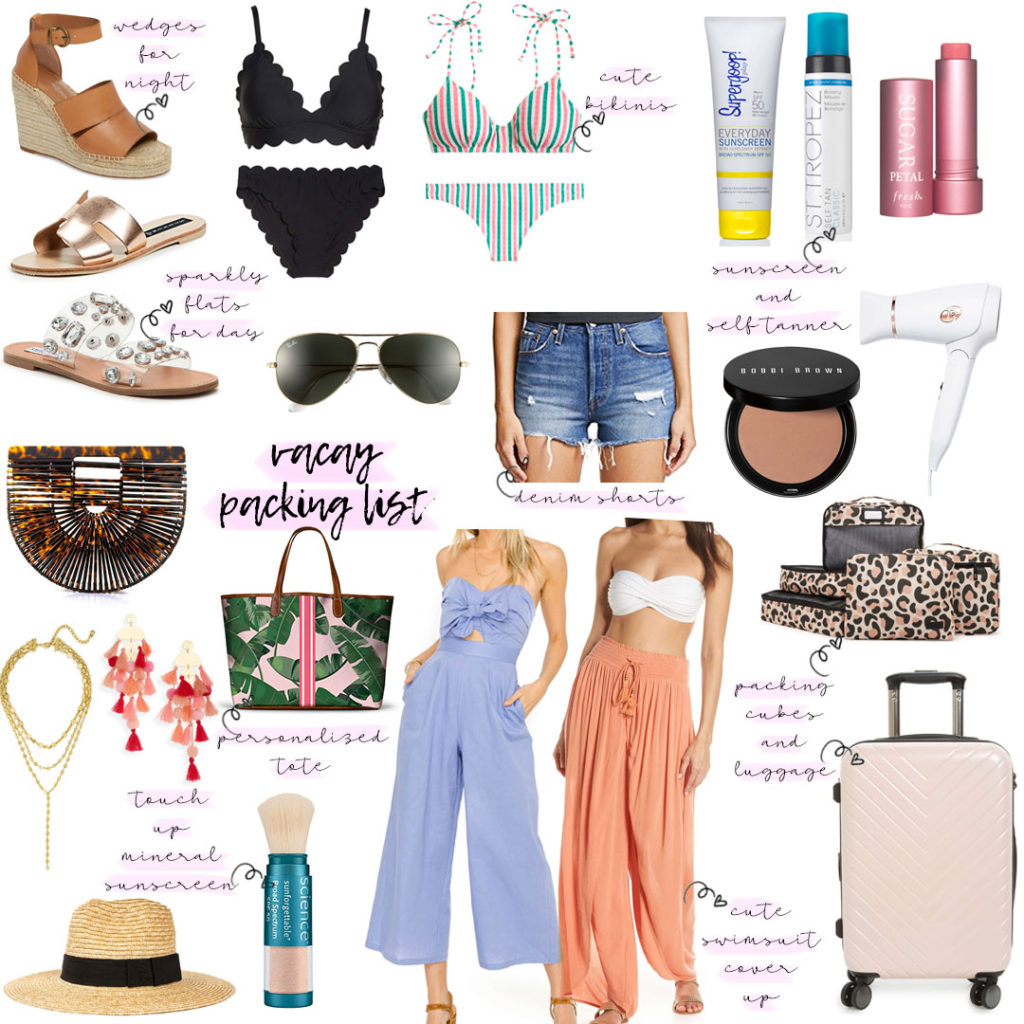 We just got back from a trip to Tulum (full trip details coming to the blog soon once we have some time to write it all down), but we know so many of you all are headed somewhere soon, so we wanted to put together some spring packing must haves! In case you missed our swimsuit cover up roundup, you can check those out here.
Of course, this is not all of them, but here are the necessities:
Neutral Wedges: you can wear these day and night and they are super comfy to walk in!
Metallic Slides: we just got these and are obsessed. They match everything and can be worn during the day at the beach/pool, or at night with some shorts or a cute dress.
Clear Jeweled Slides: these are such a fun pair to wear to the beach or pool, and the best part is you can totally wear them at night with a cute white dress.
Tortoise Cage Bag: This is a dupe for a popular bag you all may have seen, and this tortoise one is so fun!
Scallop Bikini Top/Bottoms: you all know we love scallop suits, and this set is affordable!
Striped Bikini Top/Bottoms: We love how the top ties on the shoulders and the cute stripes.
Aviator Sunglasses: always a classic! We have had ours for years.
Denim Shorts: You can wear these over a swimsuit, or with a cute top at night.
Gold Layered Choker Necklace: looks gorgeous with a lace cami, or cute dress.
Tassel Statement Earrings: dress up any look or swimsuit!
Personalized Travel Tote: this is the tote we use ALL of the time. You can change the print, stripe color, and monogram, and they have new prints for spring!
Straw Hat: a hat is always a good idea, and this one isn't just for the beach!
Mineral Sunscreen Brush: we use this to to touch up our sunscreen throughout the day, and it also soaks up oil!
Blue Jumpsuit: super cute jumpsuit for nights out.
Pant Swimsuit Cover Up: We always opt for a dress kind of cover up, but this pant one is too fun!
Carry On Luggage: if you're like us, you try to take a carry on when possible, so this one is a great one.
Packing Cubes: these make packing so much easier and they come in fun prints.
Bronzer: our go to bronzer. We use 'Aruba'
Travel Hair Dryer: compact for traveling and a really good one!
Supergoop Sunscreen: this one doesn't have any yucky ingredients, and protects your skin from the sun and burns!
St. Tropez Self tanner: the self tanner we use on our bodies and faces!
Sugar Lip Balm: throw in your bag for SPF on your lips.
Shop more vacation musts below: