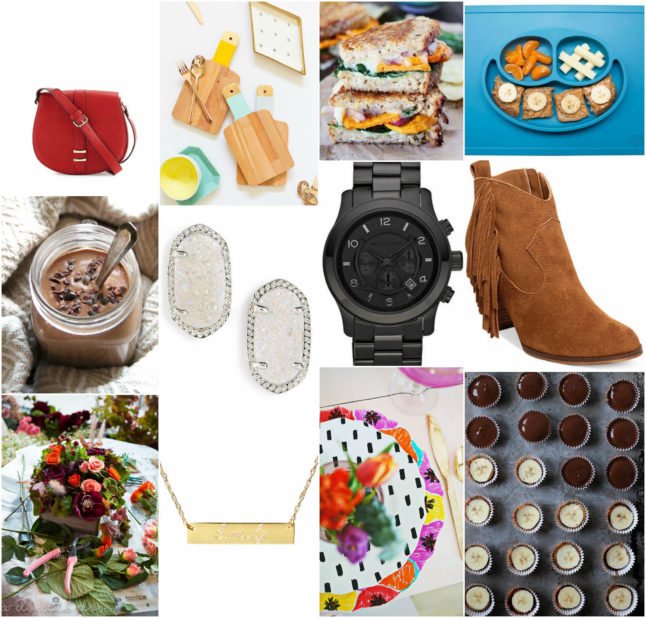 Happy Veterans Day!
How cool is today's date? 11/11. Love when dates repeat like that. We don't have a birthday that could repeat super cool like that since our birthday is 6/13. It would never be 13/13/13. Like how cool is it if your birthday was 4/4/04. Anyways, we have some fun stuff we read this week to share with y'all!
FOOD:
This Sweet Potato and Kale Grilled Cheese looks freaking amazing! It is on our to-make list this month! Would be even better with some turkey stuffed in it!
This hot chocolate smoothie sounds like all sorts of amazingness. AND it's dairy free!
These pb banana bites look so cute and to DIE for! Perfect for the holidays!
I can never get spaghetti squash to be perfect, so I am loving these tips on how to prepare it!
SHOPPING:
GAP is having a 40% off sale on everything + free shipping through midnight tonight. How can you beat that?! We get so much stuff there, it's not even funny!
Nordstrom is having a fall clearance sale of up to 40% off some great stuff. Check out our favorite picks here!
LOVING these fringe booties that ar on sale- YAY!
These Kendra Scott studs are so gorgeous and perfect for the holidays and are under $35!
This red saddle cross body bag looks just like the Chloe bag that I LOVE, but this one is on sale for $33! What a great gift for you or someone else.
O B S E S S E D with this black Michael Kors watch that's on sale for under $180!
I stumbled upon this adorable jewelry company that happened to be on Oprah's Favorite Things this year. They make perfect holiday gifts!
I may not be a toddler, but this silicon placemat + plate is adorable and divides my food just the way I want it! Super fun if you have kids!
INTERESTING READS:
I love these tips on having a digital detox and think I will be trying to implement them each day.
I was DYING laughing reading these things that were cool in 2005. You will be going down memory lane reading these!
Thought this article on why women compete with each other was really interesting and a great read!
Being an introvert, I liked reading about the ways introverts act differently in the world.
Why you should date a short person. Of course I am biased, duh!
DIY:
I am loving these DIY hand painted dishes. They are SO fun!
How cute are these cutting boards. Anything with a pop of color on them is a winner in my book!
Love this floral centerpiece idea for the holidays. Would make the table so pretty!
This spray paint nail polish looks like it would solve all nail problems! How cool would this be?
Hope you enjoyed. Thanks for stopping by! Xo