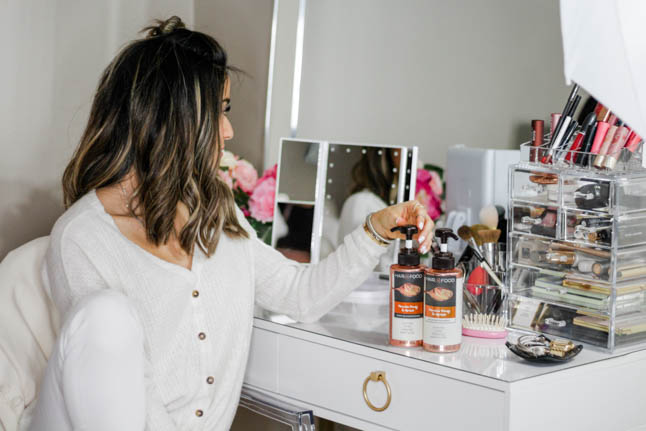 You all know we have been health nuts for quite some time, but in the past year to two years, we have become even more focused on what we put in and on our bodies. We have slowly switched over a lot of our foods, skincare, and beauty products to ones that we know the ingredients of. We used to just go for the ones that looked pretty, or smelled the best, but now we care about so much more than that.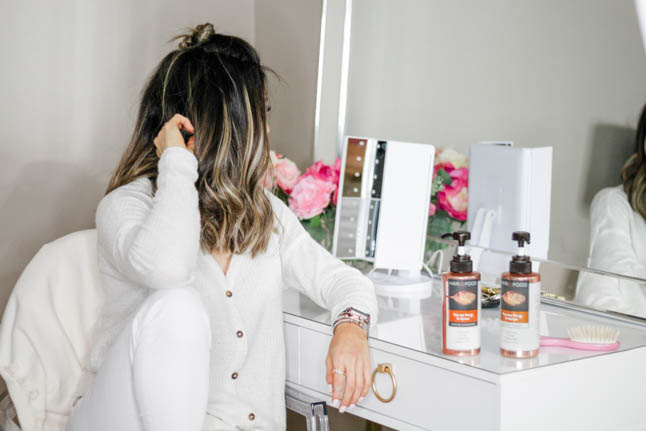 Obviously, we want our beauty products to smell good and make us look our best, but we also want to recognize what ingredients are ultimately being put in our skin and hair, and into our organs and blood stream.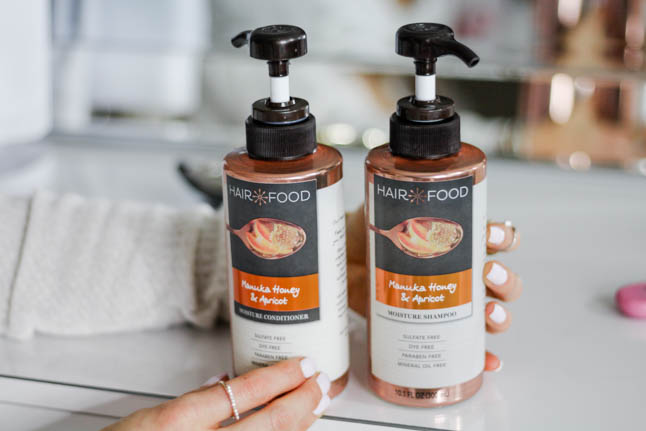 We found this amazing hair line, Hair Food, and couldn't wait to share it with you all! We had initially tried it a couple weeks ago, but wanted to wait and see how we liked it, and how our hair responded to it. What initially drew us to the line was that it is inspired by clean, simple, kitchen-crafted recipes with ingredients you actually want to put in your body— exactly what our philosophy is!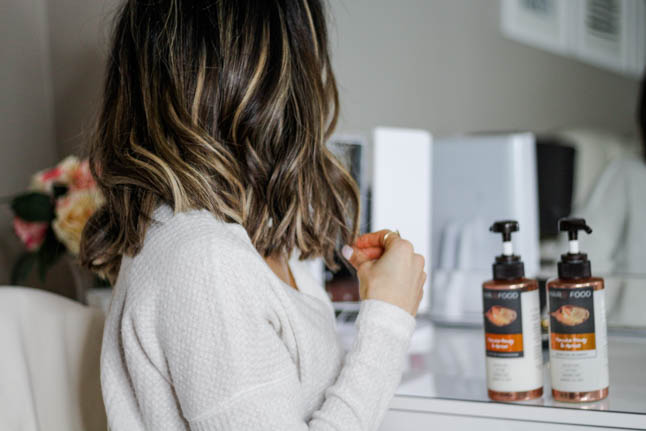 All of their lines are free of the yucky stuff like sulfates, parabens, and dyes. From what we have been reading and researching about holistic health, using these every day for years can really affect your health and your body being able to properly detox.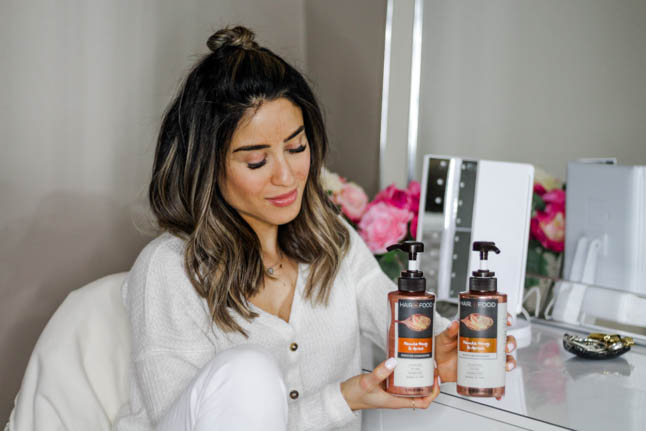 We have been using the Moisture Collection with Manuka Honey & Apricot, and have been loving it. We were actually blown away at how good it smelled! It is lightweight and super moisturizing, which is what we can all use with these cooler temps that tend to dry our hair out. Our hair felt really hydrated after using it, and we love that it is free of parabens, mineral oils, and dyes.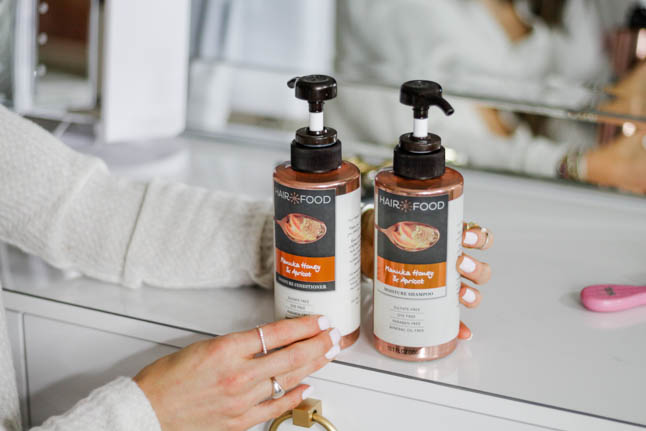 You all know that we have been incorporating more and more healing foods into our diets, like an abundance of fresh fruits, veggies, and other herbs. One main food we have been eating and using a lot is Manuka Honey. Not only is it more natural than other sugars typically used, but it has a ton of health benefits as well. The liver, which we have read is responsible for so many functions in your body, is responsible for helping the body detox, so eating foods like honey and fruit is so critical! We never knew that! Honey actually has the sugar the liver needs, and it also has a ton of other vitamins and minerals.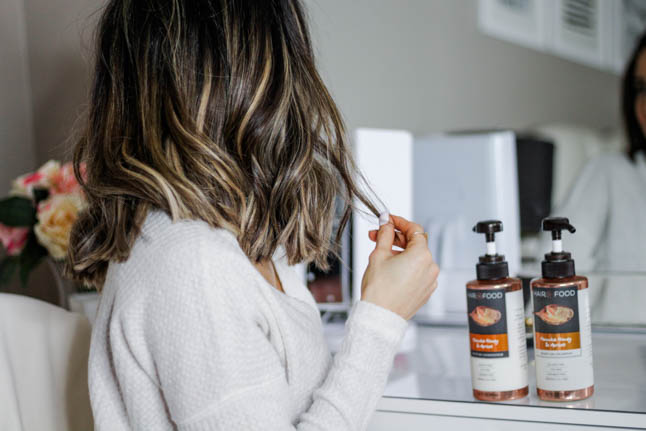 Another great thing about it is that it is antimicrobial and anti-fungal, so you can use it for so many things! We love it in our hot teas, in baking recipes, and obviously in beauty products! You can also use it in face masks.
Apricots are another food that we have been eating a lot of, along with other fresh fruits! They also are great for the liver and are rich in vitamin A and antioxidants, which help to prevent aging, which we can all benefit from! We love eating apricots by themselves as a fresh fruit, or you can use them in baking like healthier cakes and loafs. We love them heated up with some cinnamon, too!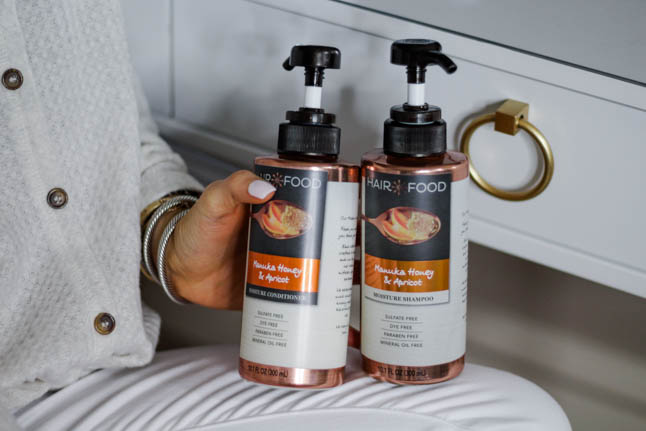 Their other lines of Hair Food we haven't tried, but sound just as amazing are the Purifying Collection with Tea Tree & Lavender Water, the Nourishing Collection with Coconut Milk & Chai Spice, and the Smooth Collection with Avocado & Argan Oil. We love that all of these are super healing ingredients and ones that we would put in our bodies for fuel as well.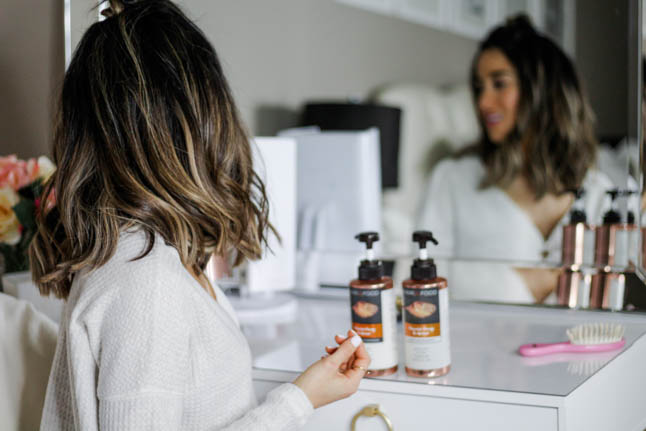 This is a sponsored conversation written by me on behalf of Hair Food. The opinions and text are all mine.