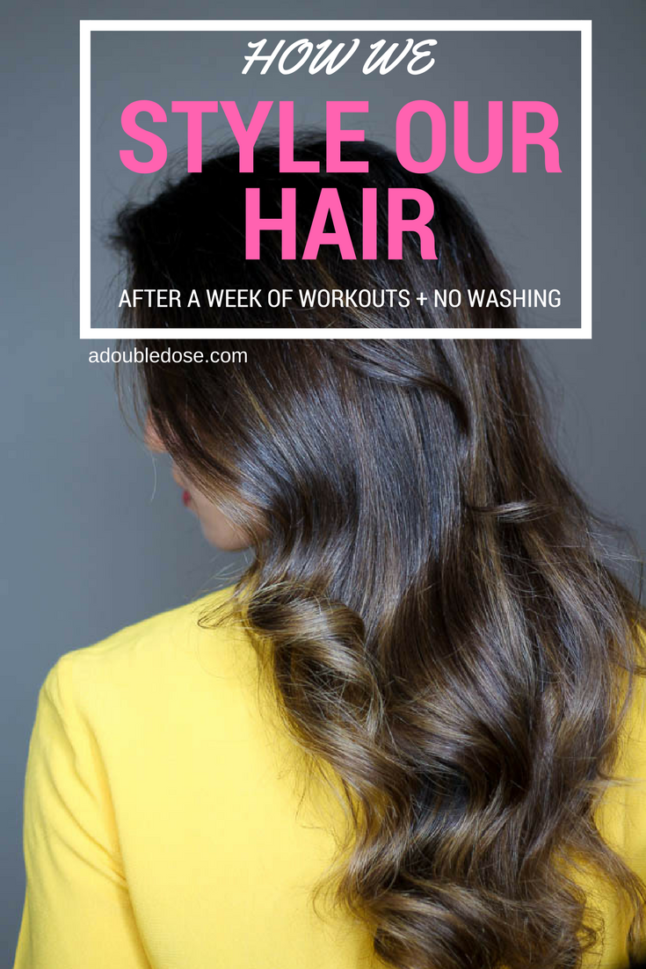 This question is what we seem to get pretty often. A lot of y'all want to know, how do we go so long without washing our hair, even when we are working out pretty much every day. Honestly, this used to gross us out SO much. When we were in high school, washing our hair every.single.day was a normal thing. Now, we both try to stretch that to like 5 days, or even sometimes, a week!
We know that sounds really gross at first, but it is so much better for your hair!
Usually, this is how it goes for us:
Day One: wash hair normally. We use this shampoo and this conditioner.
Day Two: we ALWAYS wash our bodies and shave our legs every single day, no matter what. We use these clips to clip our hair up and use this shower cap, for when we are washing our bodies in the shower.
Of course, like everyone else, our scalp gets sweaty and wet from our workouts, so we will use this hair dryer to dry the wet pieces, and just give some life to our hair. If your hair already feels greasy, use some dry shampoo in the areas of your roots that seem greasier. We suggest this and this dry shampoo. After this, style your hair as usual. We also like to spray perfume in our hair, especially if you've been working out outside or something. This is our favorite perfume right now!
We use this curling iron most of the time! Tutorial for hair curling here.
Day Three: Repeat steps from day two, but you will probably have to add more dry shampoo than the day before.
Day Four: We are usually able to keep repeating the same steps as above, but some of y'all may have to go the top bun or braid route. You could also curl the ends of your hair and throw it up in a pony!
Day Five: If you're feeling brave, you could do another braid or up-do, OR try a cute baseball cap or fedora hat. If you're just not feeling another day of greasy hair, you can feel free to wash it this day.
Stick to it, and remember the longer you do this, the longer you can go without washing your hair, and train it to not get greasy! We promise it feels gross once you finish a workout, but after you style it, it feels totally fine!;)