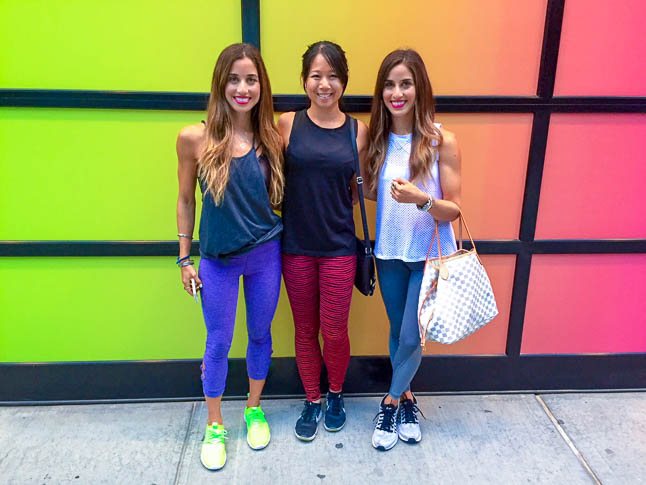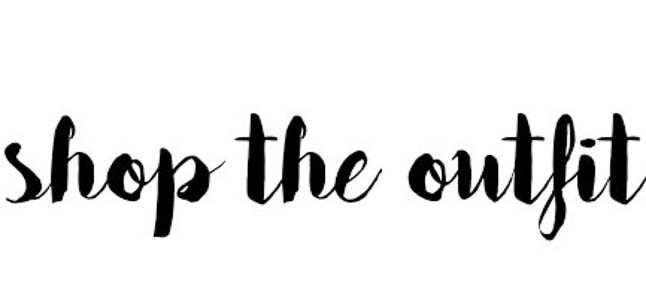 If you follow us on snapchat (sbelbel; alexis.belbel) or Instagram (@samanthabelbel; @alexis.belbel), you may have seen that we recently went to NYC to for the Nike #Unlimited Innovation event. When we headed out there, we weren't really sure what we were going to be seeing or doing, but it ended up being SO much fun and SO interesting!
In short, on Tuesday morning, we jetted of to NYC. We arrived in the afternoon, and checked into the Grand Soho Hotel (such a cool boutique hotel located right in the heart of Soho). Then we changed into workout gear (I know, best event ever!), and headed over to the Nike venue down the street. The venue space was super cool and bright (just what I would expect from Nike).
The coolest part..we got to sit down with track & field legend, Jackie Joyner Kersee! She was SO incredibly sweet and I loved what she talked about. She was so humble and talked about mentally preparing for the races. She also talked about how she had food allergies and how she had to worry about that when preparing for the races. My favorite part is when she talked about how fashion was important to her. She is all about 'look good, feel good'. I am ALL about that! It's the same idea as buying new workout gear and getting motivation to kill a workout and just feeling baller. Of course, after we chatted a bit, Alexis and I had to ask for a photo!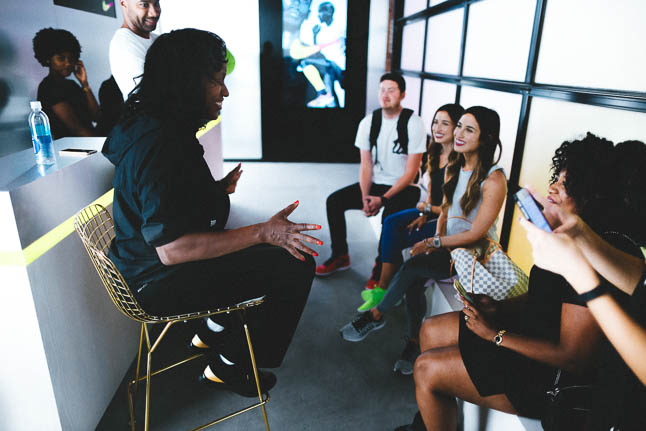 After meeting Jackie, we headed over to the cutest restaurant, Gilligan's. It's all nautical themed and had the yummiest food! The table got watermelon margaritas in mason jars (I know, so cute!), margarita pizza, pita and avocado, and Alexis and I got the Branizno, which was amazing!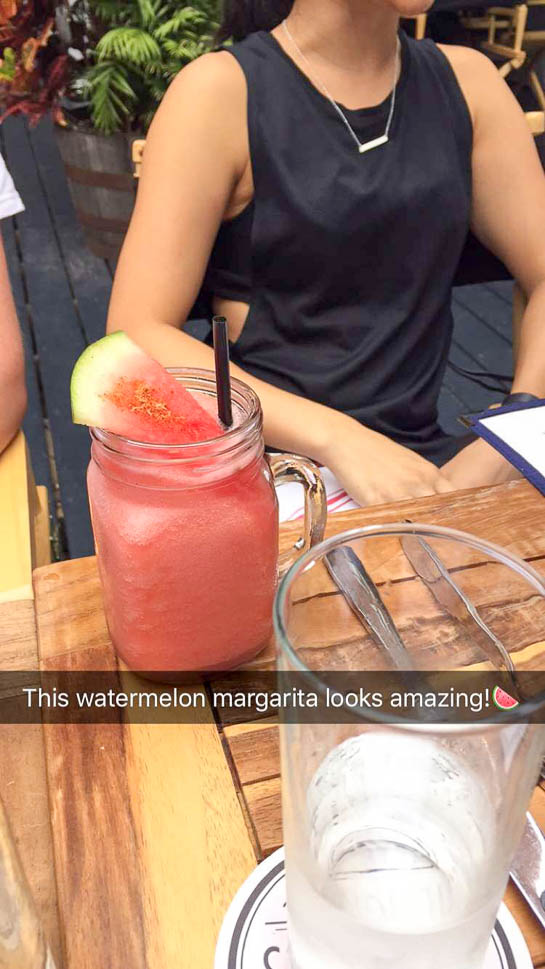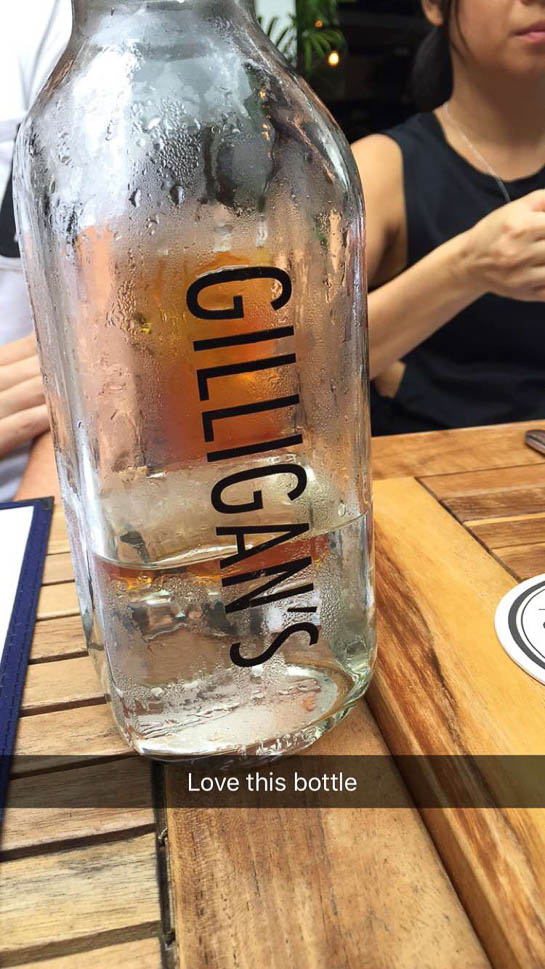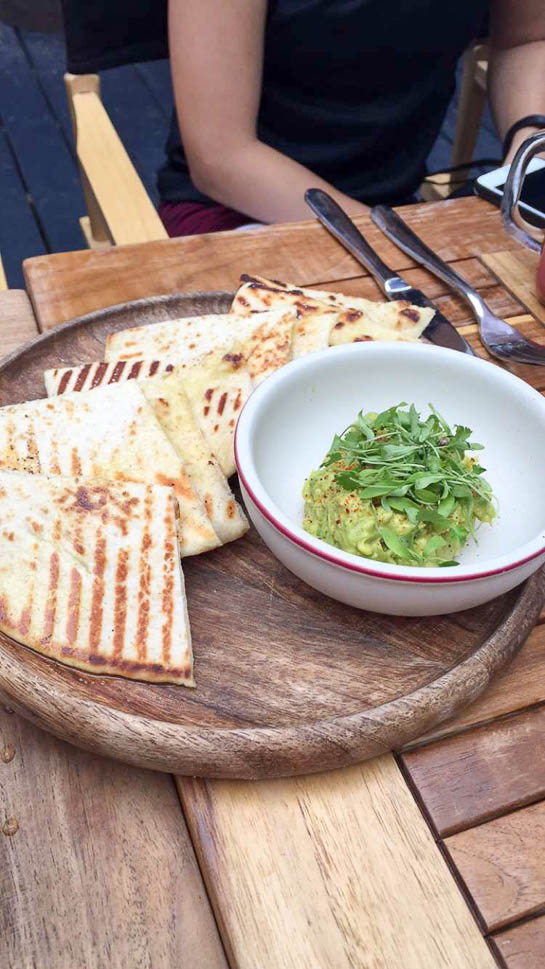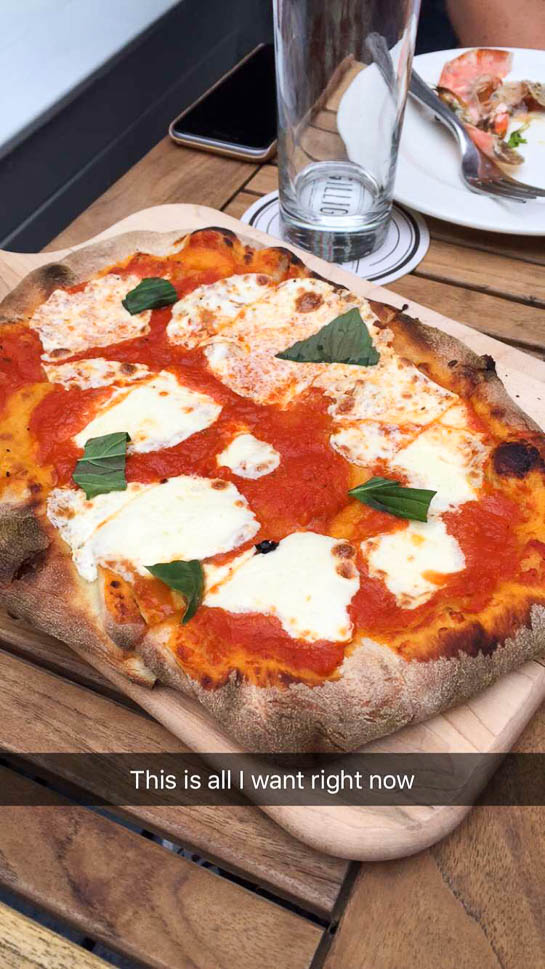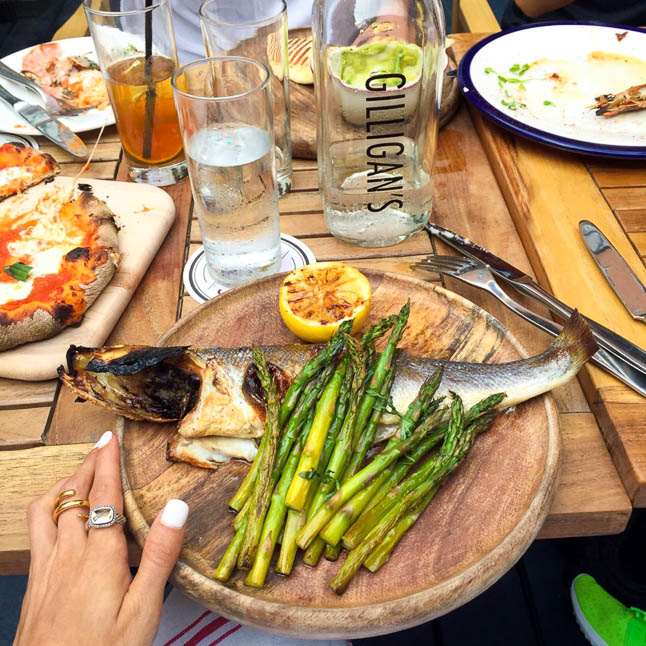 After dinner and drinks, we all headed back to the Nike venue for the main event. The main focus of the event was to preview the brand new, never before seen, Team USA design and innovation for Rio this year. Within the venue, we saw the latest innovations within both equipment and apparel across all sports such as basketball, track & field, soccer, tennis, golf, and more. We were in such awe of all of the amazing products we saw! Everything from super rich and bright color palettes, material and technology that helps to reduce drag and weight and increase aerodynamics. By the time we had seen everything in the space, we truly knew why Nike is known for obsessing the athlete from head to toe.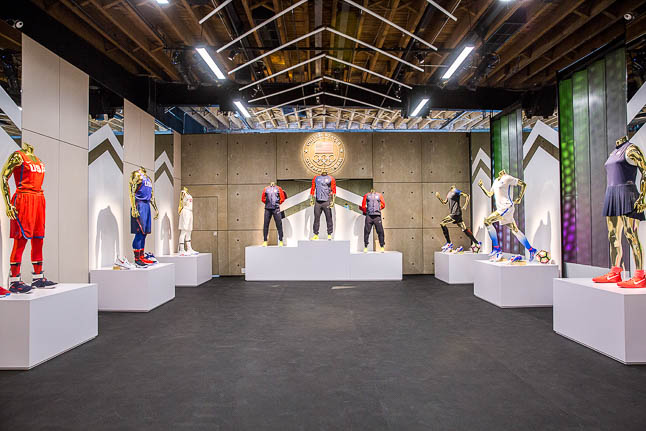 Photo c/o Nike
Within the space, there were several different rooms. The first room had all of the official USA Olympic uniforms for all sports.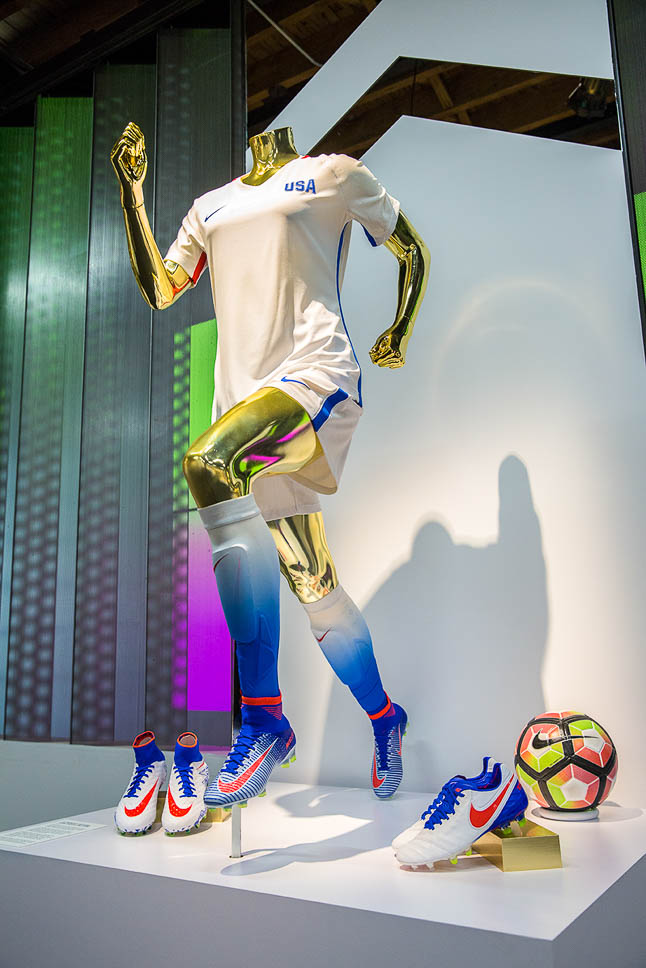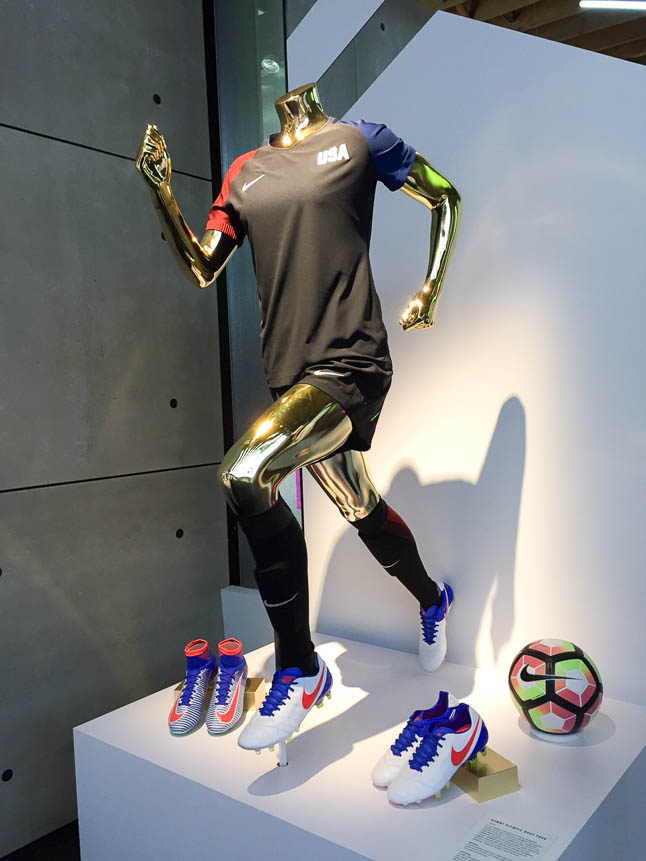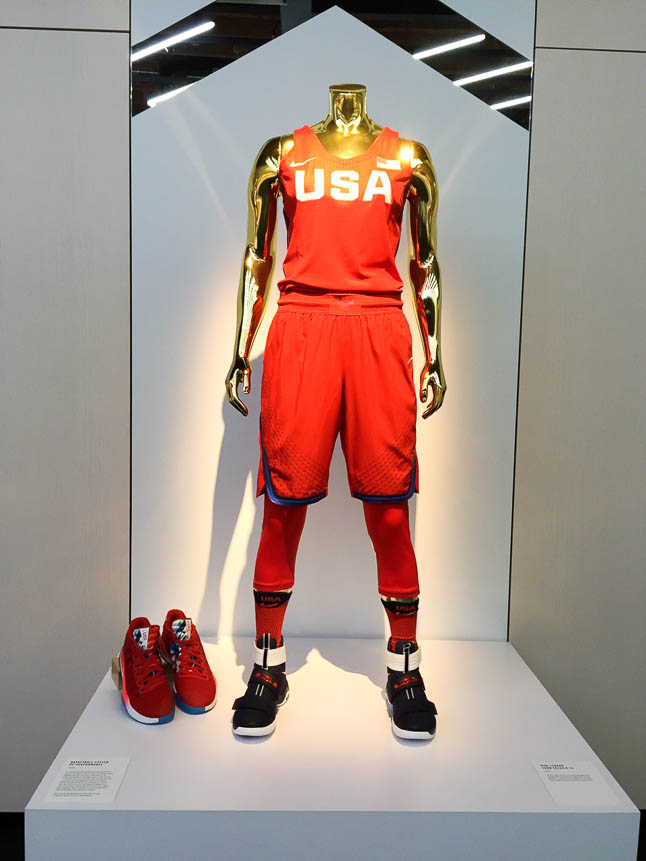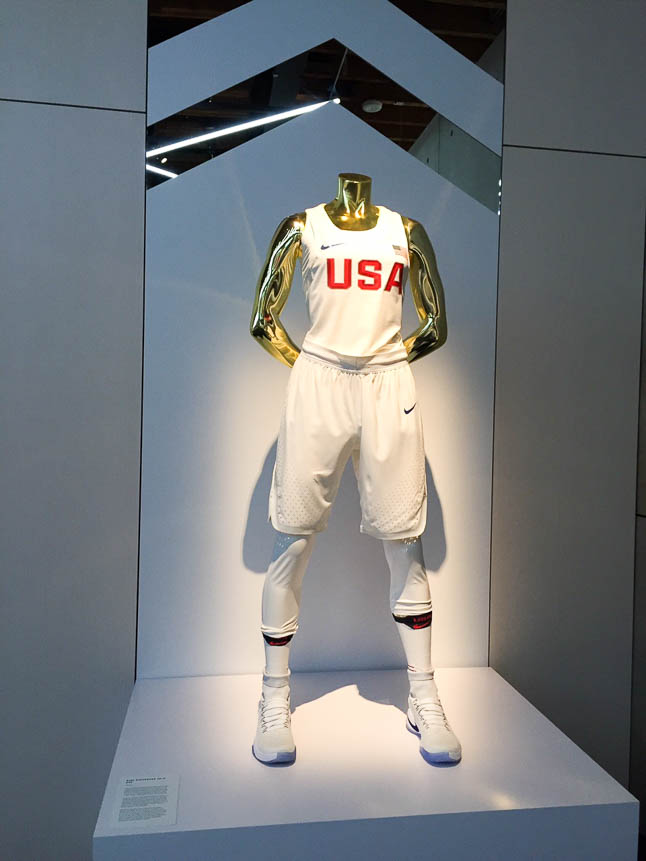 The second room was a room full of flyknit kicks all in the same bright neon yellow and pink hues (basically, heaven!). Of course, Alexis and I were completely obsessed with the colors Nike chose! The story behind it is pretty cool, too! Nike imagined athletes' travel to tropical Brazil and thought about beetle shells. They took the bright and irqedsedent colors as inspiration to create Nike's new signature unlimited colorway collection. In motion, the bright colors illustrate a glowing path that represents both the athlete's unlimited abilities and how Nike views the world, "bursting with unlimited inspiration and design possibilities. Even cooler, did you know that FlyKnit technology delivers maximum performance with 60% less waste! More here!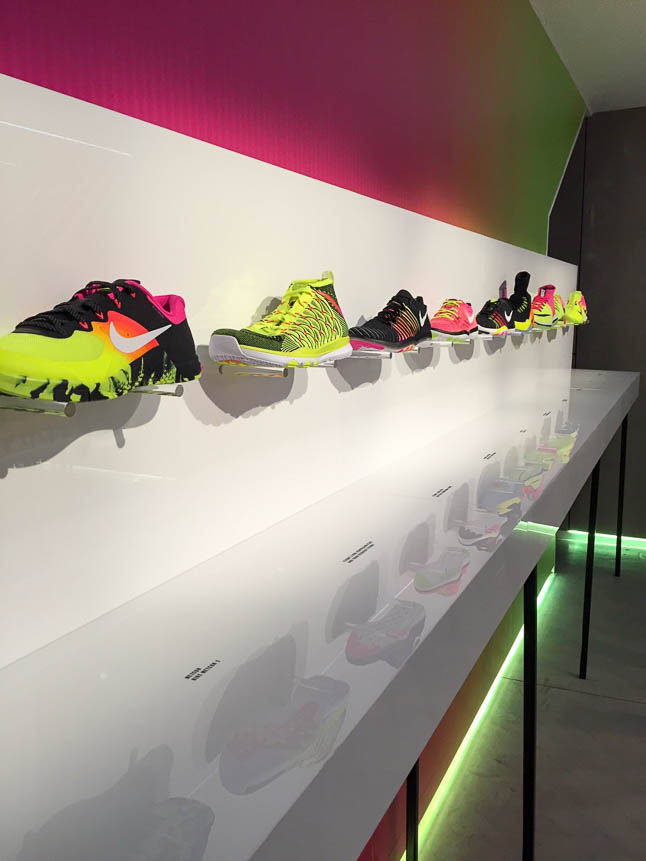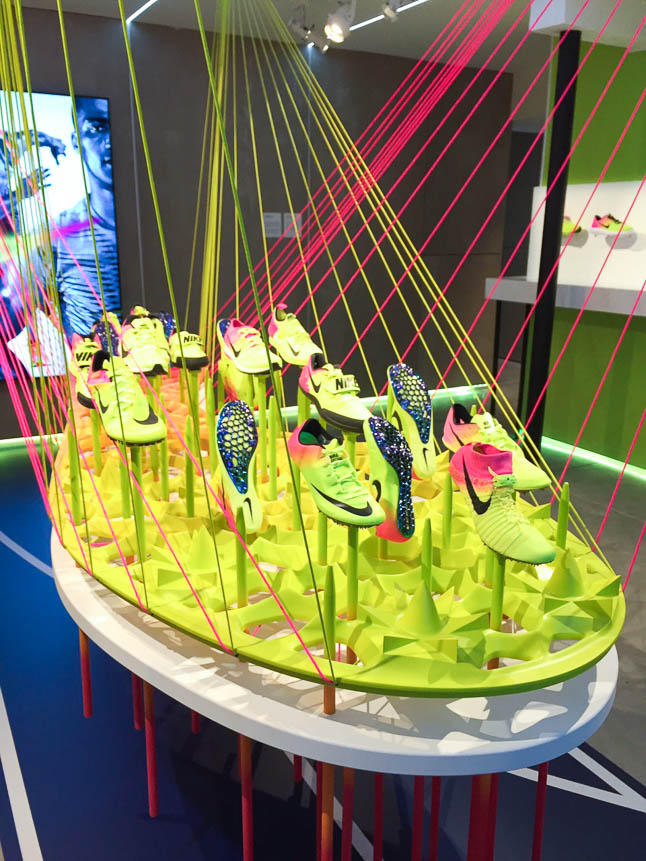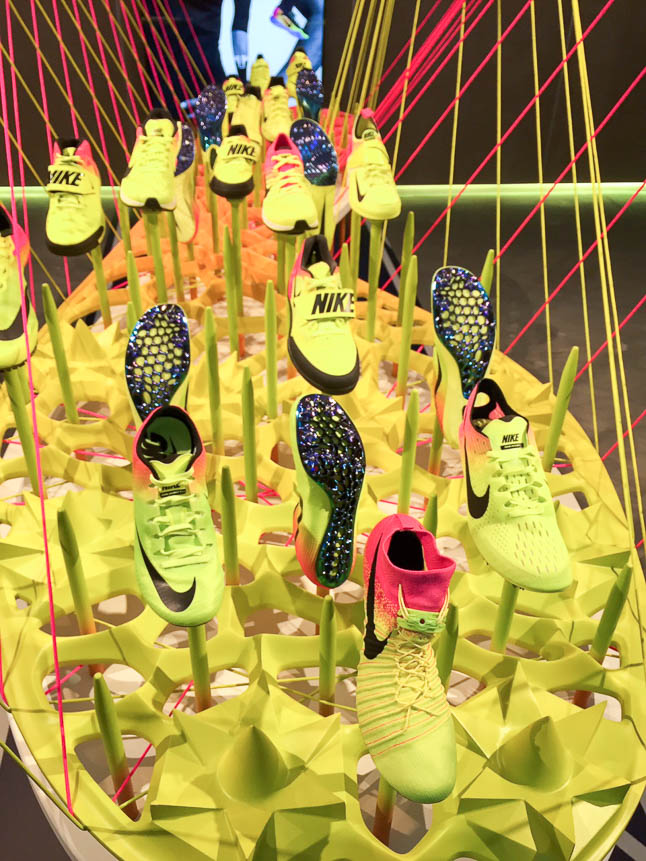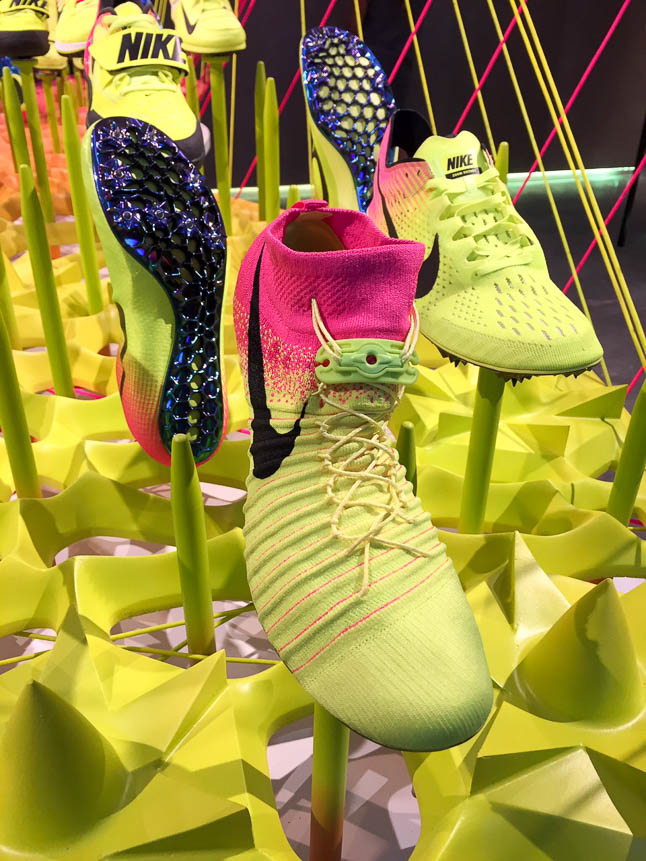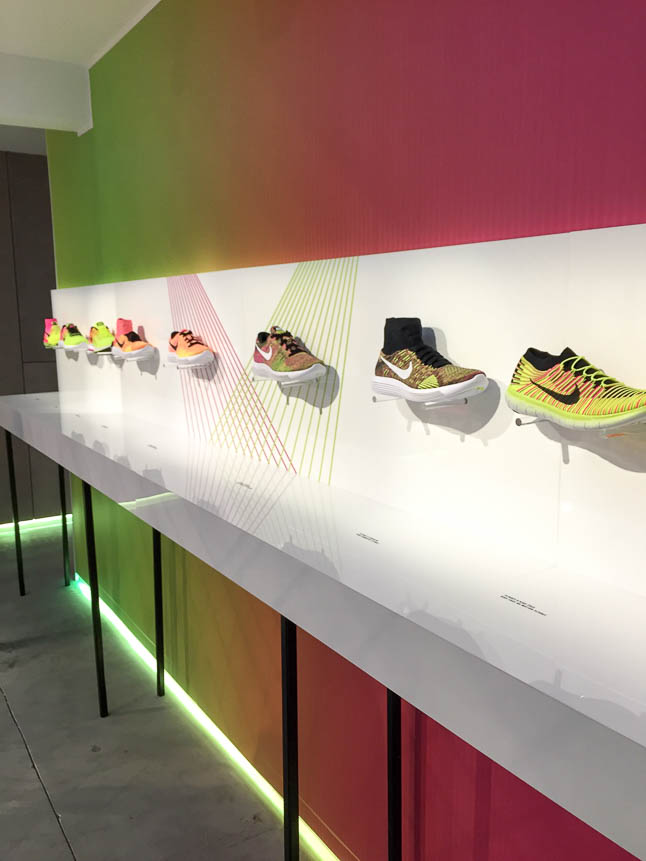 Upstairs, they had all of the throwback basketball kicks and gear, and wait for it…basketball legend, Scottie Pippin. So cool, right?! We also got to see the designer collections such as NikeLab + Gyakusou and Nikelab + .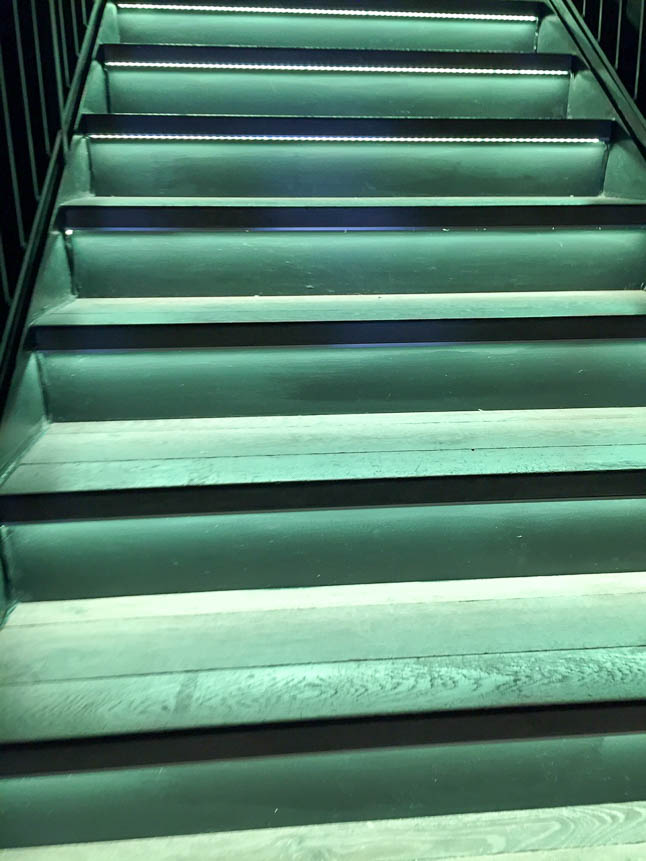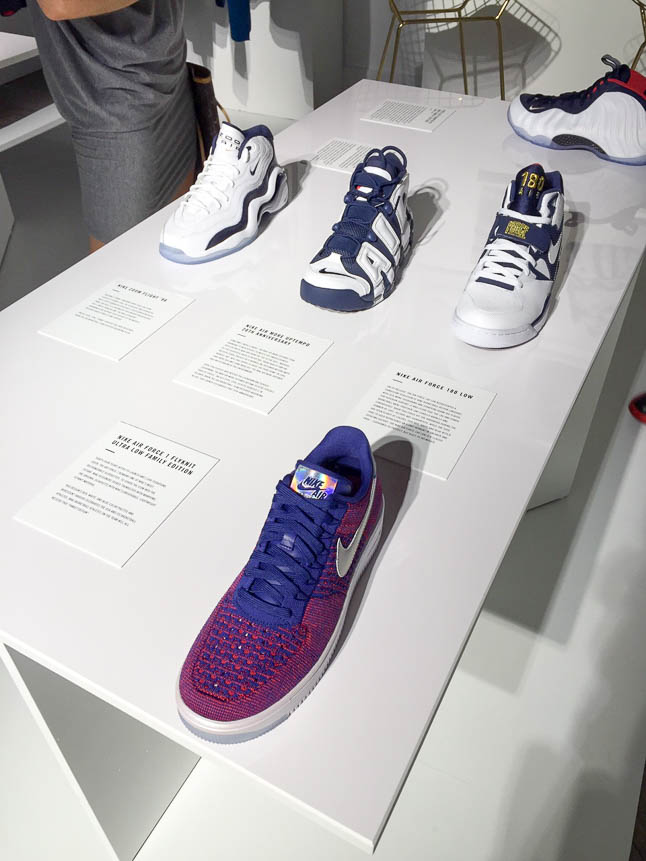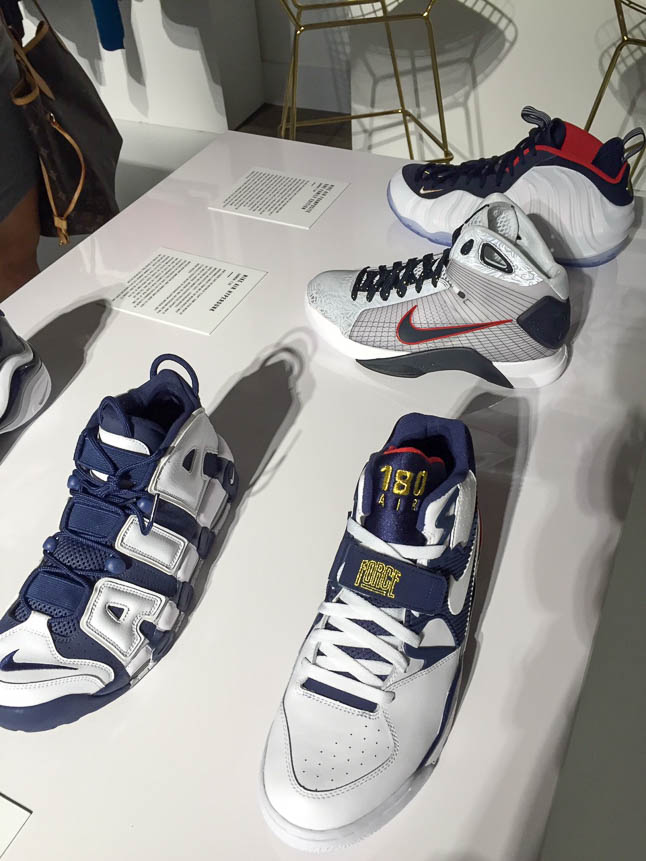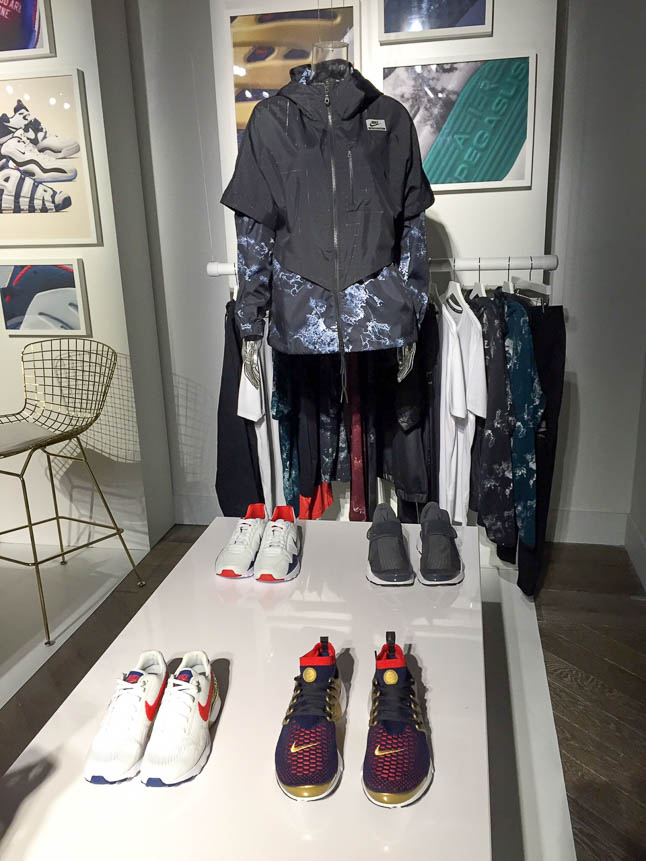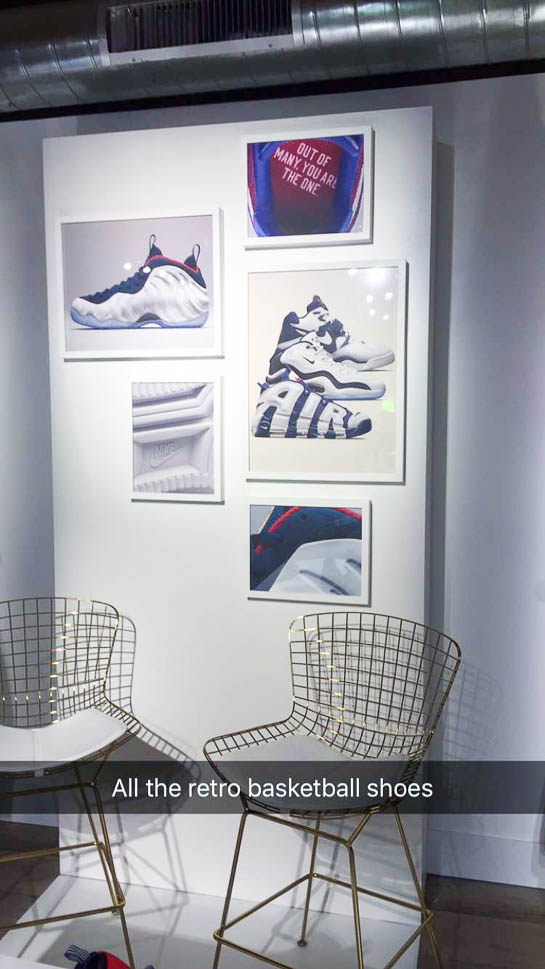 After browsing through the venue and eating some delicious appetizers, we listened to an interview with Jackie Joyner Kersee, Scottie Pippin, and Michael Johnson. They were all so humble and super interesting to listen to!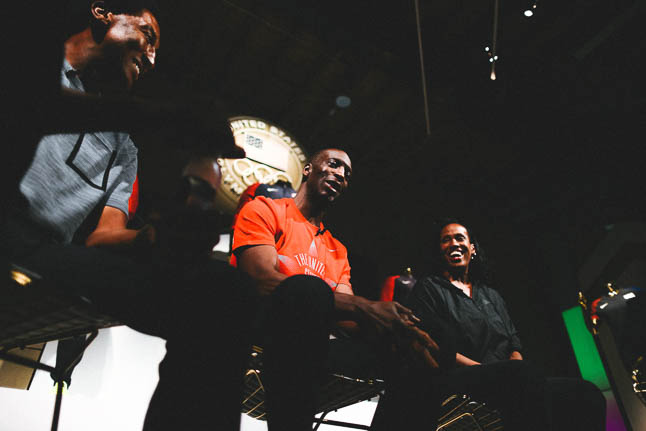 Photo c/o Nike
After the event, Mai Lyn from Deep Fried Fit, Alexis, and I headed over to Bubbys and got a yummy salad. We were craving some greens after not having that many all day. We had intentions of going there for dessert, but what can we say, we like to eat healthy! Don't worry, we had quest bars to cure that sweet tooth when we worked in our rooms that night!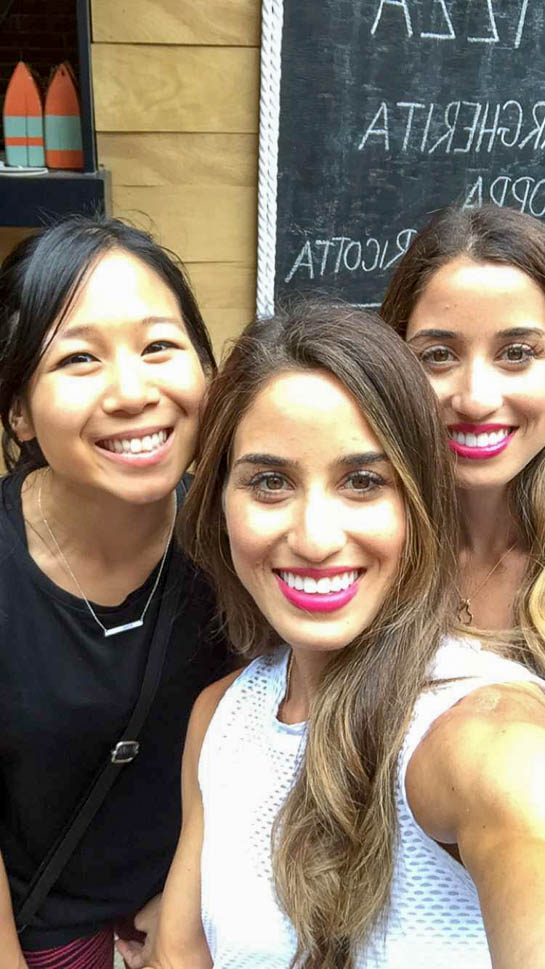 The next morning, Alexis and I headed to the hotel gym for a quick workout and then walked over to 12 Chairs (so yummy!). We loved that we could walk around to good restaurants! After that, we went back to the hotel to get ready and then walked back to the Nike venue for the Summer of Sport series and another look at the space (minus the huge crowd!).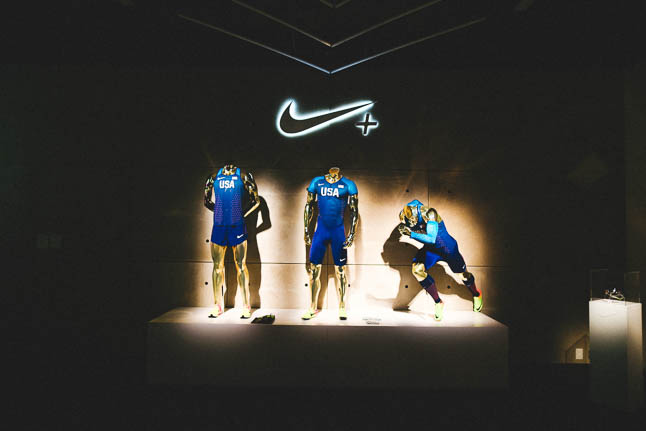 This time was super cool because we got to sit down with one of the Nike designers and got a one on one explanation of EVERYTHING! It was SO interesting! I could have listened all day! I will be completely honest, had I not learned about all of this, I would have just said 'cute gear,' but never realized all of the time and innovation behind it. First up, she talked about their most exiting innovation within track & field, track spikes.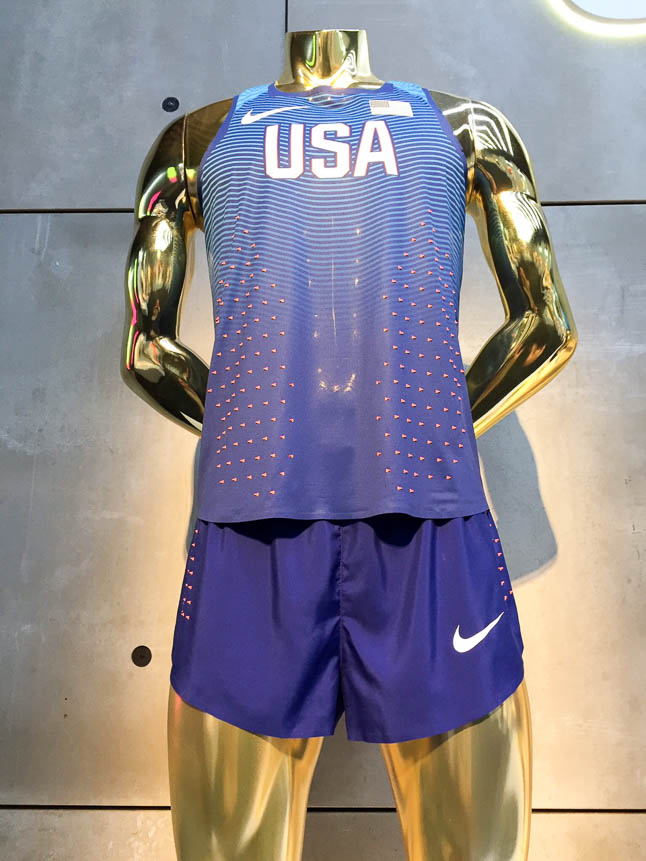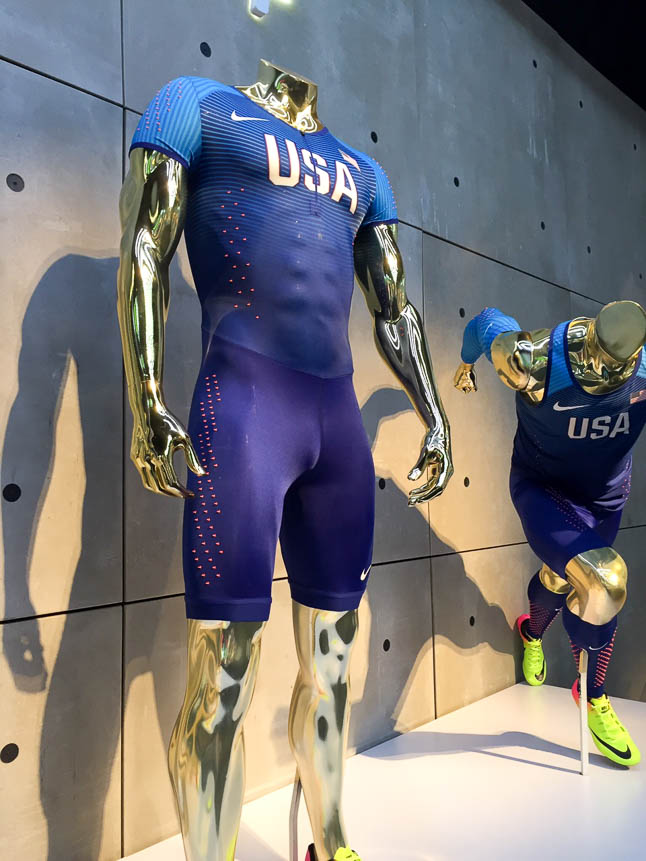 Besides looking super badass, they minimize weight via Nike Aeroswift technology featuring recycled polyester. The fabric is also super breathable with engineered mesh and integrates Nike AeroBlades (formed nodes that channel air around the athlete, resulting in the greatest drag reduction of any Nike track and field kit to date).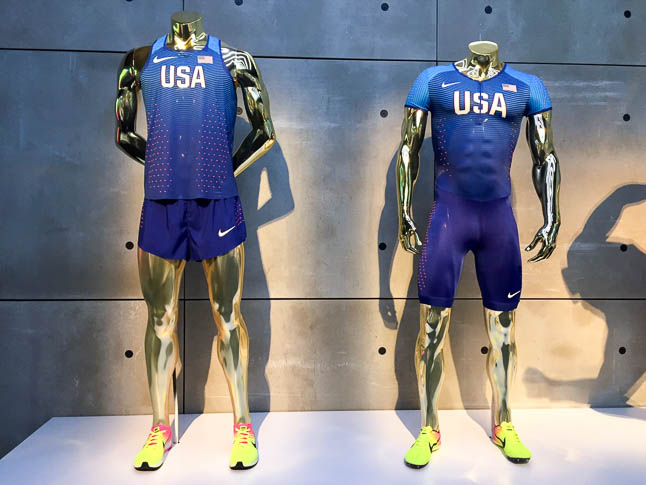 Even better, in addition to the gear, Nike came out with leg and arm sleeves, and even adhesive patches with AeroBlades! This technology was in the making for quite some time. They used wind-tunnel testing on mannequins the same shape and size as the company's various track and field athletes.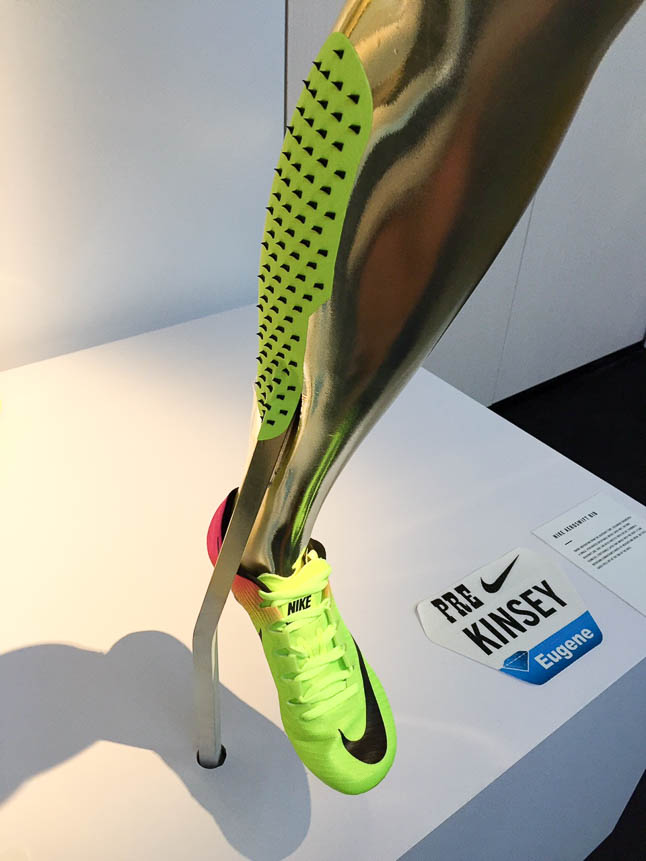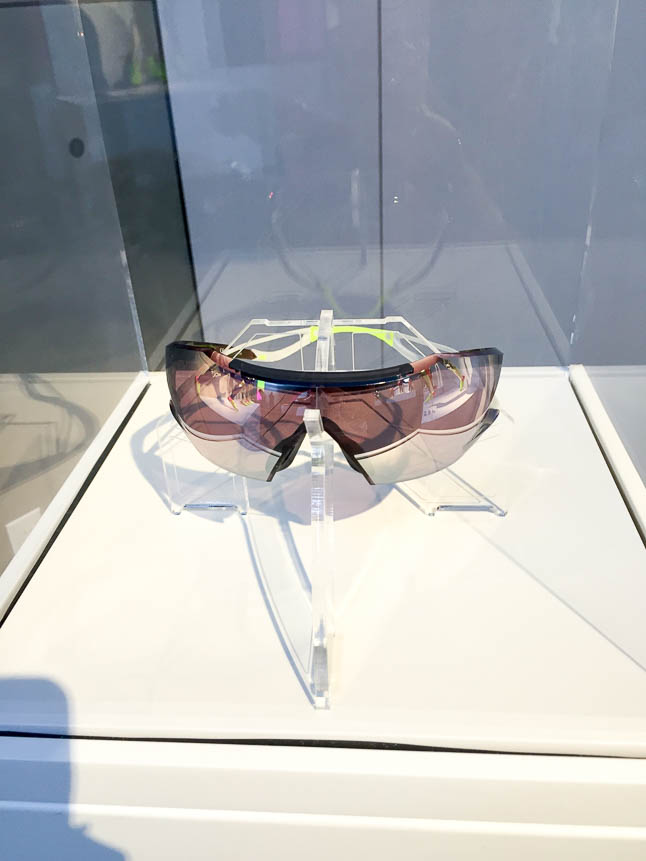 Nike also used the same idea to create a breathable bib made out of perforated micro layer knit with tape instead of the traditional paper and safety pin bib.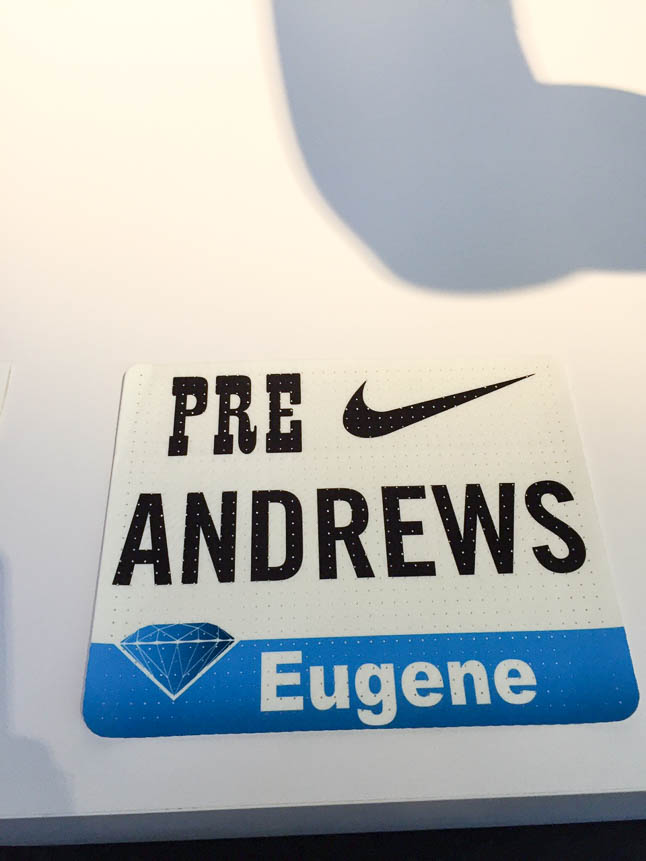 More on that here!
The designer also talked about some of the innovations within the basketball uniforms, such as an elastic waist minus the traditional drawstring for the first time!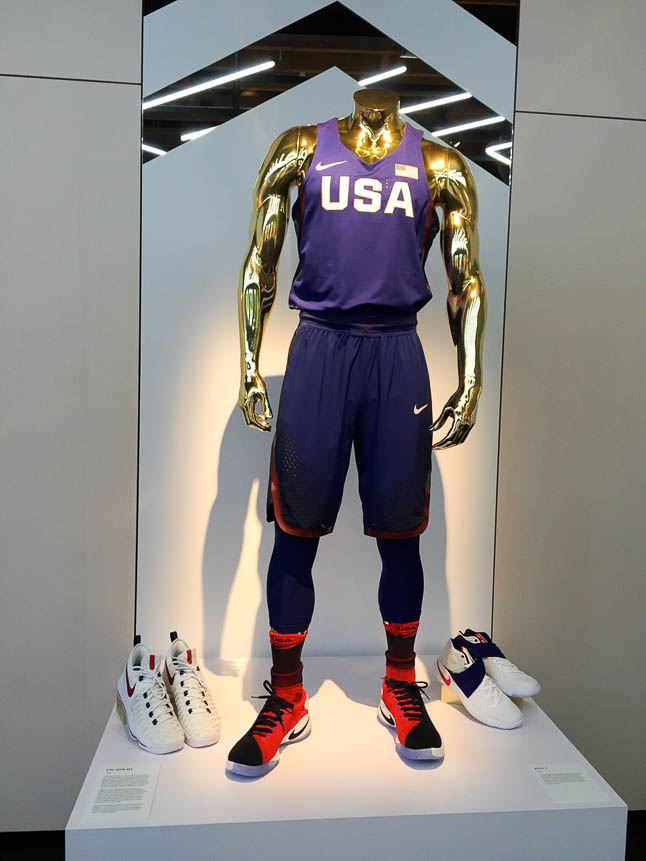 She then went into the medal uniforms that all athletes will wear on the stand.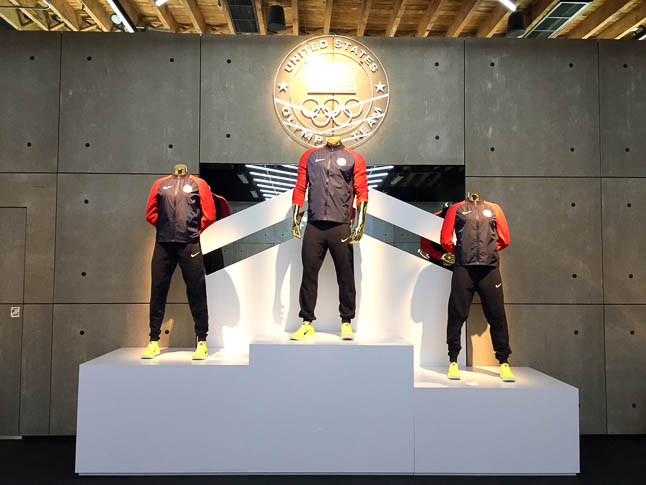 How cool do they look at night!?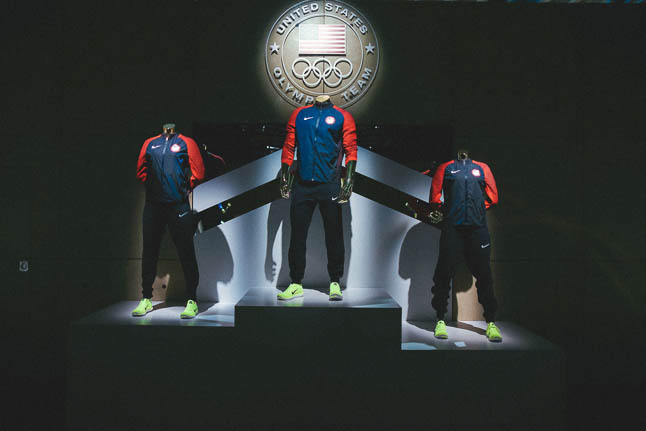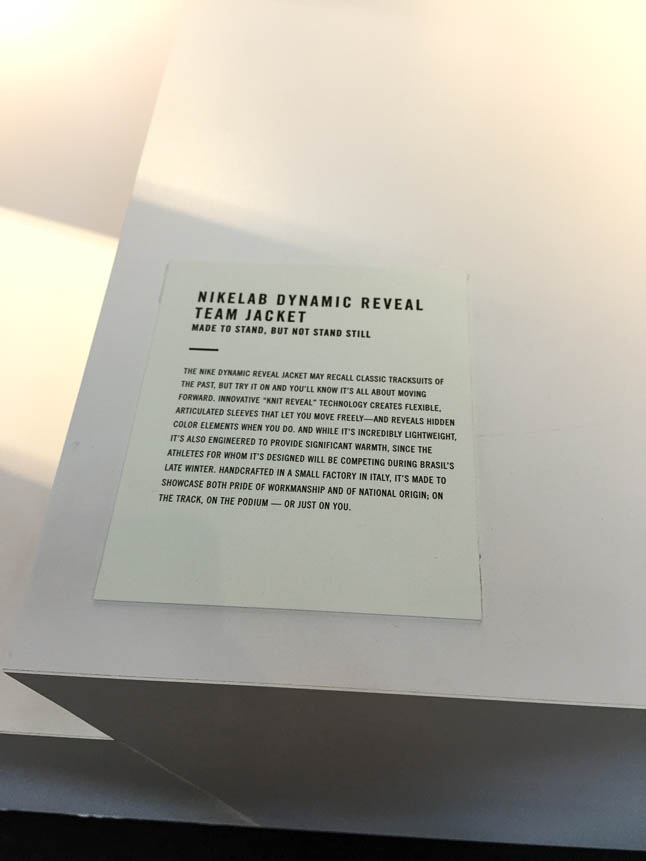 The NikeLab Dynamic Reveal Jacket is ribbed on the arms, which allows for breathability and mobility, and also shows ribbons of red and blue when in motion. The pants also have the same vertical ribbed zone that offers the same breathability and bright patriotic colors when moving. The jacket will be available for purchase later this month. More here!
After learning SO much about the innovation behind the Olympic gear, we were hangry (big surprise)! We walked around for a few hours and ate our favorite restaurant, Westville! Then, we headed back to the hotel and off to the airport!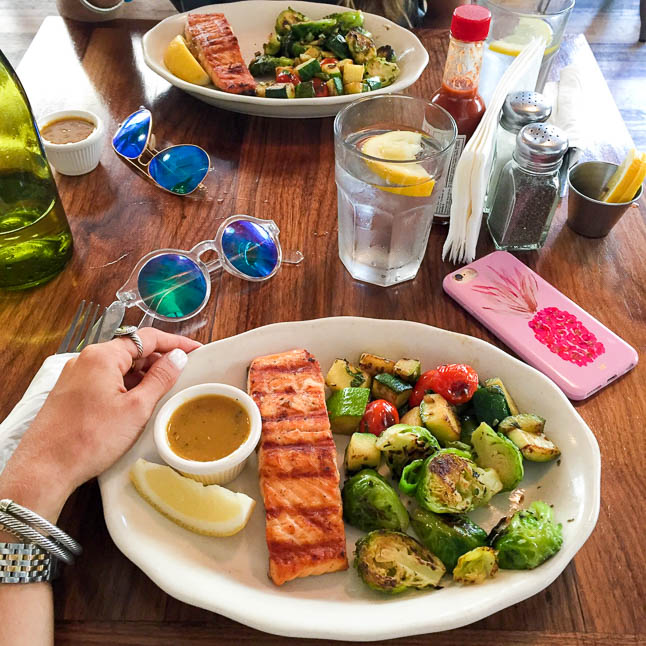 We had a blast! It was a quick but eventful trip! We hope to get back soon!