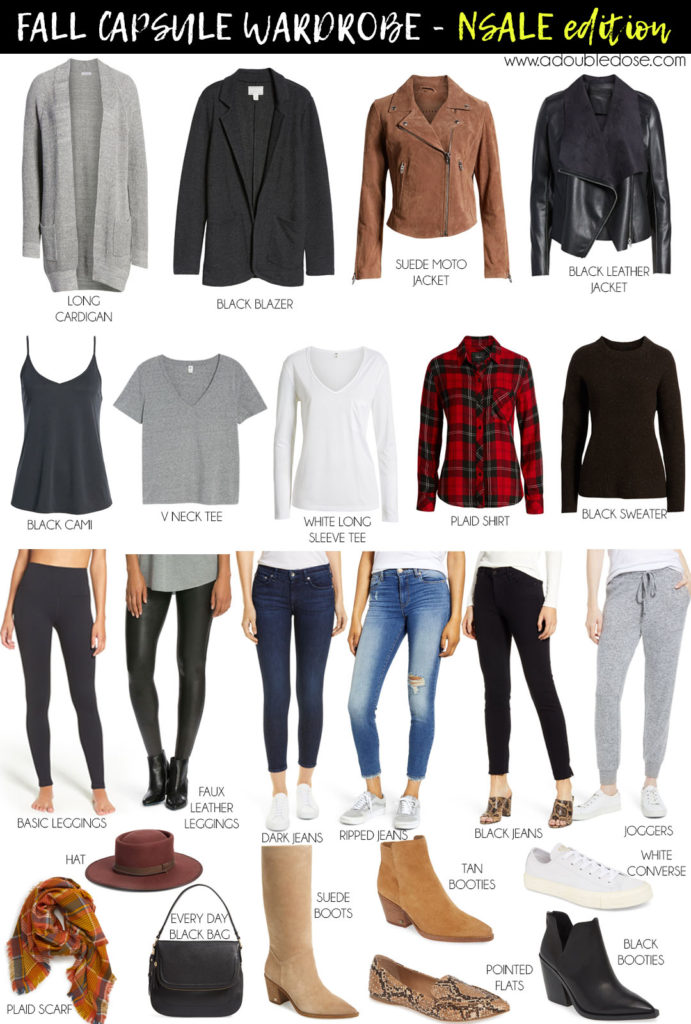 Happy Friday and Happy Anniversary Sale Day! The BIG sale is here for everyone to shop, so in case you didn't get what you wanted to, or your favorite items sold out, we decided to put together a fall capsule wardrobe that you can build TONS of outfits with, and best part is, most of these items are in stock in lots of sizes (for now!)

In case you missed our HUGE dressing room try-on post, you can check that out HERE. Some of the pieces sold out, but some may have been restocked, so click away on any links you want to take a peek at 🙂
WHAT IS A CAPSULE WARDROBE?
Before we get into the items, we wanted to answer what a capsule wardrobe is. Basically, it is a collection of basics you can wear multiple ways and put a lot of great looks together. Think of it as your basics for fall to build upon!
JACKETS/LAYERING PIECES

With cooler temperatures, you're going to want some lighter pieces to throw on like a long cardigan, and then some thicker pieces, like a suede moto jacket.
You can really wear a cardigan so many ways. Since grey is such a good neutral, you can wear it with blacks and browns, and it pairs nicely under a camisole, basic tee, or even a plaid shirt. This one is on sale for under $32.
This black blazer is actually a softer, more flexible material, unlike typical blazers, which we love. You can wear it over a casual tee, or dress it up with some leather leggings and some black booties! You could also pair it with a pencil skirt or dress pants for work. This one is under $40!
We have had our jacket for a few years now, and actually originally purchased ours during the Anniversary Sale a while back. You can truly wear this one all year, whether it is in the summer over a dress, or into fall layered over a tee or sweater. This one is marked down from $188 to $125.
A leather jacket, whether it is faux or real, is a must in any closet. We wear ours so much, and this faux leather one is a great option at just under $60! It is super soft and comfortable, and comes in two other colors.
TEES/TOPS/SWEATERS

A cami is very much needed, and can be dressed up or down. In the summer, wear it with some shorts or jeans for date night, and into fall, pair it under a moto jacket or black blazer. This one is just $22.
You have to have a good basic v-neck tee in your closet. This one fits perfectly, and comes in lots of color options. We go with a size s, just so it is not super fitted, and can be tucked in or knotted in the front. This tee is under $12.
Another basic tee you need is a white long sleeve tee. You could do another color, if you prefer, but this kind of tee is great for layering under jackets and cardigans. This one is only $15.
If you are not much of a plaid person, listen up! It does not have to look farmer style, as long as you don't make it that way! Tuck it into your favorite jeans, or wear it with some faux leather leggings for an edgier look.
Of course, you have to have a good sweater. With black, you can't go wrong, and this one is great tucked into your jeans, or layered under a moto jacket or leather jacket when it gets cooler out. This one is under $50.
JEANS/LEGGINGS/PANTS

Everyone needs some basic black leggings. You can wear these to the gym, or paired with your favorite tees and sweaters, like we did! On sale for $38.
We know the hype is real with these Spanx leggings, but trust us, it is reeaaal. We love love love ours! You can wear them with basically anything! These are marked down to $64.
A dark jean is always classic and can be dressed up or down. This brand is more of an investment, but they fit like a glove, and they are great quality.
Even if you are not a ripped jean fan, this pair has just the perfect amount of holes in it. Love a mixture of rips and chunky knits for fall with some cute booties.
Gotta have that black denim! Something about it looks so chic. Grab this pair while they're marked down!
For all you cozy lovers out there! This pair is SOOO soft, and comes in black, too! Don't be afraid to try out the looks we shared with them below!
ACCESSORIES

Y'all know the drill with these! If you're not a plaid fan, this grey scarf is a great option, too.
The best accessory, especially when your hair is 5 days dirty 😉
This bag is a great every day bag, and can be worn on your shoulder, crossbody, or on your wrist. Also holds a good amount and is comfortable to carry!
SHOES

Best neutral color and can be worn over your favorite leggings or jeans. This brand is always very comfortable and lasts for years. This pair is marked down to $150.
Love the pointed toe on these. Always makes your legs look way longer, and they match everything in your closet.
This pair keeps selling out like crazy, so don't miss out on these! You can wear these to work, too, so thats a major bonus! Oh, and they're under $60.
These sneakers are just a classic! You can wear these for years, and we love the all white! These are under $50.
We have been looking for a good black bootie, and we love how these have a pointed toe because it makes your legs look way longer. Love how they look with an all black outfit! These are under $100.
12 OUTFITS TO TRY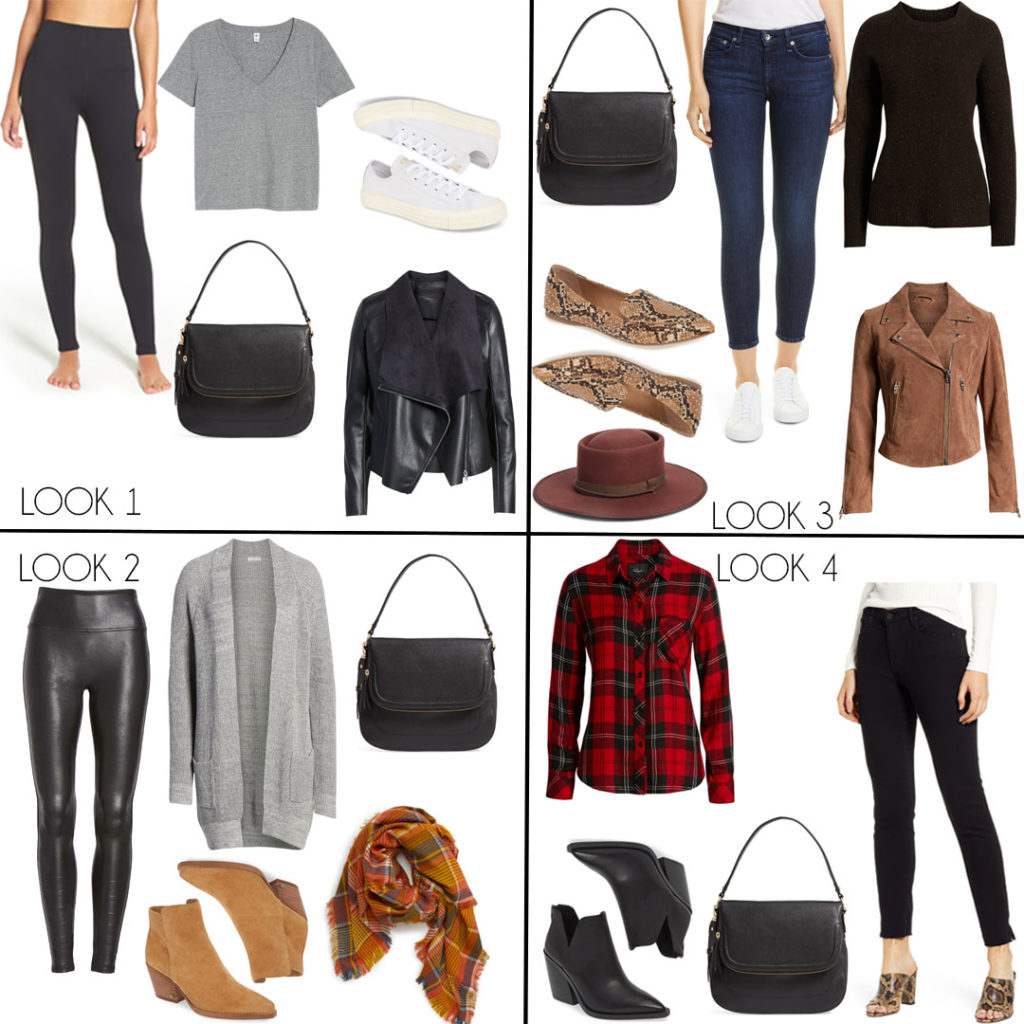 LOOK 1: Leggings | Tee | Bag | Jacket | White Sneakers
LOOK 2: Leather Leggings | Cardigan | Tan Booties | Scarf |Bag
LOOK 3: Jeans | Sweater | Moto Jacket | Bag | Hat | Pointed Flats
LOOK 4: Plaid Shirt | Black Jeans |Bag | Booties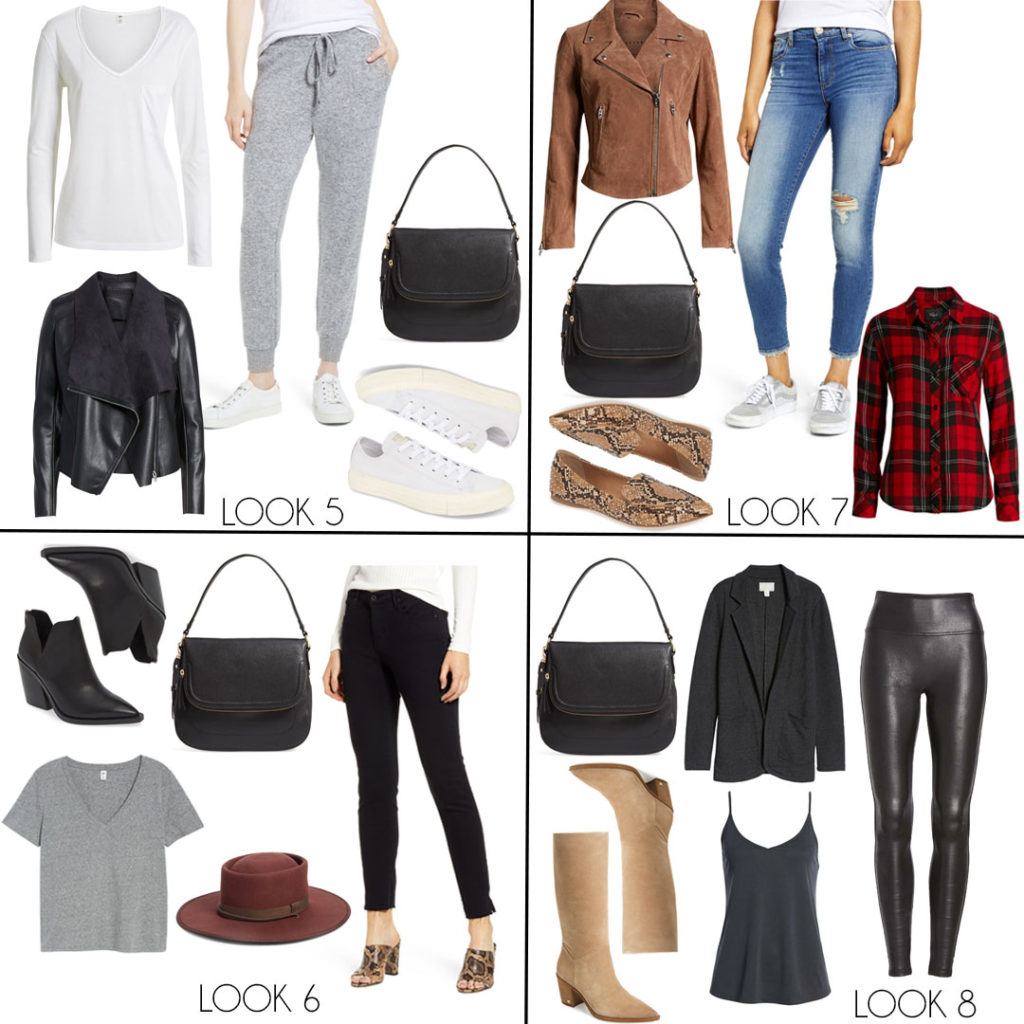 LOOK 5: Joggers | Tee | White Sneakers | Jacket | Bag
LOOK 6 : Tee |Black Jeans |Bag | Booties | Hat
LOOK 7: Pointed Flats | Bag |Ripped Jeans | Plaid Shirt | Moto Jacket |
LOOK 8 : Suede Boots | Bag | Black Blazer | Cami |Leather Leggings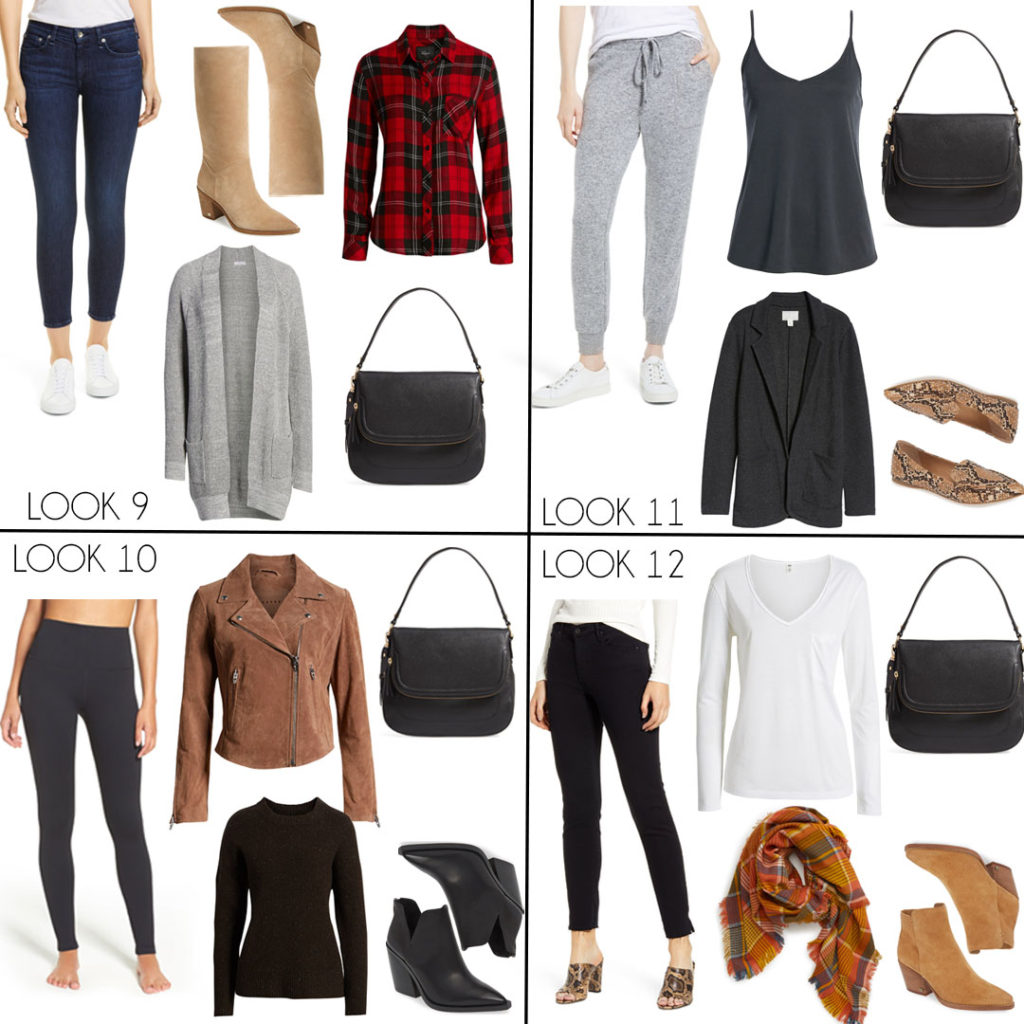 LOOK 9 : Suede Boots |Bag |Plaid Shirt | Cardigan |Jeans
LOOK 10: Booties | Bag |Moto Jacket | Sweater |Leggings
LOOK 11: Pointed Flats | Bag |Black Blazer | Cami | Joggers
LOOK 12: Tan Booties | Bag |Scarf | Black Jeans | Tee
Shop the Post