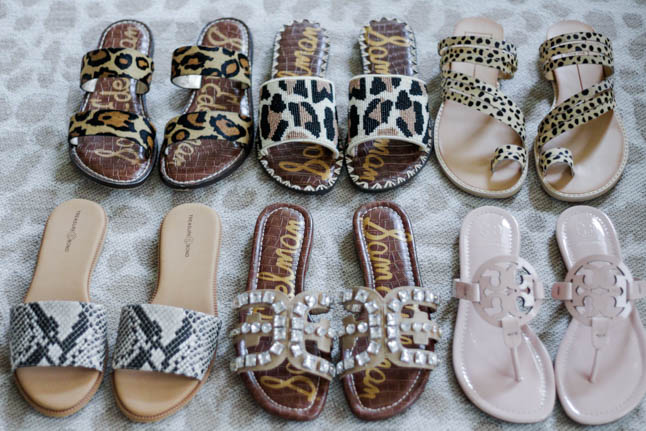 With summer travels in full swing right now, we have been getting a lot of questions and requests to share some of our go-to shoes that you can walk all over Europe in without getting blisters, or just wear all summer long! Some of these shoes we have had for years, and we swear by them to walk in for days.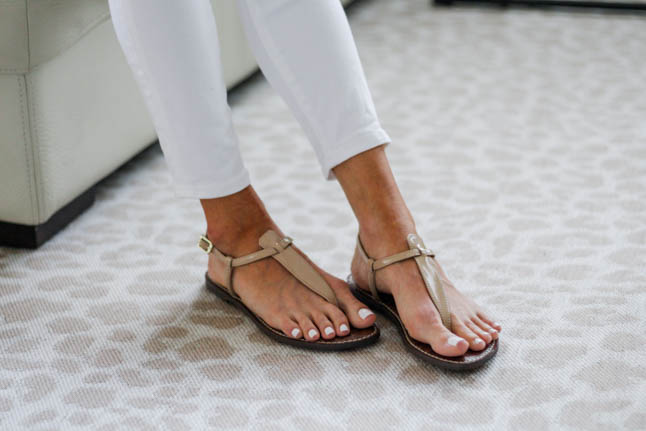 We initially got this pair of sandals when we were in college years ago, and have been wearing them ever since. Even our mom has them in a few colors! Not only are they flattering, and match everything in your closet, but they are seriously SO SO comfortable. No blisters, and super padded.
You can also adjust the back for a looser or tighter fit! We have a size 7 in these in the "almond" color. We recommend sizing up a half size in these.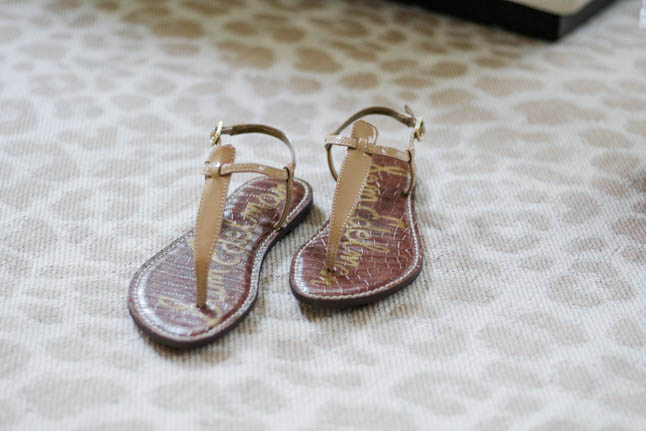 #2 TORY BURCH MILLER SANDAL
Y'all already know that we LOVE these sandals. If you decide to get any pair of shoes, it should be these! This is our third pair, and we are so obsessed with this color. We wear these at least every other day, so they are so worth the price!
We have these in a size 7 in the "sea shell pink" color.
#3 DOLCE VITA NELLY SLIDE SANDAL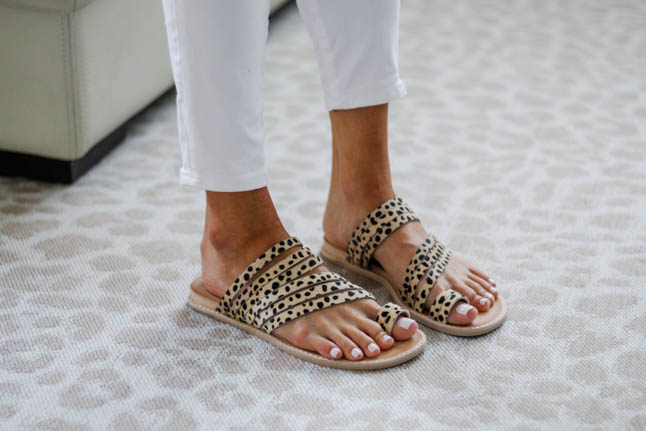 We can't stay away from leopard, and we love how unique these sandals are with the straps and the separated toe ring. This brand is always comfortable and they will look cute with white jeans, dresses, and rompers.
We got a size 6.5 in these in the "leopard calf hair" color.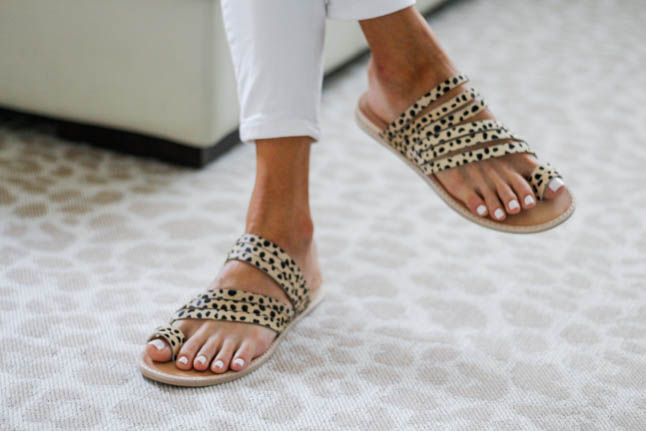 #4 SAM EDELMAN GUNNER SLIDE SANDAL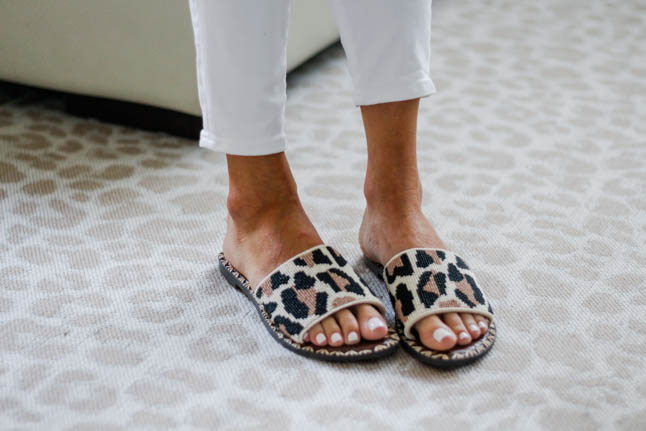 Another leopard pair that we had to try! These are also Sam Edelman, so you know they will be super padded. We love the beading on these, and they come in 3 other color options, but this one is our favorite because they match everything from blacks to browns!
We are wearing size 6.5 in these in the "Natural Multi Fabric" color. They do run a little wide, for reference!
#5 SAM EDELMAN BAY 2 EMBELLISHED SANDAL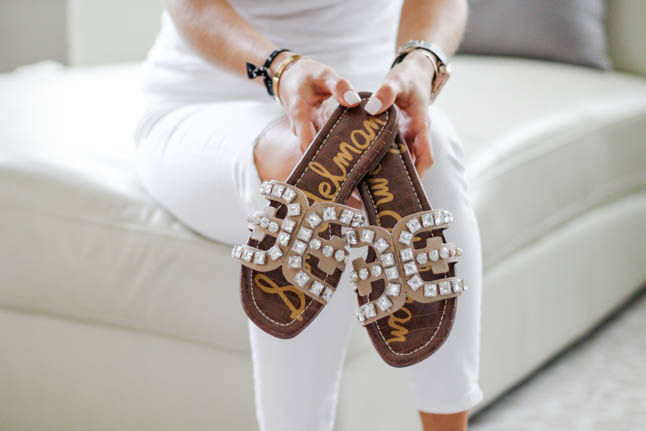 Can you tell we love all things Sam Edelman?! This pair is SO cute! We love our bedazzled shoes!
This pair is also super padded and come in a non-jeweled version! We got a size 7 in these in the "Classic Nude Nappa Leather" color. We did hear and read that the stones may fall out, so just an FYI 🙂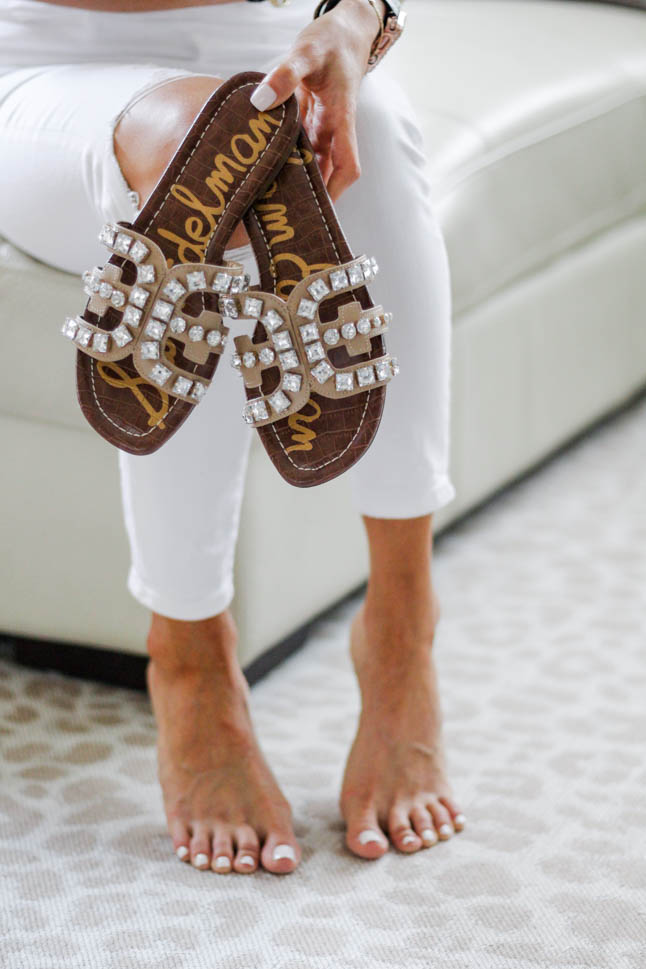 #6 TREASURE & BOND FLAT SLIDE SANDAL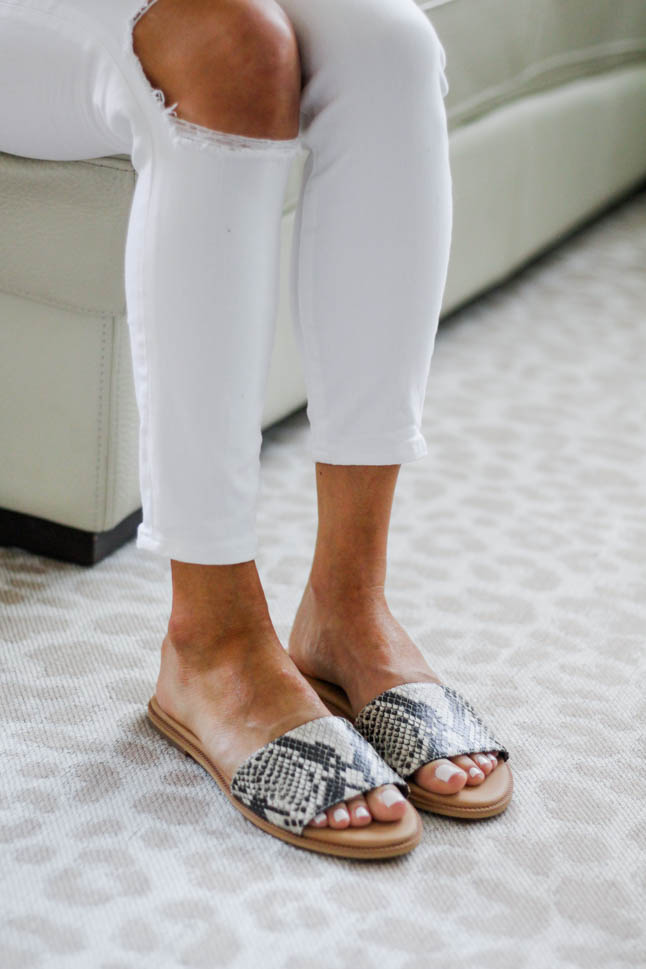 We had been looking for a slide sandal that was comfortable and something different than leopard. This pair is snakeskin, and SO fun! They come in a few other color options as well, and thy are really padded.
We are wearing a size 7 in the "Natural Snake Faux Leather" color. These run a little small, so we recommend sizing up a half size.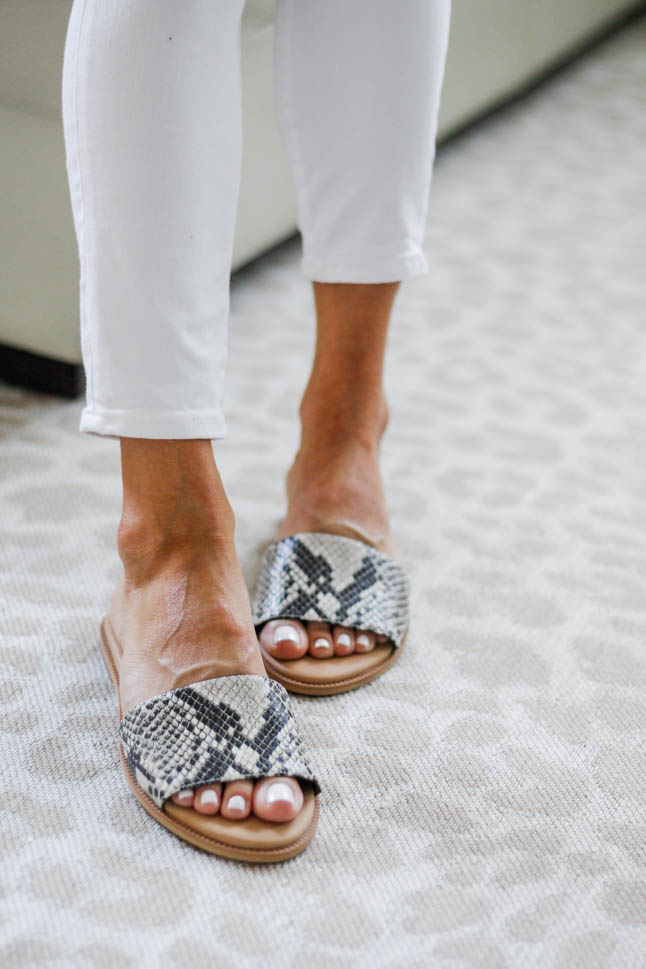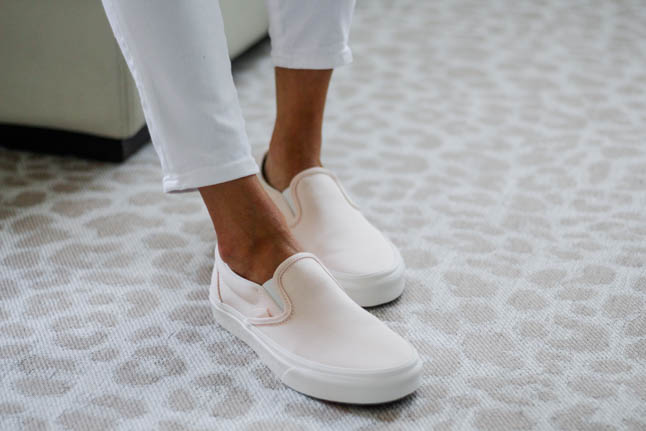 We have had these slip ons for years! The great thing about these is that you can wear them all year long. We wear ours all fall and winter, too.
These are a great shoe to wear with shorts, jeans, and even some dresses! They come in a ton of colors, and even for men, too!
We are wearing a size 6.5 in these in the "Vanilla Cream/ Snow White" color.
#8 SAM EDELMAN GALA SLIDE SANDAL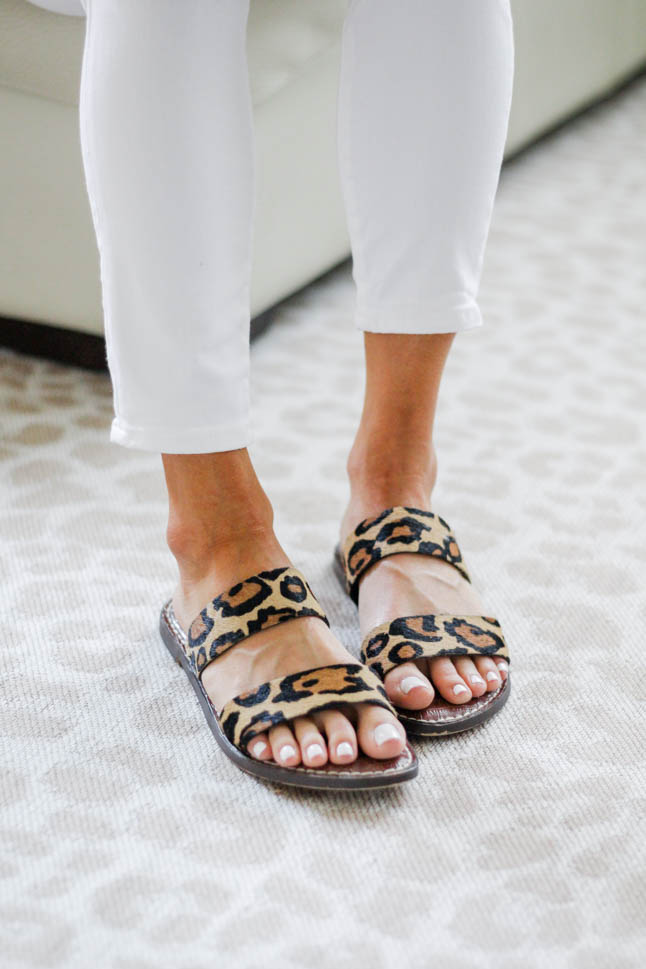 Probably another one that we have been wearing at least every week! Again, these sandals are very padded, so comfortable, and match everything. They also come in a ton of other colors. You just can't beat them. The straps do stretch out a little bit as you wear them, so keep that in mind!
We are wearing a size 6.5 in them.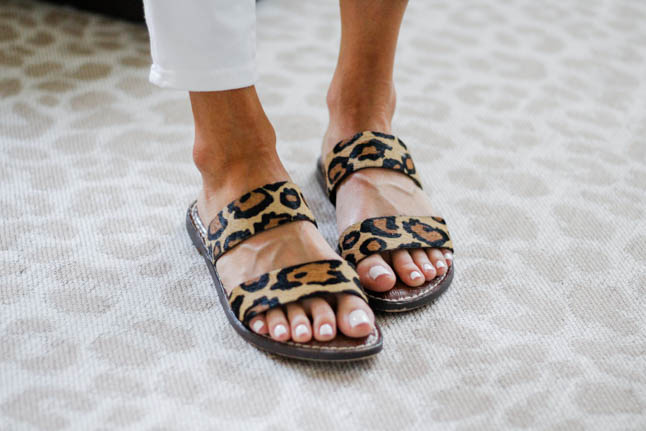 #9 STEVE MADDEN BANDI PLATFORM SANDAL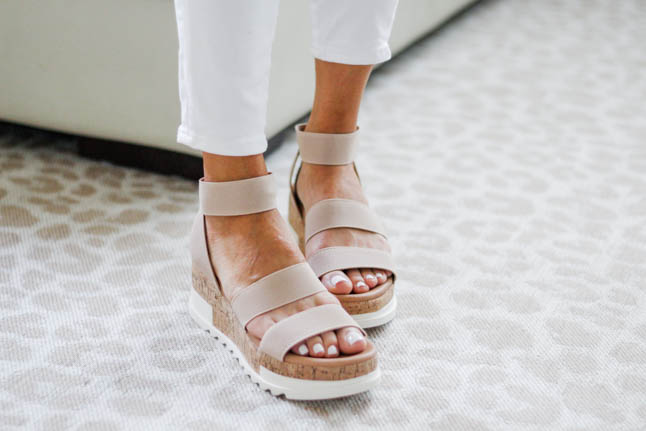 Last but not least: the best platform sandals you will ever wear! We were SHOCKED at how comfortable these are. The straps stretch out, and the bottom padding almost molds to your feet. HIGHLY recommend! And, they give you just enough heel height.
We are wearing a size 7 in the "Blush" color.
We found all of these sandals and shoes from Nordstrom. We love shopping there for shoes especially because we love the convenience of being able to order our favorite shoes and pick them up without even leaving our car the same day! Such a game changer, but also makes us feel so lazy 😉
In partnership with Nordstrom.