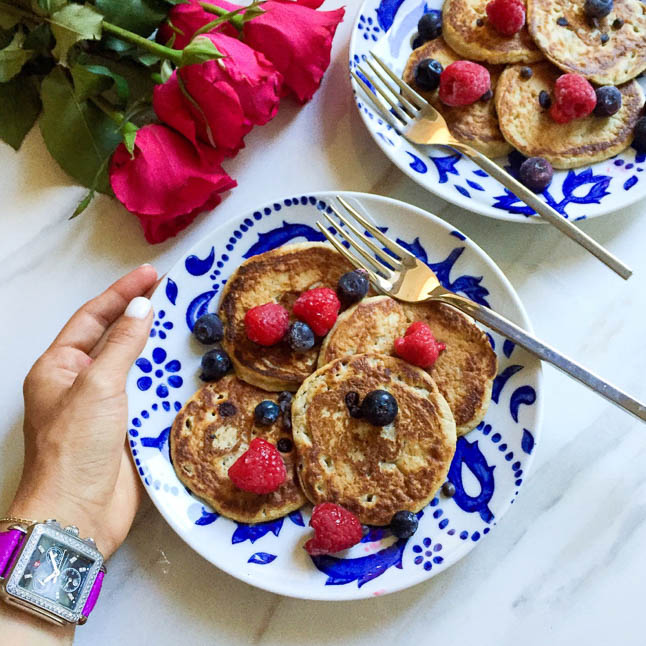 Happy Monday! Hope you all had a great and relaxing weekend. If you all didn't catch our snapchats, Samantha and I were actually apart this weekend (so shocking, I know!). We are typically always together, or at least, in the same city, but this weekend, she was away at a friend's lake house, and I was in Dallas!
She wasn't very good about writing out her workouts this week, so I am just sharing mine this week. We typically do similar workouts, if you all haven't noticed already, so you all probably won't notice! Anyways, as always, we will be sharing all of our workouts and eats from the past week. Again, I ate out a TON, haha, but I made sure to take pictures of everything I ate out for the most part. PS- we usually snapchat a ton of our meals [sbelbel] and [alexis.belbel]
Here's what our workout schedule looked like this past week:
MONDAY: flywheel [sign up for a free class here!] we LOVE it!
TUESDAY: arms + cardio
WEDNESDAY: legs + cardio
THURSDAY: chest + triceps + cardio
FRIDAY: shoulders + cardio
SATURDAY: legs + cardio
SUNDAY: back + cardio
PS- you can save each of these workout images to your phone for easy access at the gym!
On Saturday and Sunday, I worked out with my boyfriend, and while we didn't workout "together" it was fun!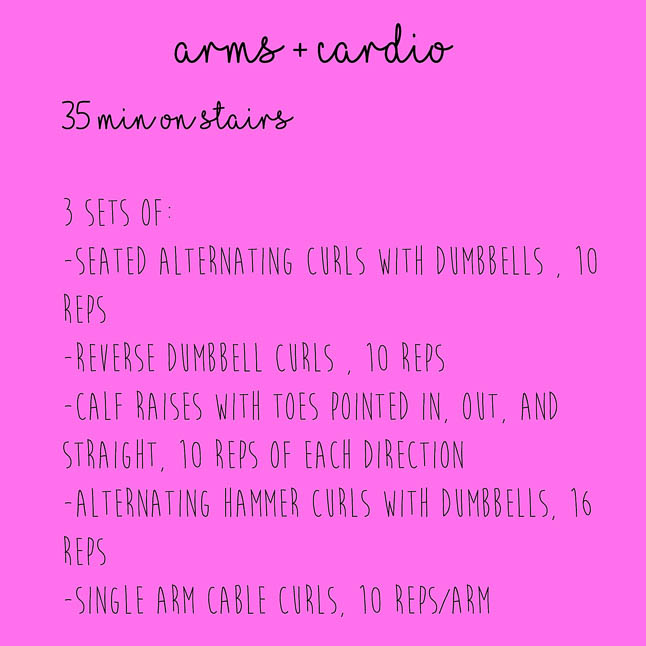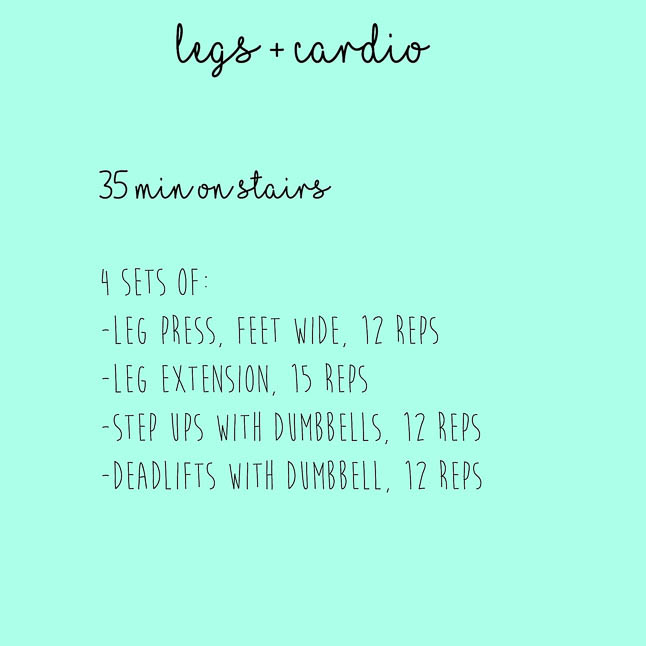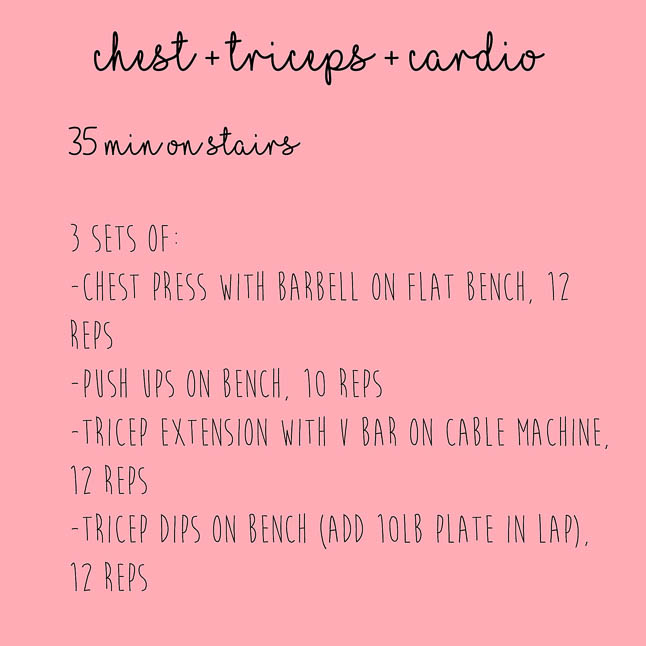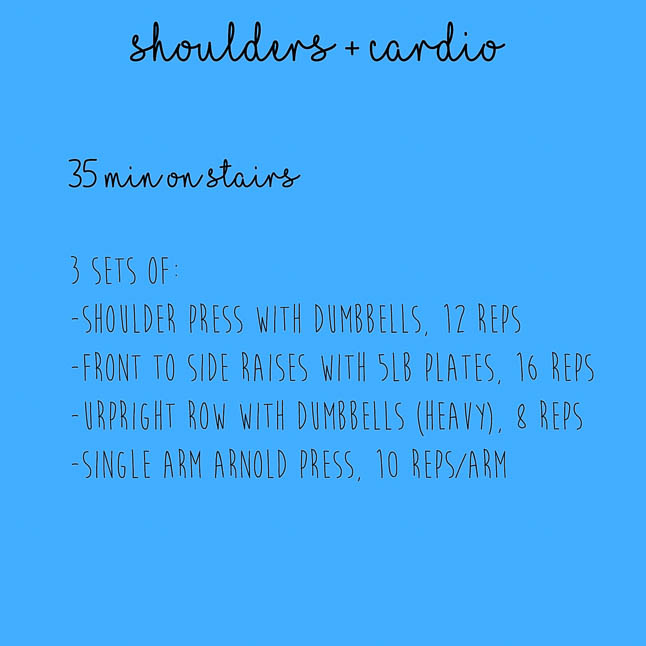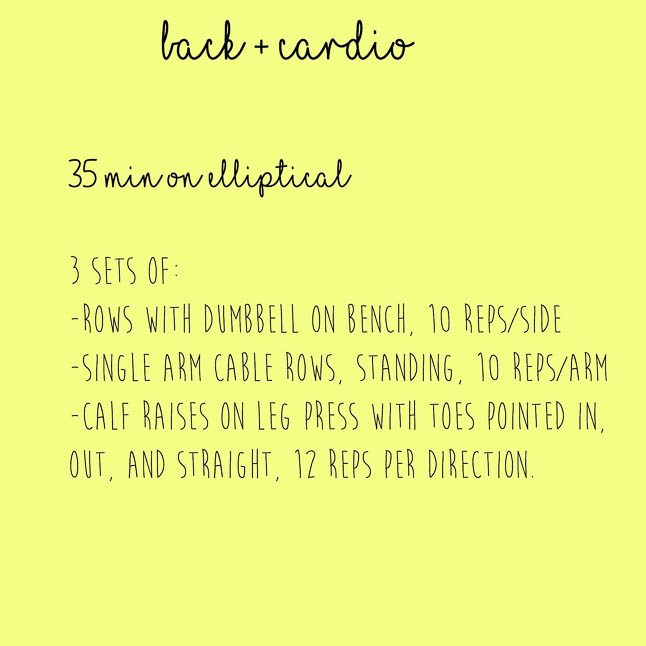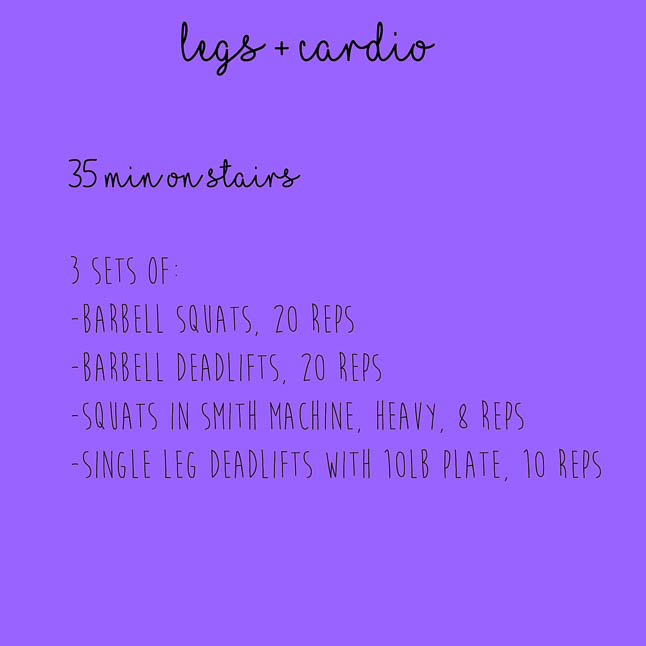 Before we share our meals, just wanted to share our favorite clothing pieces this week (just click to shop them directly!)

And, now for the meals from this past week. These are totally out of order, so I apologize!
Last Sunday, my boyfriend and I went on a 9.4 mile walk/run and were STARVING afterwards, so we went to Genghis Grill and made our own stir-frys. I love this spot because you can pick out exactly what you want! I always get a ton of seafood, chicken, veggies, and then do no sauce. I just use the sriricha after it is cooked. I also get cabbage and an egg mixed in with it! Since I stay away from butter and soy sauce, I just asked them to cook it with water!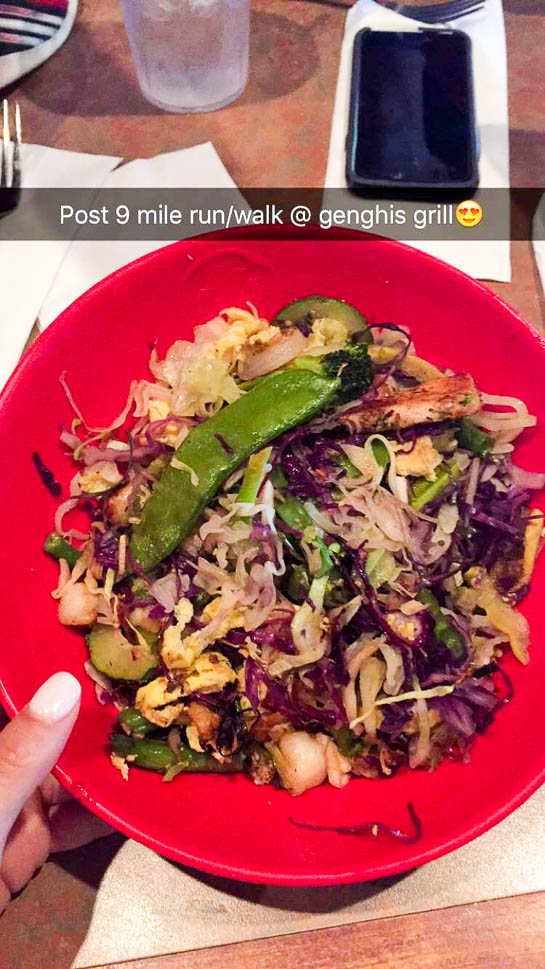 Yesterday, my boyfriend and I went to 18th and Vine in Dallas. We were starving and it was SO good. We didn't even get any sides, but we did get brisket, burnt ends, and this jalapeño sausage. It was amazing! When I got home, I ate a ton of veggies and then I was ready to explode, haha.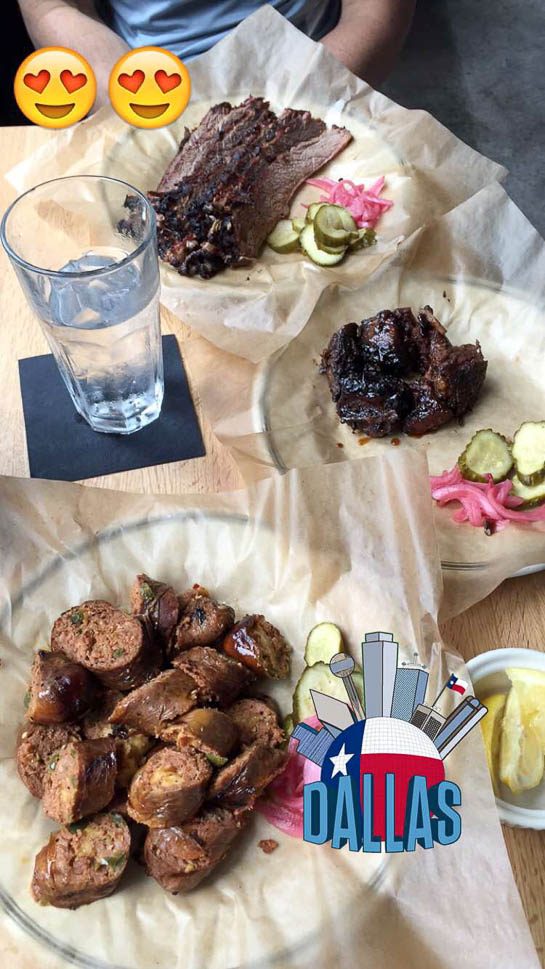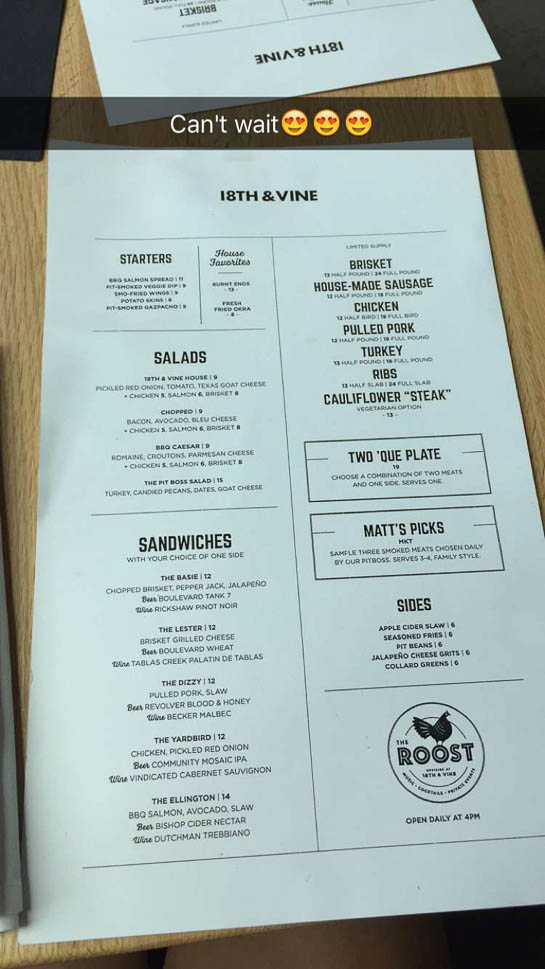 Yesterday morning, I made my boyfriend and I some chocolate chip pancakes. I have to eat them every day;)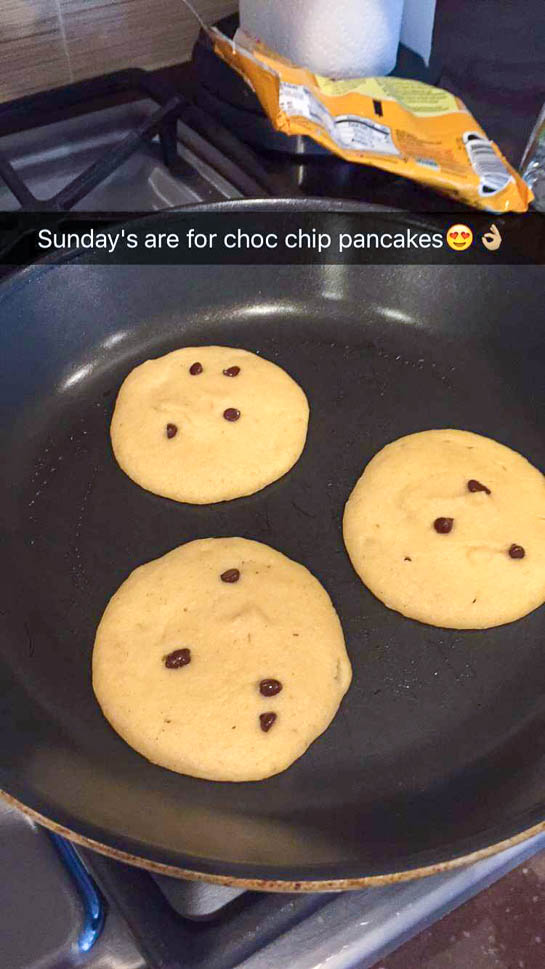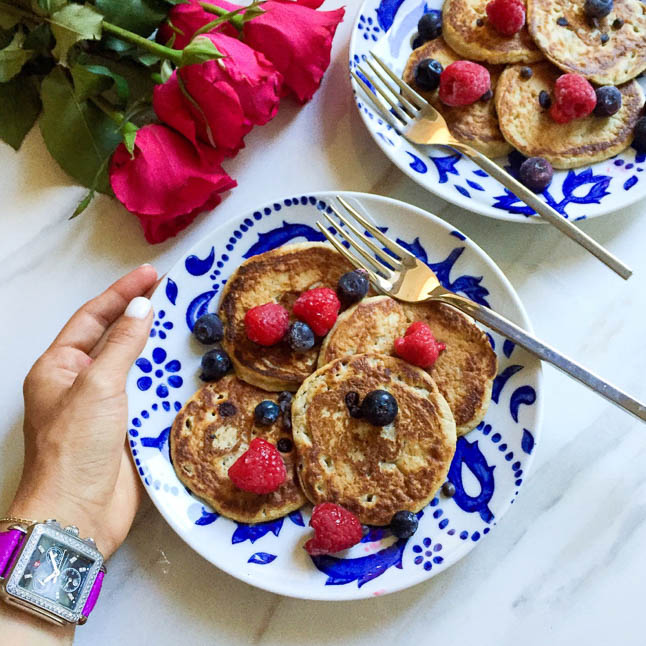 On Saturday, my boyfriend and I went to Buzzbrews for breakfast. I got the 'Californiacation', which is an egg white omelet with veggies and a side of fruit! I also had a ton of coffee. They have a coffee bar so it's self-serve!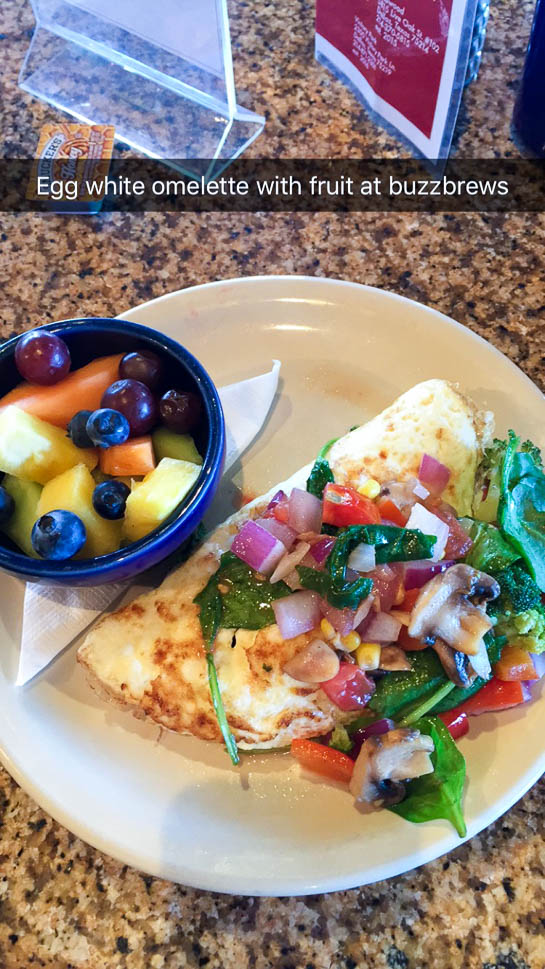 After our workout on Saturday, we grabbed salads at Snappy Salads. I love this place because they give you so much, unlike the other places I have been to! I made my own with a ton of veggies, grilled chicken, and balsamic vinegar!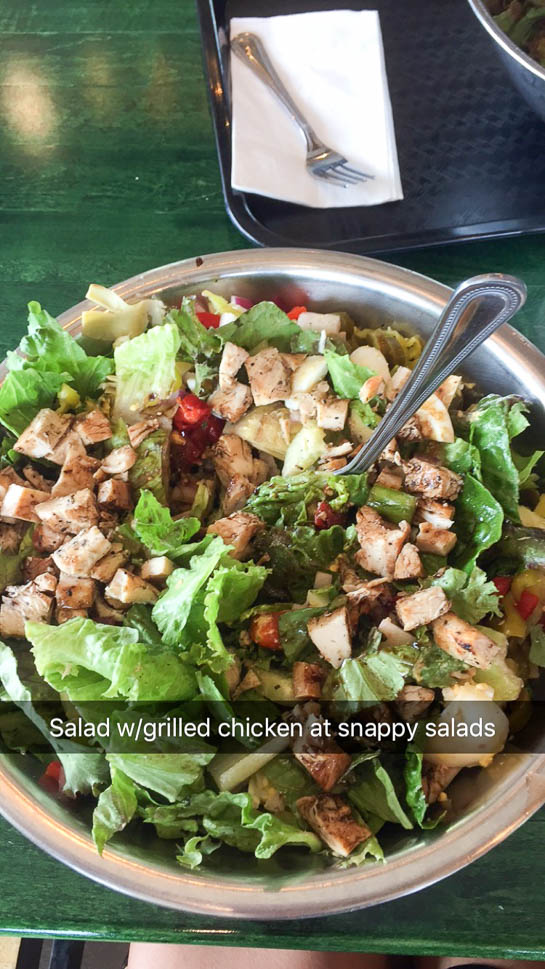 We went and hung out with some of our friends by the pool so we snaked on some hummus and veggies and then grilled some burgers.
By the time I got home, I cleaned the house, and worked a little and then was ready for dinner. Since I had been eating out all day, I was ready for a home-cooked meal, haha. I cooked some chicken thighs in a pan with black pepper and then roasted some brussels sprouts, eggplant and bell peppers with olive oil and then sautéed mushrooms and onions with olive oil in a pan. It was all so good!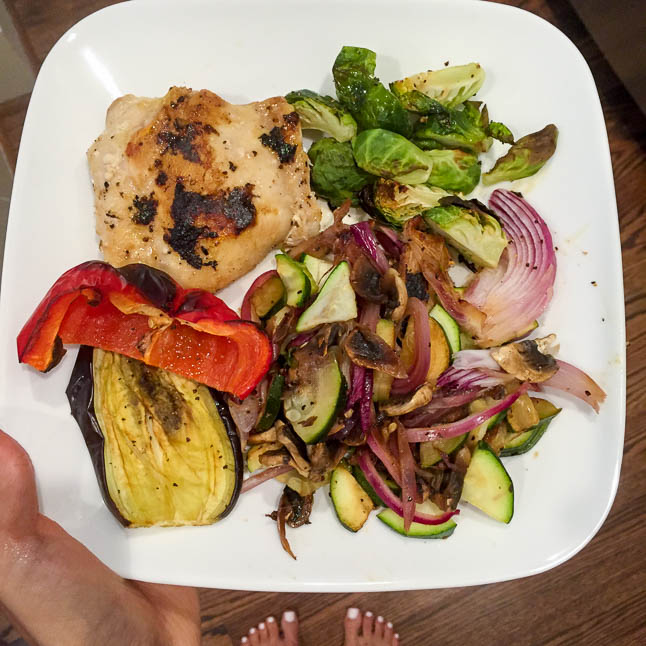 On Friday, we met up with a friend for dinner at Mudhen's Meats and Greens at the Dallas Farmer's Market. I can't stay away from okra and roasted chicken!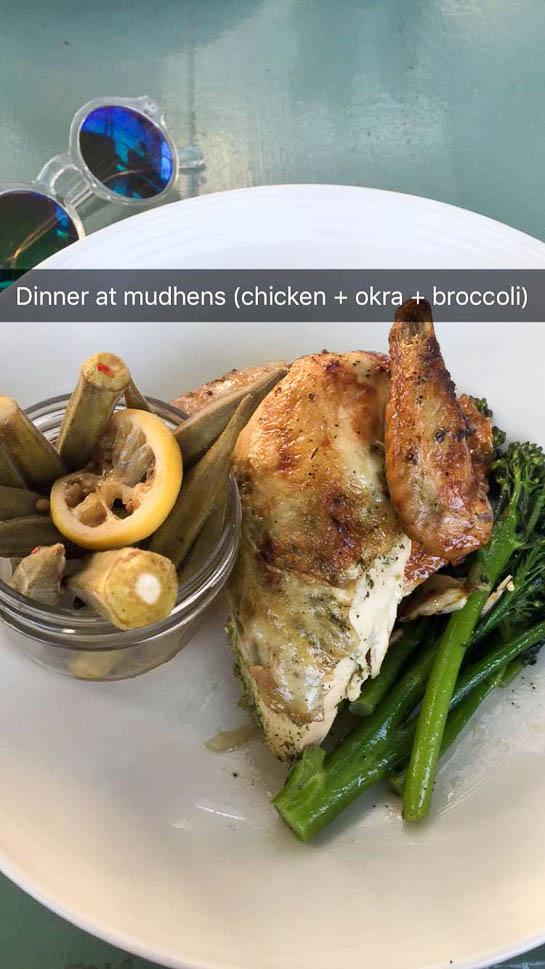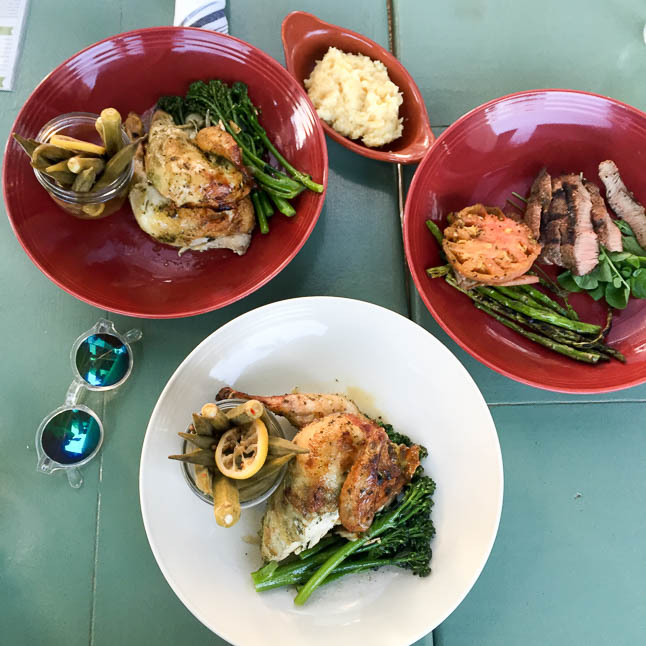 On Friday, we met up with a friend for lunch at Villa-O. I got the chicken paillard, grilled. It comes with arugula and a zucchini noodle salad. SO good!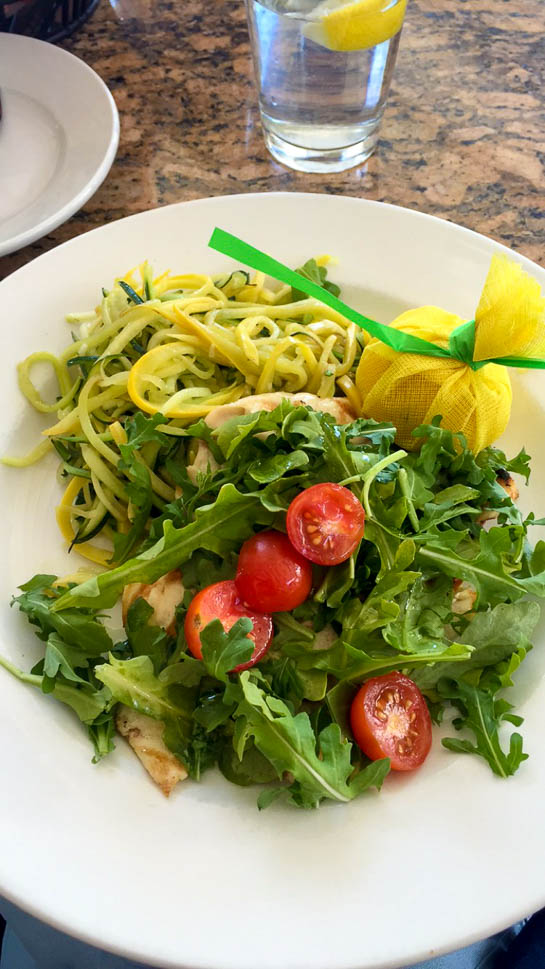 On Thursday, we picked up a meal from Snap Kitchen. I got the 'Naked Chicken' which was so good! Highly recommend it!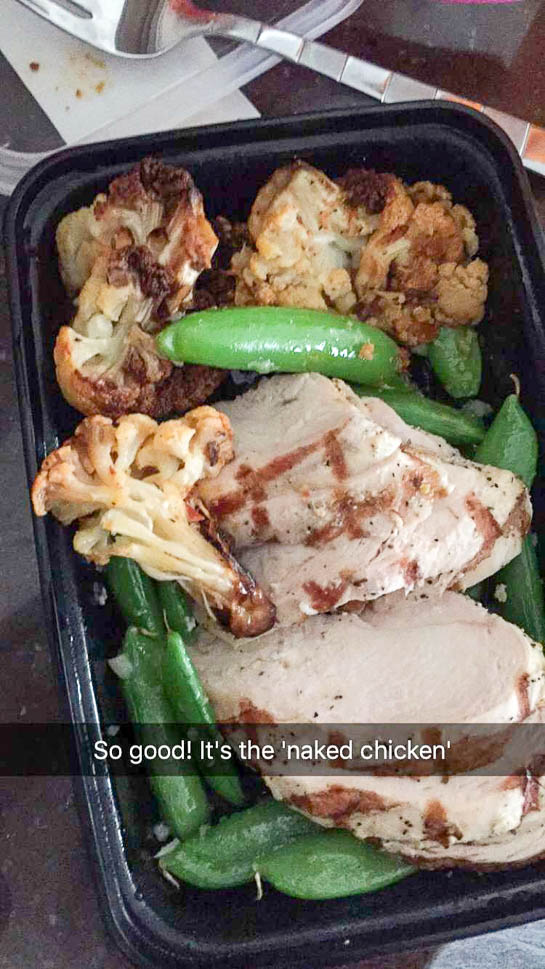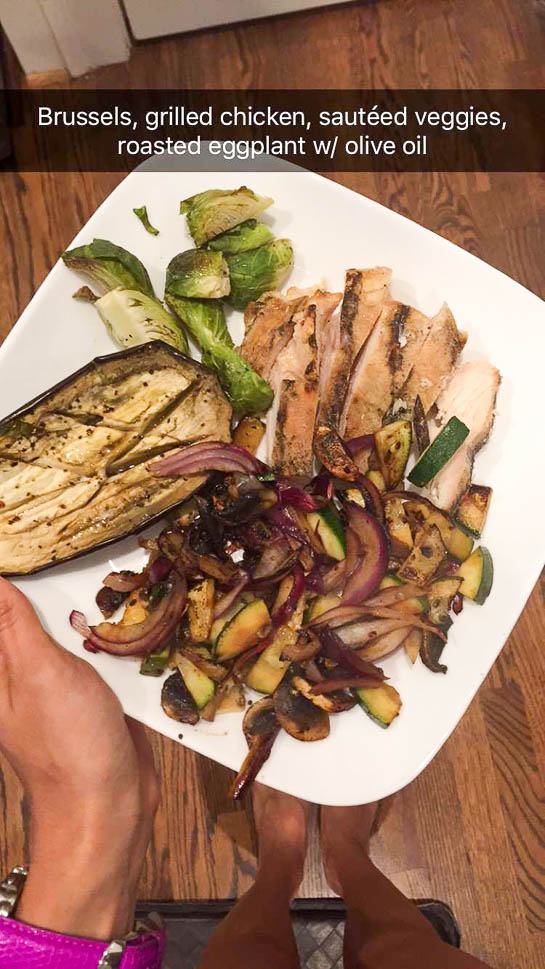 For dinner on Wednesday, I sautéed mushrooms, zucchini, and onions in a pan and then had grilled chicken and roasted brussels sprouts, and eggplant.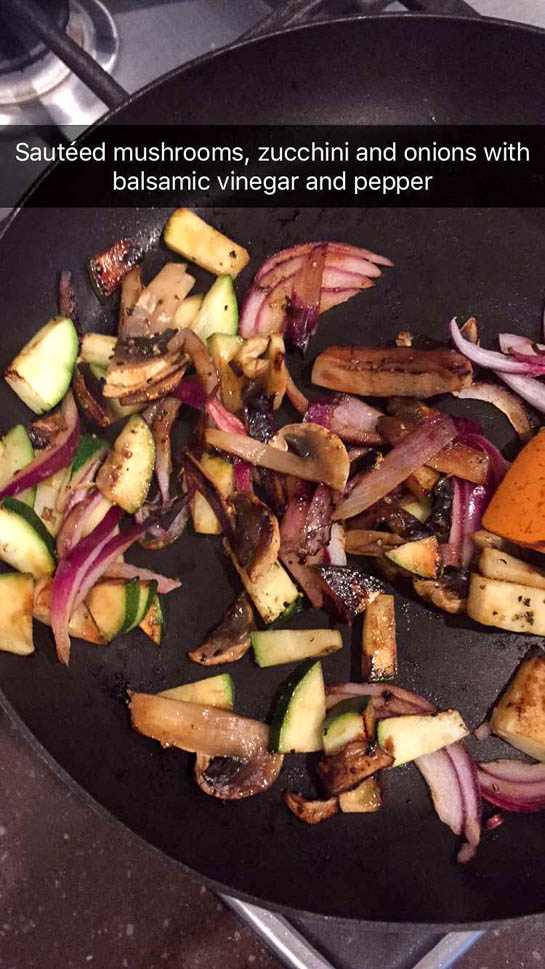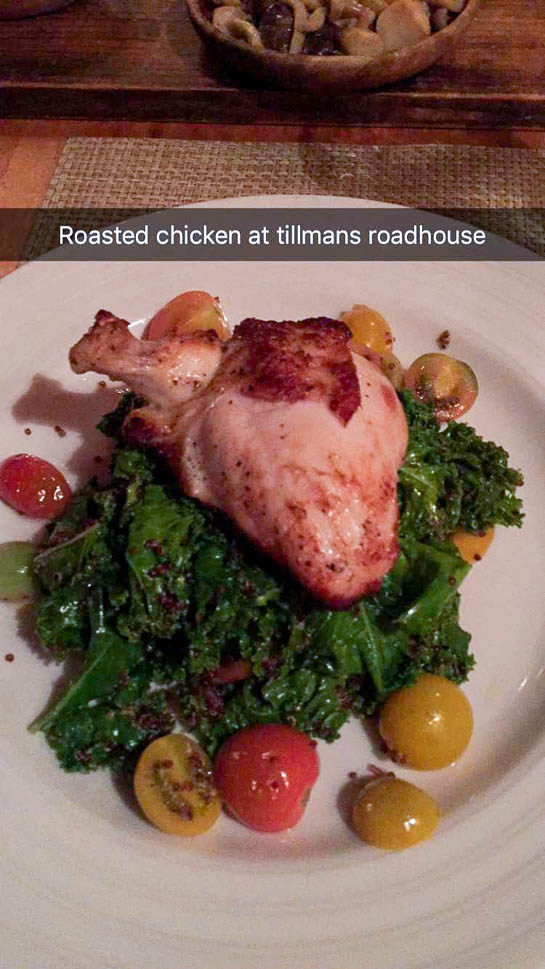 On Tuesday, we had date night and went to Tillman's Roadhouse. I got the roasted chicken (typical) and we shared the mushrooms, which were really yummy!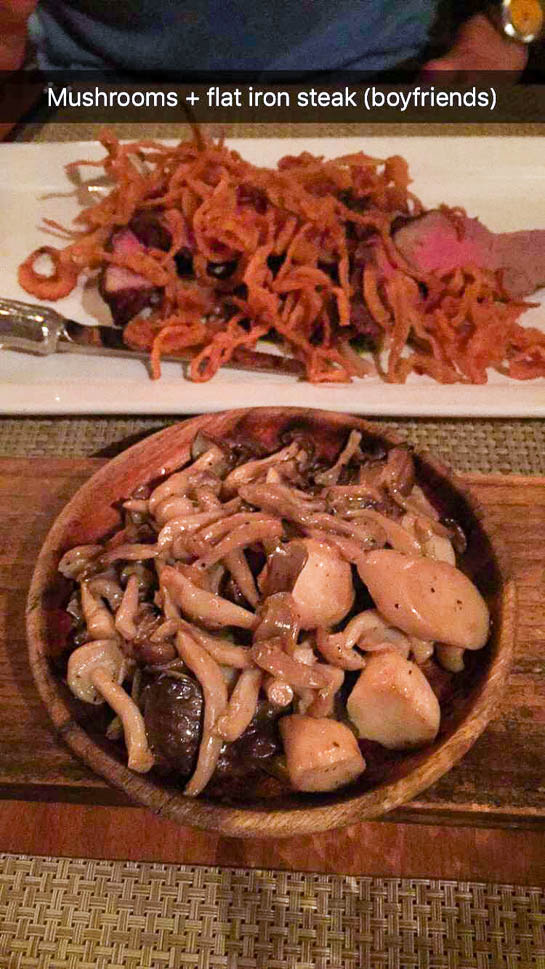 On Monday, we went to Flywheel, and afterwards, the last thing I wanted to do was cook, so we went to our favorite spot, Eatzis!