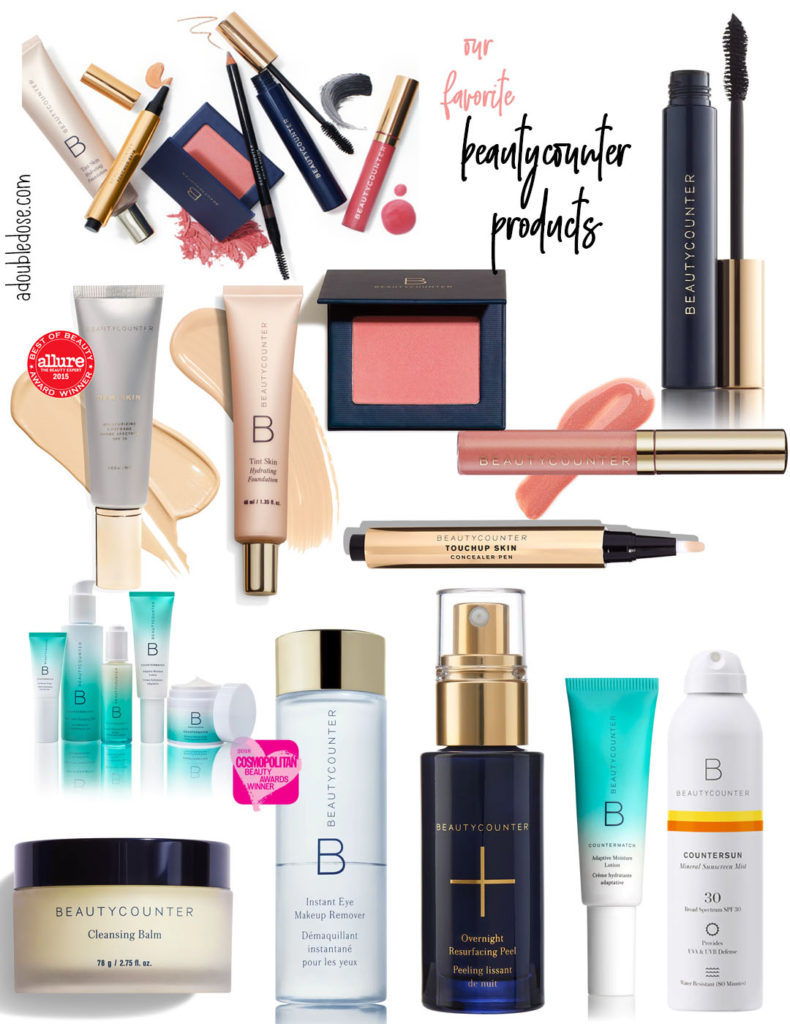 Ever since we started not feeling well about two years ago (more in this post and this post), we have been trying to make an effort to switch over some of our beauty products to more natural ones. We had honestly never thought about what we are putting on our body (just what was actually going in it). When you really start doing some digging, you realize there are a lot of products that are not as "safe", and we have really become our own advocates when it comes to our health because you're the only person who can really vouch for yourself!
One of our friends told us about a website called ewg.com, where you can look up any product and how safe it is! We didn't/haven't switch everything over just yet– mainly our deodorant, makeup, skincare, body lotion, body wash, and sunscreen. We are not perfect with it, and will probably never be, but it is a start!
We found out about a company called Beautycounter, and were honestly pretty skeptical just because we had seen it on social media and hadn't tried it, but we decided to give it a shot and fell in LOVE! First off, we love what they stand for.
Most of the makeup we had been using (some, not all) had some ingredients that we didn't want to be putting on our skin daily. Beautycounter has something called the The Never List™, which is made up of more than 1,50o questionable or harmful chemicals they will never use in their products. When we started our health journey, we read up on how Europe and other countries have wayyyyy more restrictions when it comes to products used in personal care products, which is crazy!
We wanted to share some of our favorite products we have tried so far, and some we are planning on ordering soon and will keep you all posted on those!
**PS- they are offering a special right now where if you buy the Flawless In Five makeup kit (which was one of the first things we ordered [more on that below], you get their award-winning Eye Makeup Remover free! **
*This is through tomorrow, 9/27!
Our FAVORITE Products:
Cleansing Balm: leaves your skin super soft. A little goes a long way, so it lasts you months. You can use it for SO many things: cleanser, mask, and makeup remover! Hands down, our favorite product. Oh, and it's great for any skin type!
Resurfacing Peel: makes your skin feel so soft and brighter! We have been using it for a few weeks and love the results.
Flawless In Five Kit: this was the first thing we ordered to test some of their stuff out and fell in love! It is a great starter kit if you want to see how you like them.
It comes with:
Countermatch Line: We have tried the facial lotion and LOVE how lightweight it feels, and the rest of the line is next on our list to try!
Dew Skin Moisturizing Coverage: We love this one for lighter makeup days. It has just enough coverage and leaves your skin looking dewy and fresh. It also has SPF20 in it, so it is great to apply in the mornings before heading out!
Countersun Mineral Sunscreen: This one is major because it is formulated with non-nano zinc oxide and antioxidant-rich California Poppy. This one is a spray so it is super easy to apply! It goes on white for better application, but dries quickly! It also comes in a travel size.
ALSO!! We wanted to talk about a special perk that we just signed up for called Band Of Beauty.
It is basically an Amazon Prime for Beautycounter and you get a TON of free perks and it is only $29 (one-time-fee)!
free shipping on orders over $100
15% credit to use on your next purchase with every order you place
a welcome gift with your first purchase