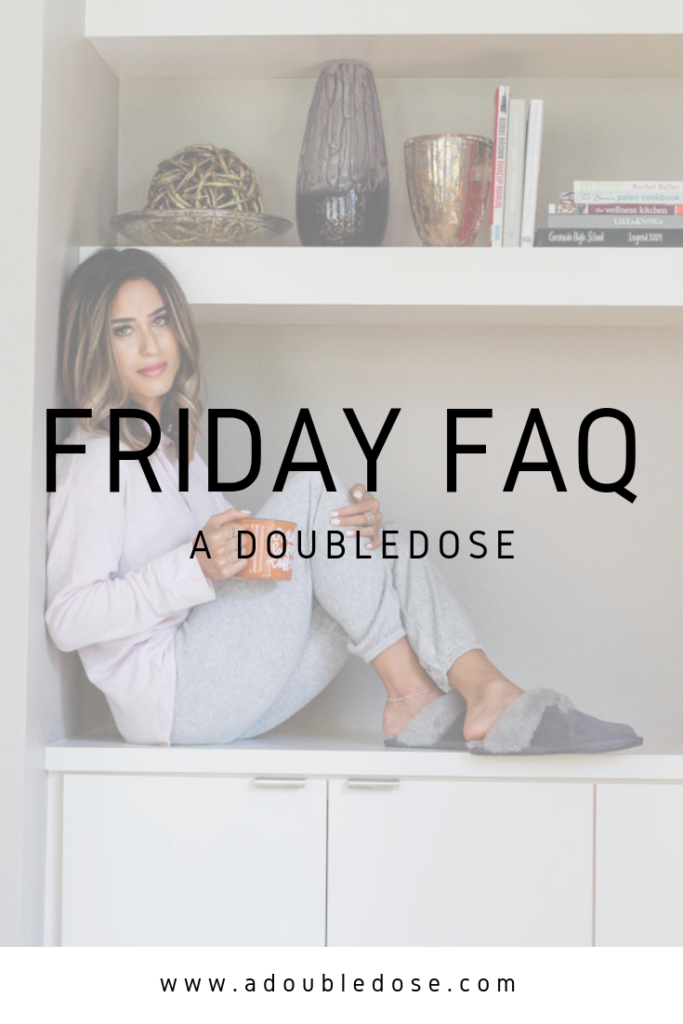 This week flew by and we couldn't be happier! It is Friday, so it is FAQ time! We are answering more of y'alls questions that got submitted this week! If you asked something that didn't get answered, we most likely answered it in a previous FAQ post! Check out the last few here : #1 here , #2 here , #3 here, and #4 here.
If your question wasn't answered, be sure and send us a message on Instagram, or email us at [email protected]
Happy reading! Xo
F A S H I O N:
WHAT IS YOUR FAVORITE JEWELRY ROLL FOR TRAVELING?
We love this pink one because it is under $20 and looks like a pouch! This one is also great and is a square shape, so it is compact and has a lot of compartments.
WHAT ARE SOME OF YOUR FAVORITE JOGGERS?
We have a few that we love! This camo pair is super cute and this grey pair is more fitted, so great for petites!
Shop more joggers here:

DO YOU HAVE ANY FAVORITE HIGH-WAISTED JEANS?
This pair of high waisted jeans is our favorite and really affordable! This ripped pair is also a great one!
WHERE ARE SOME OF YOUR FAVORITE PLACES TO BUY AFFORDABLE SWIMSUITS?
We love buying swimsuits at:

H E A L T H / F I T N E S S:
YOU MENTIONED YOU DO SOMETHING WITH THE LEFTOVER CELERY PULP. CAN YOU GIVE MORE DETAILS?
We make these "crackers" and they are not REAL crackers, but we make little "pizzas" on them with tomato sauce and veggies!
INGREDIENTS:
celery pulp from one or two days mixed together
1-2 tbsp of ground flaxseed meal
spices like Italian seasoning, salt, pepper, garlic powder, cayenne pepper.
INSTRUCTIONS:
In a large bowl, mix pulp with seasoning and flaxseed.
Preheat oven to 450 degrees F.
Line a few baking sheet with parchment paper and scoop some of the mixture on the parchment paper.
Flatten the mixture into a flat round shape, and make it pretty thin so it can cook better.
Bake for 30-40 minutes until cooked and browning, even a little burnt in some parts!
Note: It will not get super crispy, but you still get the taste of it!
CAN YOU SHARE SOME RECIPES FOR SOME SALAD DRESSINGS?
Here are a few we love! Also, just using some fresh tahini, lemon juice, and water is really yummy!
I HAVE BEEN SEEING YOU ALL JUMP ON THAT MINI TRAMPOLINE. CAN YOU TELL ME MORE ABOUT THE BENEFITS AND WHAT IT IS GOOD FOR?
Yes! We have been loving it! We will be covering a blog post next week on all of it, but just to summarize: helps with cellulite, stimulates metabolism, helps with lymphatic drainage, and improves balance. It is also easier on the joints! We have been doing 20-30 minutes 5-6 times a week! We have this rebounder!
B E A U T Y:
WHAT IS THE LIP COLOR YOU ALWAYS WEAR?
We wear this Urban Decay Cosmetics Vice Lipstick in "Naked".
WHAT IS YOUR GO TO PERFUME?
There are so many we love, but some of our favorites are Marc Jacobs Daisy, Mugler Alien, and Ralph Lauren Romance.
WHAT ARE YOUR GO TO MAKEUP BRUSHES?
We use this BeautyBlender a ton for foundation. This brush set has all the essentials and this one is really good, too!
YOU POSTED HOW YOU CAN GO A WEEK WITHOUT WASHING YOUR HAIR. CAN YOU GIVE SOME TIPS?!
We shared some tips in this blog post and this podcast episode a while back, but basically, you have to "train" your hair to go that long between washes. Use a lot of dry shampoo, perfume (to mask the smell)
WHAT IS YOUR FAVORITE DRY SHAMPOO?
We love this Amika Perk Up Dry Shampoo!
B L O G G I N G:
WHAT CAMERA DO YOU USE? YOUR PICTURES ARE ALWAYS SO GOOD!
We use our IPhoneX for most of our photos! If we are shooting for the blog, we use our Canon5Ti with a 50mm lens 1.8.

PS-if your question wasn't answered this week, be sure and check back next week for more! Xo