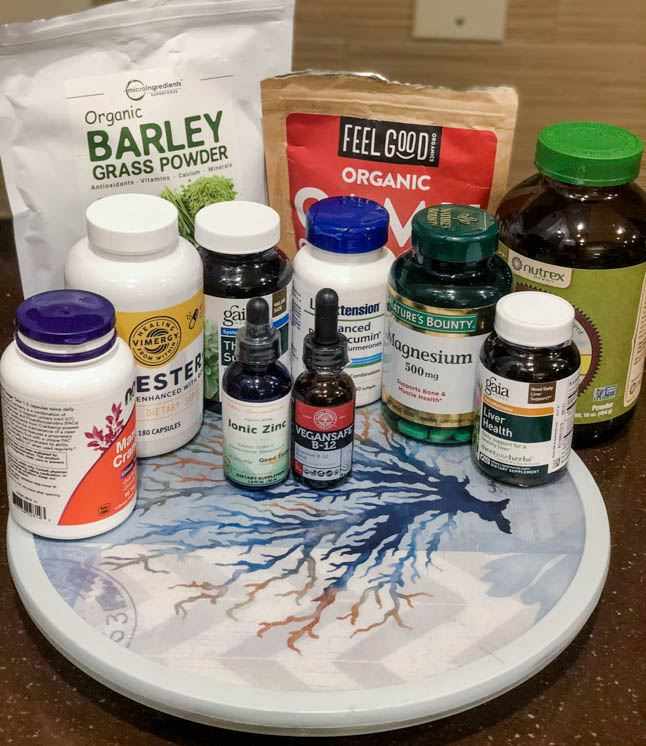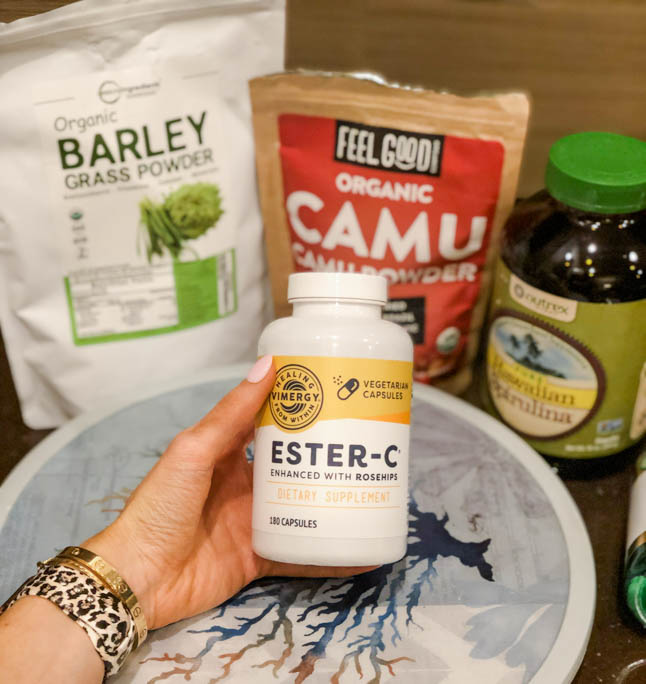 Happy Wellness Wednesday! We are back with some more wellness tips for you all. In case you missed yesterday's post, we shared our organization tips so far in our bathroom, so be sure and check that out!
Today, we are sharing the natural supplements we take! Since going plant based and focusing on our health,we have been making an effort to be more natural in everything we put in our bodies and on our bodies.
For those of y'all that have been following us for a while, you know that we used to take a lot of medications for our thyroid, but as of a couple months ago, we have been trying to slowly transition into natural supplements, and avoid all medications when possible.
Here are most of the supplements we currently take. It seems like a lot, but you all should have seen how much we used to take. We honestly feel so much better. Before drinking celery juice, we used to get a ton of headaches, and have no energy, but now we feel a million times better overall.
PS- we use lazy susan like this to store all of our daily supplements to keep them organized! This exact one we got at Homegoods.
We usually take the bulk of these in the mornings, and this is the schedule of how we take them:
UPON WAKING:
Dropper of VeganSafe B-12 by mouth (helps with energy levels and is better absorbed than other brands), followed by big mug or glass of lemon water. Use code ALEXIS10 for discount!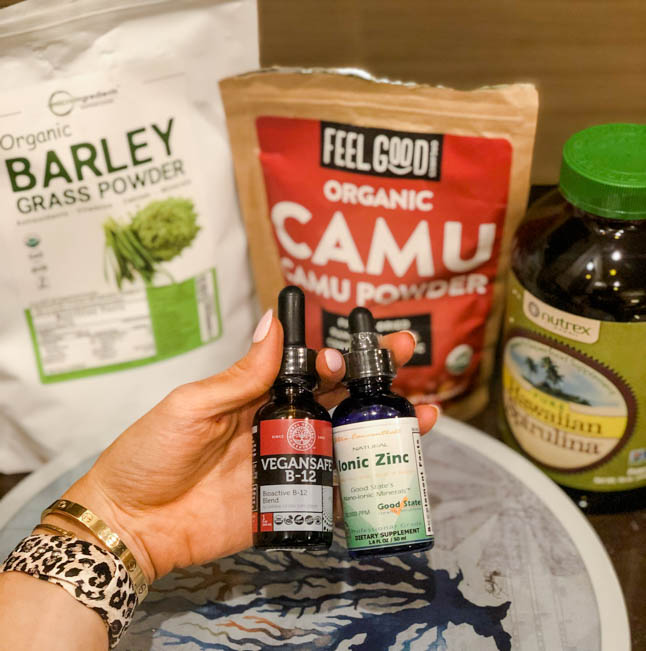 After 20-30 minutes, we have our celery juice.
Then, we wait another 20-30 minutes, and have our powders and supplements before we eat our breakfast
Shot of Hawaiian Spirulina (boosts energy and supports immunity), Camu Camu Powder (tons of vitamin c and antioxidants), and Barley Grass Powder (loaded with high proteins, all essential amino acids, rich fatty acids, all vitamins, minerals and dietary fiber and also great for detox!)– (mix all powders in a small glass with water and take like a shot to get it down– FYI: doesn't taste the best!)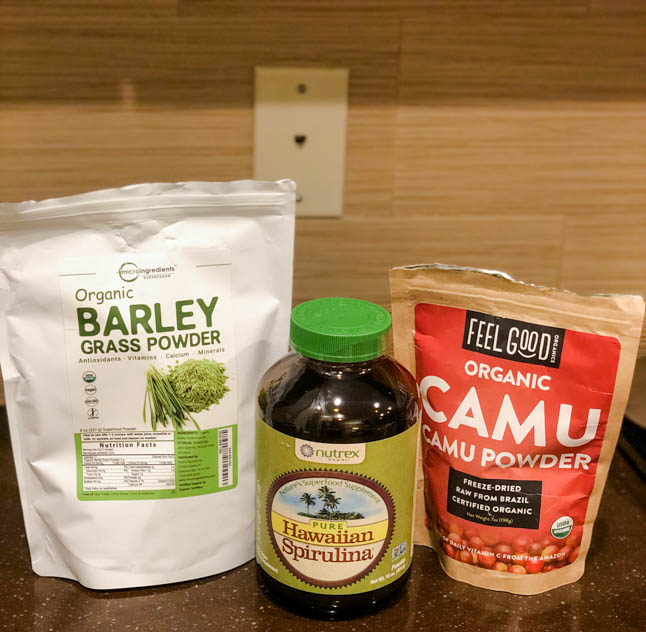 Fill water with 10 drops of Ionic Zinc (benefits are that it improves immune system and fights infections) and take the following supplements:
EARLY EVENING: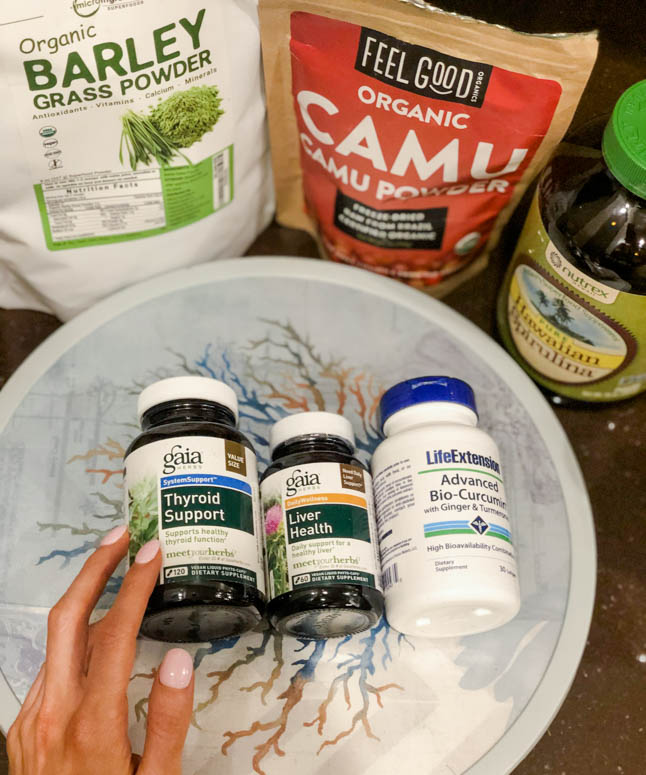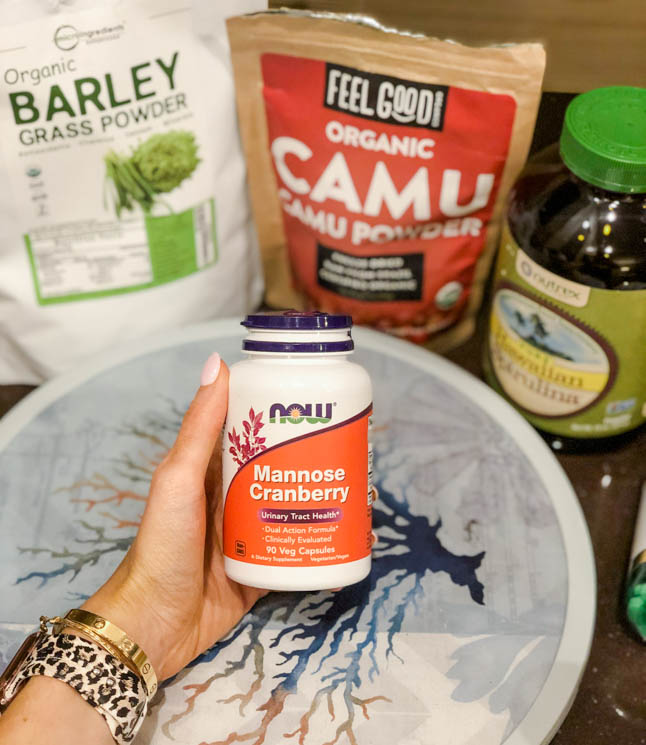 Second dose of supplements (on an empty stomach):
BEFORE BED:
Magnesium : helps with insomnia, anxiety, and improves digestion!