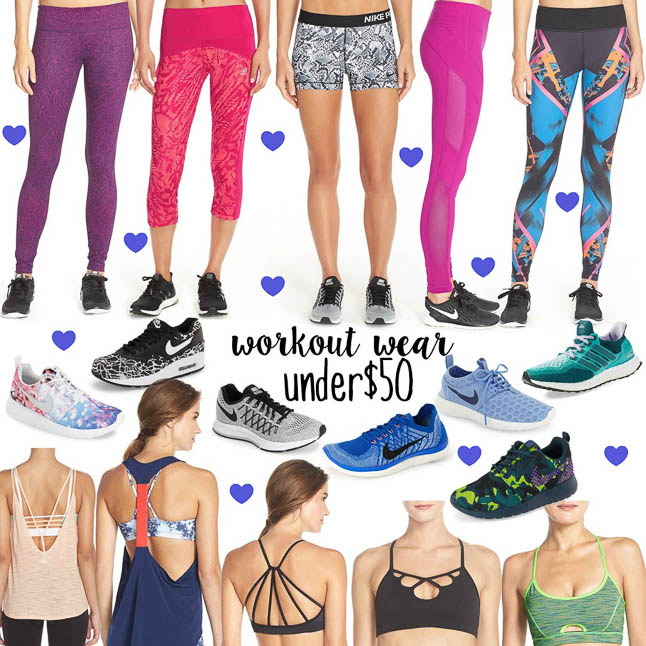 { Purple Leggings | Red Crops | Nike Pros Compression Shorts | Pink Mesh Tights | Printed Leggings | Nike Roshe Run | Black + White Nike Air Max | Nike Zoom Pegasus | Nike Free 4.0 Flyknit | Nike Juvenate | Nike Camo Roshe | Adidas Ultra Boost | Strappy Peach Top | Navy and Coral Open Top | Strappy Black Sports Bra | Moon Shadow Bra | Green Sports Bra }

More under $50 finds below! [CLICK + SCROLL TO SHOP]
Leggings + Shorts:

Shoes [not under $50!]

Tops:

Bras:

Happy Thursday!
Hope you all have had a great week so far. We have had the BEST weather this week and it is supposed to continue to get even better this weekend. I am definitely a warm weather kind of girl and become crabby if the temperature gets below 50 degrees!
We thought we would share some of our favorite workout/athleisure pieces under $50 (except the shoes)! Some these are on major sale, or just a great price in general! As you can tell, we are all about printed leggings, mesh, and strappy sports bras and tops. If you all like these types of posts, we would love to know so we know if we should share more of them (maybe once a week?)
Also, we have both been sharing our workouts on snapchat [alexis.belbel] and [sbelbel], so be sure to check them out if you want to see what we do!