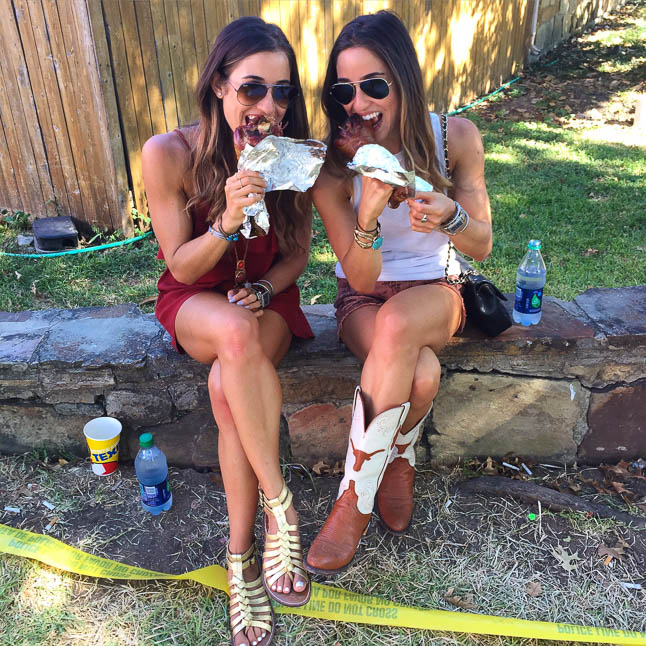 We hope you are all having a great weekend! We are still in NYC and loving it! We will be sharing another blog post on that soon (hopefully) once we get back. We think it is kind of fun to share some of the not-so-instagram-worthy pictures for you all to see and feel like you're there with us. Maybe you don't want to feel like you're there with us, but either way, we will pretend you do 😉
Oh, FYI, these pictures are kind of out-of-order because I was too lazy to organize them, so pretend they're in order.
Anyways, we went to TWO football games last weekend. Both of them were so fun! If you didn't know, we are major football fans and went to Texas, so we are definitely obsessed. Our mom flew in because she also went to Texas, and is even more addicted to football than we are. She is one of those fans that will stay in the rain, heat, cold, you name it. We have to say, we are not that die-hard. Actually, last year, during the Texas thanksgiving game, we left the game because we were hungry (and bored) and went to Old Navy down the street because it was Black Friday. I know, what kinds of fans are we?! But, Texas was getting killed and we were bored.
On Saturday, we went to the TX/OU Red River Rivalry Game at the Cotton Bowl. We love going to this game because it takes place right at the Texas State Fair. Obviously, we were there for the actual game, butttttt, of course, food is always involved!
Samantha had looked up what "healthier" options were at the fair, and saw that they had turkey legs and we were determined to get some after the game. We looked everywhere for these things, and finally, after climbing through giant mosh pits, we found them! And, let me tell you, they were SO worth it! We had never had one before (can you believe it?!) We loved them because they were just smoked, and had nothing on them- just the way we like it!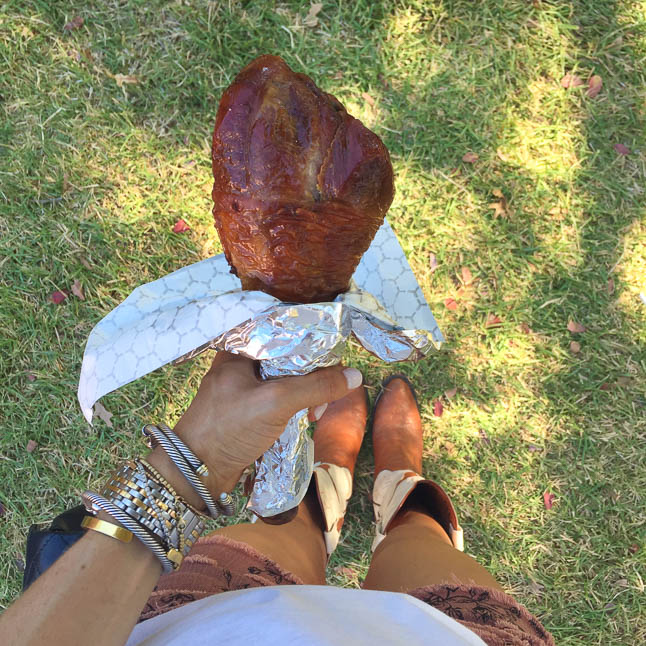 Our mom got one, too, but she could barely finish it. We, on the other hand, could have eaten another one;)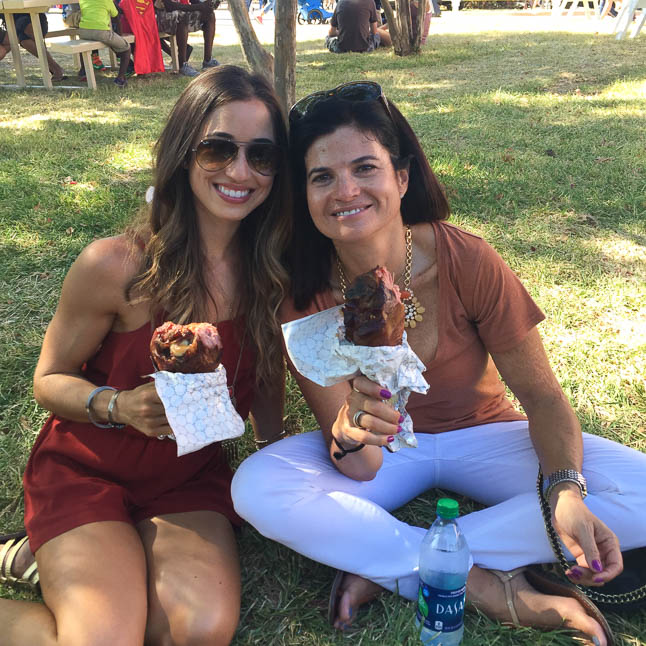 Check out that goodness! Now I want another one..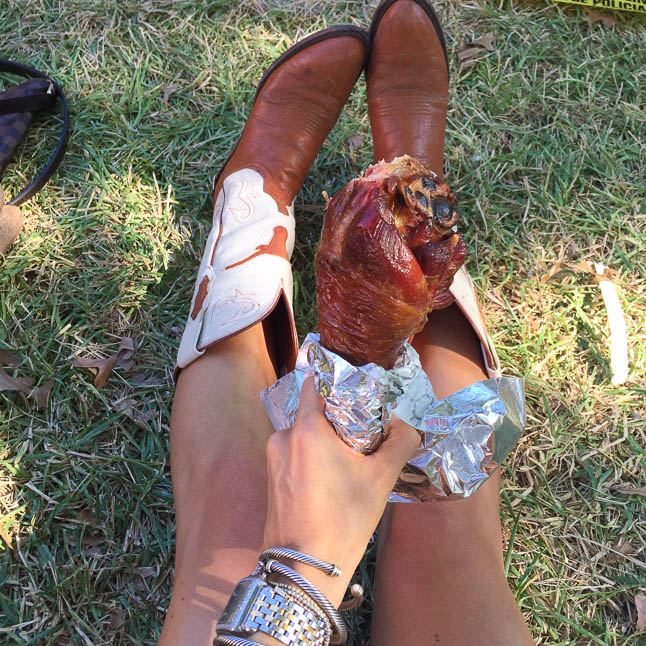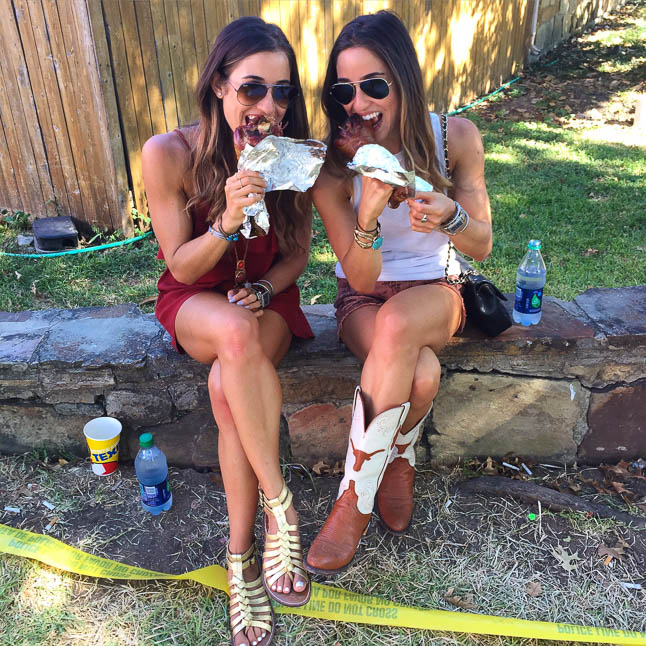 The stadium is about 20-30 minutes from our house, so of course, I was in the backseat taking selfies. Well, a necklace selfie, I guess! This necklace is older, but it's from J.Crew. They have the best necklaces! I love them with tanks, tees, button ups, and sweaters. They just add so much pop and class to any outfit! Trust me, you'll wear it way more than you think!
SHOP THE LOOK: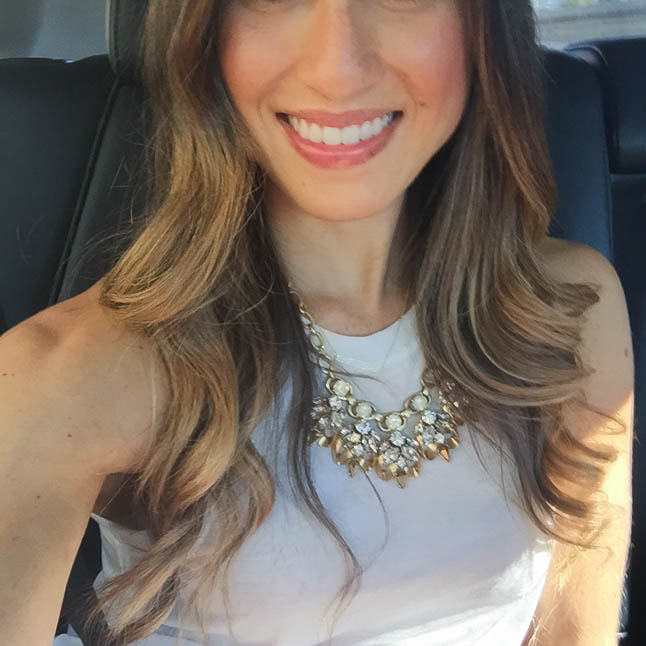 This is the famous "Big Tex". Everyone wants to take pictures with him. He is GIANT (if you can't tell), and actually burnt down a couple of years ago from some electrical fire, but they rebuilt him, and he is back at the fair!
I feel like I am a museum docent by telling you all of these facts, lol.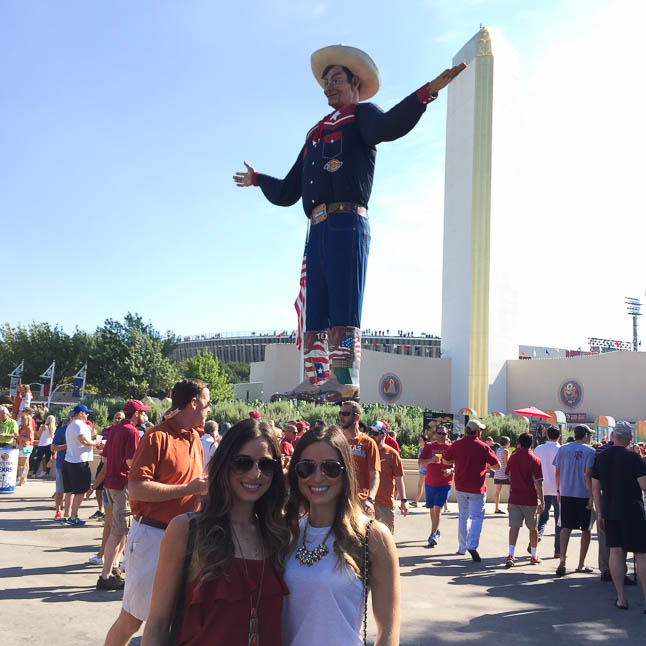 If you have never been to a Texas game, it is definitely something to experience! Such a fun culture to be a part of. It also helps when we win!;)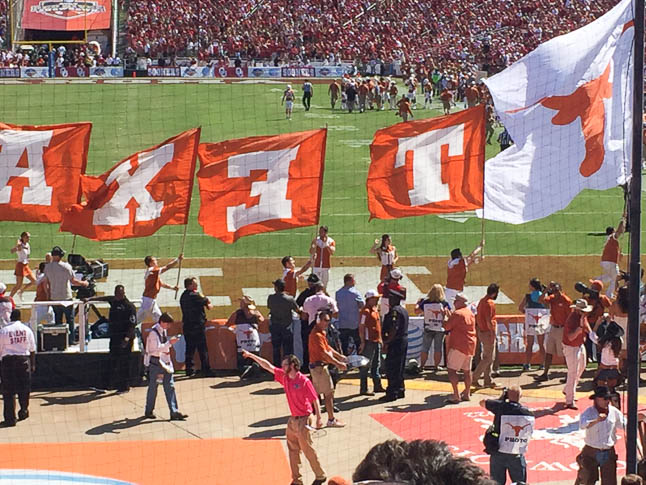 If you follow college football at all, you probably know that Texas has not been "good" in the past several years, so the fact that we beat our rival, was a HUGE deal!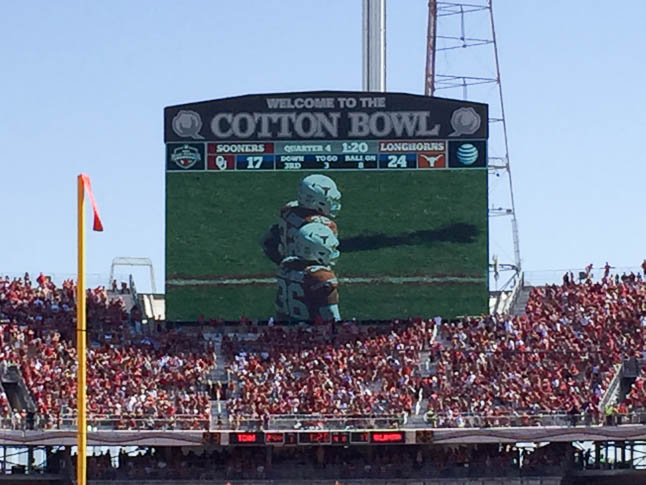 Oh, did I mention how HOT it was! According to the weather, it was only in the 70's, but it felt like it was in the triple digits. I was sweating like a pig in the sun, and at one point, we had to go watch the game in the shade because it got too hot.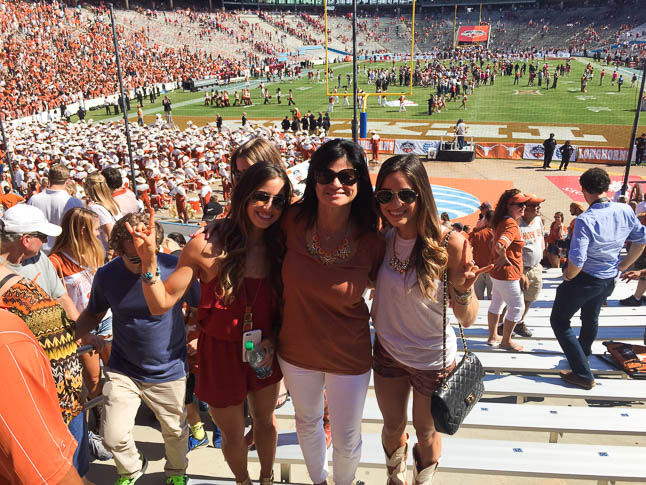 Check out my sweat marks. Reeeeal cute.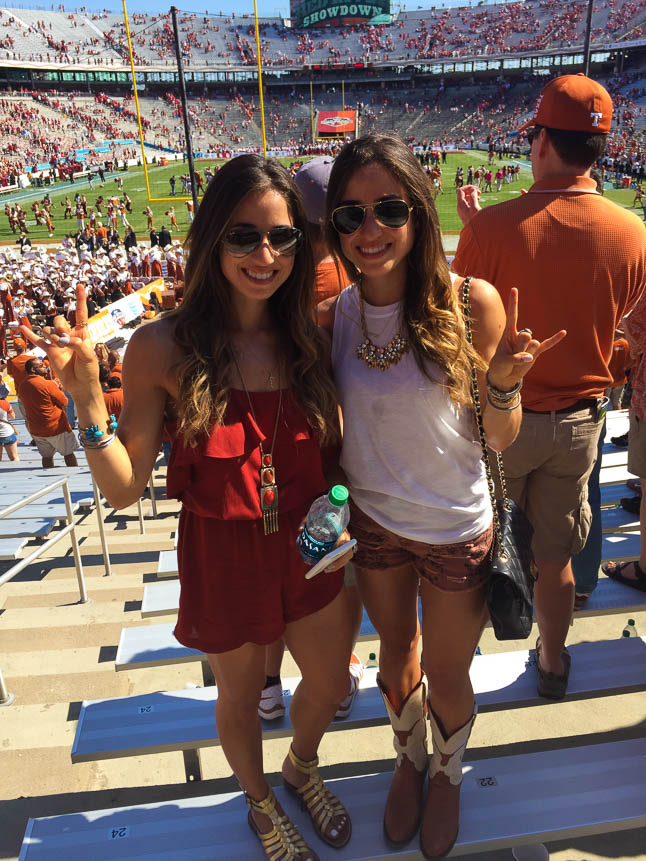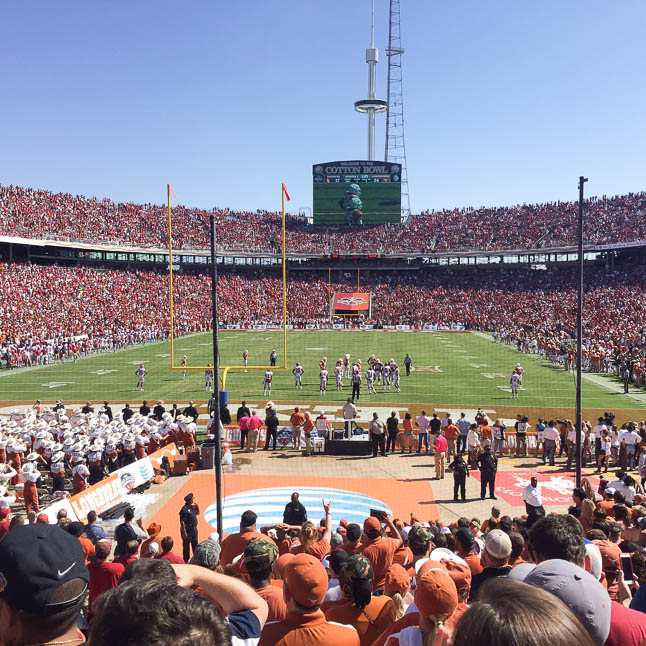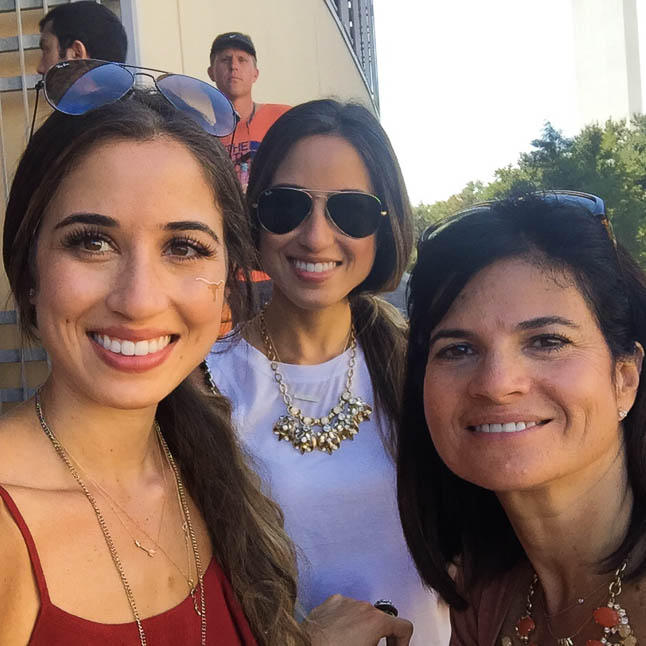 Of course, snacks are always involved. I snuck in a quest bar, as did my mom and sister. Yes, I have gotten my mom totally addicted to them. Chocolate Chip Cookie Dough is my fave!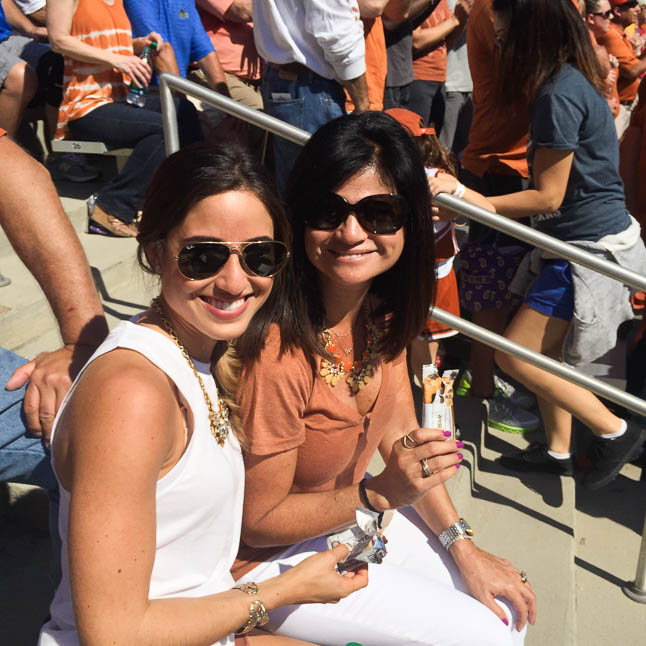 I was kind of (no really) annoyed by my sister because I wanted this cute picture from behind, but she stuck her huge water bottle in the picture and ruined it. So disappointed! This is also a constant fight between the two of us, by the way. That I request way too many photos and want a "photoshoot" every five minutes. Let's be honest, though, we both do it.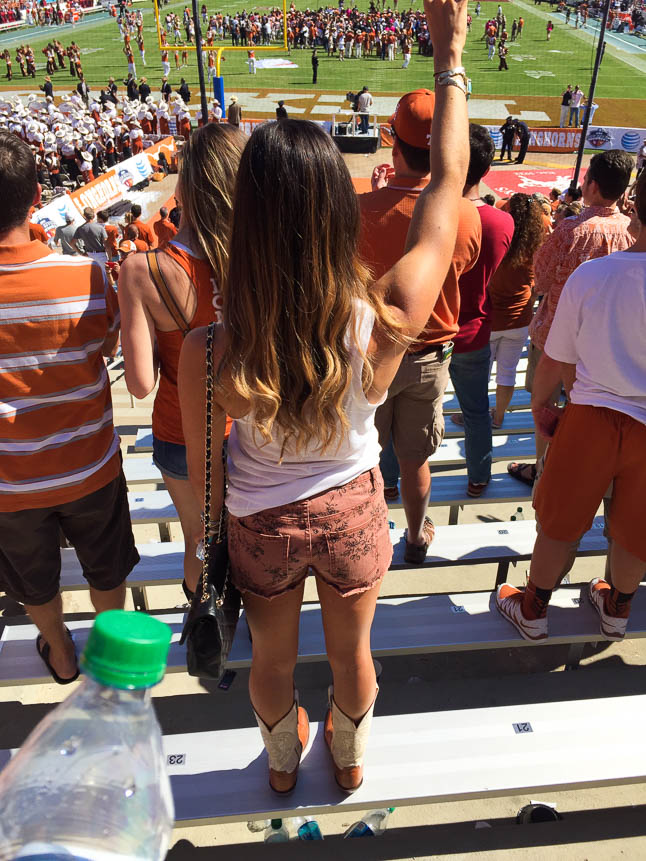 Pre-sweaty football game. I LOVE these shorts. My mom actually picked them out for me the day before the game at Nordstroms and I love how they're burnt orange and have a black floral pattern on them!
SHOP THE LOOK: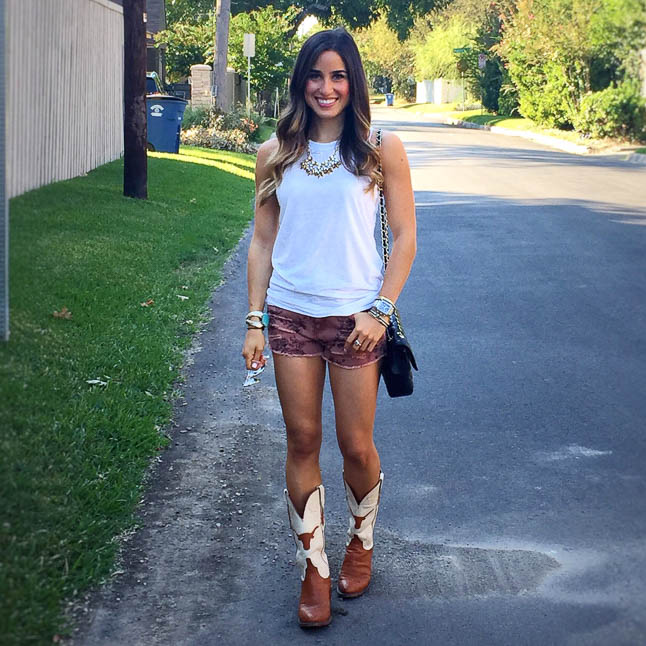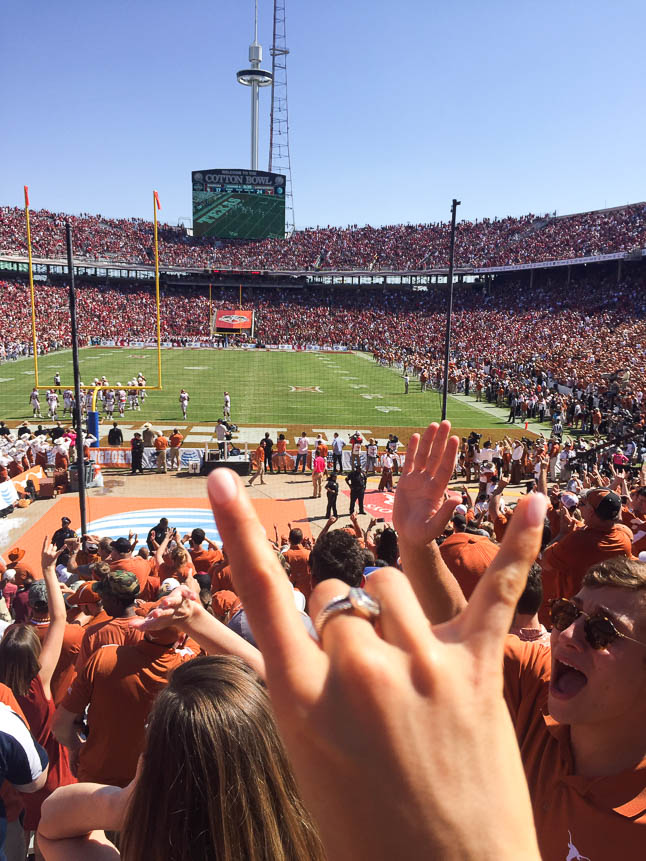 Our mom actually borrowed one of our tees, and she pulls it off so well! She is so hip. The romper we got here and love it! It is like you're wearing pjs!
SHOP THE LOOK: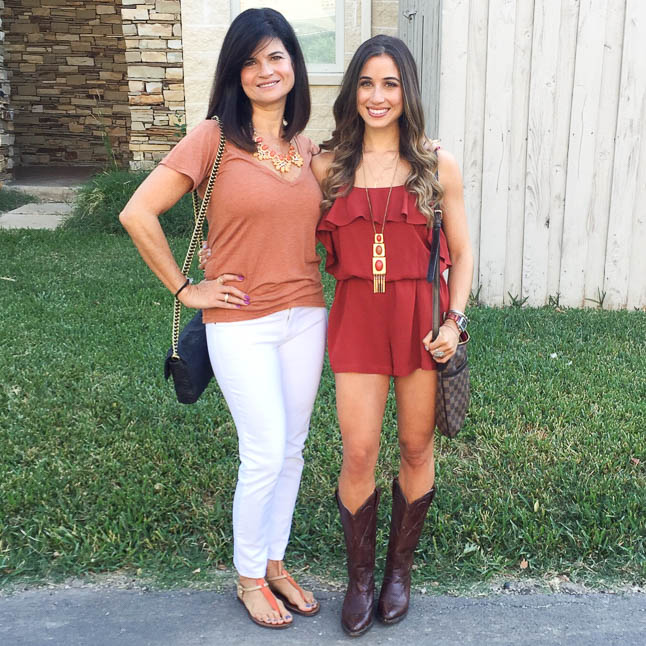 After the game and fair, we came back home and freshened up for dinner. I switched out my boots for some wedges because my feet were killing me, and honestly, I only wear my boots for football games. That's it lol.
SHOP THE LOOK: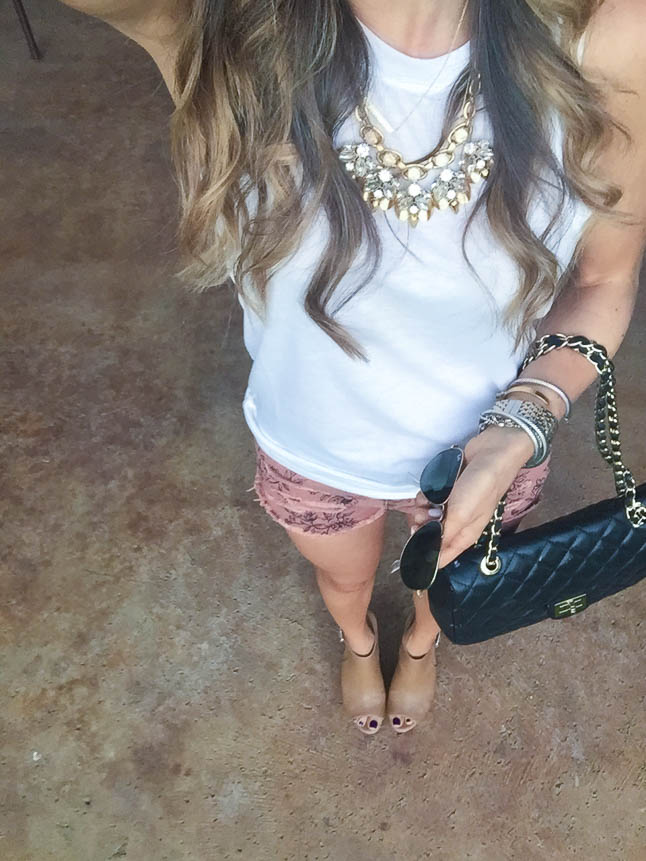 Okay, more football, and I loved it. Sunday, we went to the Cowboys vs. Patriots game in Arlington. We had so much fun, and of course, it helped that both of our teams won!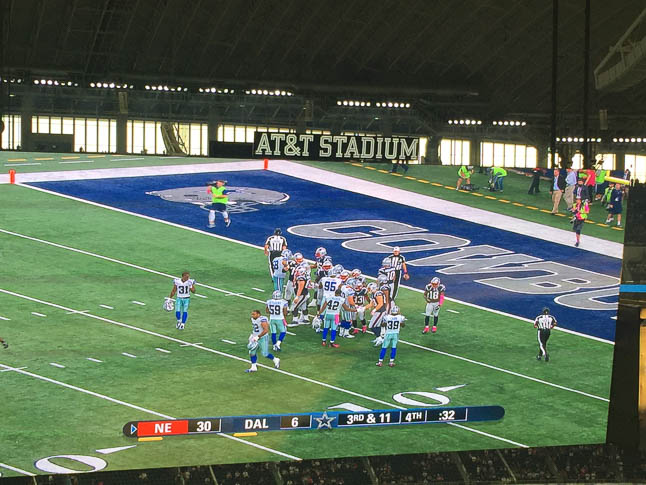 Horrible picture, but this is what happens when you have nobody to take your picture and ask some random guy to take it, haha.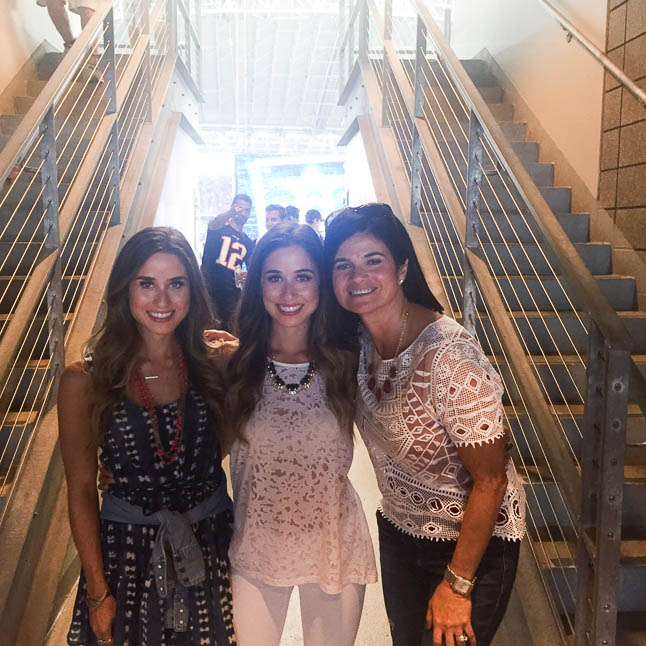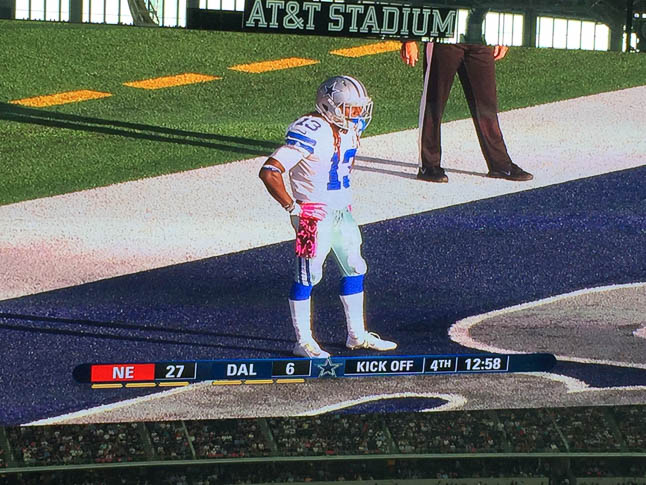 Yes, we were at the VERY top of the stadium, but it is such a gorgeous place. Super nice!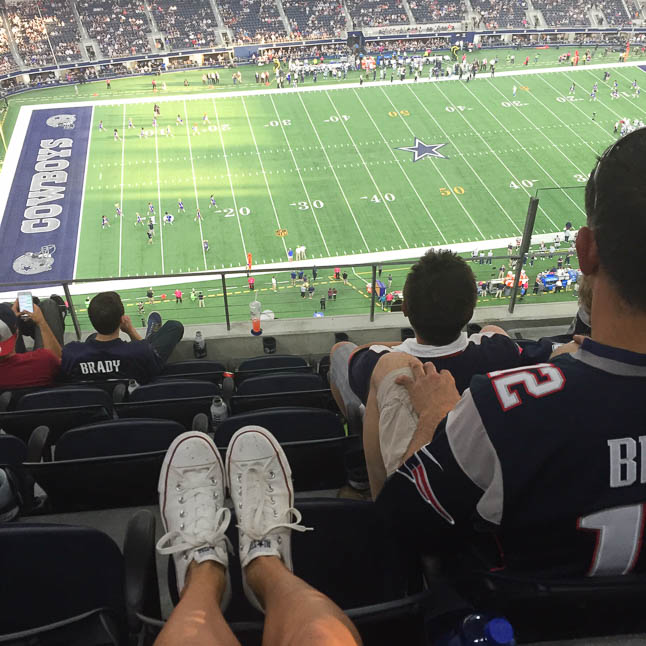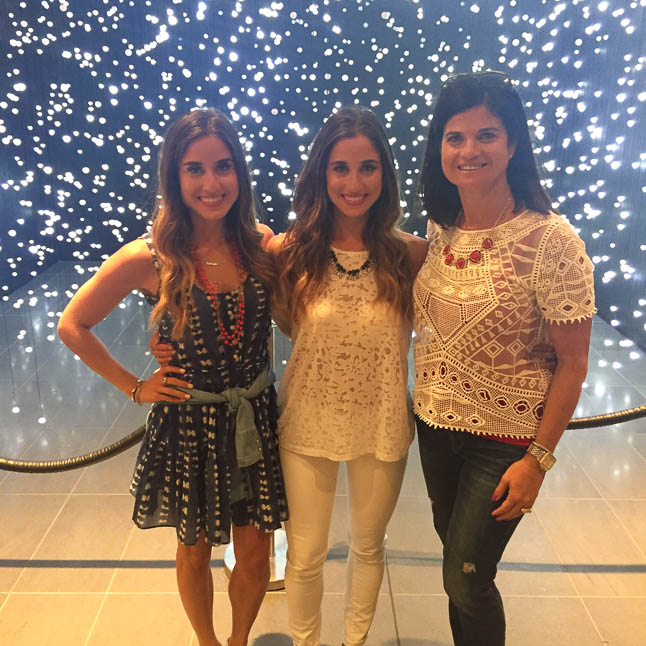 Finally, we got a normal picture after the game outside of the stadium!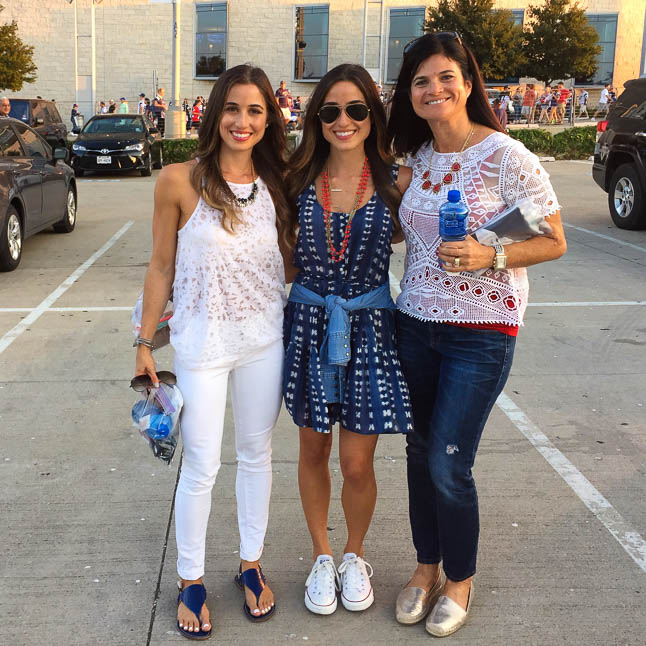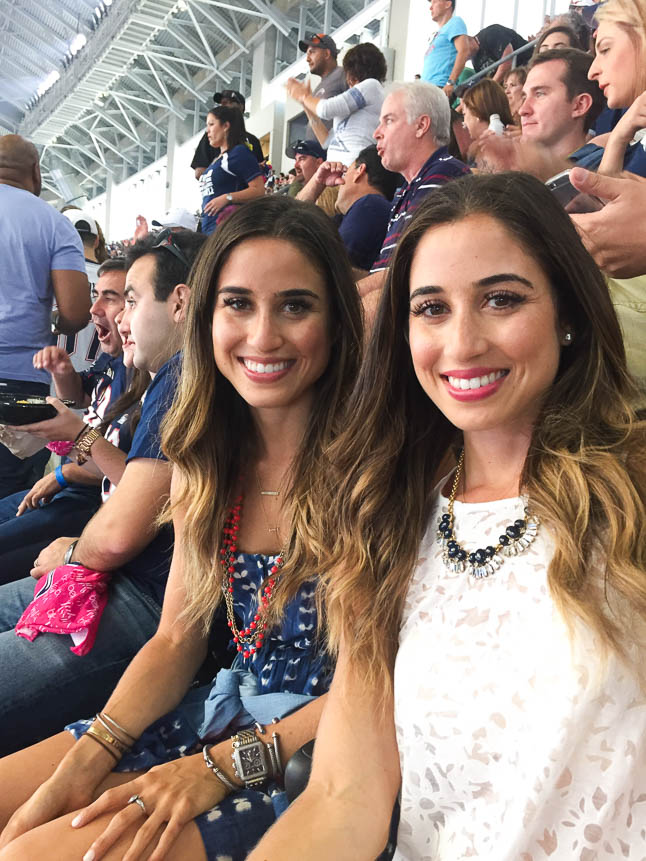 This tank is older, but we LOVE it. We linked up some similar options here.
SHOP THE LOOK: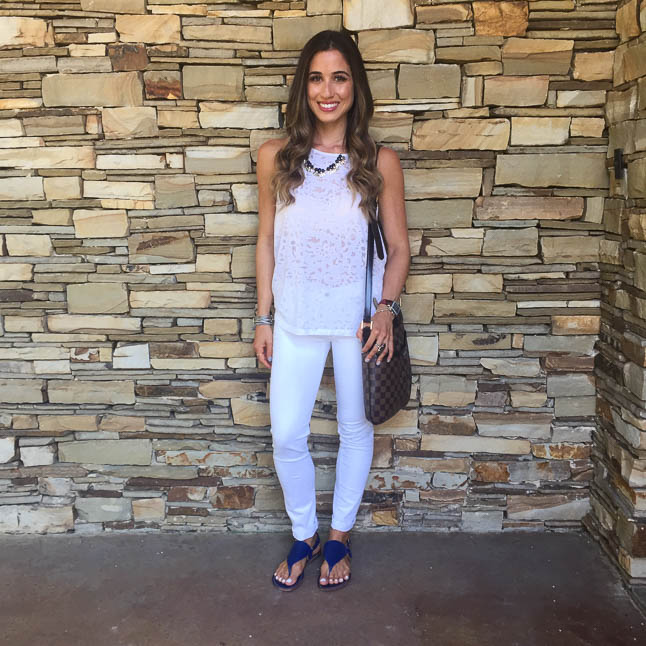 I wore this blue and white dress from J.Crew that I got on super sale in the summer, so I linked up some similar options here.
SHOP THE LOOK: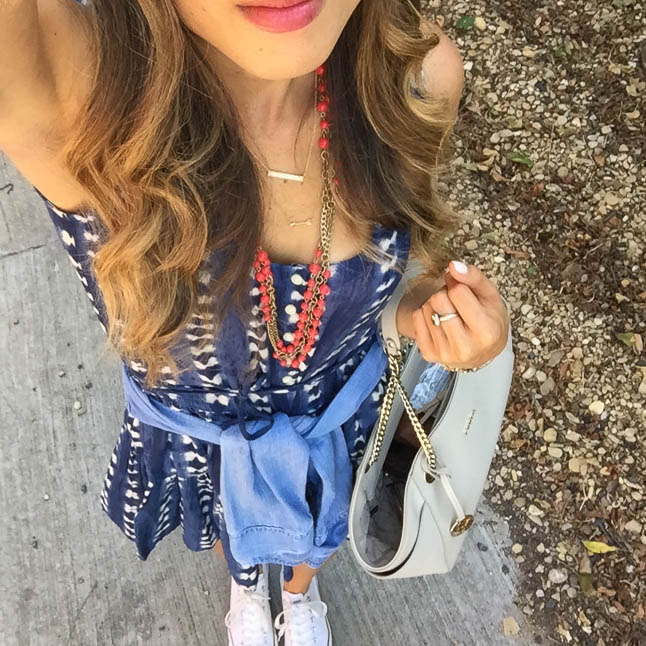 I love pairing dresses with converse!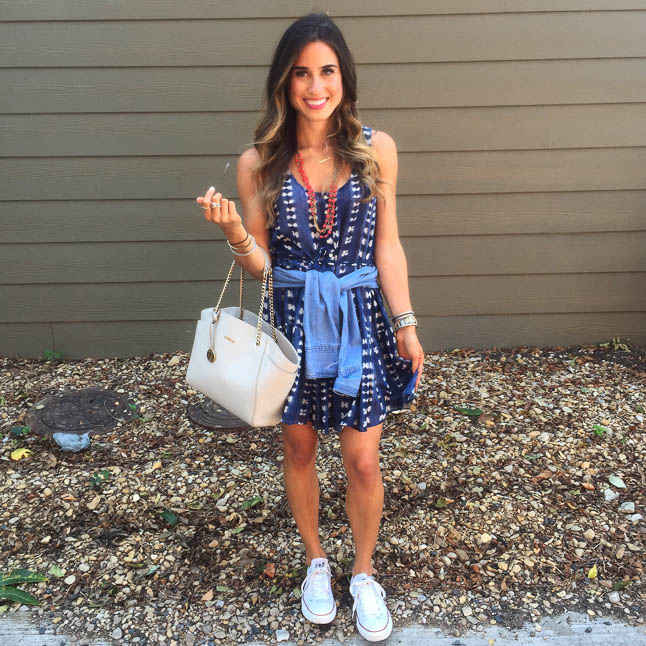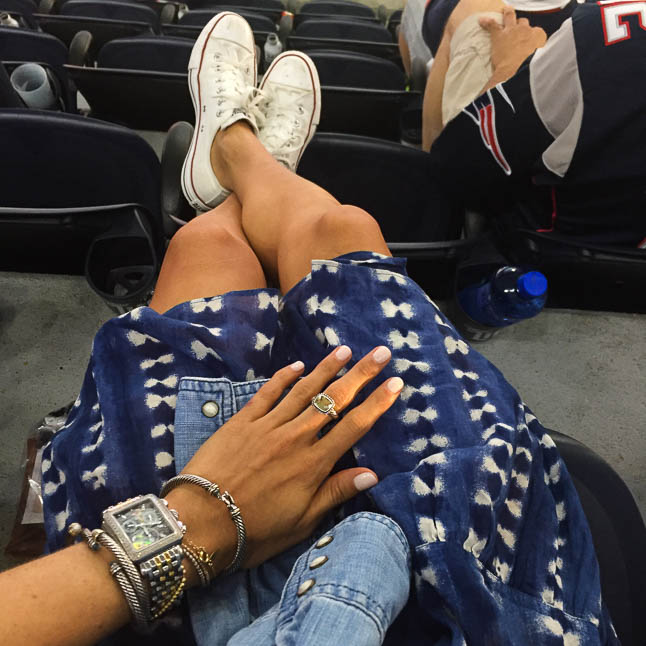 Isn't the stadium gorgeous?!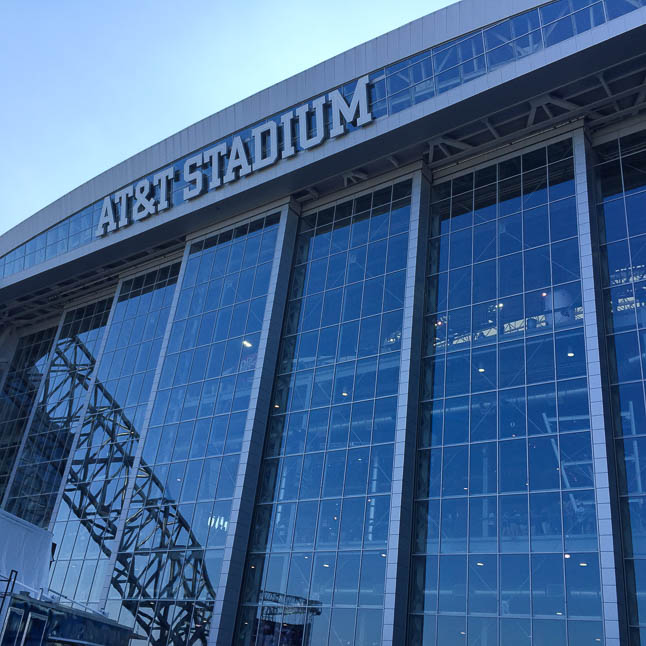 I had to get a picture of the healthy options at the game! Love that they have fruit there. I actually got a grilled chicken burger and got it without the bun and it was really good!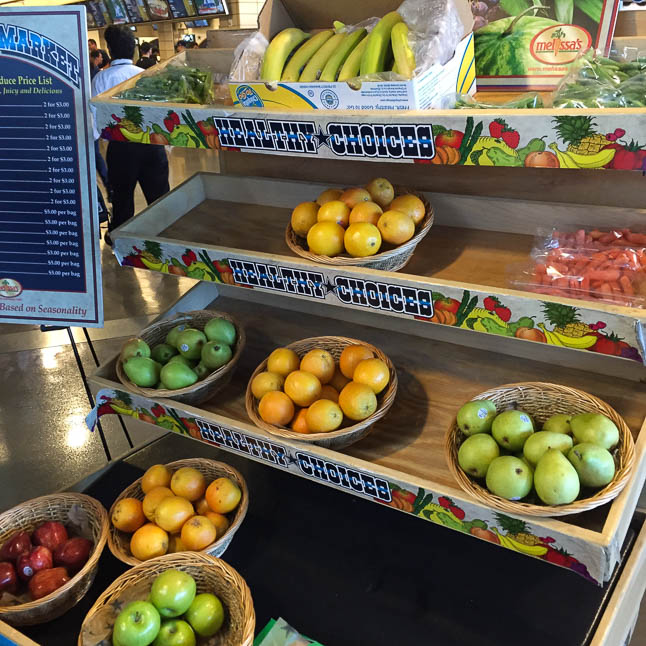 I shared this picture (or a similar one) of me eating like an animal. Call me weird, but I love chewing on the bones when I eat roasted chicken. My sister and mom were having too much fun getting these photos of me at Whole Foods after the game.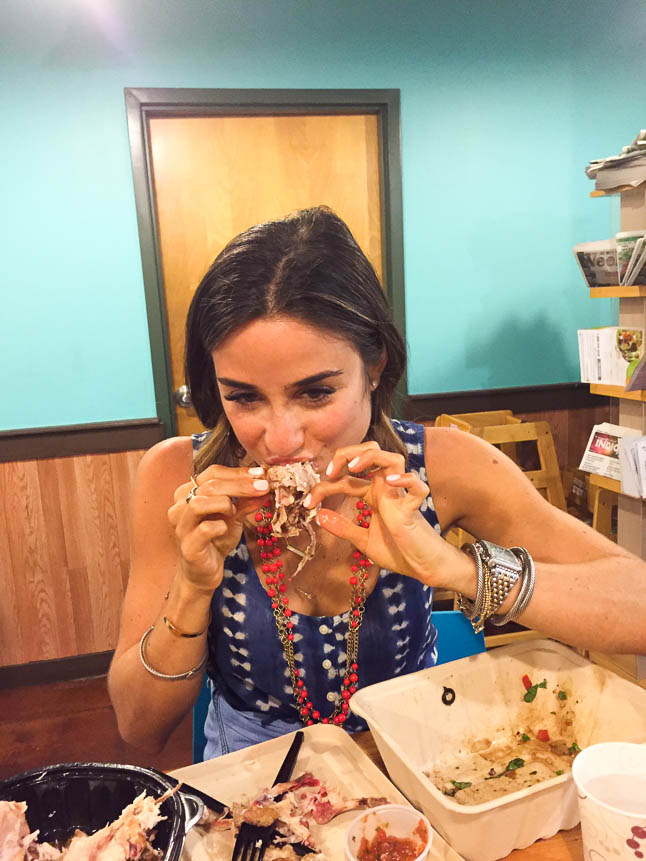 I also got a huge box of veggies. I can never control myself when I am eating there. I end up spending over 20 bucks each time I eat there on veggies alone. It is BAD.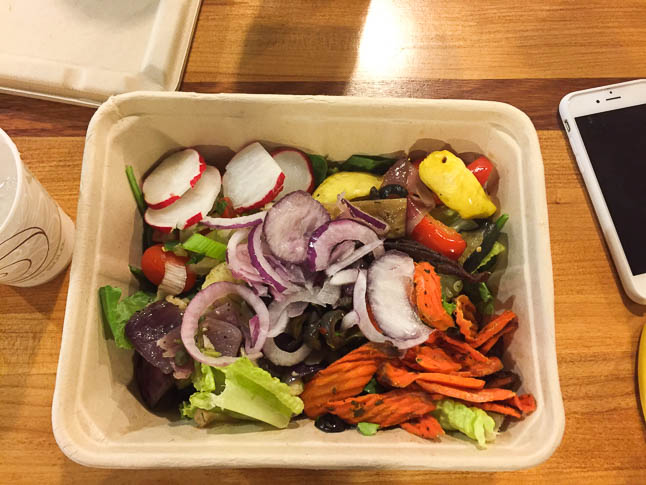 On Monday, we went to a place in Dallas called Snappy Salads. We love that you can add a TON of toppings to it and it is so reasonable! This salad kept me full for a long time, and if you know me, food never fills me up even if it's a lot!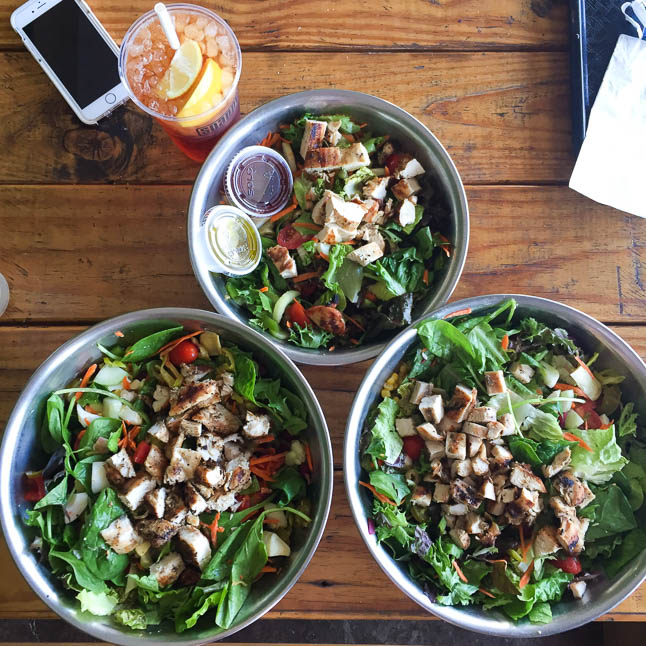 Of course, for dinner on Monday, we went to our favorite Mediterranean spot, Cedars. We sat outside because the weather was gorgeous, and not too hot, for once!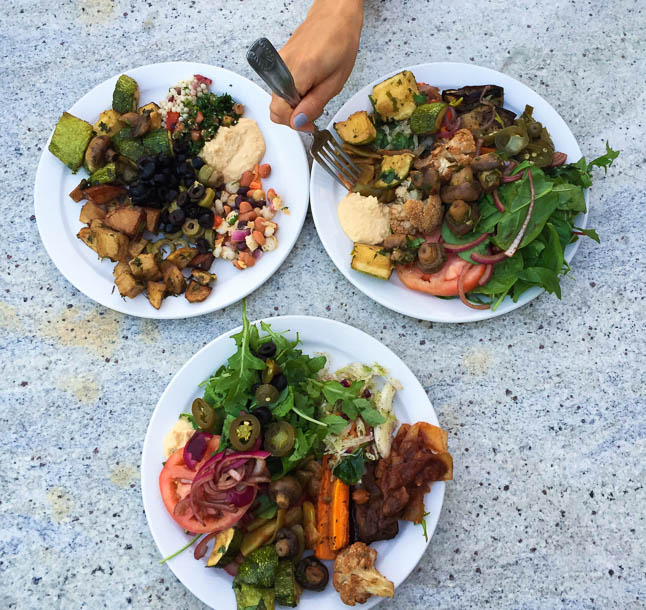 Hope you all enjoyed reading this! Let me know your thoughts. Did you like reading this or should I never share this again, haha?