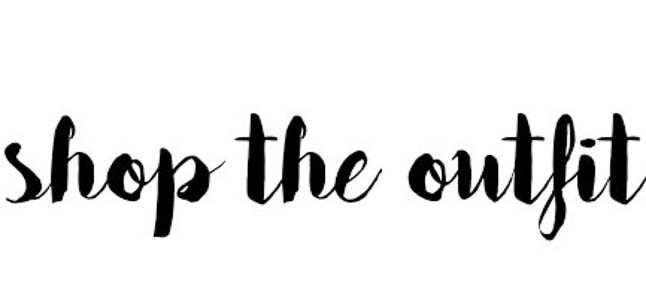 { Orange Tank Similar Here| White Jeans | Lace Up Heels | Donut Bag | Ray Ban Aviators | LIP COLOR : Revlon Colorstay Overtime Lipcolor– "All Night Fuchsia" LOVE this color! | BRACELETS: David Yurman Cable Bracelets here, here, and here and Cartier Dupe Bracelet | RINGS: David Yurman Ring here and here and Diamond Bar Ring and Love Ring and Midi Ring| NECKLACE: Love Necklace and Arrow Necklace| WATCH: Michele Deco Watch }

{
Pink Off The Shoulder Dress
|
Cognac Wedges Similar Here
|
Snakeskin Clutch Similar Here
|
Ray Ban Aviators
| LIP COLOR :
Revlon Colorstay Overtime Lipcolor
– "All Night Fuchsia" LOVE this color!
| BRACELETS: David Yurman Cable Bracelets
here
,
here
, and
here
and
Evil Eye Bracelet
| RINGS: David Yurman Ring
here
and
here
and
Diamond Bar Ring
and
Stackable Pave Rings
and
Midi Ring
| NECKLACE:
Jevelo Personalized Necklace
and
Curved Necklace
and
"LOVE" necklace
| WATCH:
Michele Deco Watch
}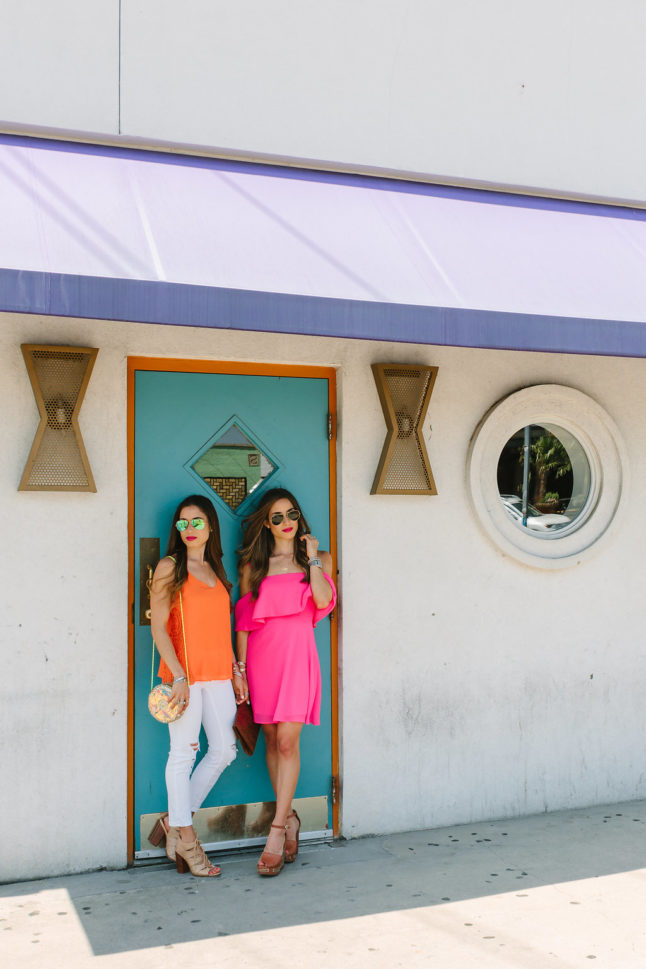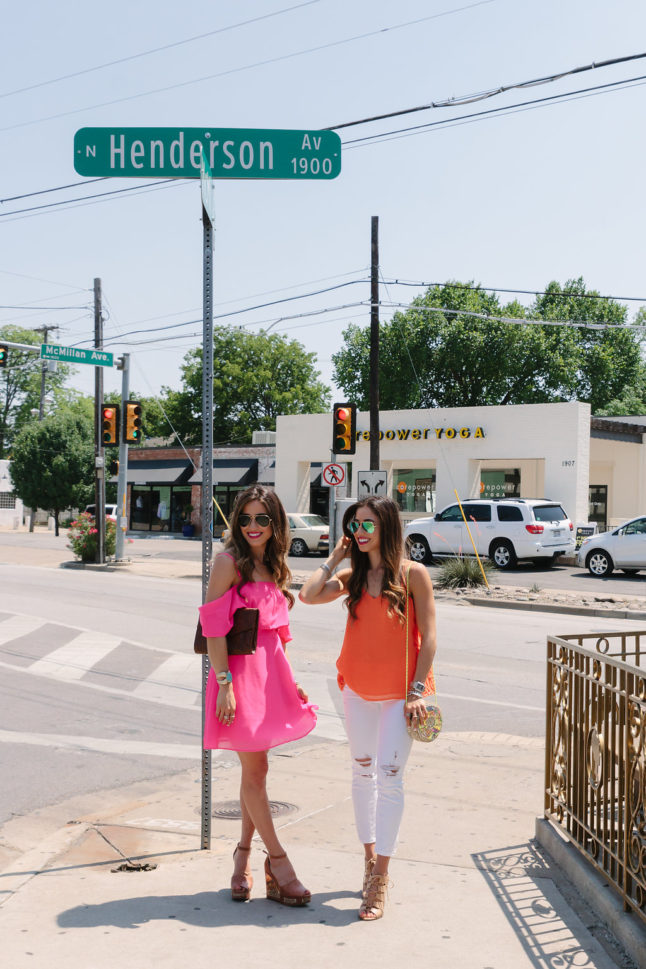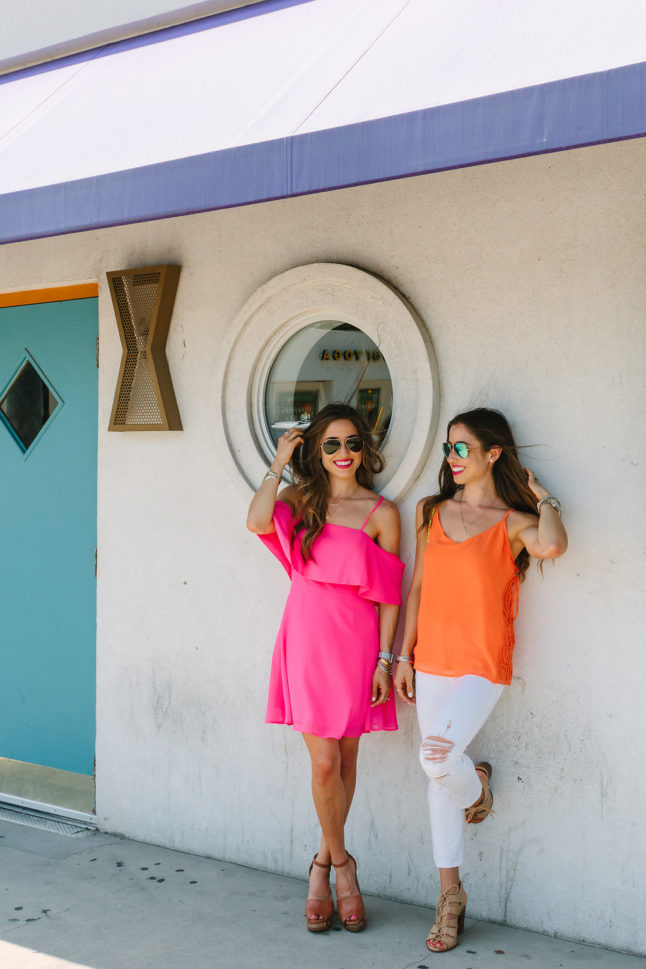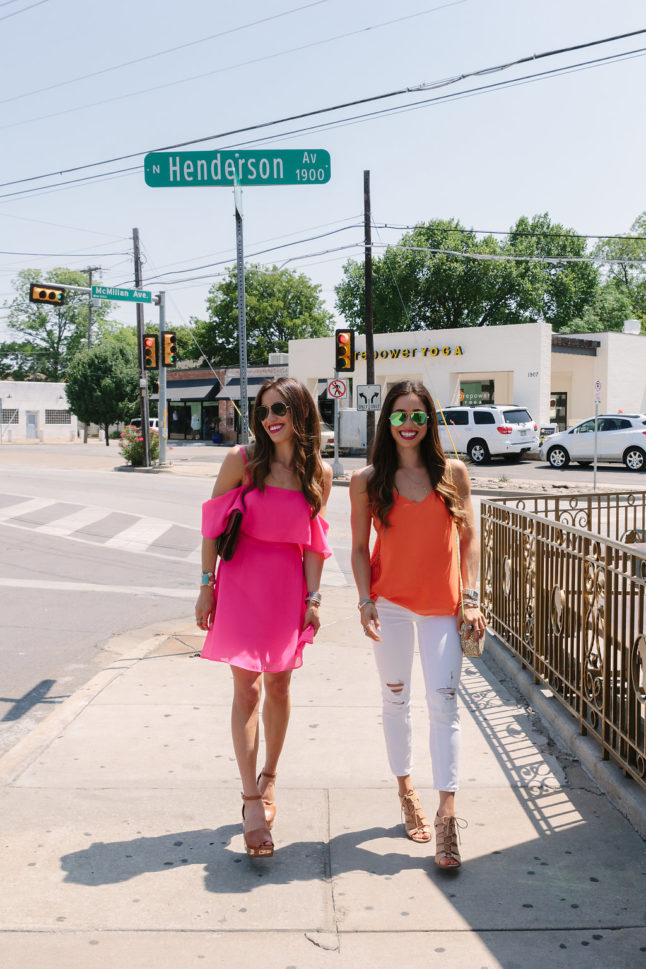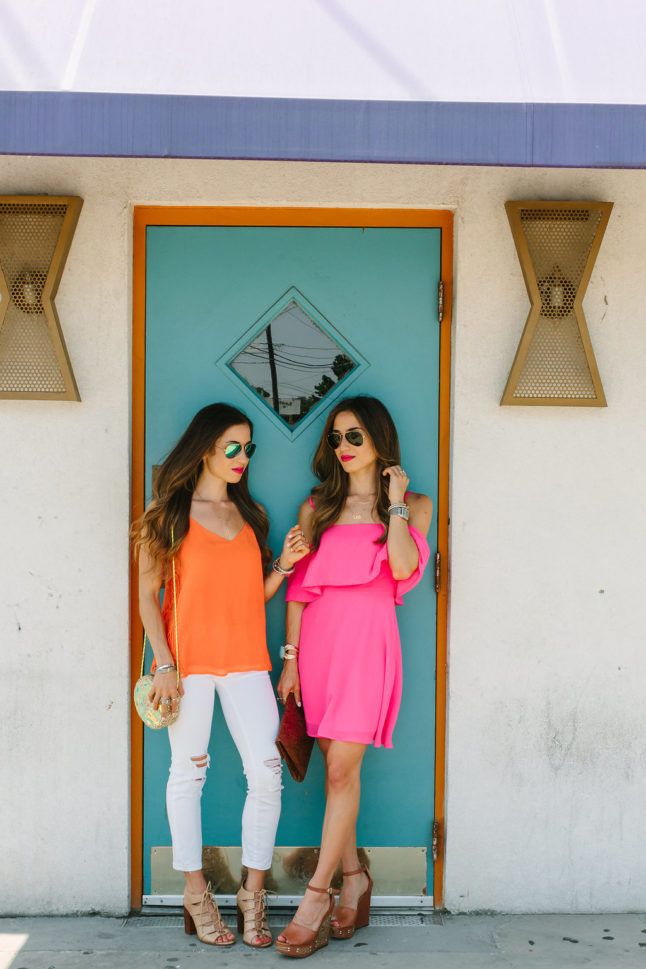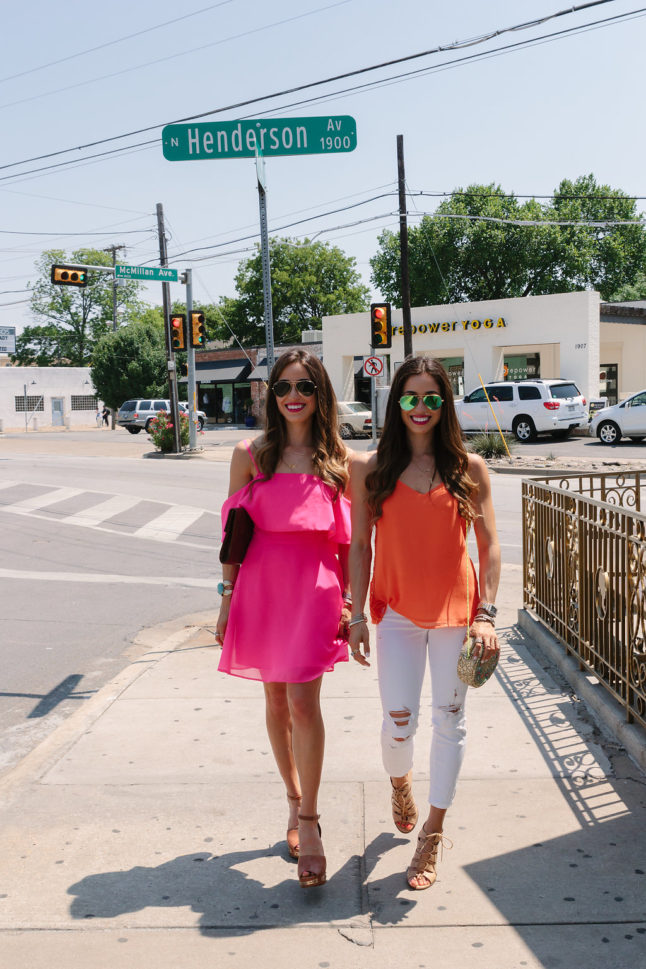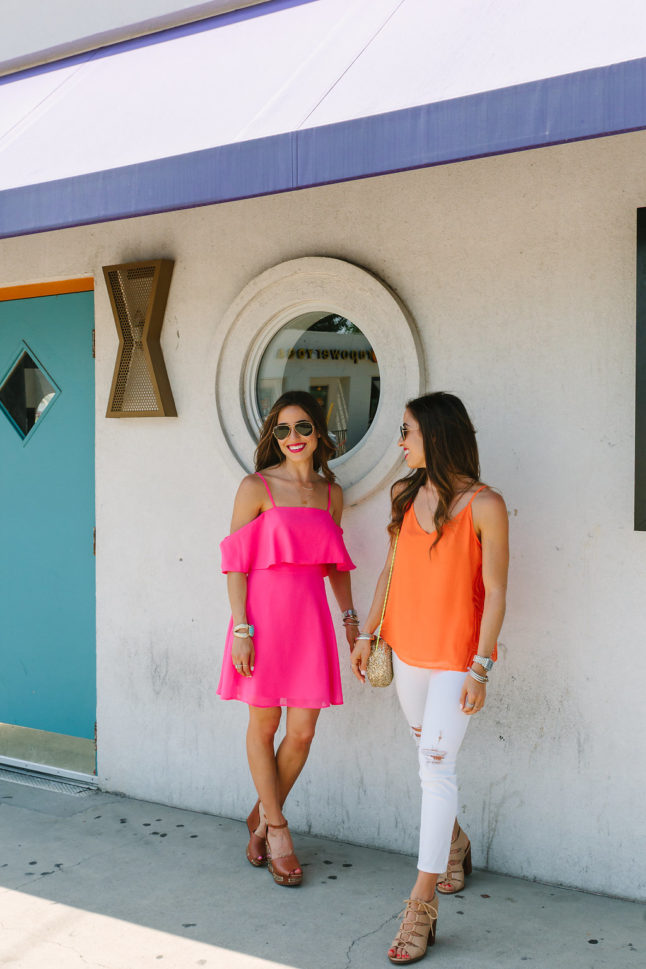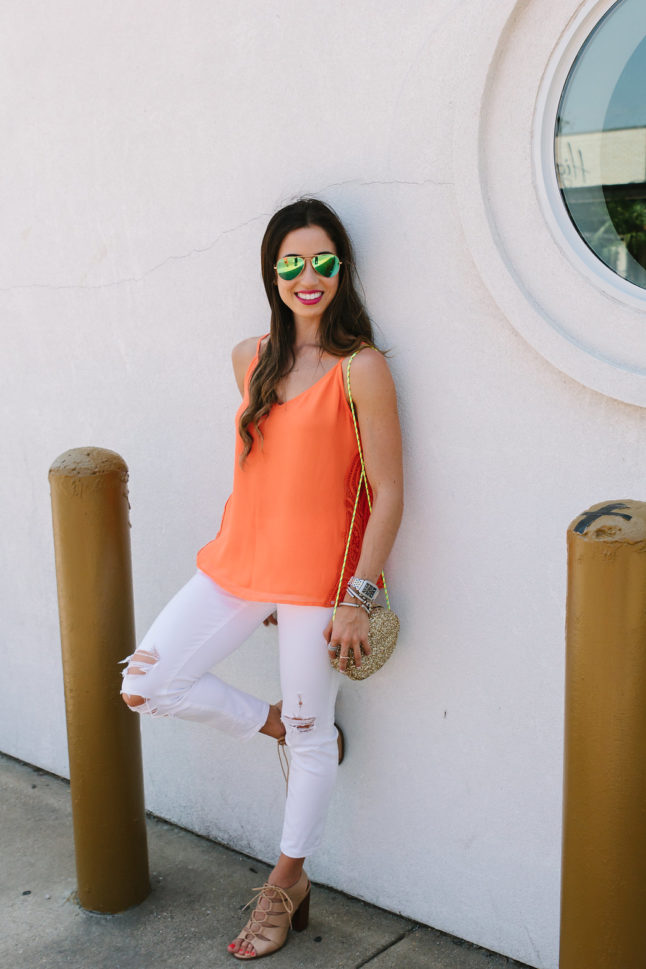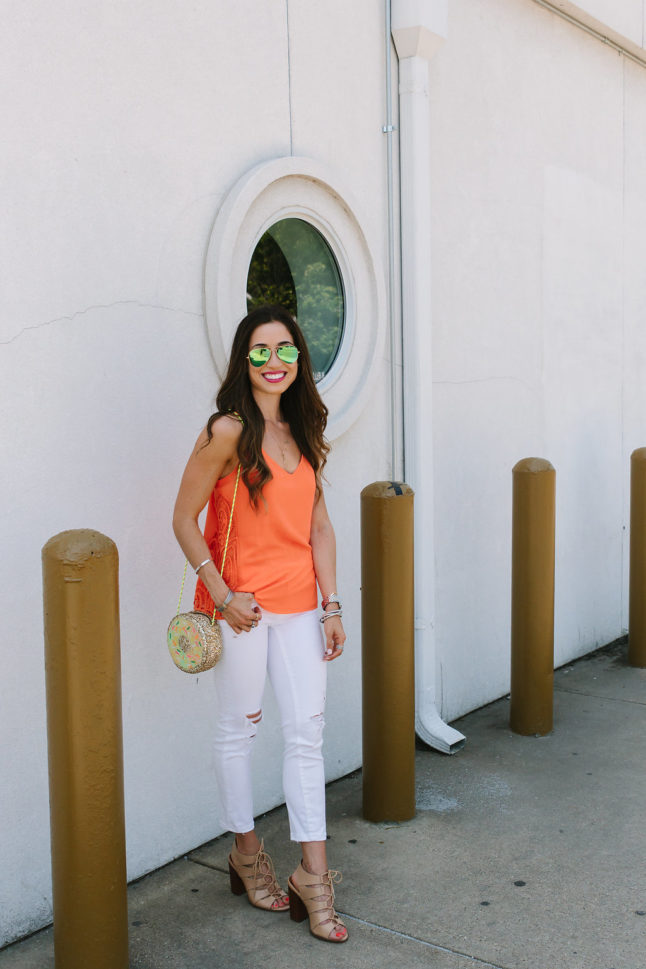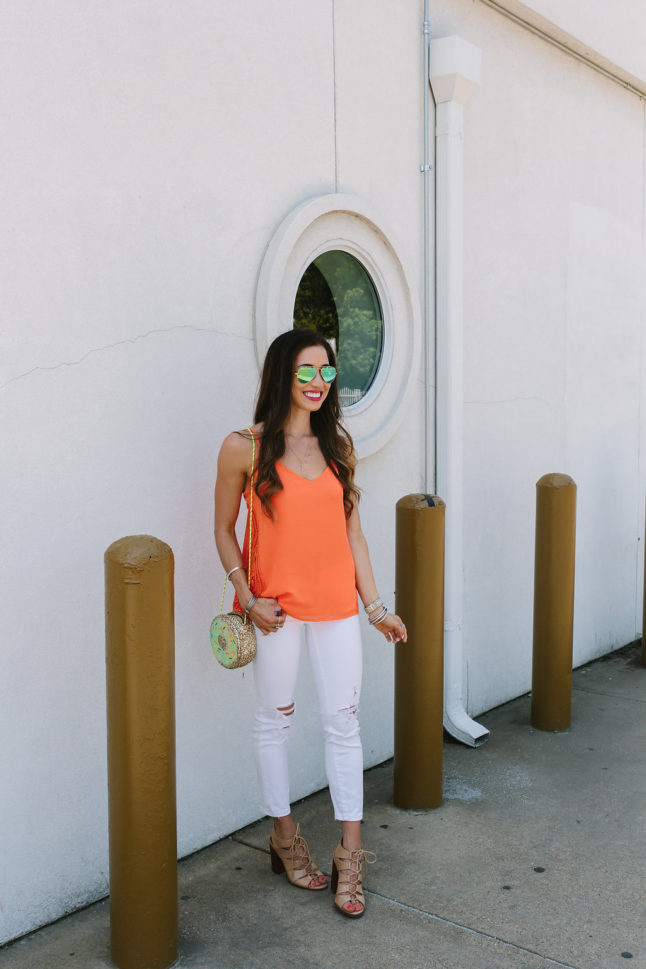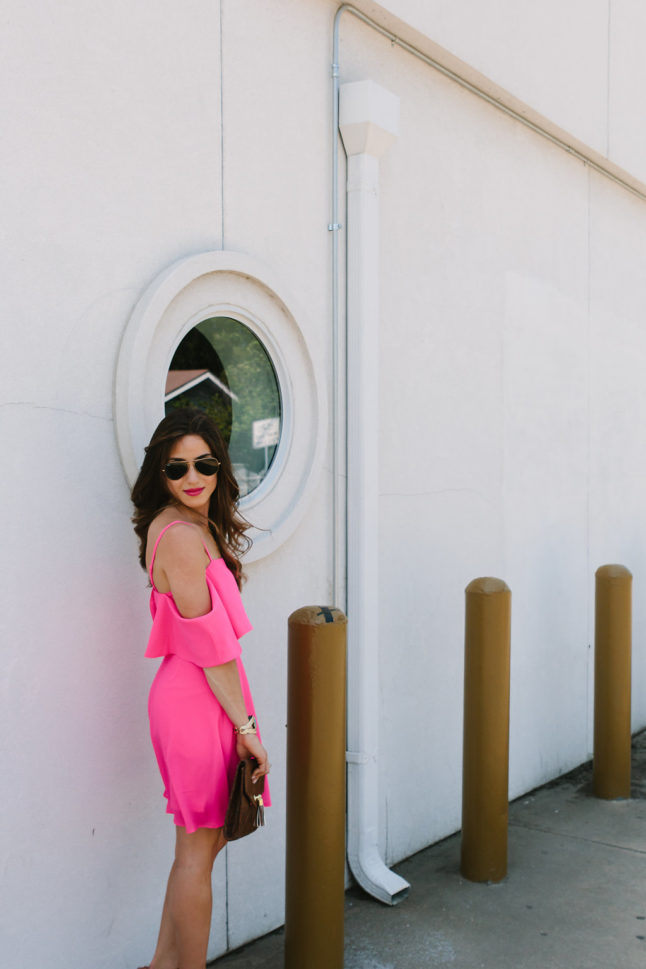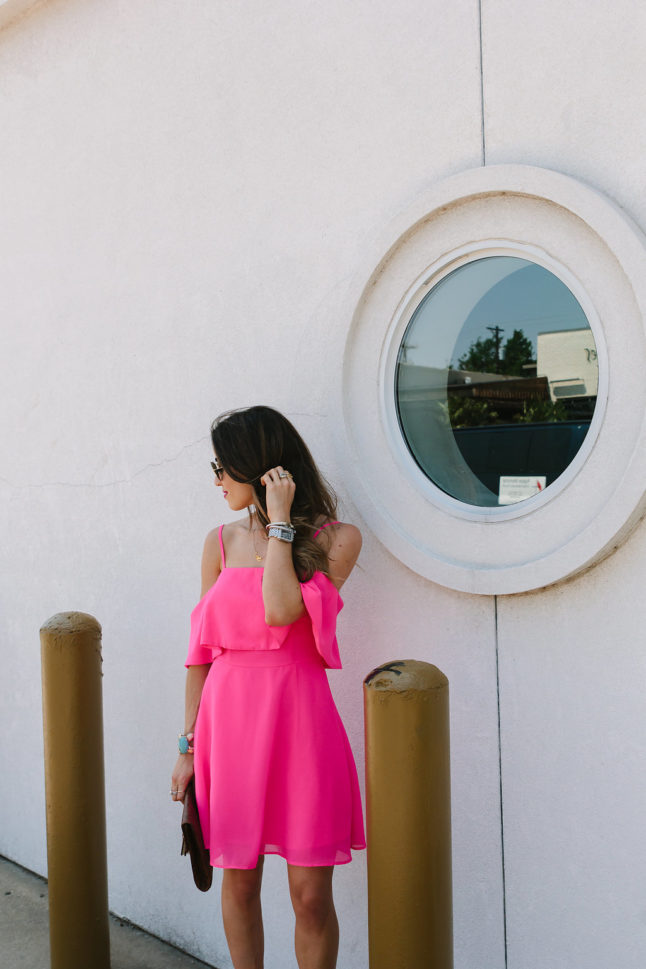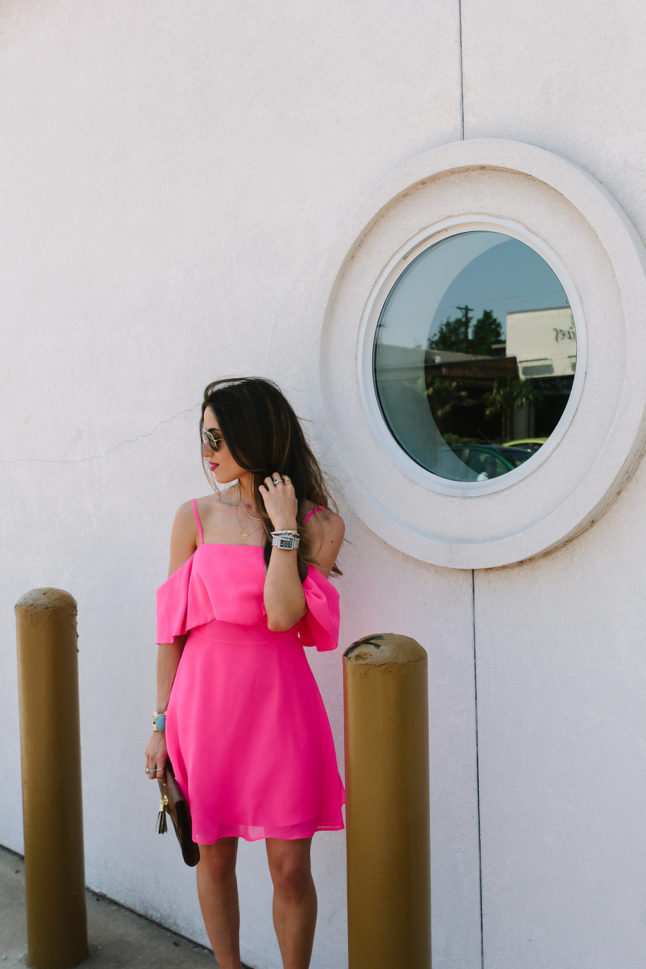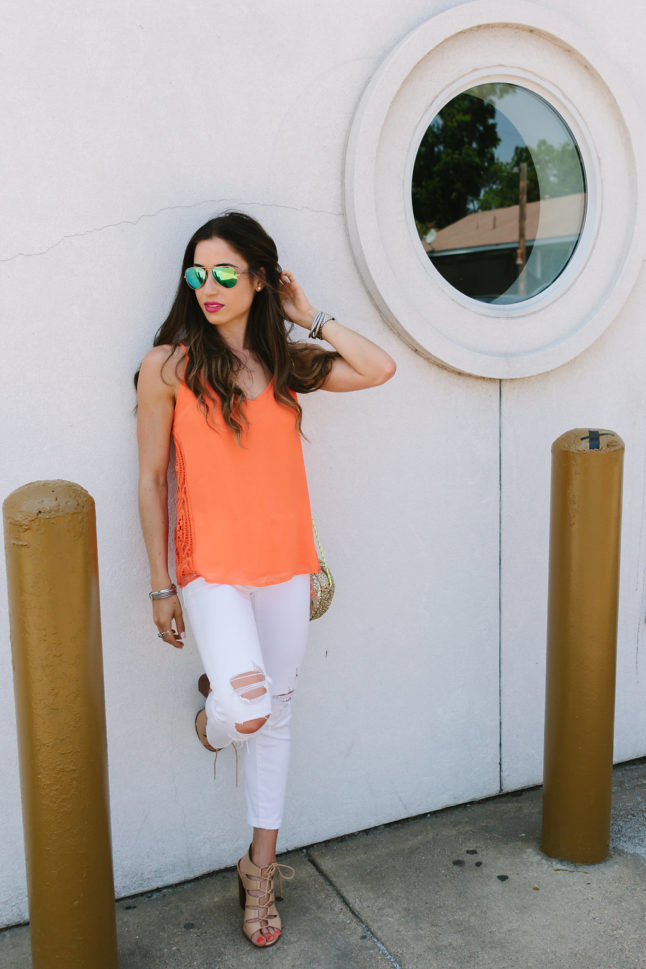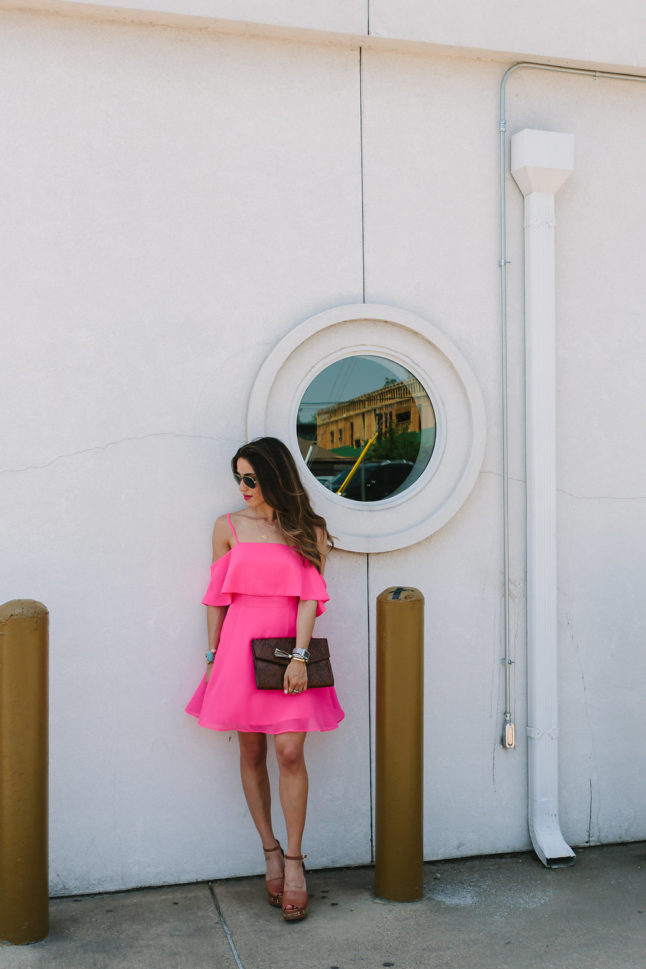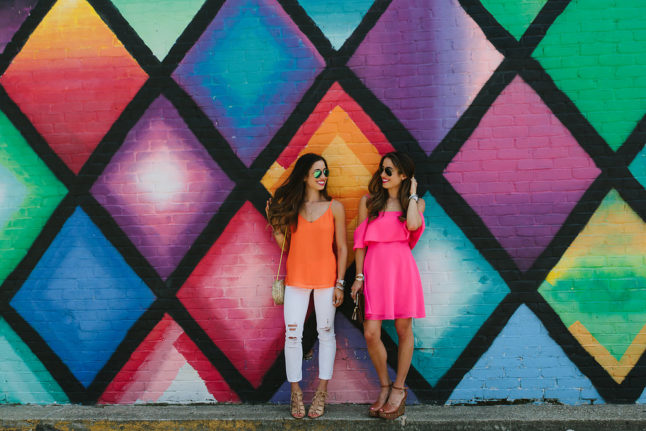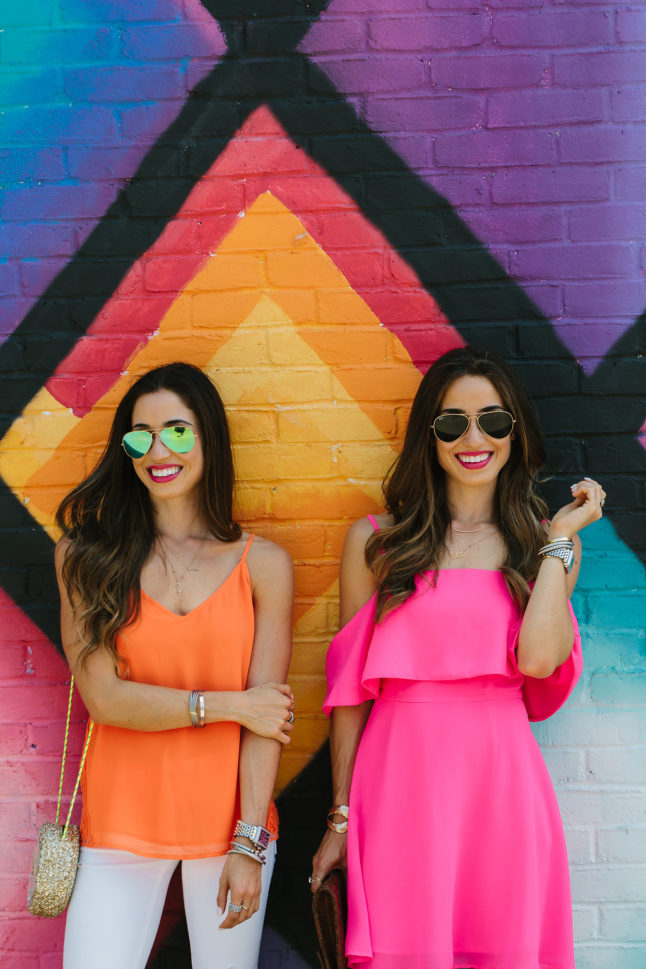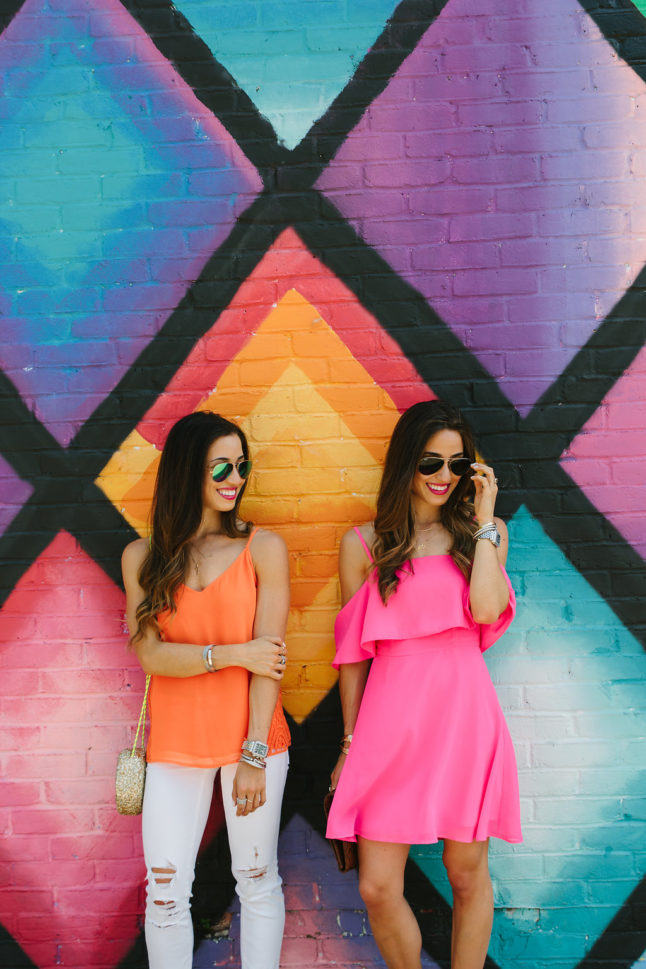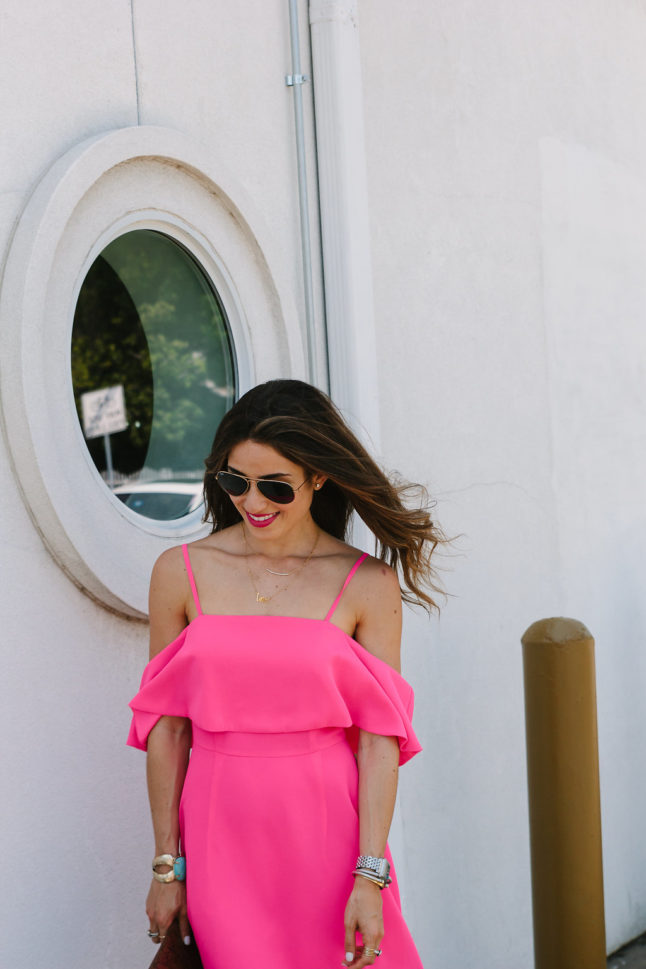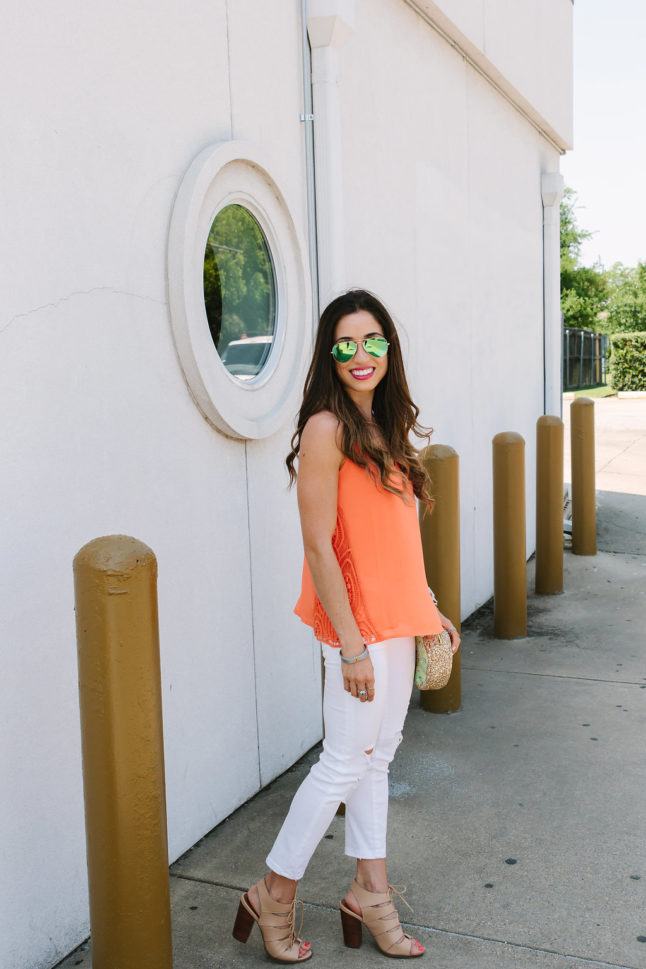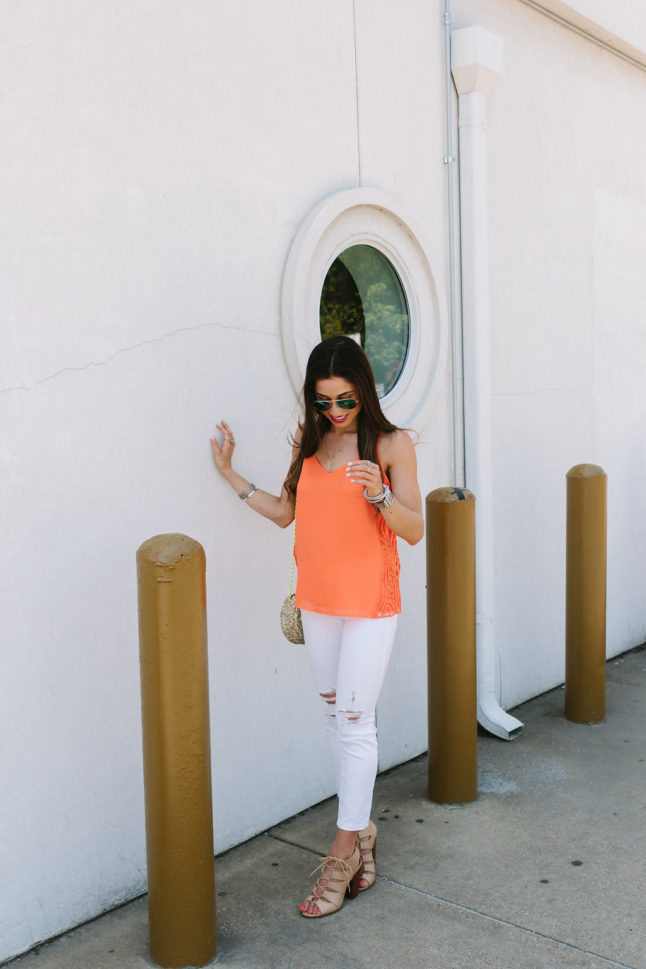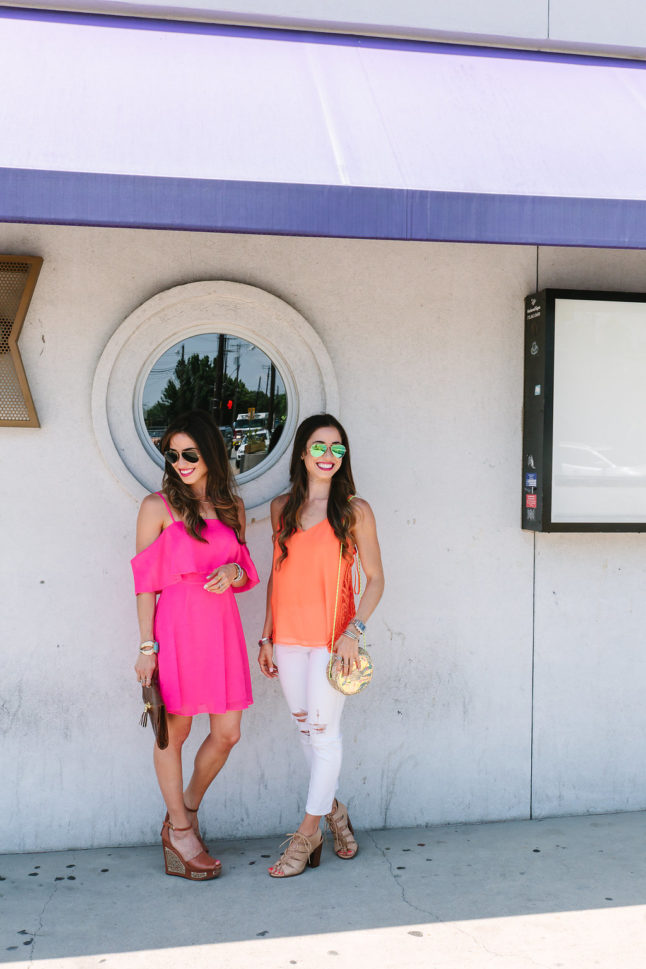 Today is our 25th birthday! I thought it would be fun to do 25 facts about us (some of which you probably will already know if you read the blog regularly)! We are currently in Miami with our mom for a little girls' trip. We are SO excited to RELAX and lay by the beach/pool. Follow along on snapchat [alexis.belbel] and [sbelbel].
Here we go:
We were born 2 months early (preemies) and weighed EXACTLY the same amount when we were born (3lb, 1oz). Guess we knew how to share everything, even when we were babies!
We both have a hearing condition that makes us pretty deaf in our left ears (Sam had it first, and our mom thought for the longest time that she was playing her music too loudly, haha!) Apparently something in your ear hardens, and it causes you to lose hearing. I kid you not, if I am calling her name and she is laying on her left ear, she won't hear me!
We have always been OBSESSED with clothes. We were voted "best dressed" in elementary school and high school.
We have lived together all of our lives, and shared a room growing up and a dorm in college!
We both graduated with the same degree (Management Information Systems from the University of Texas at Austin)! Hook 'em!
We were born in El Paso, TX and grew up there. Our parents moved there initially because our dad was stationed at Ft. Bliss in the ARMY.
We both worked at Ernst & Young out of college (one of us in Fraud Investigation [Sam], and the other one in IT Auditing [Alex]).
We call each other "Sam" and "Alex", and only call each other by our full names when we are pissed off at each other!
In high school and college we used to drink at least 6-8 diet cokes a day.
We used to be gymnasts, but quit because we didn't want to compete.
We are SUPER petite (5'1″) and nobody ever expects us to be that tiny, haha.
We can be extremely reserved and introverted if we don't know anybody. When we were growing up we were SO shy.
I am more open to adventurous things like roller coasters, zip lining, etc, whereas, Sam takes some persuading sometimes.
Growing up, Sam was definitely one of the more organized ones and had PERFECT handwriting, and I was the complete opposite.
I (Alexis) am an extreme germaphobe and apply hand sanitizer a million times a day.
We both got diagnosed with Hypothyroidism our Senior year of college at the same time and that is how we got into eating healthier and working out.
People NEVER think we will eat as much as we do. We order a ton of food at restaurants and they give us this look like, "You're not going to finish that," and I love seeing their faces when they clear off the clean plate.
At least once a day, someone thinks we are under the age of 16. At least that will work in our favor, right?
We have never been in a long-term relationship at the same time. One of us is always in a serious relationship, and the other one is single, so that definitely is tough sometimes.
We frequently find ourselves standing in front of the fridge at midnight snacking on food. I am not joking, it happens almost every night.
We love to travel. We have been to Europe, and are dying to go back to Italy again. We also would love to go to Australia and Greece!
We are super close with our parents and are their only kids. We always wanted a brother, but sometimes we are glad it is just the two of us;)
We have a major addiction to sweets, especially waffles, which is exactly how we came up with our food product, Double Dose Bakery.
We fight pretty much 24/7, but get over it in 2 minutes.
We ALWAYS overpack. No matter what. I just have an issue deciding what I want to wear ahead of time.
I am sure I could write pages of these, so if there is anything else you all want to know, feel free to reach out!
Thanks for stopping by! Xo