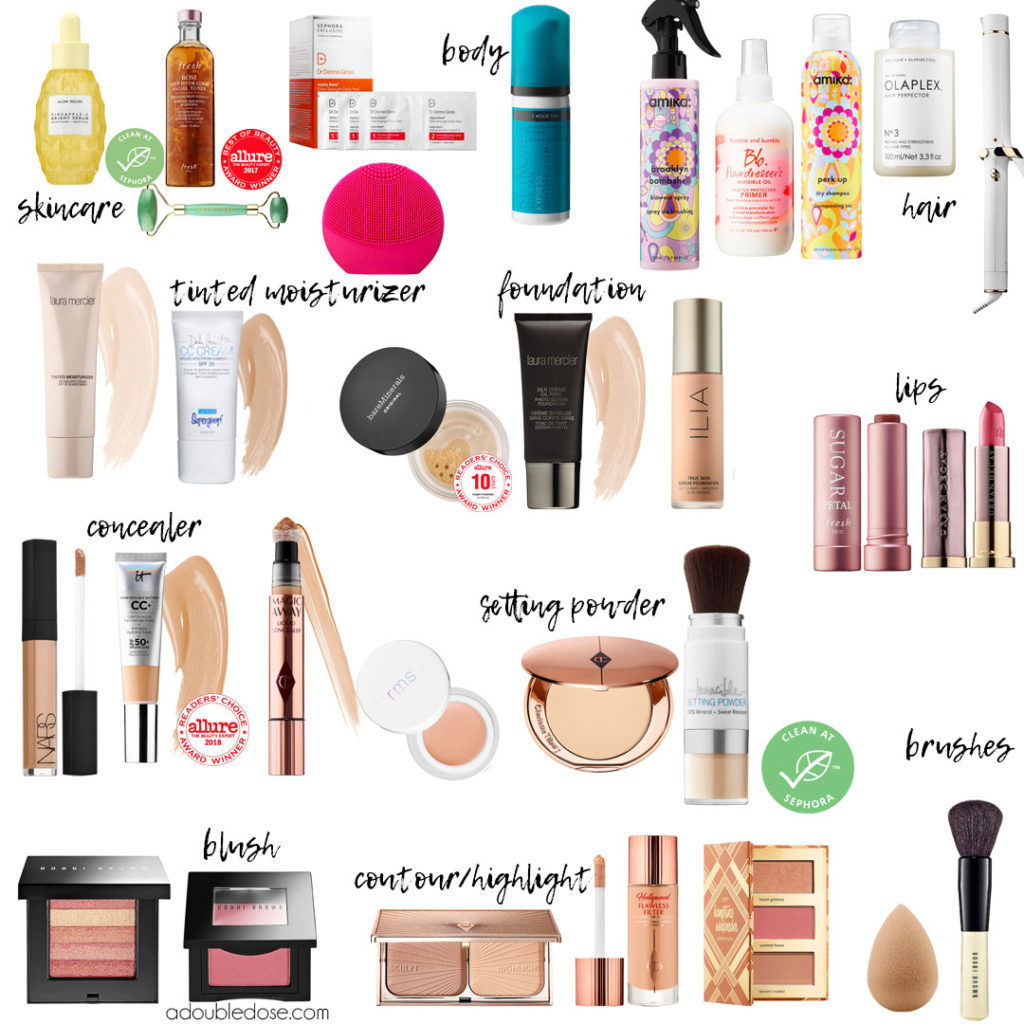 The best beauty retailer, Sephora, is having a BIG sale through Monday! Great time to stock up on all of the best beauty products that never go on sale.

See the codes below on how to enter at checkout! You can save up to 20% off!
We wanted to highlight a few of our MUSTS from each category:
FOUNDATION/CONCEALERS:
We use this Laura Mercier Foundation in "cashew beige" most days. It is oil-free, so it doesn't make you look super greasy, and has a matte finish.
This ILIA foundation is a great "clean beauty" foundation.
This IT Cosmetics CC+ Cream has SPF50 and has amazing reviews! We have't tried yet, but we are going to soon.
For concealer, we ordered this Charlotte Tilbury Magic Away Concealer. It has gotten amazing reviews, so we can't wait to test it out!

HIGHLIGHTING/COUNTORING:
We use this Tarte palette every day for a light contour and highlight!
This Charlotte Tilbury palette is a great option, too. Had amazing reviews and some of our friends swear by it!
Our makeup artist used this Charlotte Tilbury Flawless Filter on us and we LOVED how glowy and dewy it left our skin!
We use this Bobbi Brown blush in "Sand Pink".

HAIR:
This Amika dry shampoo is our go to! Smells amazing!
For heat protection, we love this Amika blowout spray and this Bumble & Bumble Spray.

LIPS:
We use this Sugar lip balm in the "petal" color! Super moisturizing and made with great ingredients!
For lipstick, we wear this Urban Decay one in "naked".

SKIN:
This Pineapple Glow Recipe serum is amazing. Filled with vitamin c, clean ingredients, and smells amazing!
We use this St. Tropez self tanner ALL of the time. The express one is great and will get you super bronze!
We just got this GloPRO microneedling set and CAN'T wait to try it! Have read nothing but great things!

SHOP ALL OUR BEAUTY BUYS WITH DESCRIPTIONS BELOW: