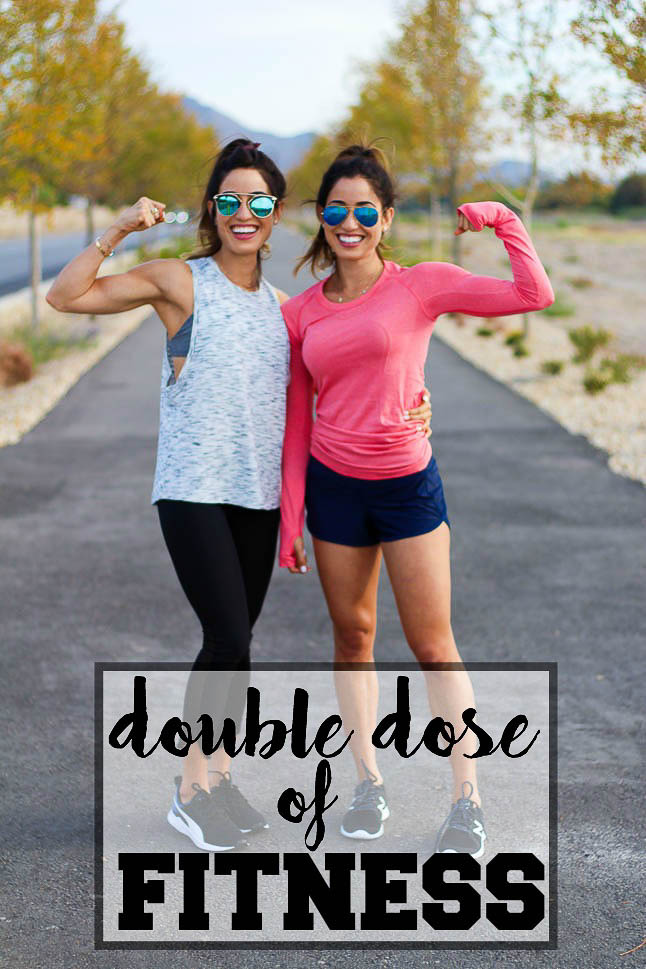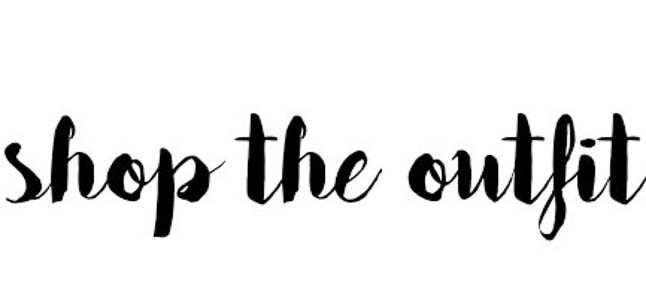 { Swiftly Tech Long Sleeve Crew | Speed Short Mesh | Cardio Squad Tank II | Mesh Leggings Similar Here and Here | Free To be Zen Bra | Sunglasses }

Hope y'all aren't getting tired of these posts! A lot of y'all have said how much you look forward to these, so we will keep writing them!:)
In case you missed some of the previous posts, you can check out some of them here and here! Below, you will find videos, several of our workouts from the week, as well as a breakfast, lunch, and dinner recipe that we have tried or are planning on making this week!
As far as cardio goes,we will do anywhere from 30-45 minutes of cardio, usually on the stair master, followed by weight training (each muscle group a different day). Every body is different, and you definitely don't need to do that much cardio each day, just whatever you feel up to, or feel like you can handle at this time! We used to do ZERO, so just find what works best for you!
Since we have gotten good response from our two previous cardio workouts, we decided to share another cardio workout for y'all!
This week, we are sharing an at-home cardio workout, along with a shoulder workout.
This is the shoulder workout we just did the past weekend!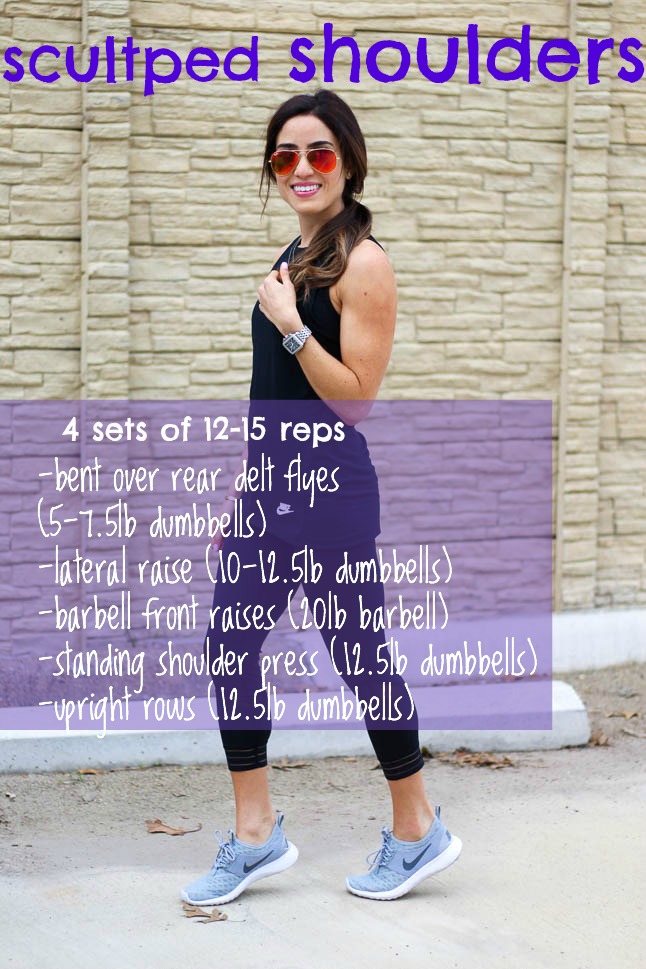 Here is the at-home cardio workout, or anywhere cardio workout!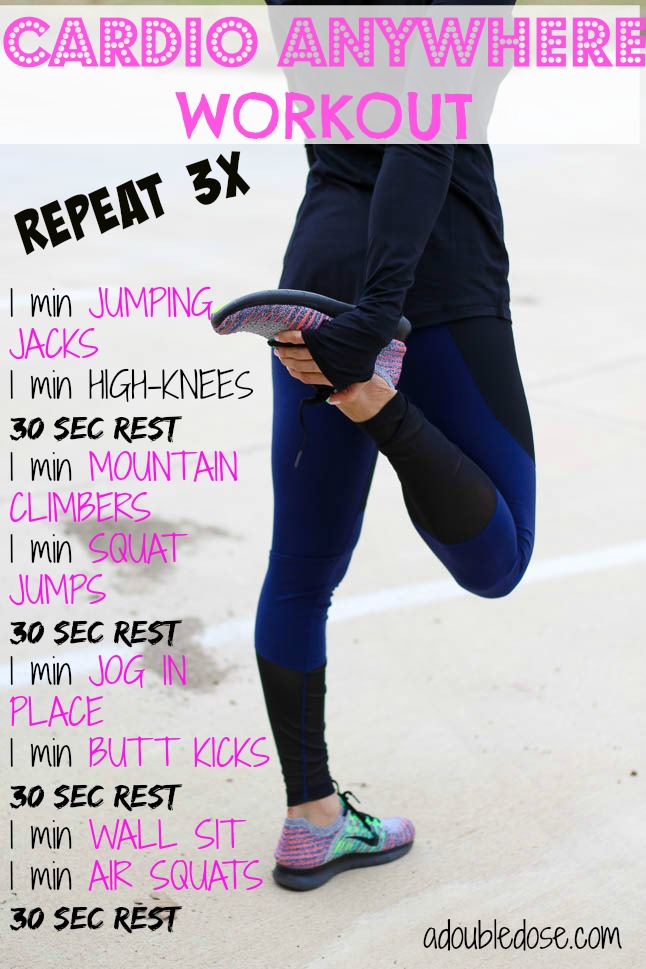 Below are some workout pieces we are loving this week [click each item to shop it directly!]:

See videos for each exercise listed above further down in the post!
For SHOULDERS:
Bent Over Rear Delt Flyes:
Lateral Raise:
Barbell Front Raise:
Standing Shoulder Press:
Upright Rows:
In case you all did miss it in last week's post, we have did a post on what we eat in a day here! last week! We do eat mostly paleo due to our hypothyroidism condition. In case you missed it, we shared why we avoid certain foods.
As far as cooking and meal prepping, we like to have some kind of protein prepped for the week, like grilled chicken or salmon baked in the oven. That way, we can just add it to salads or veggies for lunch or dinner in 5 minutes! Nobody wants to have to come home and make a full meal, right?
This blueberry breakfast cake can be made paleo, and is loaded with protein! This is definitely on our must-make list!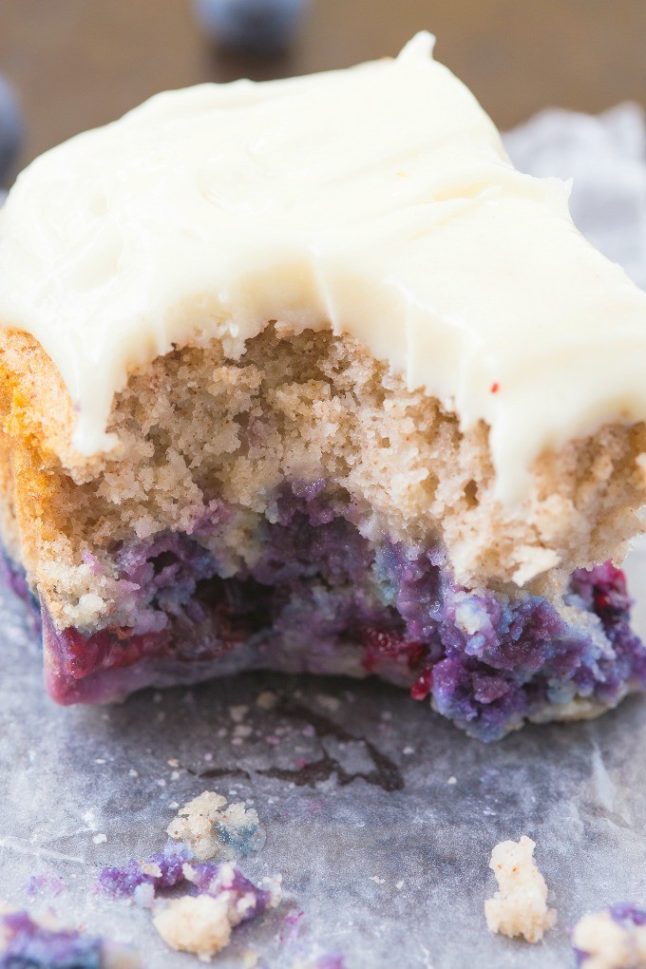 Blueberry Breakfast Cake
Serves: 4 servings
INGREDIENTS
For the Gluten Free/Vegan/Flourless version:
2 cups gluten free rolled oats, ground into a flour
1/2 cup coconut palm sugar (use stevia or a sugar free baking blend to keep sugar free)
1 tbsp baking powder
pinch sea salt
1 cup dairy free milk
1 flax egg (can sub for 1 large egg if not vegan)
1 tsp vanilla extract
6 tbsp nut butter of choice, melted (I used smooth cashew butter)
1/4-1/2 cup blueberries
For the Paleo Version:
1/4-1/2 cup blueberries
4 large eggs, whisked lightly
vanilla extract
1/4 cup cashew butter (can sub for almond butter or coconut oil)
1/4 cup maple syrup (can sub for honey or agave)
1/2 tsp baking soda
1 cup unsweetened applesauce
1/2 cup coconut flour
For the protein frosting:
Dairy free milk to form batter
1-2 tbsp nut butter of choice (optional)
1-2 tsp granulated sweetener of choice (optional)
3 scoops vanilla protein powder (see recommendations above)
For the coconut butter frosting:
4-6 tsbp coconut butter, melted
2 T granulated sweetener of choice
Dairy free milk to thin out
INSTRUCTIONS
Preheat the oven to 350. Grease a loaf pan or 8 x 8 baking dish with cooking spray and set aside.
In a large mixing bowl, combine the dry ingredients and mix well.
In a small bowl, whisk the milk, vanilla extract and egg/flax egg. Pour into the dry mixture. Add the melted nut butter (and honey and applesauce for paleo option) and mix very well until a batter is formed.
Divide the batter in half. In one half, fold through the blueberries.
Pour the blueberry filled batter to evenly cover the baking tray or loaf pan. Top with the other half of the batter. Bake for 25-30 minutes, or until golden brown on top and a toothpick comes on clean. Remove from oven and allow to cool completely before serving or frosting, if desired.
This one-pan meal is super easy to make and has tons of flavor (and leftovers!)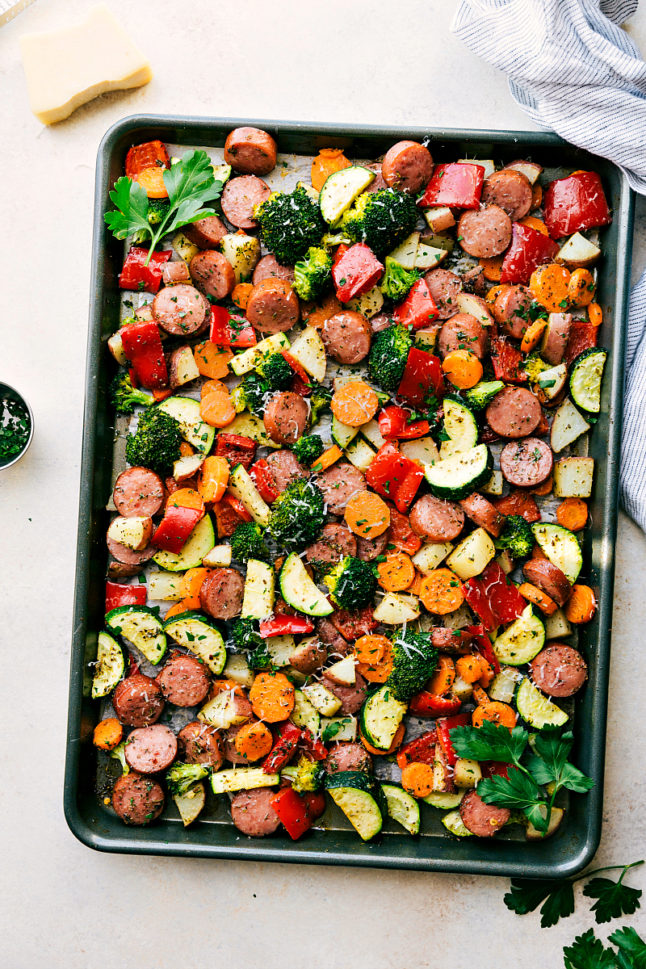 One-Pan Italian Sausage and Veggies
Serves: 6 servings
INGREDIENTS
2

large

carrots

2

red potatoes

1

small-medium

zucchini

2

red peppers

1

head

broccoli

16

ounces

Italian Turkey or Chicken Sausage

1/2

tbsp

of

dried basil, dried oregano, dried parsley, garlic powder

1/2

tsp

of

onion powder, dried thyme

1/8

tsp

red pepper flakes

4 tbsp

olive oil

salt and pepper
INSTRUCTIONS
Preheat the oven to 400 degrees F. Line a large sheet pan with parchment paper or foil (easy clean-up) and set aside.
Prep the veggies: *It is important to prep the veggies according to directions to ensure they all cook at the same time*
Peel and very thinly slice the carrots. Wash and (if desired peel, we love the peel on) chop the red potatoes. You want the pieces quite small here. (I halve the potatoes and then cut each half into 10-12 pieces)
Halve the zucchini and then cut *thick* coins of zucchini. Coarsely chop the broccoli. Remove the stems and seeds from the peppers and chop into medium-sized pieces. Chop the sausage into thick coins.
Pour all the veggies and sausage on the sheet pan.
In a small bowl combine all of the seasonings and salt and pepper if desired (I use about 1/8 teaspoon pepper and 1/2 teaspoon salt) with the olive oil. Stir to combine.
Pour the seasoning & oil mixture on top of the veggies and sausage and thoroughly toss to coat.
Place in the heated oven for 15 minutes. Remove and toss around the veggies + sausage and return to the oven for another 10-20 minutes or until veggies are crisp tender.
Remove and serve on top of rice or quinoa if desired. (Also great plain!)
Recipe + photos via Pinterest
www.chelseasmessyapron.com
These chicken lettuce wraps are a copycat recipe from PF Changs. If you didn't order these wraps, you were not cool;) You could serve these with extra veggies on the side!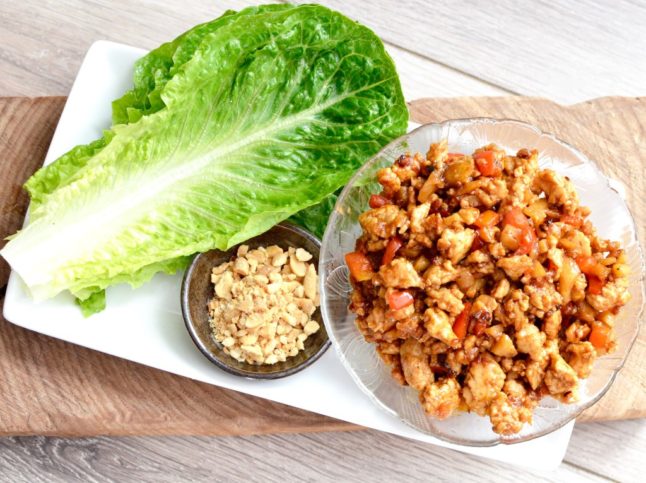 Chicken Lettuce Wraps
Serves: 4 servings
INGREDIENTS
1 lb ground chicken
1 tbsp peanut oil
½ onion, minced
1 cup red or green pepper, diced
1 8 oz can water chestnuts, drained and minced
Sauce:
3 tbsp soy sauce or liquid aminos
3 tbsp hoisin sauce
1 tbsp sesame oil
1 tbsp rice vinegar
1 tbsp peanut butter
1 tbsp honey
2 tsp sweet chili sauce
½ tsp garlic powder
¼ tsp powdered ginger
Topping:
¼ cup peanuts, crushed
Lettuce or your favorite Asian salad
INSTRUCTIONS
Whisk together sauce ingredients until well combined. If you use a firmer peanut butter you may need to microwave the mixture for 30-60 seconds in order to melt it and ensure everything is well-mixed.
Heat 2 tbsp peanut oil in a frying pan.
Once hot, add ground chicken.
Cook until some pieces are starting to brown. Add onion and cook for 5 minutes or until the onion is becoming translucent.
Add the peppers and water chestnuts and cook about 5 minutes or until peppers are becoming soft.
Add sauce and simmer on low heat until the chicken and veggies are evenly coated and everything is heated through.
Serve in lettuce leaves, on top of your favorite Asian salad, or over noodles or rice!
www.joyfoodsunshine.com
Also, be sure to check our Pinterest to see more healthy recipes + workouts!