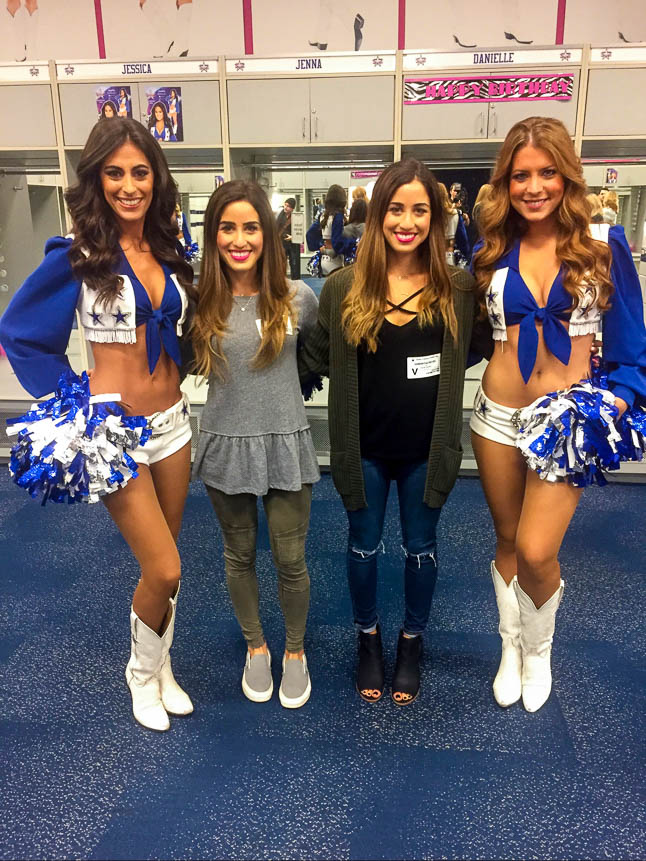 Last week, we had the incredible experience of getting to tour both AT&T Stadium in Arlington and The Star in Frisco! Living in Dallas, you can't not be a Dallas Cowboys fan. We are not originally from Dallas, but have become Cowboy fans since moving here. After getting to tour both facilities, we are even bigger fans than we were before!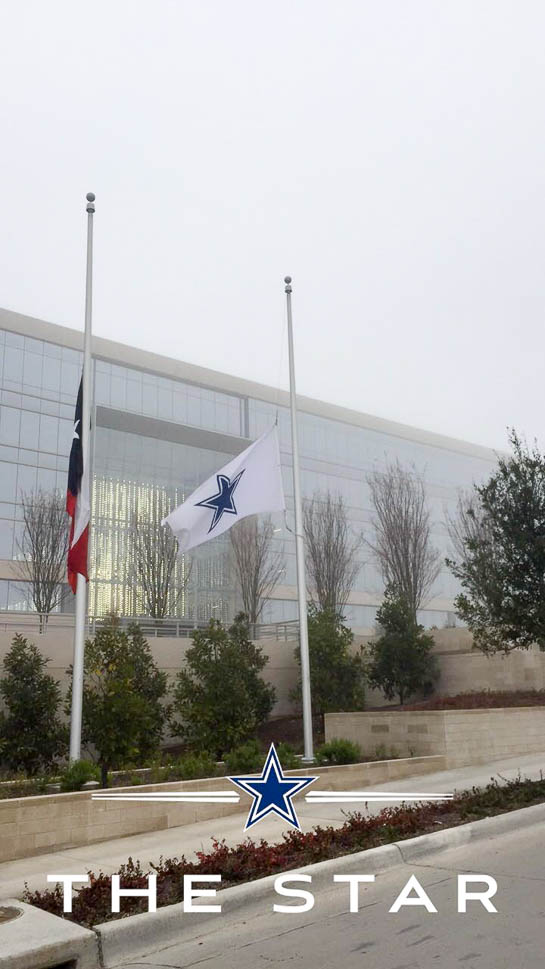 Even if you've had the chance to visit AT&T Stadium for a game, you probably didn't realize how much a role AT&T plays in the incredible technology at the stadium!
We started off our day getting to tour The Star in Frisco, which is the Dallas Cowboys' world headquarters. It houses the corporate offices and practice facility for the team, as well as the Ford Center, which has a state-of-the-art indoor football stadium that hosts a variety of events, an entertainment district lined with restaurants and shops, the Omni hotel, a medical center and more.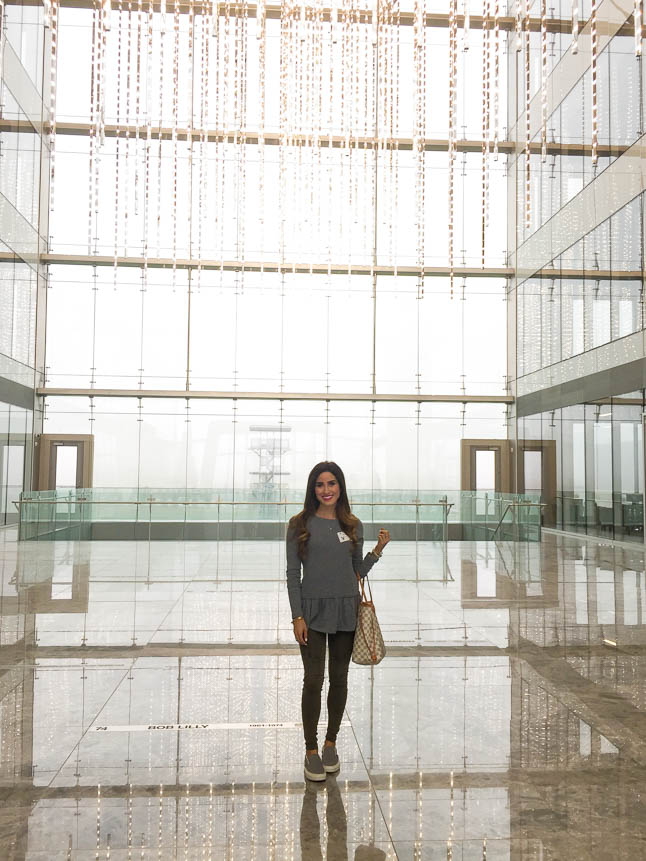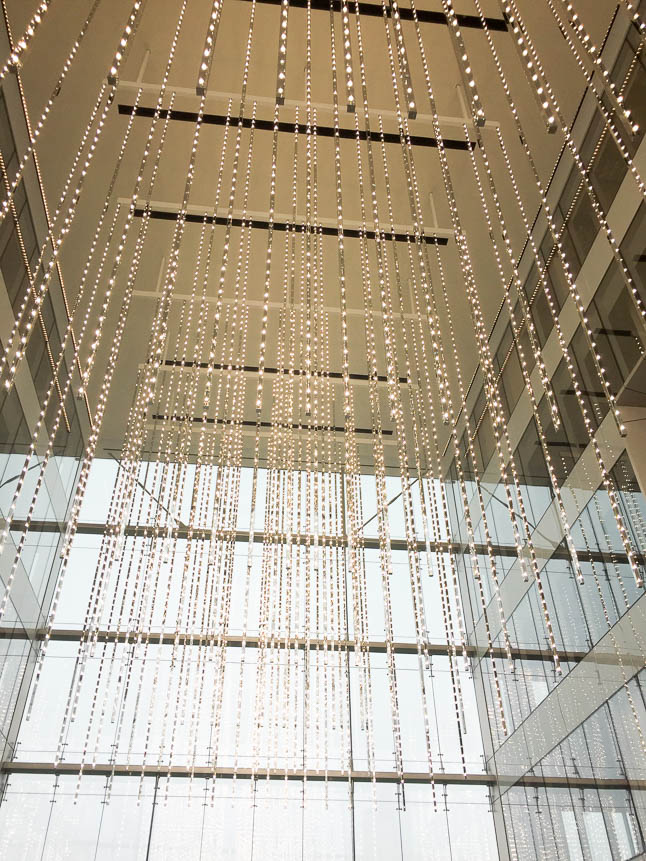 Upon entering The Star, in the Grand Atrium, there are these incredible dancing LED lights hanging from the ceiling. There are also names and quotes from Dallas Cowboys' players on the floor, which is really neat!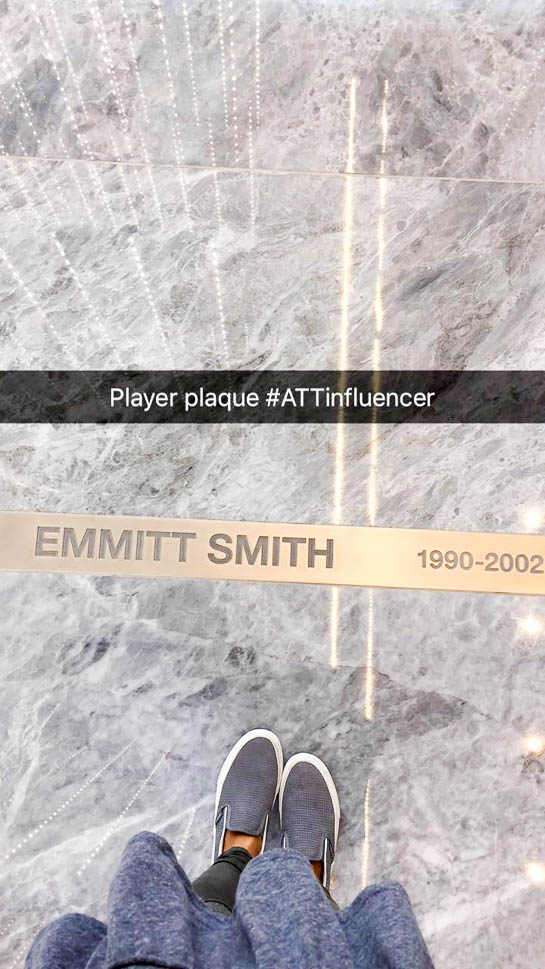 They also have Super Bowl Memorabilia & Station, which has a display of all five Super Bowl Trophies and Rings from the years of 1971, 1977, 1992, 1993 and 1995.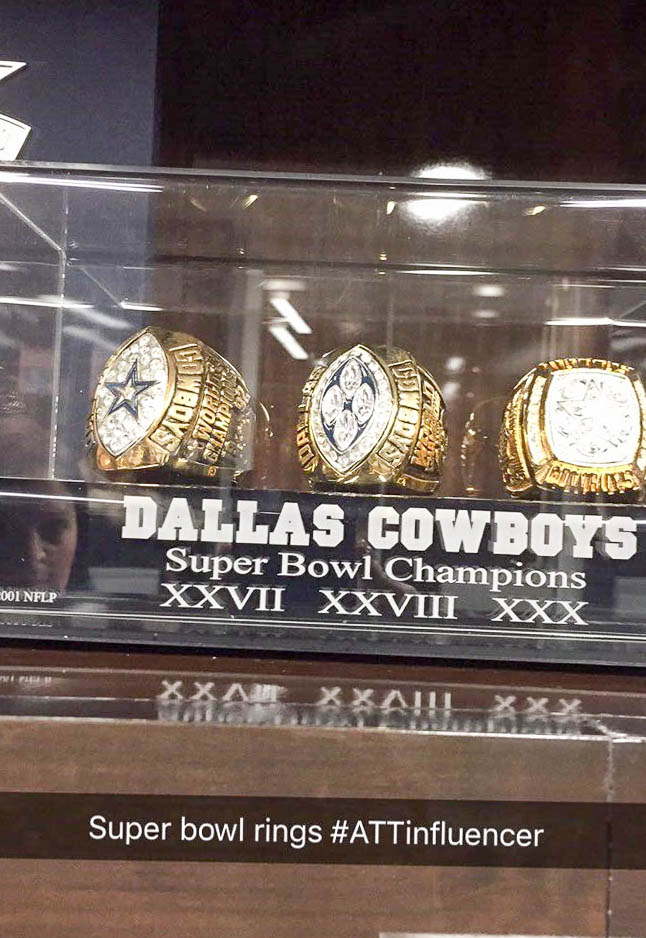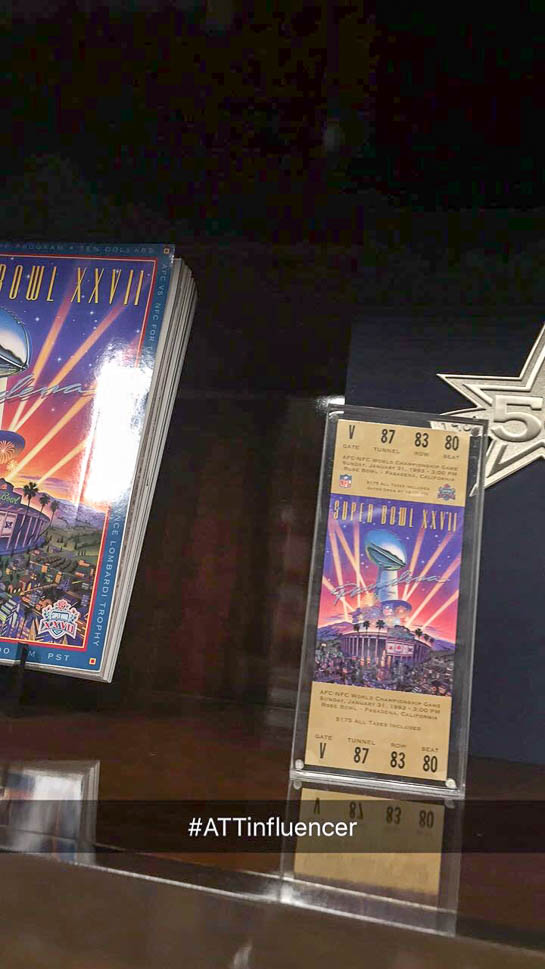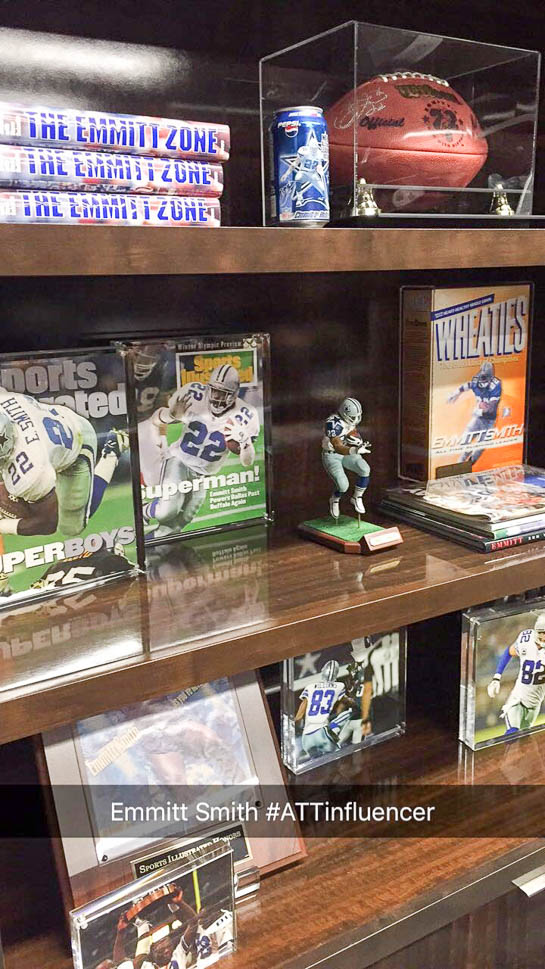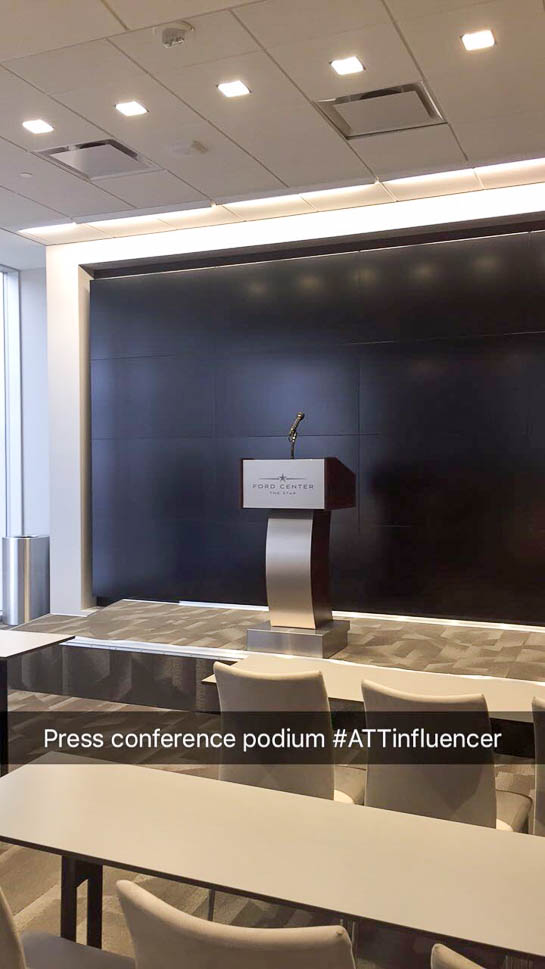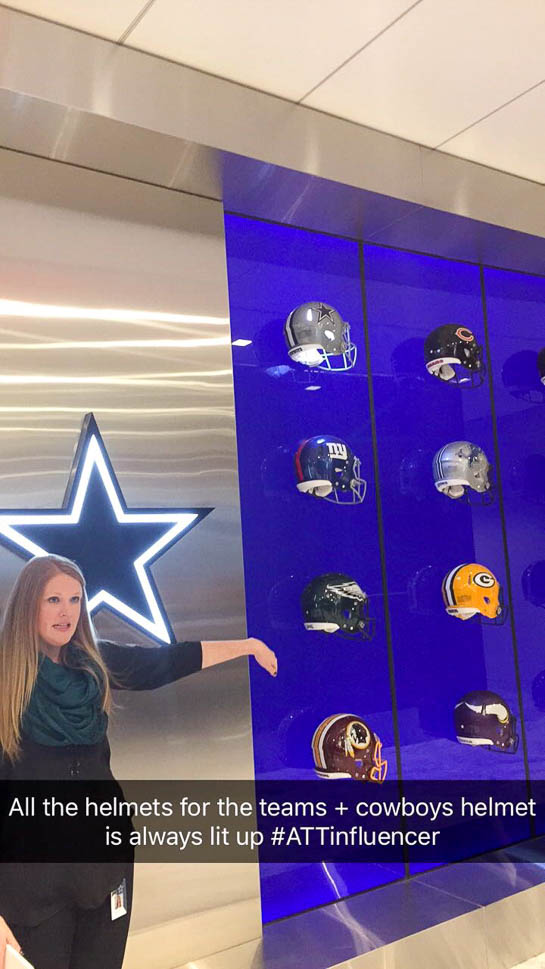 The Ford Center was our favorite part, which has a 510,000 square-foot indoor athletic facility, as well as two outdoor practice fields.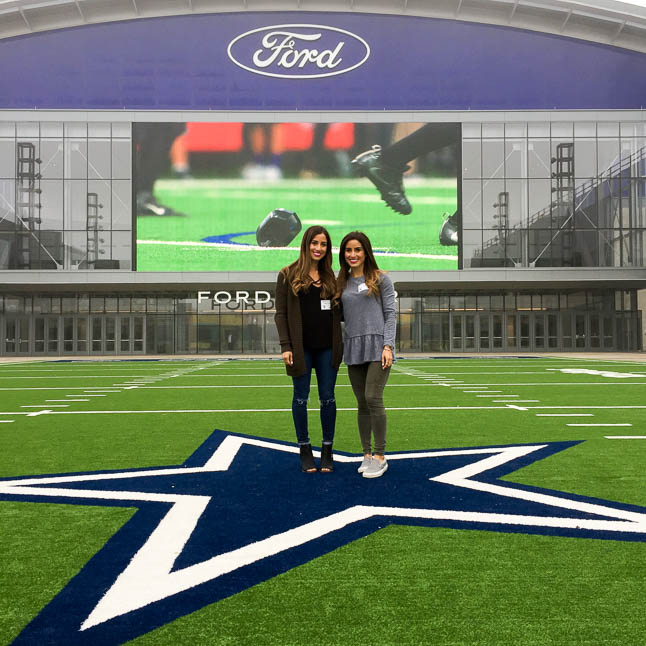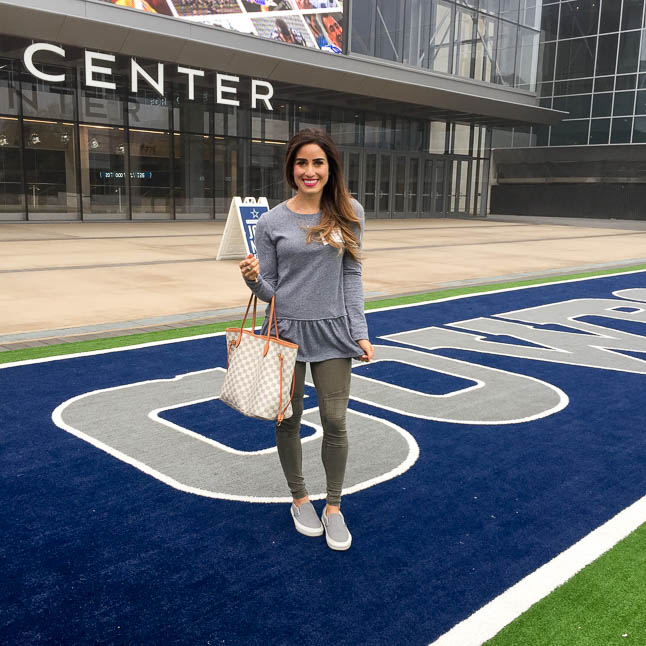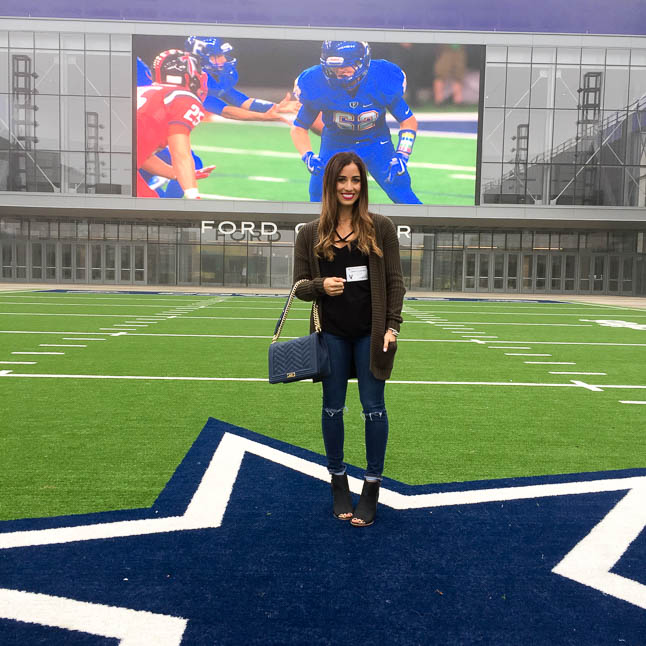 Then, we got a chance to go on an official Cowboy's bus to AT&T Stadium, which was decked out in tons of Cowboys' memorabilia, TV's, beds, and a bathroom with a shower!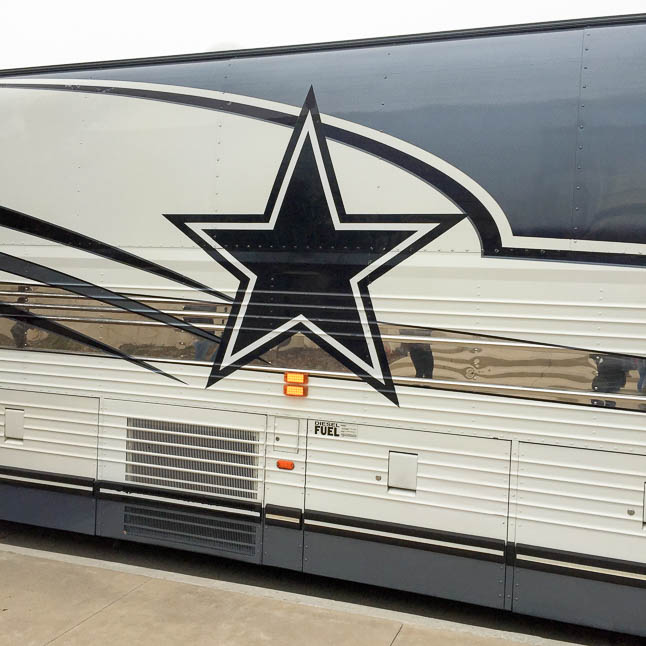 When we arrived at AT&T Stadium, we actually pulled in under the stadium, where all of the players come in! We headed right into the players' locker room, which was SO cool! We even got our own personal locker with our blog name, jersey, and some other cool gear!
We also got to tour the Dallas Cowboys Cheerleaders' locker room, and meet some of them, which was so fun because we both actually watch the DCC show on TV!
After touring the locker rooms, we got to see the press conference room, where all post-game interviews are taken!
In addition to some of the other super cool technological features we will talk about later on, they have an AT&T Stadium app, which includes facts, videos, will help fans find their seats, and the concession stand. It is also the main way to interact and post photos on the 130-foot AT&T Fan Experience Board. It features over 40 independent mirrored louvers that rotate 360 degrees in a choreographed motion.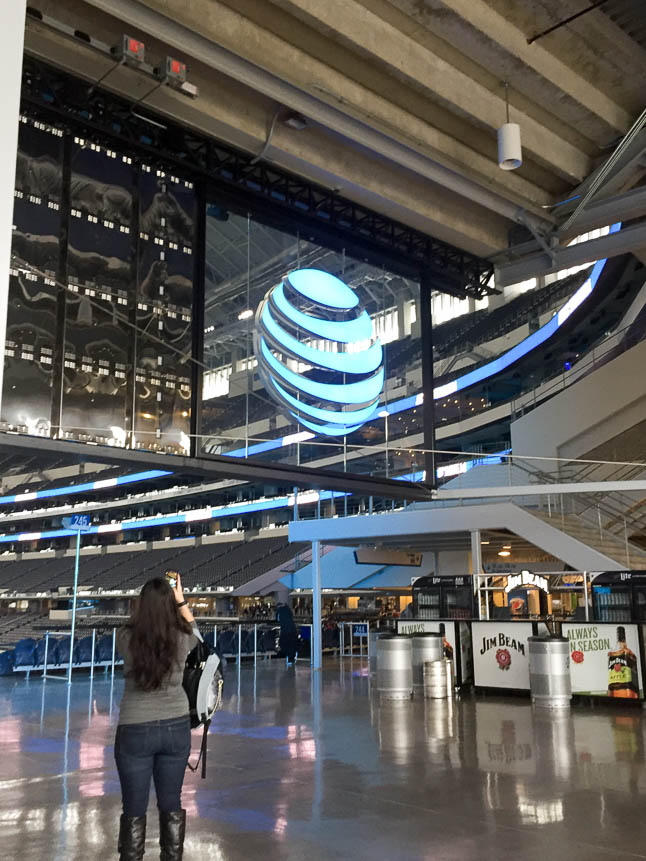 The stadium also features eight, super cool touch-screen exhibits called AT&T Immersive Columns. Fans can touch the screen and opt for an individual player or cheerleader about whom they want to learn more!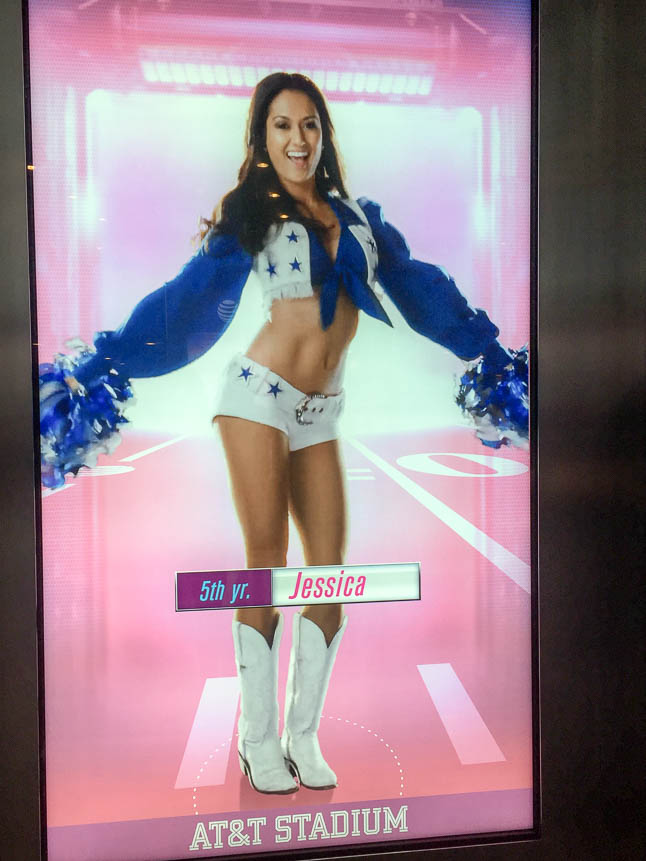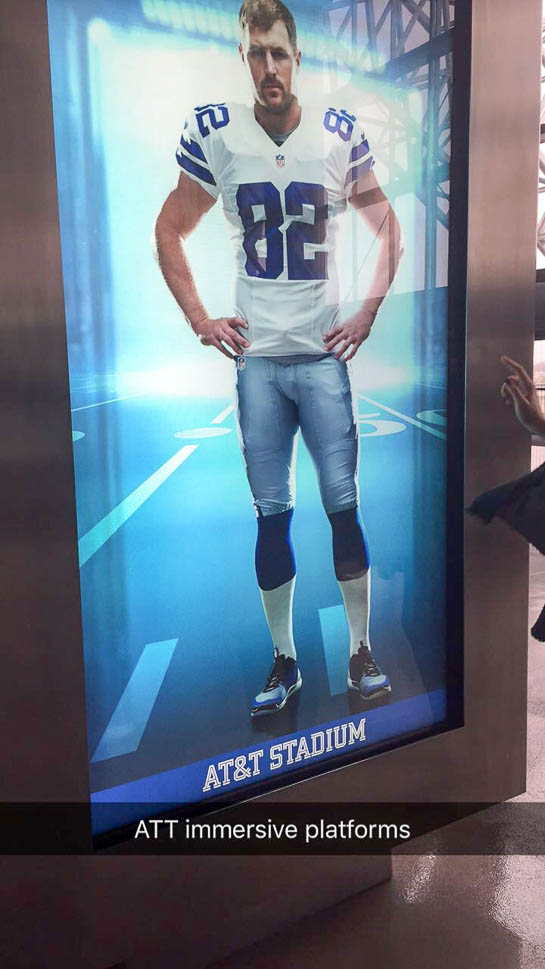 The coolest part of the whole stadium tour was getting to speak with the Chief Information Officer regarding the in-house AT&T Data Center. It runs 30 businesses (not just the stadium), and they are actually one of the only NFL teams to have their own merchandising. They also recently built an entire replica of the data center in the Frisco headquarters.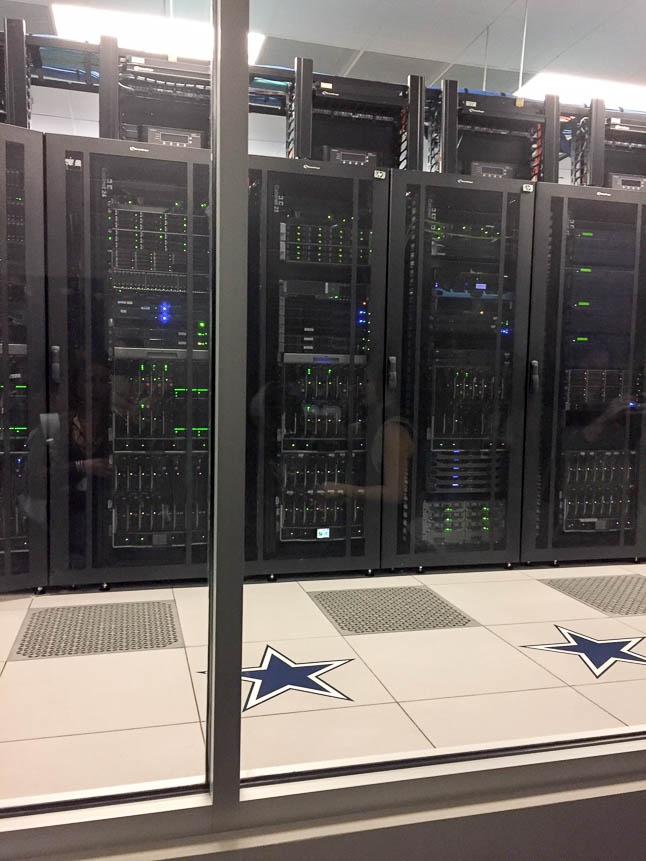 This data center is actually what keeps the whole stadium running, from scanning tickets, lighting, security, POS systems, etc.
The stadium has over 4000 TV's, and has the equivalent of 14 cell-phone towers! They also have a huge Wi-Fi network, with over 1900 access points. If y'all are like us, you REALLY care about being able to get that Instagram post in!;) They have had over 28,000 fans on the wifi network at one time, which is extremely impressive!
They also have charging stations where you can charge your phone in a locker with a code while the game is going on!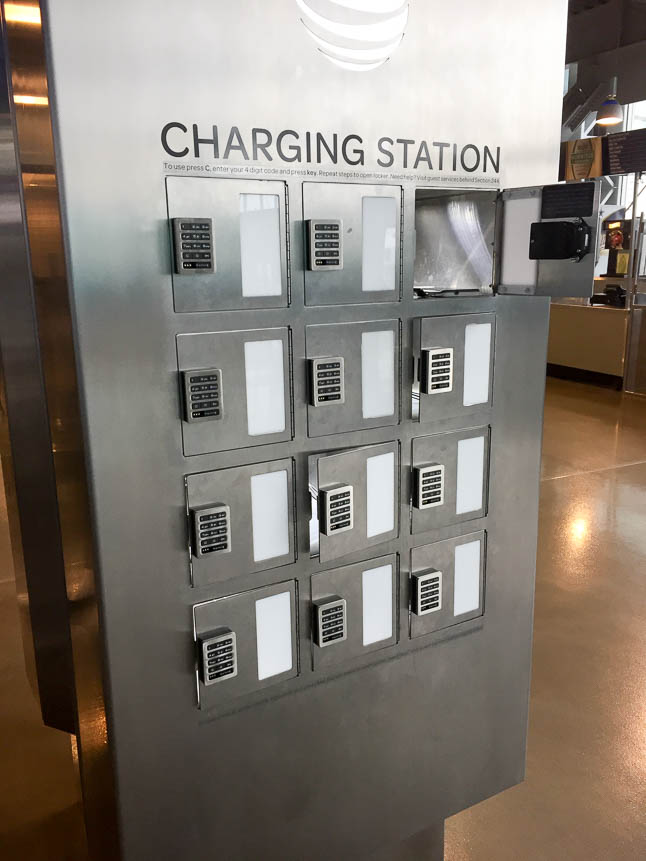 The stadium also features a ton of modern art (so cool!), including this LED light display called "Exploded View."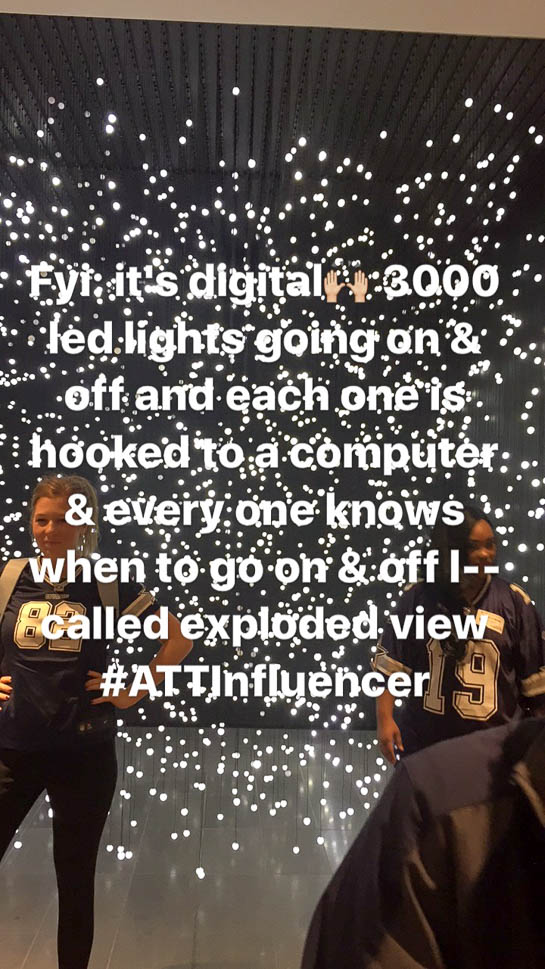 It was cool getting to walk on the field through the tunnel the actual players walk out of every game! They even displayed each of our pictures on the AT&T Live FX screen! We got to take a ton of pictures, and some with Rowdy;)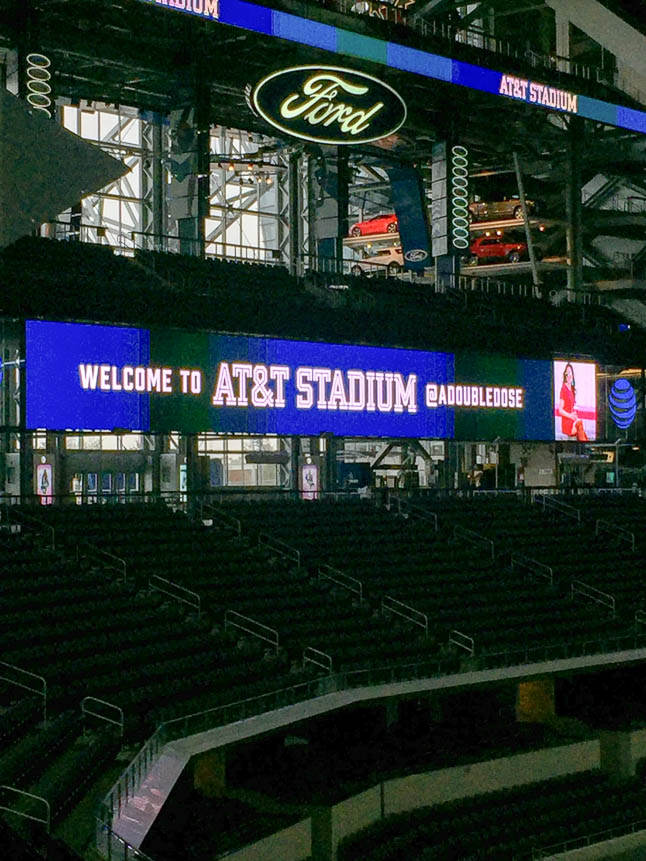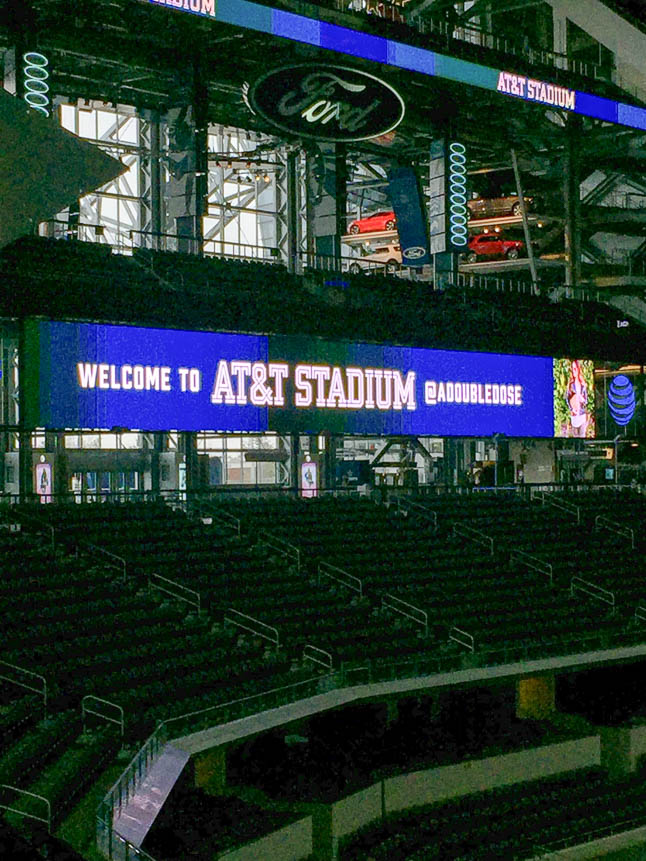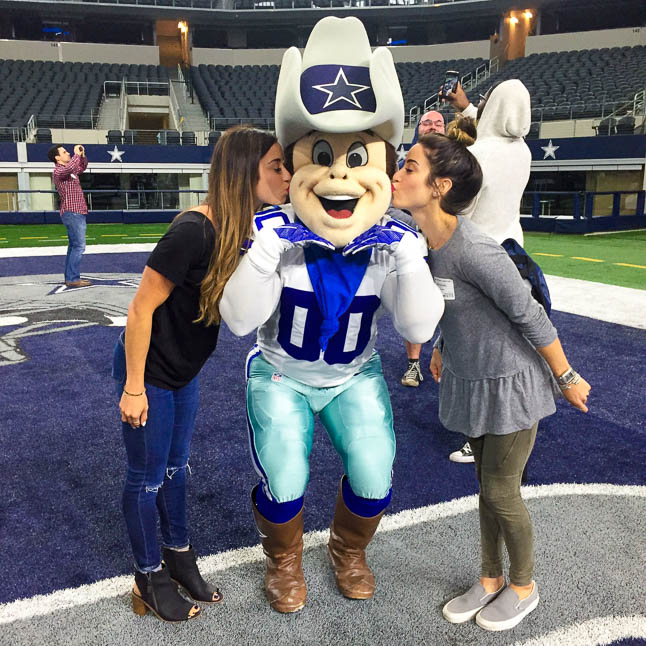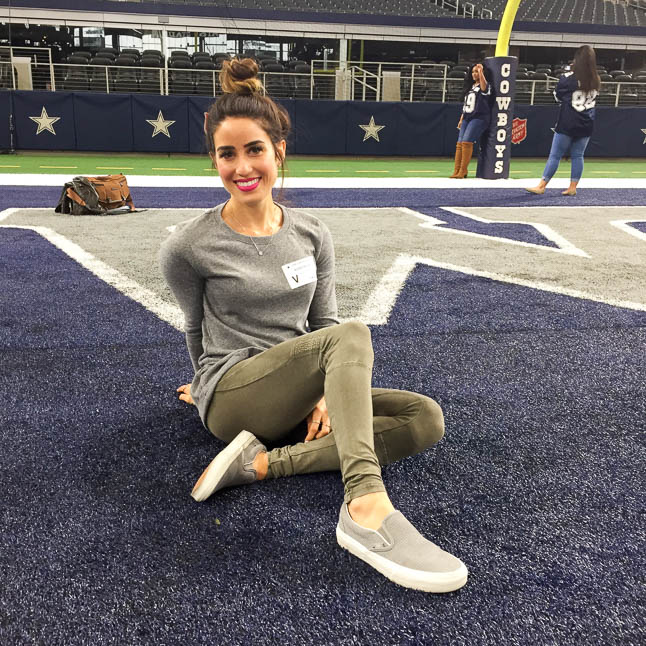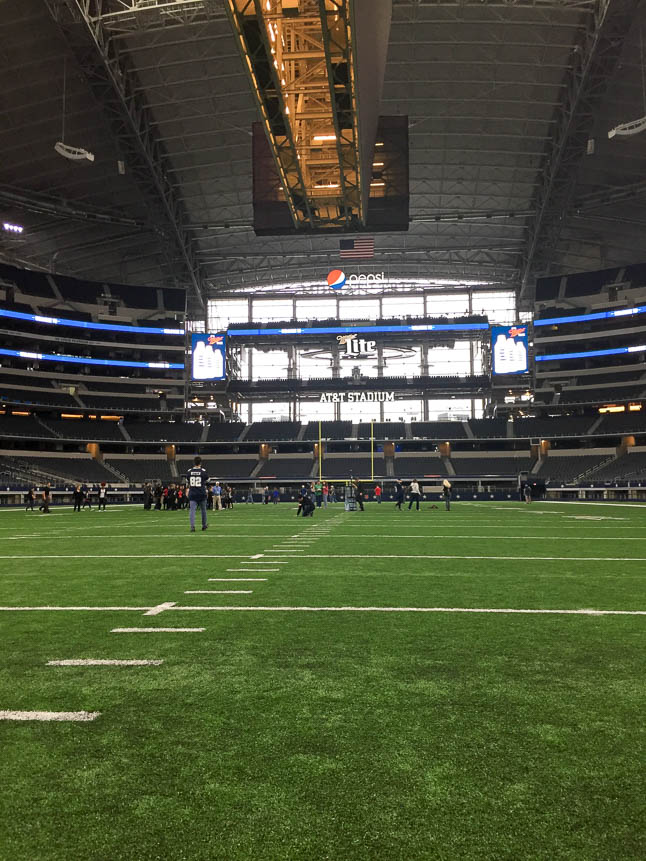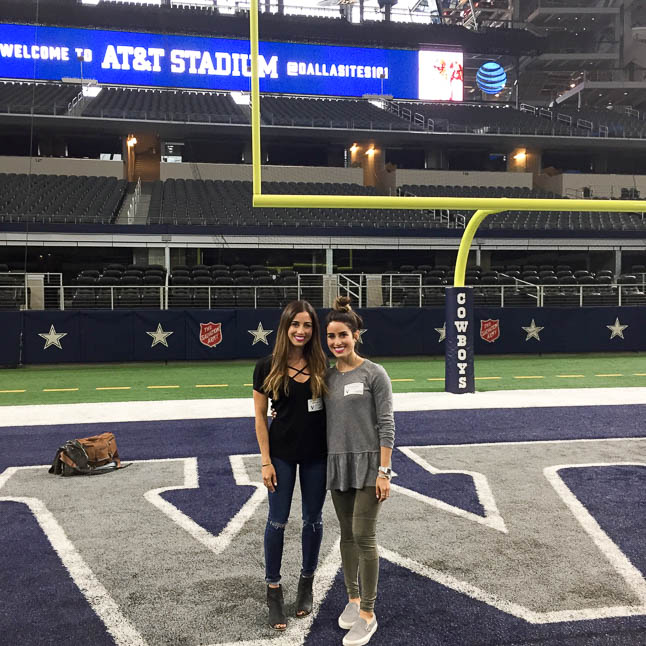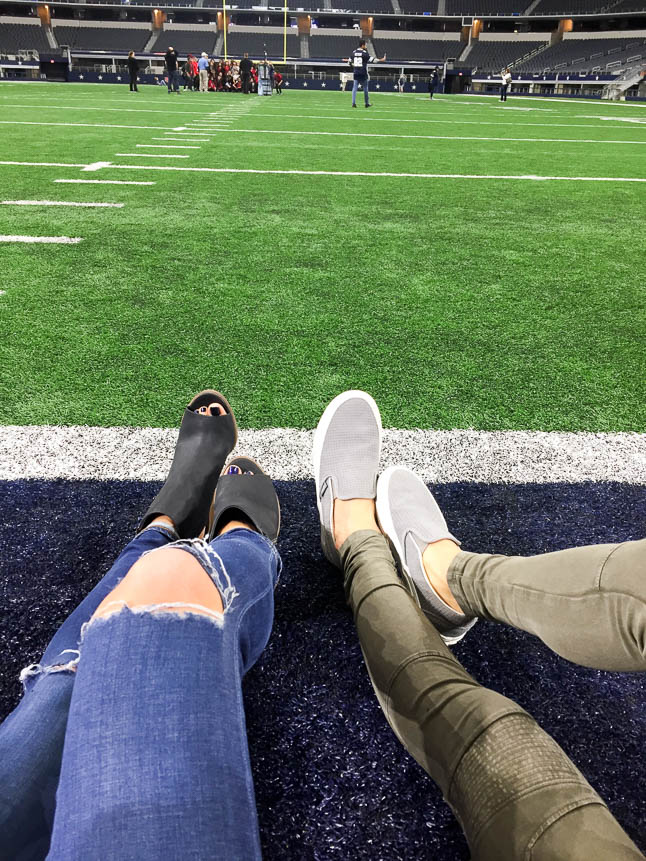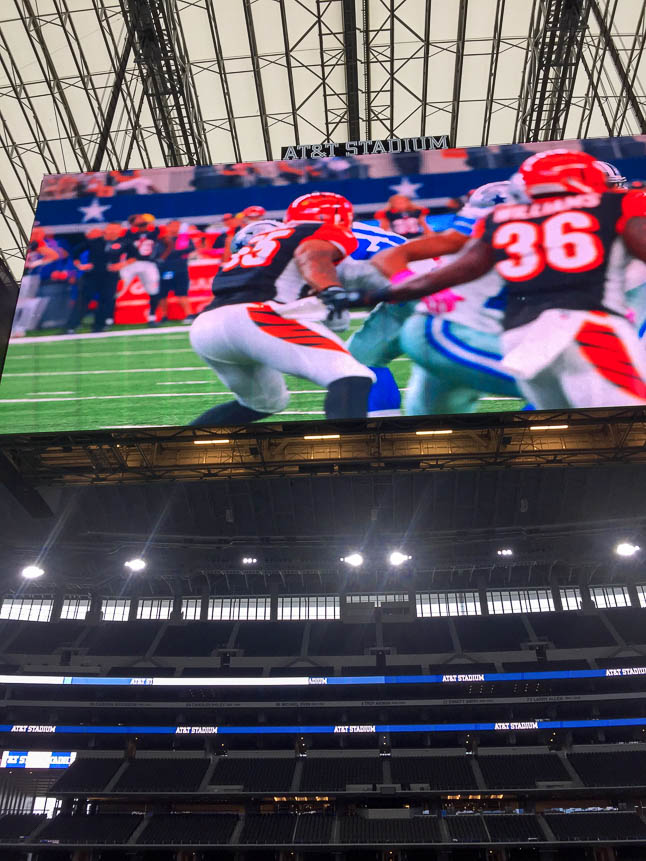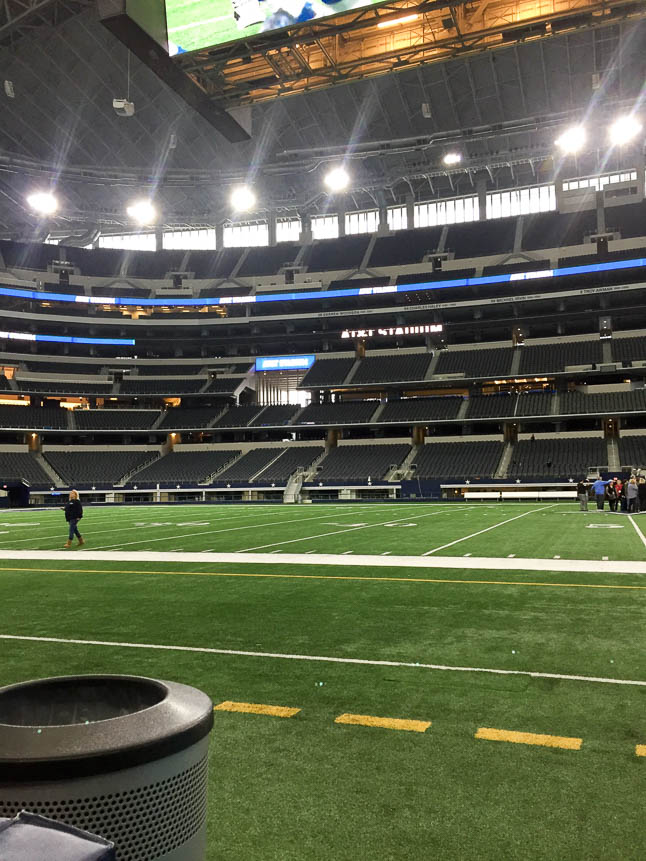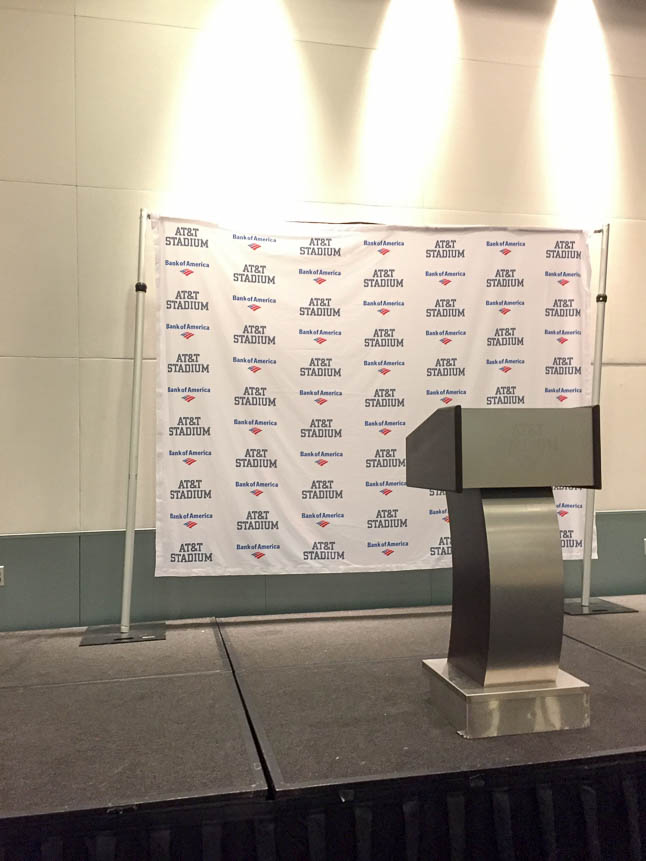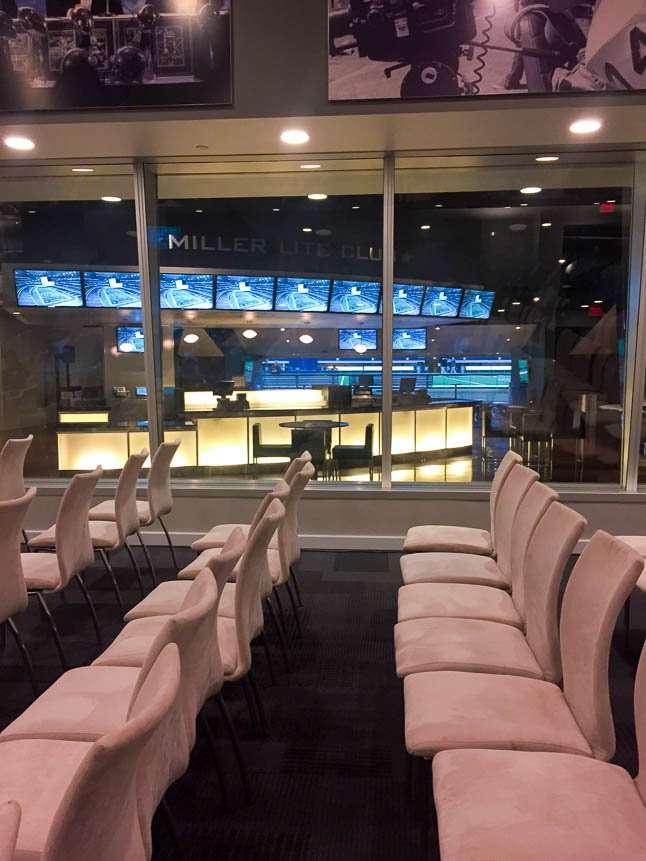 Following the amazing tour, we all got surprised at the end with tickets to the Cowboys vs. Tampa Bay game on Sunday, which was a BLAST, and such an incredible win!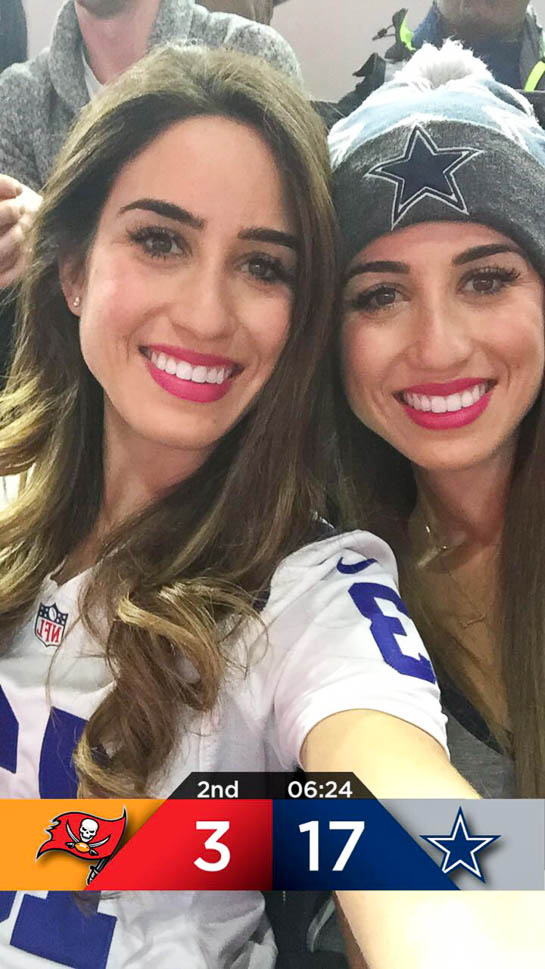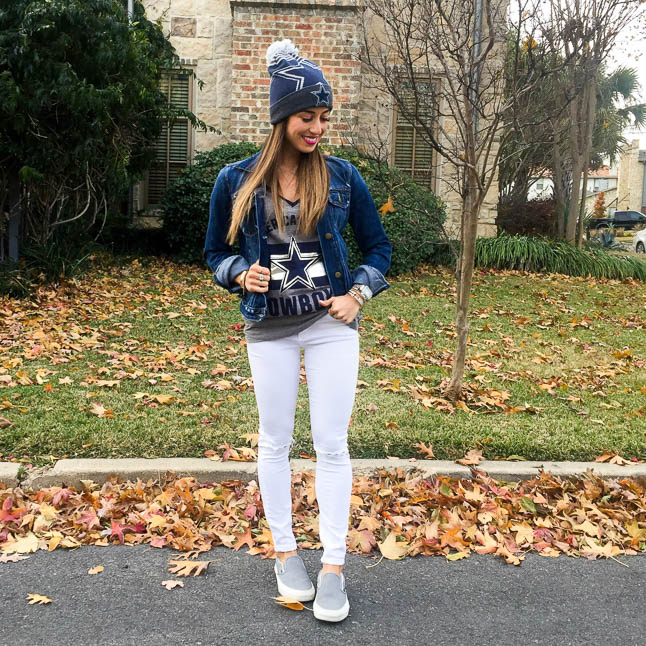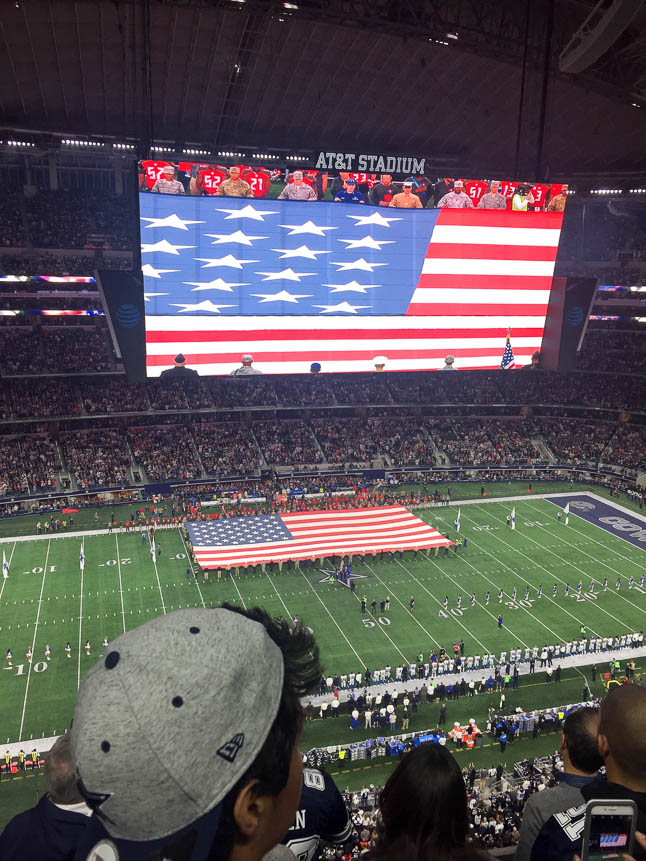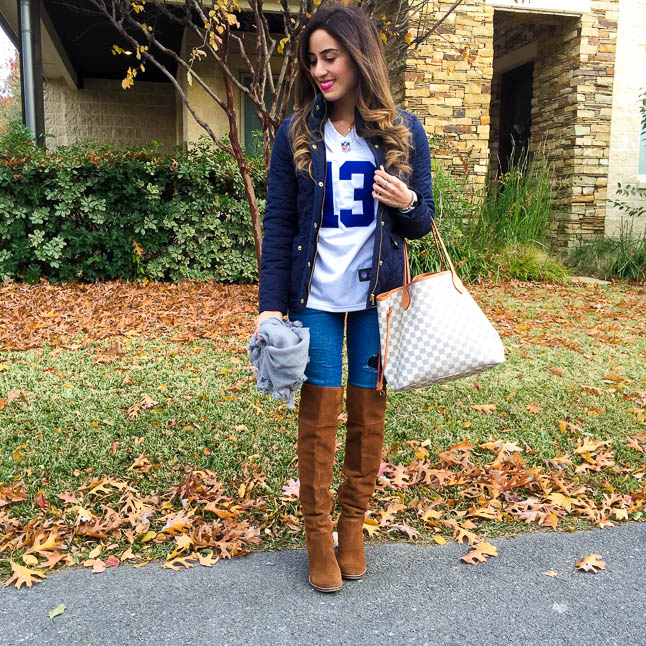 Special thanks to AT&T for sponsoring this post.