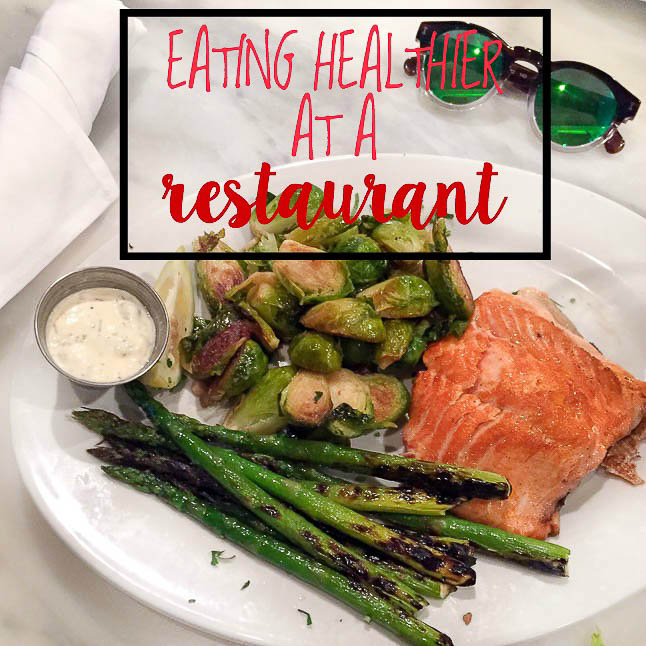 We originally posted this a year or two ago, but we have gotten so many requests for a post like this, so we wanted to update it for y'all!
We know when we first started eating healthier and trying to make better choices, it felt a little overwhelming when it came to eating out. We knew what to stick to at home, but when it came time to eat out, we had no idea how it was prepared, what to even order, or if the portion was too big. It doesn't have to be overwhelming or give you anxiety. We think once you have the tools and practice it, it becomes second nature to you!
Eating is basically what we think about 24/7, and that is not a joke! It is kind of ridiculous. Even when we are eating one meal, We are already thinking about our next meal, haha. Another thing to note is, you are NOT being obnoxious or rude by asking how it is prepared. We will admit, we used to be pretty self-conscious about asking questions about how a dish is made, but it is so worth it!
To start, we thought it would be helpful to go over a few tips that anyone can follow!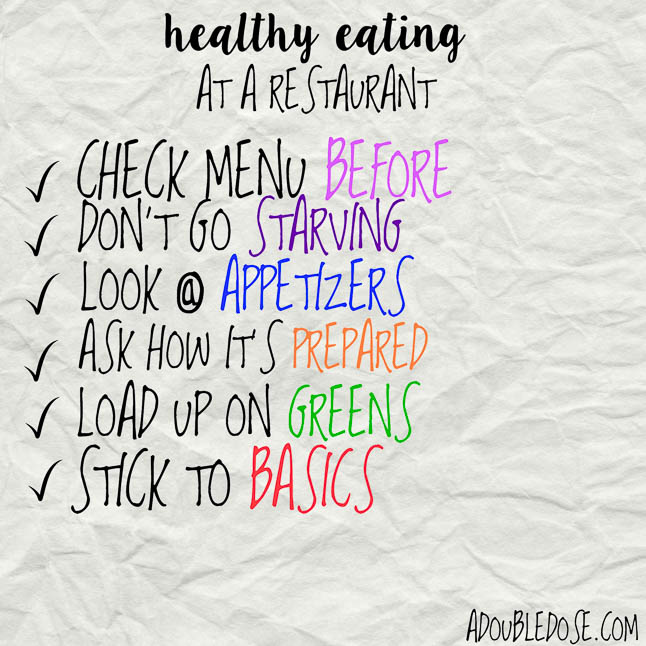 QUICK TIPS:
LOOK AT THE MENU AHEAD OF TIME:

We almost always (actually, no, we ALWAYS) look at the menu before we go somewhere. Especially if we are not the one who is picking the restaurant, we want to have a game-plan of what we can order or adjust to fit what I want or am craving. A lot of people are concerned and think that we need to pick the place we eat at, but really, we can find something anywhere. It may not be exactly what we wanted, but we can always make it work!

ORDER BASIC:

If you don't see anything on the menu you can adjust, they can almost always bring a plain chicken breast or piece of fish with steamed veggies. We know it is nothing exciting, but it will work!

HAVE A LIGHT SNACK AHEAD OF TIME:

Another thing we try to do is trying to eat something small, like a snack, to hold us over. If we got to a restaurant absolutely starving, we are going to want to eat every.single.thing on that menu, and no, they will not be the healthier options;)

PICK A HEALTHY APPETIZER:

A lot of the times, there will sometimes be appetizers that can be pretty healthy like some hummus or guacamole with whole wheat pita or veggies for dipping (we almost always ask for veggies if we order hummus or something like that)! Sometimes they will also have a chicken skewer or something like that!

START WITH A SALAD:

We always recommend starting with a small salad (dressing on the side). DO NOT dump that entire creamy dressing on top of the salad. You are ruining what could be a healthier option.
If you can, we would suggest ordering oil and vinegar, instead of the creamy dressing the salad probably is served with. If you don't like oil and vinegar, order the dressing it comes with on the side and dip your fork in the dressing and wipe it on the salad, so that you can put as much as you want without dumping it all over the salad.

 STICK TO GREENS/VEGGIES:

We  also suggest ordering green or some sort of veggies with your meal. I usually will swap out the grains or starchy carbs for a veggie instead!

GO WITH OLIVE OIL:

Most of the time, unfortunately, the restaurant doesn't list out every single thing in the dish on the menu. Most dishes are made with way too much butter, salt, sugar, etc. All you really need is a little olive oil, salt, and pepper for something to taste good in my opinion! We will usually ask for ours to just be prepared with oil, and no butter!

BRING GG CRACKERS:

We know we had mentioned these crackers in a few other posts. These crackers are amazing and have a ton of fiber. We love bringing the plain ones in our purses to eat with salads, eggs, or swap out bread for. The sweet honey raisin crackers are also great just on their own if you're craving something sweeter!
KEY WORDS:
Here are some phrases to watch out for when you're looking at the menu! We tend to stick to the ones on the right, and avoid anything fried, creamy, or glazed (which probably means it has a ton of sugar in it).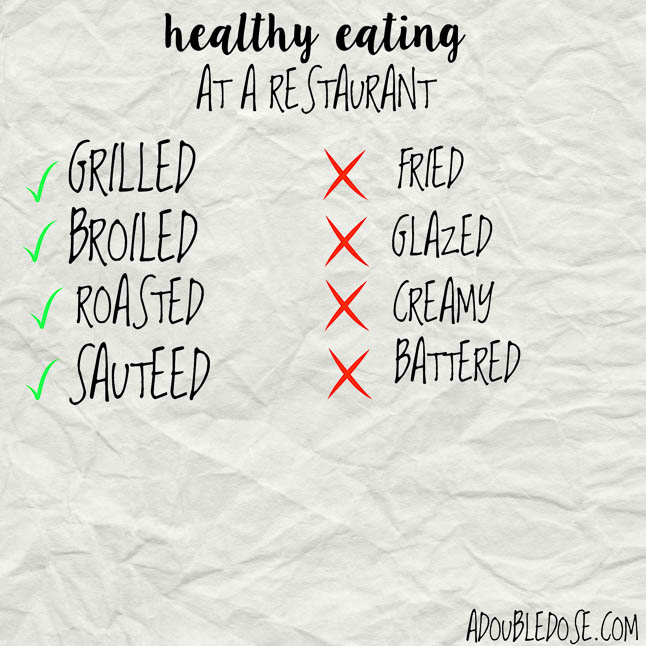 BREAKFAST HACKS: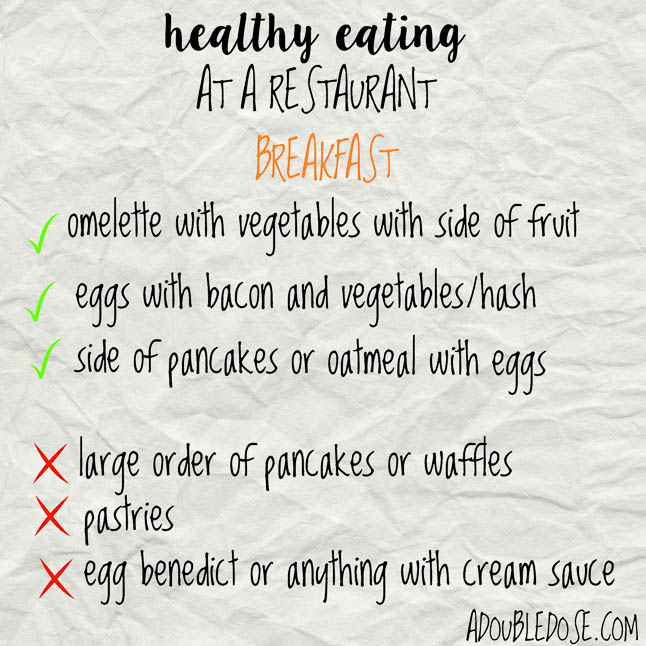 Breakfast is one of our favorite meals! We used to ALWAYS order a huge stack of pancakes, banana and chocolate-chip, to be exact! There is nothing wrong with some pancakes, but we would suggest instead of just ordering a big stack of them, to maybe try ordering an omelette (protein) with one pancake, or whatever the small order is.
We will usually order an omelette with all the vegetables they have and have it cooked with oil, not butter. If it comes with potatoes, we will usually swap them out for a side of fruit or a side salad with dressing on the side. There are also sometimes options like a breakfast hash or breakfast tacos. Just be sure to pick out something with vegetables (fiber) and protein in it!
We would also suggest trying to stay away from creamy sauces (or just ask for them on the side!) We also order hot water with lemon and/or coffee (of course!) We drink our coffee black, but if you can't drink it black, we suggest bringing liquid stevia (or packets) with you and asking for unsweetened almond milk or coconut milk!
We also sometimes bring our own granola (we love this brand) to use with almond milk or yogurt. Most restaurant granolas can be packed with unnecessary sugars. Occasionally, we will sometimes bring our own syrup, haha. This one is not super "natural", but it does have no sugars or carbs.
JAPANESE HACKS: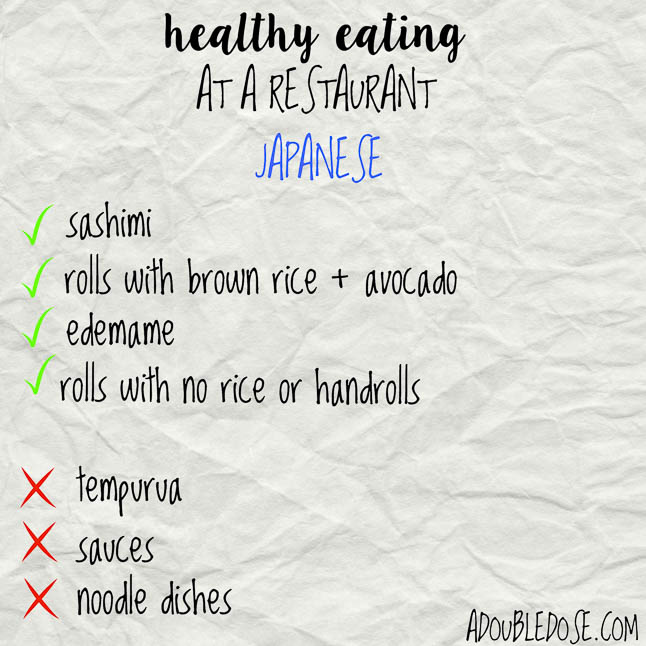 Sushi/Japanese food is always a great option and a go-to for many people! We love ordering sashimi and the seaweed salad! If you do order sushi rolls, we would suggest staying away from anything that has fried stuff on top or any sauces drizzle on top (you can get those on the side)!
Keep in mind that sushi does have a lot of rice on the rolls, so although rice is healthy, it does have a lot of carbs in it. You could try ordering one roll with rice, and one with maybe no rice (wrapped in cucumber) or get some sashimi on the side!
We also love using Liquid Aminos instead of soy sauce. You can bring that with you, instead of using the soy sauce if you're like us;)
ITALIAN FOOD HACKS: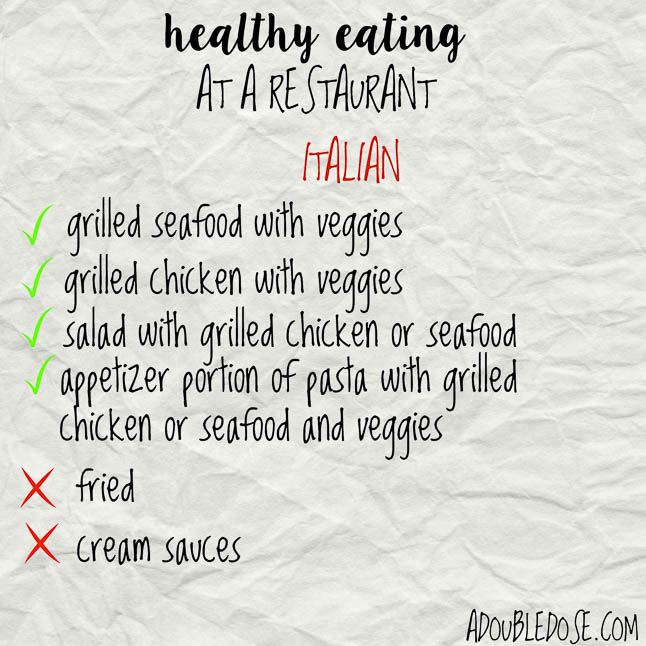 Italian food was literally a food group in our diet all through high school and college. All we wanted all of the time was pasta and more pasta. Oh, and pizza, too. When we went to Italy, we were amazed at how thin everyone is there, even with all the pasta and pizza. The reason being is that they don't eat GIANT portions of it. They eat their pasta or pizza as an appetizer, so it is a much smaller portion, and then have fish or chicken as their main course.
If you do decide you want to order pasta as your main course, stick to a marina sauce, and not a cream-based sauce, and add in veggies and protein, like chicken or shrimp! We will usually order fish or chicken with veggies at an Italian restaurant. Sometimes they will bake the chicken in a tomato sauce with olives and other yummy stuff!
CHINESE FOOD HACKS: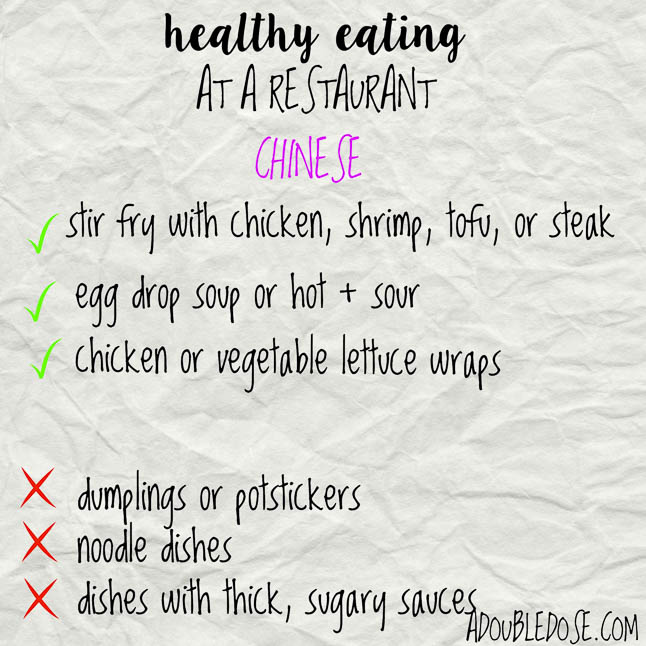 Chinese is another cuisine we used to eat all of the time! We basically lived at PF Chang's and a few other spots in college. We used to always order Lo Mein, Pepper Steak, or Beef and Broccoli. All of those aren't terrible options, but the sauces tends to be sugary, high in salt, and just not the healthiest choice. Everything is great in moderation, though!
We will usually order one of those dishes with the sauce on the side OR we will order just veggies and chicken, steak, or shrimp steamed, and add hot mustard or a little gluten-free soy sauce or something on top to give it flavor! The egg drop soup is also a great soup option. Another option are the chicken or vegetable lettuce wraps as your meal.
We used to order the dumplings all of the time, but those are not the best choice if you're trying to stick to healthier options;) Again, moderation is key!
AMERICAN FOOD HACKS: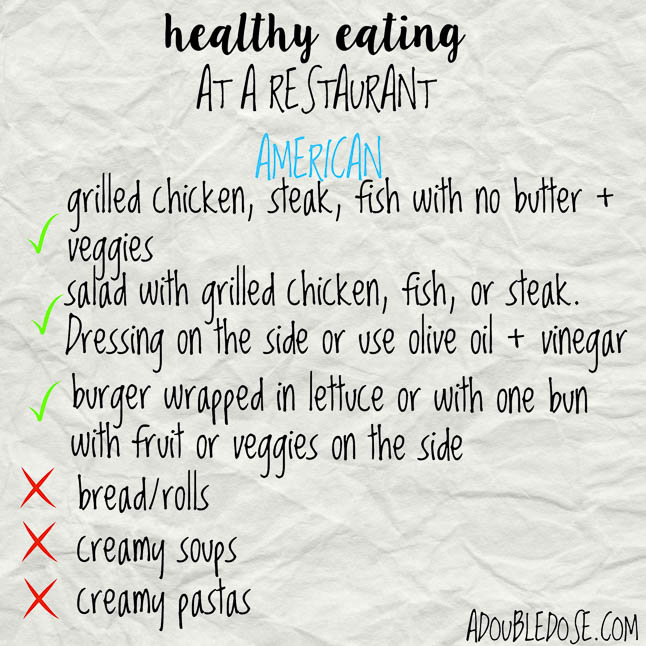 This one is for all of the typical restaurants! In college, as you can tell, we ate out practically every meal. We used to hit up The Cheesecake Factory a TON. Those bread baskets (OMG). We usually will stay away from the bread baskets just because we could mindlessly eat 5 baskets without realizing. As we mentioned before, it is better to start with a salad rather than eat a ton of bread, and not have an appetite for your actual meal.
We will usually order chicken, steak, or fish with no butter and ask for a side of vegetables or side salad with the dressing on the side. Almost every restaurant will have some sort of burger or sandwich that you can easily ask for wrapped in lettuce or get it the way it comes. We would suggest just eating one of the buns with it, that way you're getting to have the bun, but not eating both! We would also suggest substituting the fries or chips for a side salad or side of fruit.
If they do have a soup, we would stick to something that is broth-based with vegetables or meat in it, and not something super creamy.
DESSERT/DRINKS:
As far as dessert, we didn't cover dessert on here because that's something that we will have as I am craving it. Some of our favorite things to have are gelato or some kind of cake! We recommend thing like sorbets, fresh fruit, a flourless chocolate cake.
As far as drinks, we am probably not the best person to ask when it comes to that. We don't particular like the taste of alcohol, except for really sweet, cheap wine, sangria, and champagne. If you're trying to stick to healthier options, we would suggest wine, champagne, or something like tequila, gin, or vodka with fresh lime and/or mint in it. We shared some tips in this post.
Hope this was helpful! If you have any questions at all, feel free to reach out via email or comment below! Check out our fave Dallas spots here.
SaveSave
SaveSave