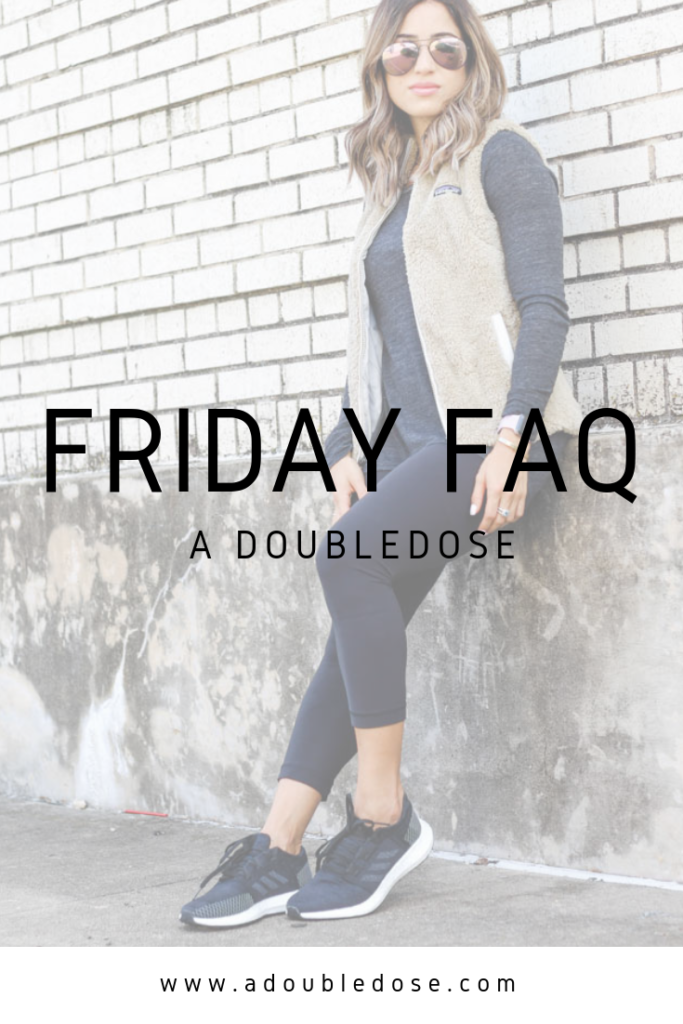 Happy Saturday! A little late for our second round of Friday FAQ's, but better late than never! In case you missed last week's post, you can read it here!
If your question wasn't answered, be sure and send us a message on Instagram, or email us at [email protected]
Happy reading! Xo
B E A U T Y:
WHAT TEETH WHITENING DO YOU USE, AND ANY TIPS?
We use these whitening pens and got trays made at our dentist's office! We also use this electric toothbrush and this toothpaste. We also drink our teas out of these glass straws to help with staining!
We also talked about in more detail in this podcast episode!
DO YOU USE BOTOX? I DIDN'T REALIZE HOW COMMON IT IS NOW AND HOW MUCH PEOPLE LOVE IT!
We have only done it twice, and saw great results. We honestly didn't do a ton of units, and we only did it between our eyebrows and on our foreheads. It definitely can make a huge difference!
HOW DO YOU DO YOUR HAIR WHEN YOU GO TO SLEEP?
That is a great question! So, no matter what our hair length is, we always put it in a low ponytail, just so it is not all over the place. We use these elastic hair ties that don't dent or damage your hair. This way, your hair kind of stays in-tact, and doesn't end up in a huge mess when you wake up, haha.
WHAT IS THE LIPSTICK COLOR YOU ALL ALWAYS WEAR?
We love this one in "naked". We also LOVE these lip glosses ("naked shimmer" is our fave color!
F A S H I O N:
WHAT ARE SOME OF YOUR FAVORITE JEANS?
This black pair is a new favorite of ours (we got size 25 short). We also just got this pair of ripped jeans and love how they fit us– perfect length (we got size 25 short)!
This pair of levis is a classic, too (we have size 24).
CAN YOU SHARE THE LINK FOR YOUR NECKLACES YOU WEAR ALL OF THE TIME?
We wear a lot of dainty necklaces, and love layering them together!
We love this evil eye one, and major plus, it is super affordable! This gold one is also really pretty!
This initial one is one we wear every day, and love!
If you are looking for some personalized options, we have this initial choker one, this monogram one, and this name one.

We shared some of our favorites in this post and this post.
B L O G G I N G:
HOW DID YOU START BLOGGING AND HOW LONG HAVE YOU BEEN BLOGGING FOR?
We have been doing it for over three years, and are so grateful! We can't thank you all enough for your support! See the question below to read more about our journey!
WHAT DID YOU DO BEFORE BLOGGING?
We both moved to Dallas to work in public Accounting. We did different things (one of us worked in Fraud Technology Consulting, and one of us worked in IT Auditing). We did that for one year before pursuing personal training for about 8 months. After that, we launched a waffle line that we literally did EVERYTHING for. It was our baby. We also launched our blog at this time– talk about being a stressful time! We look back and wonder how we did it ALL sometimes, but when you want to succeed, you will do whatever it takes, right?
Ultimately, we had to let go off the waffle line because although we loved it, we had a long way to go to really "make it", despite having tons of orders (thanks to those of you who supported us and loved our waffles as much as we did!). We ended up going full-time with our blog, and have been doing this ever since! Thanks for all the support, we love you ALL!
Read more about our story here.
HOW DID YOU GROW YOUR SOCIAL MEDIA PRESENCE? DID YOU USE ANY AGENCIES?
We did not use any agencies. We have been doing it for 3+ years, and we definitely grew very quickly in the first few years. We feel like it is harder to grow now, but we would suggest posting consistently, being true to yourself and what you want to share–not what you "think" you should, engaging with other accounts like yours!
We have more tips in this post!
L I F E S T Y L E:
HOW LONG HAVE YOU AND YOUR BOYFRIEND BEEN TOGETHER?
Samantha has been with her boyfriend for almost two years! Time has flown by. Alexis is currently single :).
C E L E R Y J U I C E / H E A L T H:
HAS YOUR DIET SWITCH BEEN HARD AT ALL? DO YOU EVER HAVE A "TREAT' OR ANYTHING OFF THE PLAN?
It was definitely more difficult in the beginning, but over the six months we have been doing it, it has definitely gotten so much easier, and more of a lifestyle for us! We do eat some stuff that is not "plant-based" like desserts with dairy and gluten in them, gelato, and stuff like that! We truly feel our best eating this way and love cooking, so we don't mind it. We also will eat fish sometimes, too.
THIS IS PROBABLY WEIRD, BUT HOW DO YOU DEAL WITH GAS/BLOATING WITH EATING SO MANY FRUITS AND VEGETABLES?
Not weird at all! A lot of people have digestion issues but nobody talks about it. Before we got diagnosed with Hypothyroidism 7 years ago, there would be days and weeks of no bowel movements, which is NOT ok. Even until we started eating plant-based, we depended on coffee to go, haha #realtalk. Ever since we started eating plant-based and drinking celery juice, our digestion has never been better or more regular.
As far as the bloating and gas, there are days that are better than others. If we eat a HUGE serving of salad, which is a regular thing, we are definitely more bloated, but we can say that even with eating a ton of veggies and fruits, we feel better than ever. It does get better with time, and your body just may need to heal. Stick with it!
I SEE LOTS OF VEGGIES FOR MEALS, BUT WHAT DO YOU SNACK ON? LOOKING FOR IDEAS BESIDES ALMONDS.
We honestly snack on TONS of fruit. Not joking when we say we eat 4-5 apples a day, in addition to other fruits! We also love dates and baking some sweeter desserts/snacks from Medical Medium's website, or from online!
We shared what we eat in a day in this post last week!
WHEN YOU LIFT, WHAT TYPES OF EXERCISES DO YOU DO FOR DEFINED SHOULDERS?
We haven't been doing a ton of lifting weights as we used to, but we recommend:
front raises
shoulder press
lateral raises
upright rows
pike push ups
plank to pike
We also share shoulder workouts in this post and this post.
DID YOU HAVE ANY SYMPTOMS WHEN YOU FIRST STARTED CELERY JUICE, AND HOW LONG DID THEY LAST?
Yes, we did. We had a lot of bloating for a couple weeks to month in the beginning, but it is definitely getting better. It is totally normal to have symptoms, and some will last longer than others, but don't give up– it means you're healing!
PS-if your question wasn't answered this week, be sure and check back next week for more! Xo