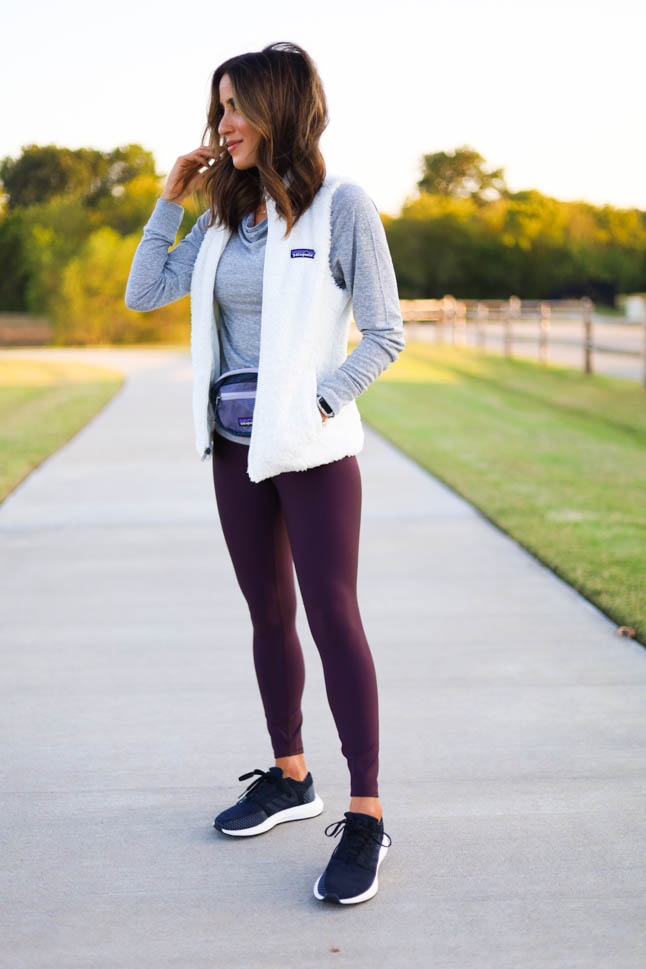 Since the quarantine started, we started going on at least one walk a day. Before that, we would go on a quick walk maybe once or twice a week. Now, it has become a huge part of our daily routine, and something that we both look forward to. It does so much for us mentally, and of course, gets us out of the house, breaking away from work.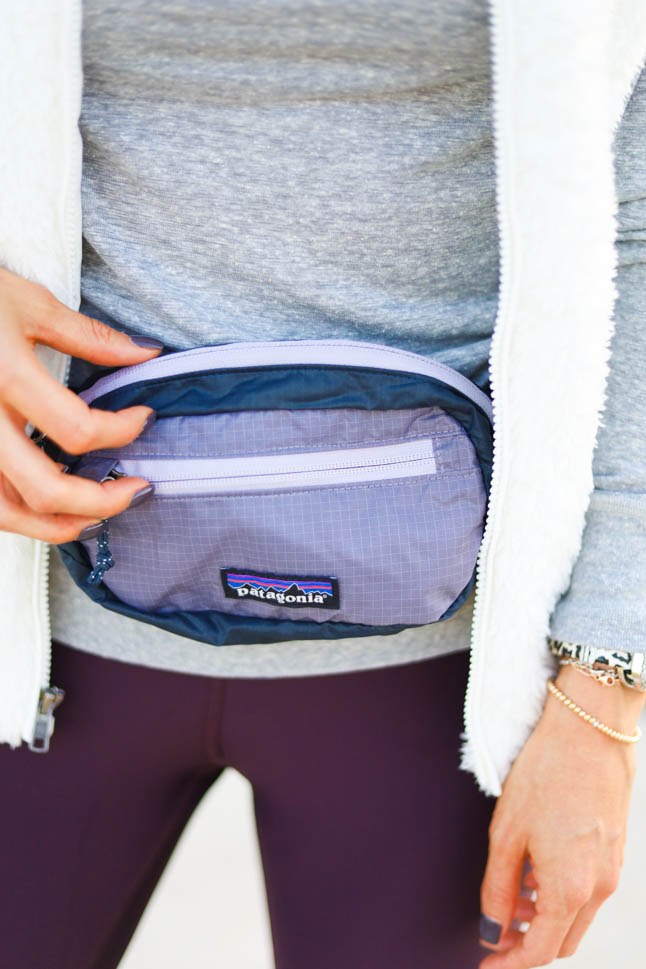 It has even been something we have started a tradition doing with our dad when we are at their house hanging out. We like to go during the day or in the evenings, and it is a great time for us to catch up with him and really connect. We really enjoy those moments and treasure them.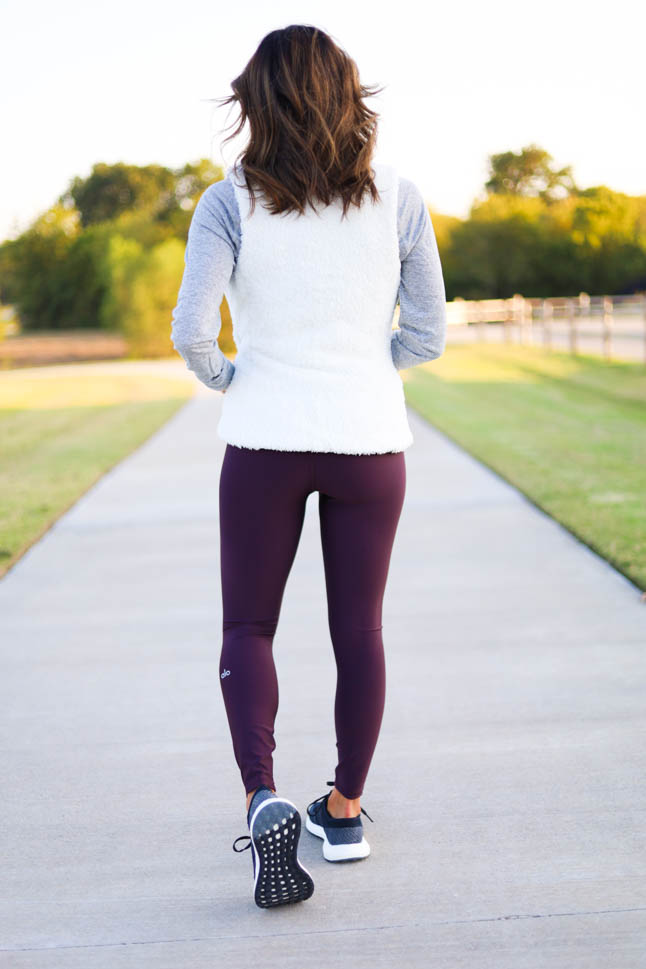 Clears your head
We can't say enough about walks and how much it clears our heads. The best way to do it is to actually not wear headphones or anything else. You get to hear the birds chirping, feel the warmth of the sun on your body, and decompress and reset. We LOVE It.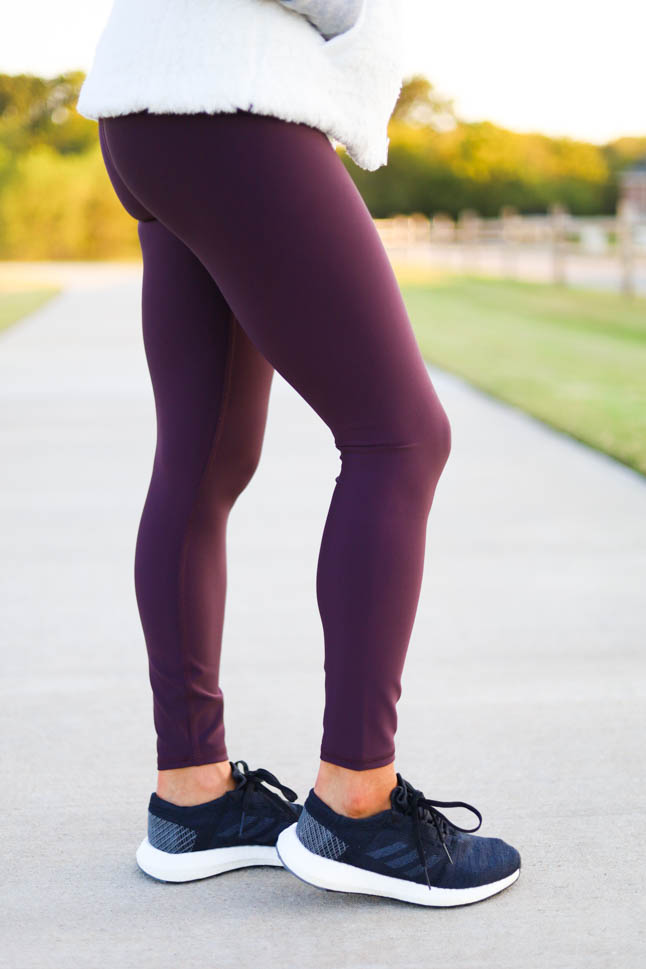 Allows you to be in nature
We are honestly not in nature enough. We don't really hike, or go camping, or any of that often, so this is our time to be in nature. Even if it is just going on a walk, you are getting to see nature, and you can always switch up your scenery and experience new spots.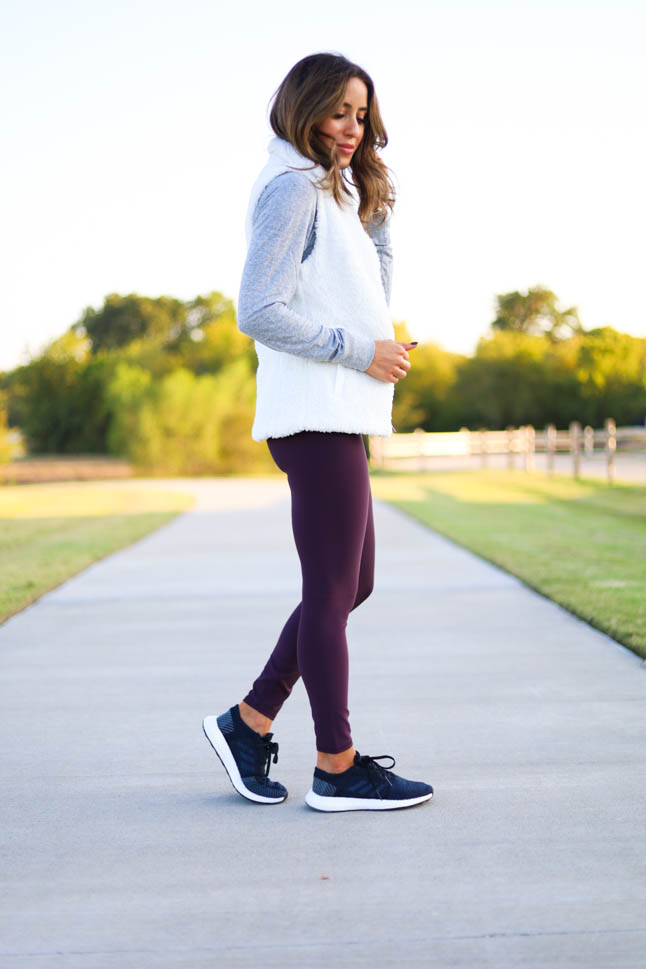 Connect with others or yourself
We take this as a time to connect with each other, our dogs, our family members. We love going on walks with our friends to catch up, or in Sam's case, Taylor, her boyfriend. We also sometimes will make an exception and bring our phones to call our mom or catch up with someone else.
It is really a great time because there are no other distractions, and you're getting steps in. Killing two birds with one stone!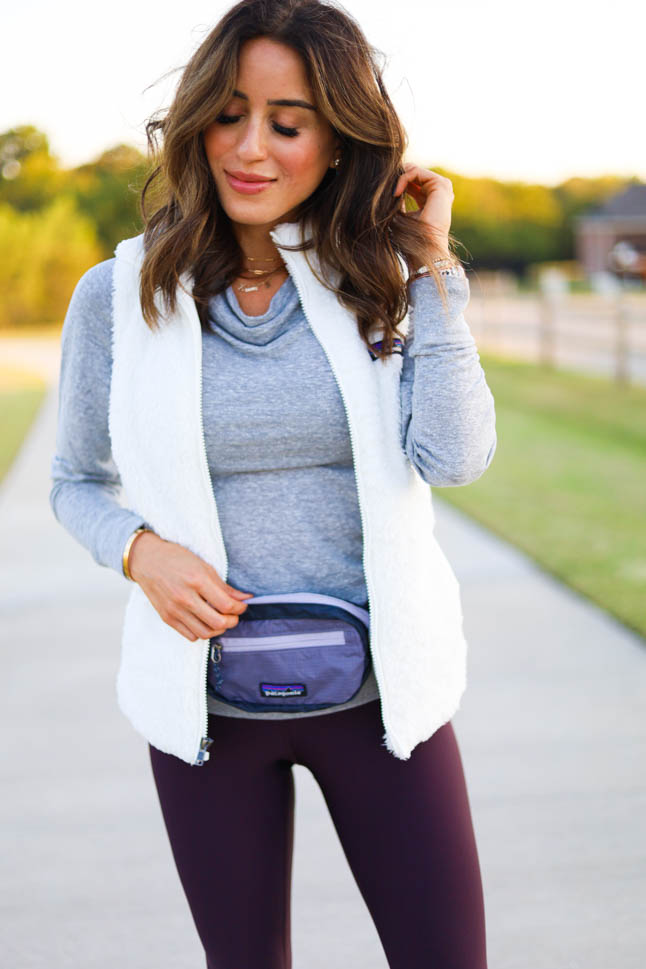 Escape technology and be present
Since we are in work-mode 24/7, it is one of the only moments we really are present, and don't focus on what we need to be doing for work. We really need to make a point to do other things in this manner.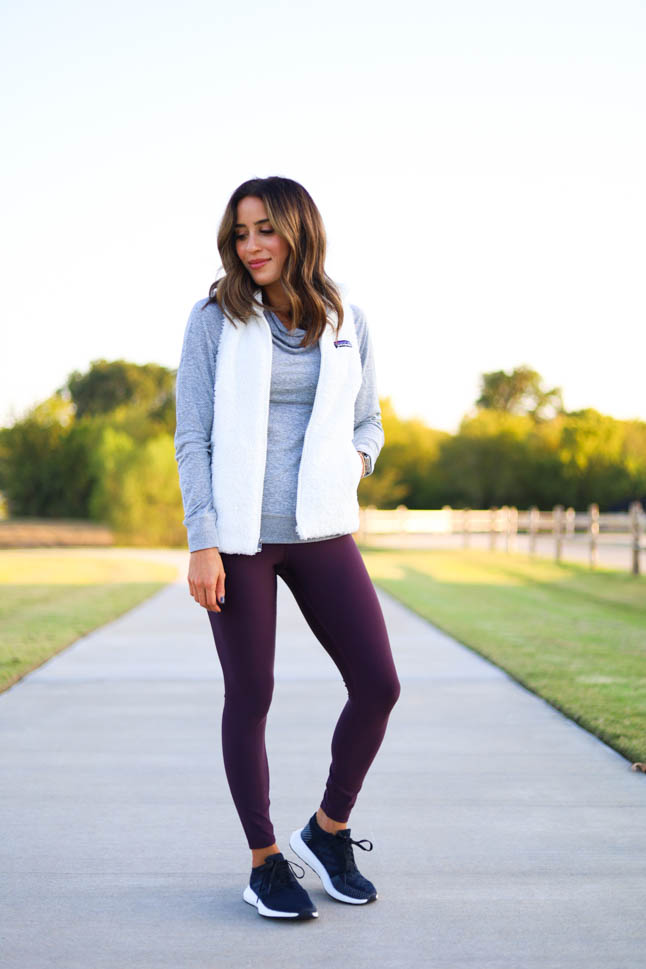 Get in lower intensity exercise
We have talked about the benefits of lower intensity workouts here, but walking is truly SO beneficial. We like to go on 2-3 mile walks most days, when we have more time. Walks are so good for your heart health, just ask our dad, a cardiologist ;).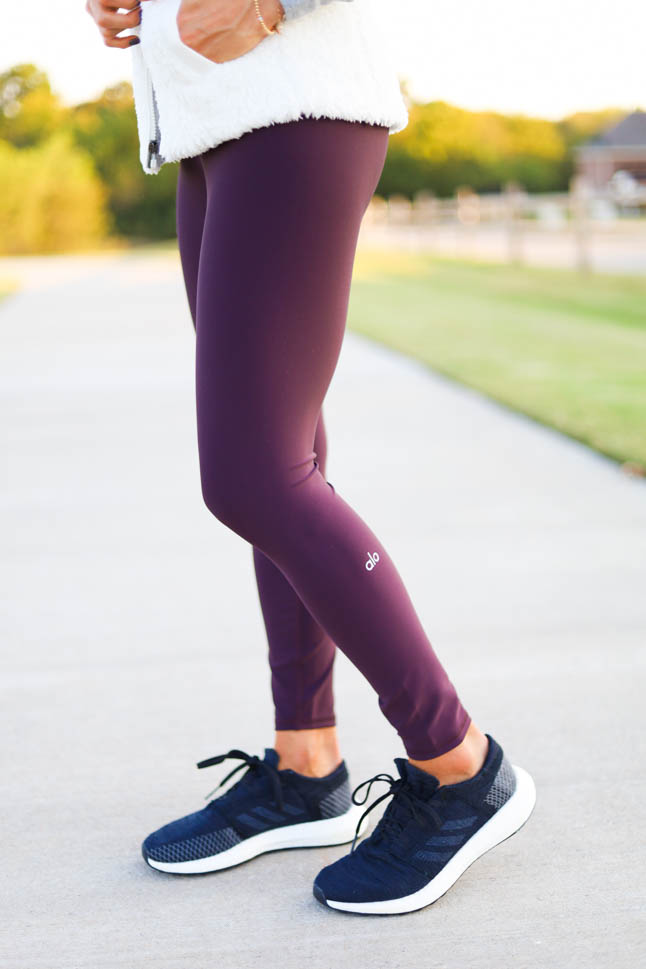 Now about the outfits, we always like to layer up, especially when it gets cooler out. This Patagonia vest is a perfect piece to wear with leggings, or with jeans. It is so comfy and warm and easy to throw on. We have size xs for reference.
We paired it with these wine-colored leggings in size xs, and this basic grey tee you can wear with so many things. This waist bag/fanny pack is our favorite to wear on walks or runs because it holds your keys and phone, and frees your hands.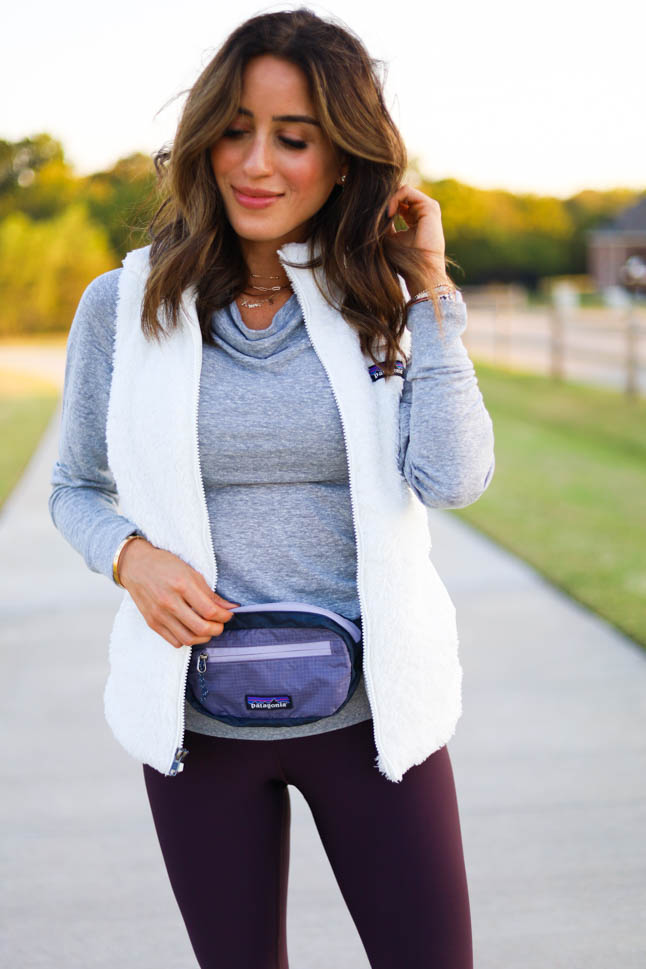 { 7/8 High-Waist Airlift Legging | Patagonia Los Gatos Vest | Patagonia Waist Bag | Grey Cozy Long Sleeve Tee | Grey Sneakers Similar }