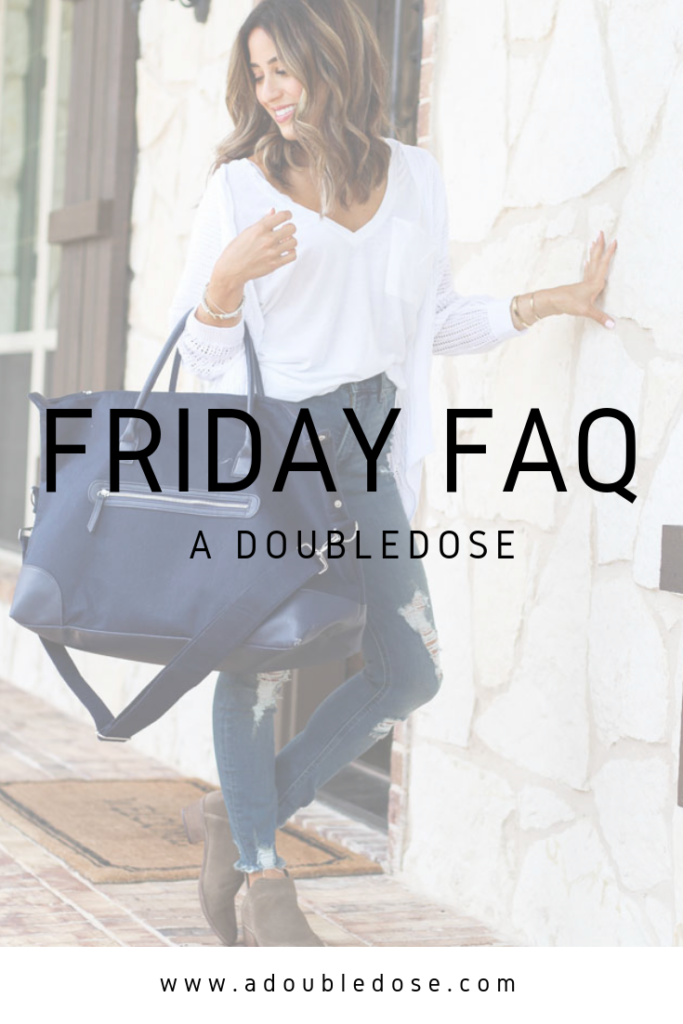 YAY! We made it to Friday! Well, you know what time it is: FAQ time! We are answering more of y'alls questions that got submitted this week! If you asked something that didn't get answered, we most likely answered it in a previous FAQ post! Check out #1 here and #2 here.
If your question wasn't answered, be sure and send us a message on Instagram, or email us at [email protected]
Happy reading! Xo
L I F E S T Y L E:
HOW CAN I TELL YOU AND YOUR SISTER APART?
One of us has a mole on our right cheek (Alexis). Growing up, one of us was taller. Alexis also has a longer face, and we have been told we have different voices, noses, and eye shape.
DO YOU AND YOUR TWIN LIVE SEPARATELY OR TOGETHER?
We live together right now, and we always say it will be like a divorce when we move out, haha.=
C E L E R Y J U I C E / H E A L T H :
WHEN YOU GO ON VACATION/OUT TO EAT, HOW DO YOU ASK THE SERVER TO COOK YOUR VEGGIES AND FOOD?
We usually ask if they can be steamed, or lightly cooked with olive oil- no butter.
CELERY JUICE? WHY? WHAT ARE THE BENEFITS AND WHAT JUICER DO YOU USE?
There are SO many benefits! You can read more about it in this post and this last FAQ post. We use this juicer!
HOW DO YOU MAKE/COOK YOUR CAULIFLOWER RICE?
Super easy! We honestly just buy the frozen cauliflower rice bags and then dump them in a pan and sauté with a lid over it! We will add spices like garlic powder, cayenne, salt, and pepper, too! Or you could add coconut aminos or hot sauce!
COULD YOU PLEASE MAKE A YOUTUBE CHANNEL FOR YOUR WORKOUTS?
We actually have a youtube channel and will share workouts on our stories under the "workouts" story highlights sometimes!
WHAT ARE YOUR TRICKS TO STAYING SO MOTIVATED WITH HEALTH AND FITNESS?!
We honestly think it has to do with lifestyle and habit. It takes a LONG time to get used to living a healthier lifestyle, and we always say, you can't go from 0 to 100 overnight. Making small changes over time is the best thing you can do! We started off eating this way for health reasons, but we didn't do all of this overnight. We have been eating this way for 7 years, so it is a lifestyle, and one we enjoy now. We would say doing little things like eating more vegetables or adding more fruit in are good places to start. Also, swapping soda or sugary coffee for infused or sparkling water is a good one, too!
B E A U T Y:
FAVORITE FOUNDATION?
.Our favorite foundation is a tie between Bare Minerals, Laura Mercier, and the Beauty Counter Tint Skin.
WHO IS YOUR FAVORITE MAKEUP ARTIST?
We LOVE the way Andrezza Minotto does our makeup! She is amazing and will come to you!
DO YOU TAKE ANY VITAMINS TO HELP WITH HAIR?
We don't take any specific for hair, but we do take a thyroid supplement, a liver supplement, Magnesium, Vitamin C, B12, and Zinc. We also eat a TON of fruits and vegetables and drink lots of water.
GETTING LASH EXTENSIONS FOR THE FIRST TIME THIS WEEK. ANY TIPS?
We are obsessed with lashes and can't live without them! Prepare to be addicted, haha. We would recommend not wearing a lot of eye makeup, just because it will get your lashes dirty, and make taking it off a lot more difficult around your lashes. We also would not recommend using anything oil-based as this can take off the lash adhesive. We also try not to rub our eyes a lot or play with our lashes and also keep them brushed with a little mascara wand!
DID YOU GET HAIR EXTENSIONS? HOW ARE THEY AND ARE THEY EASY TO MAINTAIN?
Yes! We just did a blog post on it last week, so read alllll about them here!
HOW DID YOU GROW YOUR HAIR LONG?
We both have hair extensions, but eating a lot of fruits and veggies helps a lot!
B L O G G I N G:
BECOMING A BLOGGER: WHERE TO BEGIN, TIPS, CHALLENGES, HOW TO MAKE STEADY INCOME?
It can be so overwhelming, and we have talked about it a lot in our podcasts, blog posts, etc. You can read more about in this last FAQ. We always say don't go into it for the money because that is not something that is going to keep you in it. You have to be passionate about it, or you'll hate your life. Yes, it can make money, but it is tough, and you have to be extremely driven. A lot of the girls that we know in this industry are extremely hard working.
HOW LONG HAVE YOU BEEN MODELING?
We are not actually models, but that is very sweet! 🙂
F A S H I O N:
DO YOU BUY PETITE SIZE CLOTHING FOR LENGTH? I AM 5'2″ AND HAVE A HARD TIME WITH PANT LENGTHS.
Yes, we almost always buy the "short' or "petite" lengths! We know the struggle is real! Stores like Abercrombie, Express, and Loft all offer those!
PS-if your question wasn't answered this week, be sure and check back next week for more! Xo