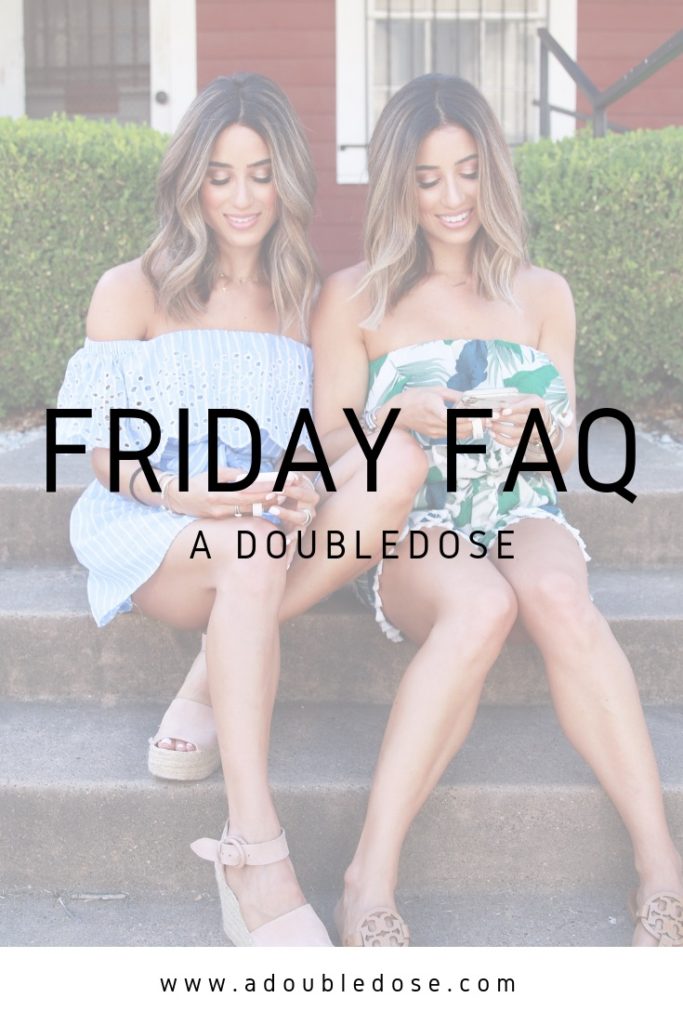 Happy Friday! So excited for today's post! We are starting another new series that will be on Fridays every week where we answer some of your questions! We got an overwhelming response of questions, so we will break it up into some for next week.
In case you missed our other series we started, Wellness Wednesday, you can check those out .1 and .2 here. If your question wasn't answered, be sure and send us a message on Instagram, or email us at [email protected]
So, here we go!
B L O G G I N G:
HOW DID YOU BECOME A SOCIAL MEDIA INFLUENCER?
Great question! We have actually talked all about this in this post and this podcast episode!
HAVE YOU MET ANYONE INTERESTING/FAMOUS THROUGHOUT YOUR TIME BLOGGING?
What a good question! We have had so many cool experiences and opportunities, and we are so grateful! Some people that we have gotten to meet are Hilary Swank, Jackie Joyner Kersee, and Scottie Pippin. We have also gotten to meet SO many sweet, amazing influencers that are so hard working and inspiring!
C E L E R Y J U I C E:
IF YOU MAKE THE CELERY JUICE AHEAD OF TIME, DOES IT LOSE ANY NUTRITIONAL/BENEFICIAL PROPERTIES FROM IT NOT BEING FRESH?
We got all of our information from this page, and have shared some information about celery juice in this post. Medical Medium recommends drinking it immediately after juicing. If not, don't go more than 24 hours after juicing it to consume! Seal it in a mason jar and store in fridge.
DOES THE CELERY NEED TO BE ORGANIC?
We have read that organic is best, but we honestly haven't been buying organic recently! We read that organic is better, but you can always buy the conventional and wash with fragrance-free dish soap and warm water, or just a quick rinse with warm water!
CAN YOU ADD AN APPLE OR SOMETHING TO THE CELERY JUICE IF YOU DON'T LIKE THE TASTE?
We personally do not add anything. Just straight celery, but Medical Medium recommends adding one juiced cucumber and/or one apple with the celery. He does say the greatest benefits come when celery juice is consumed on it's own.
WHAT JUICER DO YOU ALL USE?
We use this one and LOVE it! We have had it for almost 6 months, since we started juicing celery!
B E A U T Y:
HAVE YOU EVER DONE LASER TREATMENTS ON YOUR FACE? IF SO, WHICH ONES DO YOU RECOMMEND?
We have not had any laser treatments on our face, but if we did get anything done in the future, we would highly recommend Enlighten MD in Dallas. That is where we go for any type of service like that like laser hair removal, botox, and our eyebrow permanent makeup!
WHERE DO YOU GO FOR YOUR EYELASH EXTENSIONS?
We both go to Lashing Out. We either see Hanna or Shelby, but all of the girls there are great! Mention us if you go, or let us know:)
More about our eyelash extensions and the process in this podcast episode.
WHAT IS YOUR FAVORITE DIP POWDER COLOR?
Our go-to nail dip color is "The Simple Life" Kiara Sky, or "Chit Chat" by Kiara Sky.
More ALL about our nails in this blog post and this podcast episode.
WHAT DO YOU ASK FOR WHEN YOU GET YOUR HAIR COLOR DONE? I LOVE IT AND AM WANTING TO REPLICATE IT!
That is a great question, and one we get asked all of the time! We have a long bob with balayage (with caramel and honey tones)!
More about our hair in this blog post.
WHAT IS YOUR HONEST OPINION ABOUT BEAUTY COUNTER AND THEIR PRODUCTS? I AM TRYING TO CHANGE THE PRODUCTS I USE AND THE WAY I AM EATING!
We totally understand that! We love the ones we have tried, and have had great results! Definitely important to us to know what we are putting in and on our body! You can see all of our favorites in this blog post and this podcast episode, where we share about another natural beauty brand, Tula (use DOUBLEDOSE for 20% off!).
F A S H I O N:
WHAT IS YOUR GO-TO OR FAVORITE DALLAS BOUTIQUES TO SHOP AT?
We honestly do most of our shopping online, but when we do go out shopping, we love:
Nordstrom, Esther Penn, Gypsy Wagon, Favor The Kind, Marshalls, Homegoods, TJ Maxx.
WHAT DO YOU WEAR WHEN WORKING FROM HOME?
We honestly live in comfy clothes, like sweats when we are not shooting content. We love comfy pj sets like this one and this one. We also love a good, soft jogger like this pair, and this super soft cardigan that feels like a blanket!
WHAT ARE SOME OF YOUR FAVORITE PLACES/SITES TO BUY SWIMSUITS?
We love shopping at :
Asos, Target, Nordstrom, Everything But Water, Express.
WHAT SIZE IS YOUR APPLE WATCH?
Samantha has the newest Series 4 watch (the 40 mm), and Alexis has the Series 1 (38mm).
More on our Apple watch in this post and some cute bands to wear with it in this post.

PS-if your question wasn't answered this week, be sure and check back next week for more! Xo