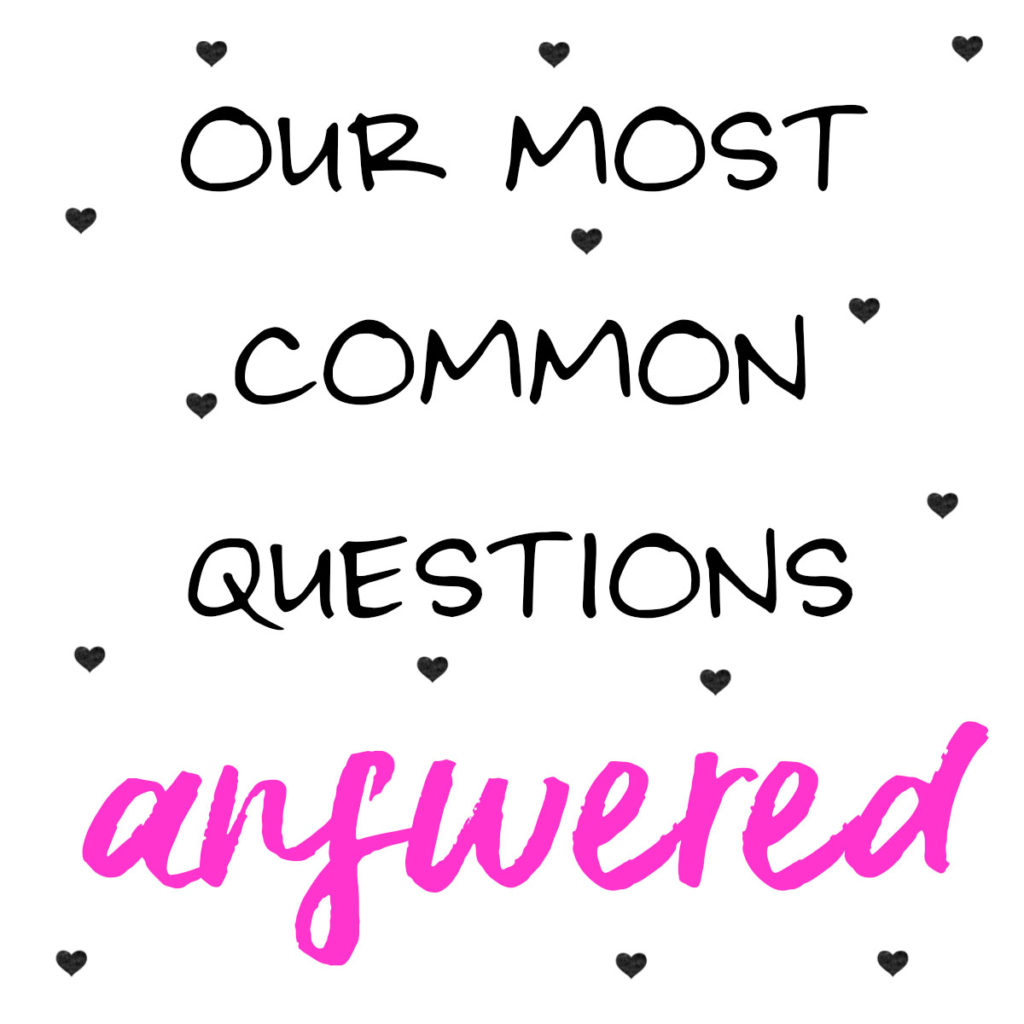 Happy Friday, y'all! We are excited to share some of our most common questions answered today on the blog! If you all have any other questions you want answered, email us at [email protected]
What is your opinion on laser hair removal? Does it hurt and has it helped, and what areas have you gotten it done?
Before we get into anything about laser hair removal, we want to say that we HIGHLY recommend it. We have been getting ours done at Enlighten MD for almost a year now, and couldn't be happier with the results. We will have a full blog post on it once we finish all of our treatments. We have gotten treatment on our underarms and bikini. We have seen a dramatic improvement on our underarms and bikini. We used to have a shadow on our underarms by the end of the day after shaving, but now it is so soft (like a baby), and the hair doesn't really grow back– super fine! The bikini is the same. We have both seen a huge difference! As far as pain, it does hurt, but they give you numbing cream to apply before to help with that a little. The underarms we don't numb for, but the bikini, we definitely do! The good part is that it only hurts for a second while the laser goes off (almost like a rubber band snap).
What do you like to do to unwind from a hard day?
That is a great question! We are honestly TERRIBLE at slowing down, and that is one of our goals for the new year. To be honest, we will probably be writing a blog post on this specifically because we have both been suffering from Adrenal Fatigue and a ton of constant stress, so we are working on that. We have both started to slow down on our instagram posts each day, just to help alleviate the stress. We are extremely type-A, so it is challenging for us, but our health is more important than anything else. We have been trying to incorporate more yoga (even at home), meditating, going on walks, trying to be present (aka be off the phone and actually relax on the couch or watch a movie). We don't really take baths, but that can be relaxing! We also loveeee going to reflexology. Look it up if you haven't been before!
What is your opinion on Lululemon?
We love Lululemon! They have some great pieces. We love their speed shorts and their long-sleeved tops. As far as leggings, we have some of them, but think there are other brands that are just as good! Their mens stuff is really great, too!
What is the best way to get exposure when you're a new blogger? Sometimes it feels like I am posting for no one but my mom, haha!
That is a great question, and honestly, we feel the same way most of the time, if it makes you feel any better. Instagram has completely changed their algorithm, and people don't see your posts anymore, unless you're continuously 'liking' and commenting on all of our pictures. We would suggest interacting with other bloggers like commenting on their pictures to get exposure, and just to post consistently. It can be discouraging, but keep going!
How do you make your photo collages for the gift guides?
I use Adobe Photoshop!
What do you usually get done on your nails and where do you go?
We usually get nexgen dip in this color. We go to Castle Nail Spa in Mockingbird station. For those of y'all who don't know what dip is, or what the difference between that and gel, you can read more in this post.
Who does your hair in Dallas?
We got to Hair By Viviana. We have been going to her since we moved to Dallas 4.5 years ago, and wouldn't go anywhere else. She is amazing!
What do you all usually eat to stay fit?
We usually will eat something with carbs, protein, and healthy fats. We will usually eat eggs with toast, a smoothie bowl, oatmeal, or something like that for breakfast. For lunch, we will usually have a salad with chicken or salmon, and for dinner, usually some kind of lean protein with vegetables and a healthy carb like sweet potatoes, squash, rice, etc. You can read more about what we eat in a day in this post. We also have snacks throughout the day like hummus and veggies, or a quest bar.
Where can I find your recipe for your smoothie bowls?
You can find the recipe for the smoothie bowl and what we use at the bottom of this post.
I saw that you all got microblading done on your eyebrows. Do you recommend it, and how long does it last?
Yes, we did! We got it done over a year ago at Enlighten MD (more about it in this post). We HIGHLY recommend it. Even a year later, we still only have to fill in our eyebrows a little bit. It lasts about a year, or longer, depending on how active you are, etc. It makes all the difference!
What are some of your favorite healthy snacks?
Some of our favorite snacks are Quest bars (chocolate chip cookie dough), their new Quest cookies, hummus and veggies, hard boiled eggs, etc.
Where are those bracelets you all wear all of the time from?
Our bracelets are all from David Yurman. Some of our favorite ones are this ring, this cable bracelet and this cable bracelet.
I noticed you all have Apple watches. I was thinking about getting one, but I don't know which model to buy. What are your thoughts on it?
I am visting Dallas in a couple of weeks. What are some of your favorite restaurants?
Some of our favorite restaurants are: Mudhen Meats in the farmer's market, Henry's Majestic, HG Sply Co, Mr. Mesero, Kozy Kitchen, Americano, and Ziziki's. You can also read some of our other favorite spots in this post.
I am petite like you all. What are some of your favorite jeans?
Some of our favorite jeans are the following: this pair in the harper medium wash, this black pair , and this pair.
I love the bedding you always post in your mirror pics on Instagram. Where is it from?
The bedding is this duvet and this coverlet underneath. These are the pillows that are on there, too!
How do you hear about new restaurants you post on your insta-stories?
We love to use yelp! It is a game changer!
How do you start your day off?
We both usually jump right into work, but are trying to be better about it and get up slowly, eat breakfast before answering any emails, etc. We have been trying to do more yoga in the mornings, but it is still a work in progress. We love to drink hot water with lemon or green tea!
What workout tennis shoes do you like best?
We love this pair for running around, this pair is SO comfy (highly recommend), and this pair is also really comfy.
Does Nordstrom sponsor you and your sister?
Nordstrom does not sponsor us, unless it is noted at the bottom of the blog post. We always disclose when we are patterning with a brand.
How did you first get started as a blogger? Any tips for an aspiring fashion/style blogger?
That is a great question. We actually started in public accounting and just started sharing our outfits, and it kind of took off from there. You can read more about it in this post and this post. We also shared some tips in those posts!
I have never shopped at Shein before? Is it a safe site?
It is a safe site. They have a great mix of trendy pieces, but it is kind of hit or miss. We only share the pieces we like, so we can't speak for everything on the site. You can use ADOUBLE20 for 20% off.
What are your guys' resolutions for this year? Any new things you guys are trying out? Any places on your travel bucket list you're going to?
We haven't set any major resolutions other than to really slow down this year. We are always "go-go-go" and our health has been really affected by that. We are trying to take more breaks and take more time off of work, so we are not so burnt out. We have been trying to incorporate more yoga, too. We are dying to go to Spain!
What is your go-to-cheat meal? Have you tried veganism?
Our go-to cheat meal is probably ice cream or pizza. We have not tried veganism before. We eat animal products. We have eaten paleo for a little bit.
How did you become insta famous, and actually fund the lifestyle you live? Love you btw!
That is very sweet. We don't consider ourselves "famous", but we truly do love what we do. Similar to the question previously, we talked about how we got into blogging and this career in this post. We actually do this full-time and this is how we support ourselves.
What happened to your podcast? Noticed you guys haven't done an episode in a while. Loved them!
We had to take a break (that wasn't supposed to be so long) due to schedules, the app we used not working anymore, and just timing. We are definitely planning on having it up again soon– just trying to find the time to start up again!
What is your hair/makeup routine/ what are your fave products?
We have been using a lot of the same products for our hair and makeup for years! We shared what we use for our makeup in this post . For our hair, we use this curling iron, this shampoo ,this conditioner ,love this hair primer, and this dry shampoo.
How do you keep your hair so long and healthy? Any tips?
We only wash our hair about once or twice a week. We take a bunch of vitamins (more in this post) and eat a bunch of fruits and veggie. Oh, and we drink a lot of water!