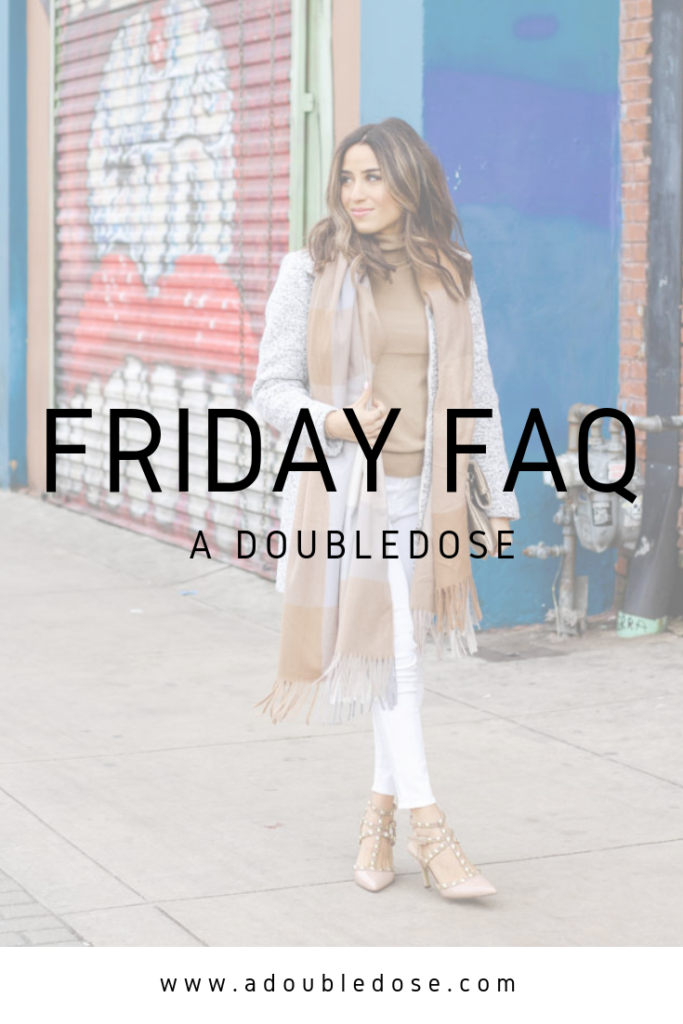 YAY! We made it to Friday! Well, you know what time it is: FAQ time! We are answering more of y'alls questions that got submitted this week! If you asked something that didn't get answered, we most likely answered it in a previous FAQ post! Check out the last few here : #1 here and #2 here and #3 here.
If your question wasn't answered, be sure and send us a message on Instagram, or email us at [email protected]
Happy reading! Xo
L I F E S T Y L E:
DO YOU LIVE WITH SAMANTHA? I NEED A TWIN SISTER IN MY LIFE?
Yes! We still live together, and fight 24/7, even though nobody believes that, haha.
WHAT IS YOUR NATIONALITY?
Both of our parents have European backgrounds. Our mom was born in South America, and our dad was born in Egypt, but their parents were both from different regions in Europe. People always think we are Middle Eastern!
WHAT DO YOU DO FOR FUN ON THE WEEKENDS?
That is a great question! Not a whole lot, but we do love to stay active/workout, try new restaurants, cook, meet up with friends, go to concerts, live sporting events (love football!), hang by the pool or be outside when it is nice out, travel to new places. We are pretty easygoing, but we don't drink a lot or stay out late, so you won't find us out at bars too often– Grandmas at heart ;).
WHAT DOES YOUR DAY TO DAY LOOK LIKE?
This is such a tough question, but a good one! 😉 It honestly changes day-to-day.
Typically, we will get up around 7 AM and then have our lemon water, celery juice, vitamins, eat a quick breakfast (more in this post!), get in our 10-minute meditation, and a workout! Our workouts are either at home with P.volve, our reformer, or we go to Pilates or the gym! Sometimes, we will go on a walk!
In between all of that, we are glue to our phones and email, haha. Always responding to questions from readers, brands, or working on blog content. If we are not shooting any content, we will work from home on our laptops most of the day (not very exciting, haha!). If we are shooting content, we will get ready and do some light makeup and shoot it either in our house or go somewhere to shoot it.
Other days, we have appointments, meetings (either in person or via phone), and just work in between!
Of course, we are snacking throughout the day, and at night, which is the hardest part, where everyone usually slows down for the day, we typically do not. It is terrible, but we will keep working usually until we go to bed doing something that is "work-related". It is very hard for us to put it away, and the truth is, we love interacting with you all!
H E A L T H / F I T N E S S:
CAN YOU POST MORE HEALTHY RECIPES?
Yes! We have plans to share more! We have a lot in our Instagram story highlights on Instagram under "EATS".
Also, have some ideas in this post and this post.
FAVORITE WORKOUT HEADPHONES?
Our favorite headphones BY FAR are the Apple Airpods. We use them for everything! We even accidentally washed them in the washing machine, and they still worked!
HAVE YOU GOTTEN YOUR THYROID LABS REDONE SINCE STOPPING MEDS?
We have not, but we are planning on it soon!
HOW DO YOU DEAL WITH CRAVINGS? I FEEL LIKE I AM ALWAYS HUNGRY WITH HYPO?
This is difficult, and you really have to plan ahead! We literally eat/graze all day long. Some people may not agree with that, or it may be too much, but we snack all day long. We always are eating stuff like apples, berries, oranges, grapes, salads, raw veggies, potatoes, etc. Don't be afraid to eat lots of fruit and veggies! Also, stay hydrated– we drink a lot of hot teas!
HOW DO YOU STEAM VEGGIES IN A PAN?
Super easy! We cut up our veggies, put them in a good skillet like this one, add a little bit of water to coat the pan (we do hot), put the heat on medium-high heat, and cover with a lid! Let them steam, and remove! We top with spices or whatever sauces you like!
WHAT THYROID SUPPORT DO YOU TAKE? I HAVE ALSO BEEN DIAGNOSED WITH HASHIMOTO.
We take this thyroid supplement! So many of you all have tried it and have seen great results!
HOW DO YOU STAY FULL ON A PLANT-BASED DIET? I FEEL LIKE I AM ALWAYS HUNGRY!
We answered this above, but we are hungry a lot, BUT, we do snack a ton. LOTS of fruits (we are talking 3-4 apples a day, whole melons for a meal, etc. We also eat a lot of carbs (most of our diet is carbs and greens! ie- potatoes, fruits, beans, etc.)
B E A U T Y:
WHAT SUNSCREEN DO YOU USE ON YOUR FACE? LOVE FOLLOWING YOU!
We use this sunscreen and love it! We also carry this mineral brush in our purses to touch up throughout the day. This tinted moisturizer we use also has SPF in it!
WHEN YOU GET A SPRAY TAN, HOW DO YOU PREVEN THE MELTING LOOK AFTER A WEEK OR SO?
From our experience and research, we do the following to try and make our tans last longer:
Moisturize A TON with lotions that are paraben and sulfate free! We recommend coconut oil or CeraVe.
Pat your skin dry after a bath or shower!
Avoid exfoliating or scented products.
DO YOU GET YOUR EYEBROWS MICROBLADED? IF SO, DO YOU RECOMMEND AND WHY?
We did have them microbladed a couple years ago, but last year we got semi permanent makeup done on our eyebrows (very similar to microblading), and LOVE the results, even a year later!
DO YOU GET YOUR EYEBROWS MICROBLADED? IF SO, DO YOU RECOMMEND AND WHY?
Yes! See question above 🙂
EYEBROW SHAPING TIPS?
We have semi-permanent makeup (answered above), but do get our eyebrows threaded every month or so, and we use this brow pencil to fill in when we need to, which isn't often!
WHAT TYPE OF HAIR EXTENSIONS DO YOU USE?
We actually answered a ton about our hair extensions in this blog post, so feel free to check it out here!
HOW DO YOU CARE FOR YOUR HAIR EXTENSIONS?
Similar to the question above, we answered in more detail in this blog post and this blog post!
WHAT TYPES OF EYELASHES DO YOU HAVE ON? HOW OFTEN DO YOU CHANGE?
We have volume eyelash extensions, and get them filled every 2-3 weeks! We talked about it more in this podcast episode!
B L O G G I N G:
HAVE YOU ALWAYS BEEN INTO FASHION AND MAKEUP OR DID YOU START GETTING INTO IT LATER IN LIFE?
Yes! We have always been into fashion, even since we were very young! We always liked putting outfits together, and we got "Best Dressed" in high school, haha! We did work corporate jobs, and did personal training, so we weren't as into it around that time, but always had a passion for it!
F A S H I O N:
WHAT ARE YOUR TRAVEL ESSENTIALS (CLOTHES, SHOES, TOILETRIES)?
That is a great question! We have a few posts on our travel must haves that we will link below:
Our Tips For Traveling Overseas
Our Travel Must Haves (code for TULA is 'DOUBLEDOSE')
What We Pack In our Carry On Luggage
WHAT SIZE DAVID YURMAN BRACELETS DO YOU HAVE?
Ours are 5mm in the size S!

We also have some look for less options below!

HOW DO YOU DECIDE IF AN EXPENSIVE ITEM IS WORTH THE SPLURGE?
We are honestly major fans of mixing high end and lower end pieces! We usually tend to splurge on bags and jewelry, since we wear those every day, but other than that, we will look for less expensive options!
We shared some of our favorite investment pieces in this post. We also did a post of look for less options in this post.
WHAT ARE SOME OF YOU FAVORITE BELTS FOR WOMEN? AND WHAT SIZE DO YOU WEAR?
Here are some of our favorite belts: we are a size 24/25.
This leather one is $45 and comes in tan and black! Goes with everything!
This thin Gucci one goes with everything and is a great staple piece!
Love a good pop of leopard, and this belt is a great one to add to any outfit. It is only $35!
WHAT'S YOUR FAVORITE BRAND OF SUPPORTIVE SPORTS BRAS?
Our favorite sports bra is this Brooks sports bra! We have it in several colors!
I NEED SOME GOOD VALENTINE'S DAY GIFTS FOR MY HUSBAND!
We are going to be sharing some gift ideas tomorrow on the blog, but here are a few that we thought of!
PS-if your question wasn't answered this week, be sure and check back next week for more! Xo