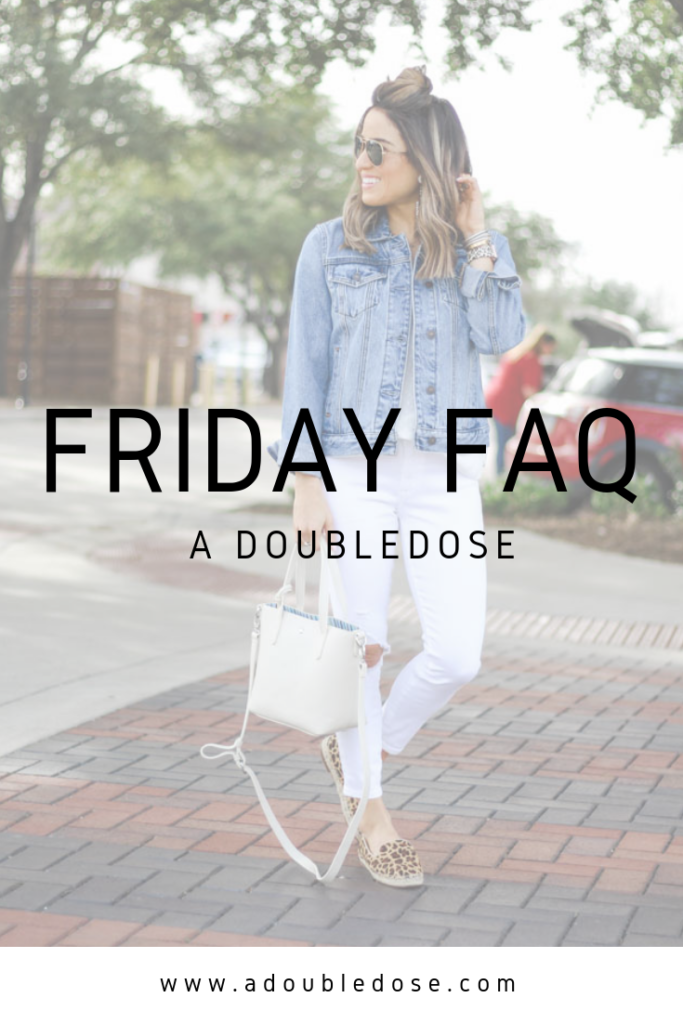 If your question wasn't answered, be sure and send us a message on Instagram, or email us at [email protected]
We skipped last week, but we are back this week with another FAQ round for y'all! If you asked something that didn't get answered, we most likely answered it in a previous FAQ post! Check out the last few here : #1 here , #2 here , #3 here, #4 here, and #5 here.
Happy reading! Xo
F A S H I O N:
WHAT ARE THE GOLD NECKLACES YOU WEAR WITH YOUR INITIALS?
We actually have several. The two main ones you always see us wearing are this single initial one and this one that has both our first and last name initials. We also wear this one a lot. They are all gold, so they don't change colors.
CAN YOU SHARE SOME AFFORDABLE ONE PIECE SWIMSUITS?

We also love buying swimsuits at:
Also, be sure to check out our post on cover ups here.
DO YOU LIKE HAVING A BUMPER ON YOUR WATCH?
YES! Love it. The face had gotten all scratched so this bumper protects it and prevents scratches!
H E A L T H / F I T N E S S:
HAVE YOU RESEARCHED BII? DO YOU THINK THAT COULD BE RELATED TO YOUR HEALTH PROBLEMS?
We actually have been looking into this, as we have seen it all over Instagram. We definitely think it is an issue, and unfortunately it has affected so many women. We will say, had we known about it before getting them put in, we can't say we would have gone through with it.
We had been suffering from Hypothyroidism for 5 years prior to getting the implants, and had already felt the weight gain, swelling, and fatigue a year or two before the surgery, so while we don't think it helped our health issues, it is not the sole cause. We are doing what we can to detox our bodies from anything the implants could be causing like heavy metals and toxins by eating a ton of fruits, veggies, and vitamins.
We do think removing them can be beneficial for some, but we do think you have to look at the big picture like what you're eating, what you're taking, etc as well.
HOW DO YOU LIKE EATING VEGAN VS THE AIP/PALEO FOR OVERALL HEALTH?
We like eating vegan personally for our health issues. We feel the cleanest and lightest, if that makes sense. We also believe it is the best in healing and cleansing the body. We also want to mention that we eat lower fat as well like with oils and nut butters, etc.
CAN YOU UPDATE US ON YOUR BREAST AUGMENTATION? RECOMMENDATIONS ON BRAS?
Sure! So we have had ours for two years now, actually to the day, haha! We would say the most important part is to wear supportive bras when you workout and when you sleep. When we are doing an intense workout or cardio, we wear a high impact bra like this one.
When we are sleeping, we wear lighter bras like this one.
HOW OFTEN DO YOU HAVE CHEAT DAYS?
Yes, of course! Our cheat days are probably not as exciting as most, but that is what works for us! We have been eating this way for so long that we crave fruits and veggies. If we crave sweets or pastas, we always make something at home to satisfy that! Or, we will go out and have it! We don't deprive ourselves, but we truly love healthier foods and cooking/baking.
HAVE THE SUPPLEMENTS HELPED RAISE YOUR LEVELS SUCH AS B12/IRON?
We have not had a blood test for a while, so we can't fully answer that, but we do feel great!
I LOVE TEAS. LOOKING FOR SOME RECOMMENDATIONS?
We do, too! We love Lemon Balm, Chamomile, and Peppermint.
DOES YOUR DOCTOR SUPPORT YOU TAKING THE THYROID SUPPLEMENT? HOW HAS IT AFFECTED YOUR TSH?
We are actually not seeing a doctor right now. We had seen so many doctors last year and the year before that we made the decision to not take our medication for now. We will retest our thyroid soon.H

CAN YOU SHARE A REBOUNDER WORKOUT?
We actually shared a rebounder workout in last week's Wellness Wednesday post, along with the benefits of it! We will be sharing more as well!
I NOTICED YOU HAVE BEEN DOING PVOLVE WORKOUTS A LOT. HAVE YOU SEEN ANY BENEFITS?
Yeah! We have actually been loving it! We actually shared more about it in this post. We love that it targets all your muscles, especially ones you typically don't work a lot, even though you feel like you may be with your current workouts. It is great because you can do it at home, or stream it from really anywhere! You use things like gliders, light weights, and resistance bands, and it really burns! We have seen a difference in our butts and abs.
Also, it is just convenient to do for a quick 30 minute or 40 minute workout in between working or whatever!
WHY ARE YOU NOT LIFTING AS MUCH HEAVY WEIGHTS ANYMORE?
We honestly just got burnt out. Our bodies were exhausted, and we had put too much pressure and stress on them. Of course, we are not saying it is bad, but we just needed a break. Not that we aren't pushing our bodies now, but we are doing workouts that are less intense like pilates, rebounding, and P.volve.
CAN YOU SHARE THE RECIPES FOR THE BLACK BEAN BROWNIES AND BLUEBERRY LOAF YOU MADE THE OTHER NIGHT?
Of course!
The black bean brownies came from this vegan cookbook, and the blueberry loaf came from Medical Medium
BLACK BEAN BROWNIES:
INGREDIENTS:
2 tbsp ground flaxseed
6 tbsp water
1 cup oat four
1 1/4 cups cocoa
1 tsp baking powder
1 tsp fine sea salt
2 tsp ground cinnamon
1/2 tsp cayenne powder (optional)
2 cans black beans, rinsed and drained
1 cup maple syrup
2 tsp pure vanilla extract
1/4 cup water, add more by tsp if needed
INSTRUCTIONS:
Preheat oven to 350 degrees F and grease and 11 x 7 in pan.
Mix flaxseed and water in small bowl and let it sit for 10 min. Add the oats, cacao, baking powder, salt, cinnamon, and cayenne to the food processor and grind the oats into a flour.
Add the beans, flax egg, maple syrup, vanilla, and water and process until batter is smooth and creamy.
If it is too thick, add 1 tsp of water a time until it is spreadable but not watery.
Bake for 30 minutes, or until a toothpick comes out clean.

WILD BLUEBERRY BANANA BREAD LOAF:
INGREDIENTS:

3 ripe bananas
1/4 cup maple syrup
1/4 cup coconut sugar
1 tsp alcohol-free vanilla extract
1/2 cup unsweetened almond milk
2 cups gluten-free oat flour
1/2 tsp sea salt
1 tsp baking powder
1/2 tsp baking soda
1/2 cup frozen wild blueberries
Chopped walnuts, for topping (optional
INSTRUCTIONS:

Preheat oven to 350F. Line a 9×5 loaf pan with parchment paper. 
Place the bananas in a bowl and mash with a fork. Add the maple syrup, coconut sugar, vanilla extract and almond milk. Mix well.
In another bowl, combine the oat flour, sea salt, baking powder and baking soda. Whisk until lump free. Add the wet ingredients and fold gently until you get a uniform batter. Add the blueberries and stir very gently, just enough to incorporate them.
Pour the batter into the loaf pan and bake in the oven for 40 minutes. After this, turn the oven off but leave the banana bread in the oven for 10 more minutes. Remove from the oven and cool completely before slicing.

CAN YOU SHARE WHAT YOU EAT IN A DAY?
Of course! We actually shared an entire blog post of meal ideas and what we eat in this post!
B E A U T Y:
DOES WEARING THE PERMANENT EYELASHES BOTHER YOUR EYES? HOW LONG DO THEY LAST?
They last 2-3 weeks each fill. They don't bother us, but unfortunately, Samantha is having issues with hers and had to remove them. I (Alexis) am fine with them!
More about them in this post!
HOW DO YOU TAKE CARE OF YOUR CHEST/NECK?
That is a great question! We make sure to always apply our skincare creams, oils, and sunscreen all the way through our neck. We need to be better about our chests;)
WHAT ARE SOME OF YOUR FAVORITE NON TOXIC BEAUTY BRANDS?
We love products like Tula, Beautycounter, and a lot of the products they carry at Follain. We recently tried W3ll People product and love them! Some of our favorites are this foundation stick, this concealer, and this bronzer!
HOW DO YOU GET YOUR TEETH SO WHITE?
We use this whitening gel! We talked about it more in detail in this post.
HOW OFTEN DO YOU NEED TO GET YOUR EXTENSIONS RETIED?
We usually go between 6-8 weeks.
ANY TIPS ON HOW TO CLEAN MAKEUP BRUSHES?
Another great question! We use this silicon makeup pad and some gentle baby shampoo. For quick cleansing, this stuff is amazing! Dries in seconds!
B L O G G I N G:
HOW DO YOU GET SUCH GOOD LIGHTING IN YOUR MIRROR PICTURES?
That is a very good question! Lighting is everything. We just use our iPhone and make sure it is bright outside. If it is more dark and stormy out, the pictures tend to be more grainy, but we just roll with it. You can brighten the pictures on your phone when you are done, but having good lighting is key for a good picture! Also, try to have the windows in front of you or on the sides. If they are behind you, you want a good amount of space so you don't look dark.
IS THERE ANY JEALOUSY BETWEEN YOU AND YOUR SISTER BLOGGING?
Not really! We support each other. We usually fight over clothes, haha, and picture spots, but other than that, not really. Obviously when one of us gets more 'likes', it can be hard, but at the end of the day, we support each other!
HOW DID YOU BECOME INSTAGRAM FAMOUS?
We don't think we are famous at all, but truthfully, it is so awesome we get to connect with you all and reach so many fun people. We are SO grateful!
WHAT IS YOUR AVERAGE SCHEDULE FOR A DAY IN THE LIFE?
This is a tough one! We kind of touched on this in this post, but basically, we work a LOT. A lot more than most people would think. We spend a lot of time behind our computer screens and phones, and the other parts of the days are prepping content, on the phone for calls, or working out/eating.
Typically, we wake up and meditate, make our juice, get in a workout, eat breakfast, check emails and work. Then, we will either shoot content, get our posts ready for Instagram, head to a meeting, etc. In between, is a lot of snacking, cleaning up the messes we made in our home office, and more working, haha. We don't really have a cut off time, which makes balance tricky, but we try our best;) Usually, we work until we go to bed, but we honestly love it so it is hard to put away!
PS-if your question wasn't answered this week, be sure and check back next week for more! Xo